Moss Family Crest, Coat of Arms and Name History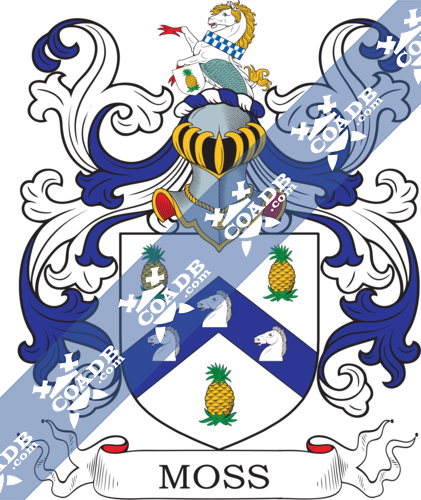 Moss Coat of Arms Gallery
Don't know which Coat of Arms is yours?
We can do a genealogical research. Find out the exact history of your family!
Learn More
Moss Origin:
England, Ireland
Origins of Name:
The surname of Moss has origins in both England and Ireland, and it is widespread throughout both of the islands. There are two possible origins of this surname of Moss. Moss has been used as a surname in Ireland for centuries, as a form of the Old Gaelic name "O'Maolmona" which can be translated to mean a "descendant or devotee of Maolmona." The "O'" denotes that the original bearer is the son of, grandson of, or also another male heir of. The "maol" can be translated as "tonsured one". In this specific case the meaning would be "devotee of" or "follower of." The saint's name is another variation, which here would be "Mona" which derives from "Munnu." St. Munnu who died in 635, served for some duration of time on the Island of Iona in the country of Scotland, and then founded a monastery at Taghmon, in County Wexford. "Moss" has been substituted for "Maol" and "Maolmona" because of the sloppy translation of "mona" as meaning "moorland" or "turf bog." In Counties Fermanagh and Donegal, the surname is more correctly Anglicized as "Mulmona" and "Malmona." In England, the surname is believed to be a topographical surname, meaning that it is used to describe one who lives on or near a man-made or natural phenomenon. In this case, the surname of Moss is used to describe someone who lived on or near a swamp or a peat bog. This comes from the Old English "mos" which can be defined as "bog" or "morass". It could also have come from "Moss" or "Mosse". Both of which are more normal medieval form of the personal name "Moses."
Variations:
More common variations are: Mosse, Moass, Mossy, Mossa, Mossi, Mosso, Mouss, Moiss, Mossu, Moess
History:
England:
The first recorded spelling of the surname of Moss is found in the country of England in the year 1153. This person, recorded as being named on Almer Mosse, was mentioned in the Pipe Rolls of Norfolk. This document was ordered, written and decreed under the reign of King Stephen, who was known as and commonly referred to throughout history as the "Count of Blois" and ruled from the year 1135 to the year 1154. Those who carry the surname of Moss in England and Wales. This name is found in almost al of the counties throughout these countries, but the places with the highest concentration of people who bear the surname of Moss are in Lancashire, Yorkshire, and Essex counties, as well as the city of London.
Scotland:
Those who bear the surname of Moss can be found mostly in the counties of Lanarkshire and Midlothian.
United States of America:
Throughout the 1700's the European Migration was bringing settlers to the United States of America, which at that time was referred to as The New World or The Colonies. The first people with the surname of Moss to land in this new country were Richard Moss, Joe Moss, Jane Moss, and Jo Moss who all settled in the state of Virginia in 1635. Those who bear this name live in Texas, Alabama, Georgia, Pennsylvania, New York, Illinois, Missouri, Kentucky, Tennessee and Ohio.
Here is the population distribution of the last name Moss:
United States 86,888, England 26,447, South Africa 10,082, Australia 7,643, Canada 4,745, Germany 3,161, The Bahamas 2,392, Brazil 2,019, Kenya 1,569, Wales 1,388
Notable People:
Thomas Warren "Tom" Moss Jr. (1928-2015) who was the 52nd Speaker of the Virginia House of Delegates in the years 1991 to 2000, and was a politician from America
Larry Moss (died in 2014) who was an actor and director as well as an acting coach who wrote Intent to Live which was an acting textbook
Jerome S. "Jerry" Moss (born in 1935) who was a recording executive from America, and was also the co-founder of A&M Records, and was inducted into the Rock and Roll Hall of Fame in the year 2006
Santana Terrell Moss (born in 1979) who is a football wide receiver in the NFL who is from America
Randy Gene Moss (born in 1977) who is a professional wide receiver in football from America
Frank Edward Moss (1911-2003) who was a politician from America, and was a United States Senator from Utah in the year 1959 to the year 1977
Mr. John Barrow Moss (died in 1915) who was an English Second Waiter from Crosby, Liverpool, England who was working aboard the RMS Lusitania when it sank, and who did not survive the sinking of the vessel, and whose body was never recovered
Blazons & Genealogy Notes
1) (Edwards-Moss, Roby Hall, co. Lancaster, bart.). Motto—En la rose je fleurie. Quarterly, 1st and 4th, quarterly, erm. and erminois, a cross pattée az. betw. six billets, three in chief and three in base gu., for Moss; 2nd and 3rd, ar. a lion ramp. guard. sa. on a chief of the last two eagles displ. of the first, for Edwards. Crests—1st: Issuant from the battlements of a tower or, charged with a rose gu. slipped ppr. a griffin's head erm. on the neck a cross pattée az., for Moss; 2nd: A rock ppr. therefrom rising a dove ar. holding in the beak an olive branch and surmounted of a rainbow ppr., for Edwards.
2) (granted to Saul Moss, of Kingston, Jamaica, R.A.). Motto—Non nobis solum. Ar. on a chev. az. betw. three pineapples ppr. as many horses' heads couped also ppr. Crest—A demi seahorse ppr. collared vair, and resting the sinister foot on an escutcheon ar. charged with a pineapple ppr.