Newbury Family Crest, Coat of Arms and Name History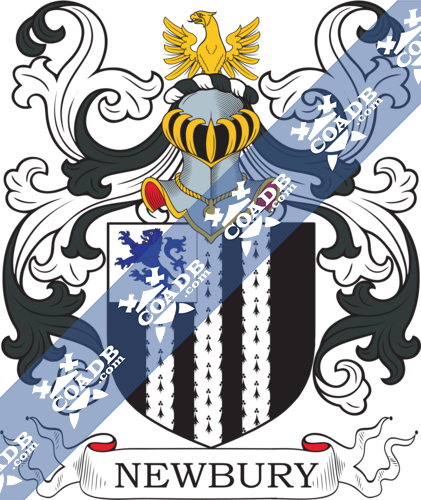 Newbury Coat of Arms Gallery
Don't know which Coat of Arms is yours?
We can do a genealogical research. Find out the exact history of your family!
Learn More
Newbury Origin:
England
Origins of Newbury:
Listed in many spellings such as Newbery, Newbury, Newborough and Newburgh, this is a surname of Anglo-Saxon sources. It is geographical from any of the places called Newbury or Newborrow, from the Olde English pre 7th-century word "neowe" which means new, and the addition of "-burh," which means fortress or town. As examples Newbury in Berkshire, noted as "Neuberie", in the popular Domesday Book of 1086, Newburgh in the North Riding of Yorkshire and also in Lancashire, noted respectively as "Nou Burgo" in the Pipe Rolls of Yorkshire in 1199, and as "Neweburgh" in the Place Names list of Lancashire in 1431. While Newborough in Staffordshire, listed as "Neuboreg" in the Assize Court Rolls of that division in 1280. The surname first appears on record in the second part of the 13th Century, and one John de Newbury was listed in Somerset, in 1327. Other documentations containing that in January 1599 of Avelin Newbury and George Holliers who married at St. Margaret's, Westminster, and that in February 1685, of Joseph Newberry of Exeter. He was on the list of put away rebels bound for shipping to the Barbados after the Monmouth Rebellion of that year
Variations:
More common variations are: Newburry, Newburey, Newbuary, Newbry, Nebury, Newbur, New Buary, Newbery, Newbrey, Nawbury.
England:
The surname Newbury first appeared in Berkshire, where the first one on record was Godwin de Neweberia recorded in the Pipe Rolls of 1190.
The very first recording spelling of the family was shown to be that of Henry de Neubury, dated about 1273, in the "Hundred Rolls of Buckinghamshire." It was during the time of King Edward 1st, who was known to be the "The Hammer of the Scots," dated 1272-1307. The origin of surnames during this period became a necessity with the introduction of personal taxation. It came to be known as Poll Tax in England.
Ireland:
Many of the people with surname Newbury had moved to Ireland during the 17th century.
United States of America:
Individuals with the surname Newbury landed in the United States in two different centuries respectively in the 17th, and 19th. Some of the people with the name Newbury who arrived in the United States in the 17th century included Thomas Newbury, who landed in New England in 1634. Richard Newbury, who arrived in Weymouth, Massachusetts in 1645. Benjamin Newbury, who came to Connecticut in 1685. Walter Newbury, who arrived in Rhode Island in 1687.
The following century saw more Newbury surnames come. Some of the people with the name Newbury who arrived in the United States in the 19th century included Leonard Newbury, who landed in New York in 1834.
Canada:
People with the surname Newbury who settled in Canada in the 18th century included Mr. Thomas Newbury U.E. who arrived at Port Roseway, [Shelbourne], Nova Scotia in October 1783 was traveler number 277 aboard the ship "HMS Clinton," picked up in September 1783 at Staten Island, New York, USA.
Australia:
Some of the individuals with the surname Newbury who landed in Australia in the 19th century included Elizabeth Newbury arrived in South Australia in 1853 aboard the ship "Calabar."
New-Zealand:
Some of the population with the surname Newbury who arrived in New Zealand in the 19th century included Theresa Newbury, Charles Newbury, Eliza Newbury, Frances Newbury and Maria Newbury, all arrived in Auckland, New Zealand aboard the ship "Joseph Fletcher" in 1855.
Here is the population distribution of the last name Newbury: United States 2,808; England 2,732; Scotland 2,428; Australia 1,348; South Africa 1,169; Canada 888; New Zealand 478; Wales 102; United Arab Emirates 99; France 86.
Notable People:
A. C. Newbury (Alfred Charles Newbury, 1886–1948), was an Australian Congregationalist administrator.
Christopher Newbury (born 1956), is an English political leader.
Graham C. Newbury (1910–1986), was an American surgeon.
Newbury Academy is an alternative high school founded in 2001 at Dumont, New Jersey, named for Drs. Graham C. and Jane Cunningham Newbury.
Blazons & Genealogy Notes
1) Sa. three pallets erm. on a canton ar. a demi lion az. Crest—A dexter arm ppr. vested az. cuffed or, holding a truncheon gu. tipped gold.
2) (London). Ar. three bars az. a chief gu. Crest—A Moor's head in profile ppr.
3) (Reg. Ulster s Office). Ar. a chev. gu. betw. three bunches of strawberries slipped ppr.
4) (co. Berks). Sa. three palets erm. on a canton ar. a lion ramp. az. Crest—A demi eagle displ. or.