Newburgh Family Crest, Coat of Arms and Name History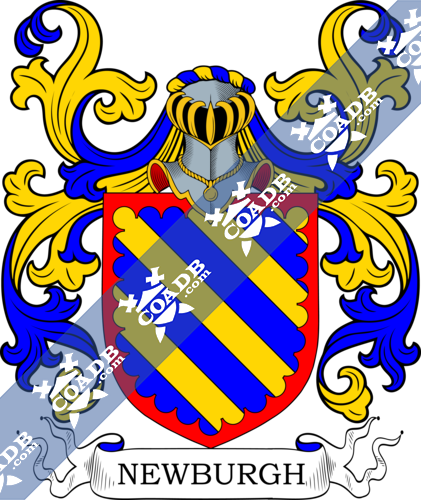 Newburgh Coat of Arms Gallery
Don't know which Coat of Arms is yours?
We can do a genealogical research. Find out the exact history of your family!
Learn More
Origins of Newburgh:
Newburgh is a name that was brought to England by the founders of the Newburgh family when they migrated to the region after the Norman Invasion in 1066.  The Newburgh family resided in Warwickshire.  Their name, however, is a reference to Newburgh. Normandy, the family's place of residence before the Norman Invasion of England in 1066.  The Newburgh surname considered to be habitational, taken on from a place name such as from Newbrough in Northumberland, which acquired from the Old English words niwe, which means "new," and burh, meaning "fortification."
Variations:
More common variations are: Newbourgh, Newburg, Neburgh, Newborgh, Newbergh, Newbourg, Neuburgh, Neiburgh, Neburg, Newbrg.
England:
The surname Newburgh first appeared in Warwickshire.  It generally considered that the "founder of this family was Henry de Newburgh, so called from the palace of that name in Normandy, a younger son of Roger de Bellomonte, Lord of Mellent.  He came in [to England] with the Conqueror, and was created Earl of Warwick. " Berkely in Somerset was one of the original family seats.  "This place appears to have formed part of the possessions of the Newborough family, who were relatives to, and came over to England with, William the Conqueror, and one of whose descendants, Thomas Newborough, was interred in the church in 1531."  From this early record, the family quickly spread.  Bindon Abbey, in the church of East Stoke, Dorset founded in 1172, by Robert de Newburgh and Maud his wife, who endowed it for monks of the Cistercian order; it dedicated to St. Mary.  Winfrith-Newburgh, again in Dorset was a large holding of the family in old times.  "This is a very extensive and old church, giving name to the hundred.  It formerly belonged to the family of Newburgh, who had a seat here, of which there are no traces." A tone time East Lullworth in Dorset was "at a very early time, in the property of the De Lolleworths, and subsequently of the Newburghs, who arrived to the property in the reign of Edward I." (the family inherited East Lullworth and gave it up during the reign of Edward I. In the 16th and 17th century this church would pass to the Howards and then to the Weld family.) Wellesbourn [in Warwickshire] given by the Invader to Henry de Newburg, and afterward granted, as considered, by one of the Norman earls of Warwick to Robert de Hasting."
United States of America:
Early North American records indicate many people bearing the name Newburgh among those contributors like E. P. Newbrough settled in San Francisco in 1850.  Thomas Newberry settled in New England in 1630.  John Newberry settled in New York in 1775.
Blazons & Genealogy Notes
1) (co. Dorset). Bendy of eight or and az. a bordure engr. gu.
2) (Earl of Warwick, extinct 1267; Henry de Newburgh, was seo created by Willam I.; Thomas, sixth Earl of Warwick, d. s. p. 1242, leaving his sister Lady Margery, wife of John Mareschal, his heir, who d. s. p. 1243, William Mauduit, son of William, Baron of Hanslape, by Alice de Newburgh, his wife, dau. of Waleran, Earl of Warwick, was summoned to attend the King at Worcester, as Earl of Warwick, 47 Henry III., but d. s. p. 1267, leaving his sister his heir, viz., Isabel Mauduit, wife of William Beauchamp, of Elmeley, and thus conveyed the earldom first to that family). Arms of Mauduit—Ar. two bars gu. Lozengy or and az. on a border gu. eight plates.
3) (quartered by Reginald, Cardinal Pole; arms in a coat in Magdalen College, Oxford. Visit. Oxon, 1560). Chequy ar. and az. a chev. erm.
4) (Warmwell and Berkeley, co. Somerset). Or, three bendlets az. a border gu.
5) Bendy of six or and az. a border engr. gu.