Nicola Family Crest, Coat of Arms and Name History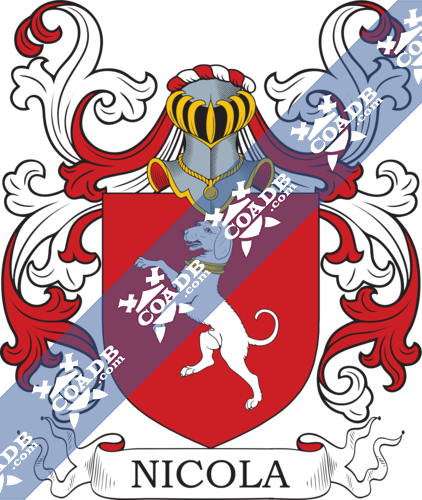 Nicola Coat of Arms Gallery
Don't know which Coat of Arms is yours?
We can do a genealogical research. Find out the exact history of your family!
Learn More
We don't yet have this section of research completed for this name. If you are interested in being notified when research becomes available, please use this form to contact us and we will let you know as soon as we have something!
Blazons & Genealogy Notes
1) Sicile – De gueules à un chien rampant d'argent colleté d'or. Source: Rietstap's.
2) Venise – Parti au 1 coupé d'argent sur gueules au 2 d'argent à trois bandes de gueules. Source: Rietstap's.
3) Allemagne – Écartelé aux 1 et 4 d'argent à trois flammes de gueules aux 2 et 3 de gueules au lion d'argent celui du 3 contourné Deux casques couronnés Cimiers 1° un flamme de gueules 2° le lion du 2. Source: Rietstap's.
4) Cattaro – (M. ét.) – De gueules au chevron d'or Casque couronné Cimier un vol à l'antique aux armes de l'écu. Source: Rietstap's.
5) Piemonte – Bandato d'oro e d'azzurro. – Cimiero: Un'aquila bicipite di nero, coronata di una sola corona, armata e rostrata d'oro. – Motto: non nobis sed nomini tuo da gloriam.. Source: Crollalanza.
6) de Nicola – Gemica – Spaccato d'argento e di rosso; colla fascia d'oro attraversante, sormontata da un giglio dello stesso per inchiesta.. Source: Crollalanza.