Nielsen Family Crest, Coat of Arms and Name History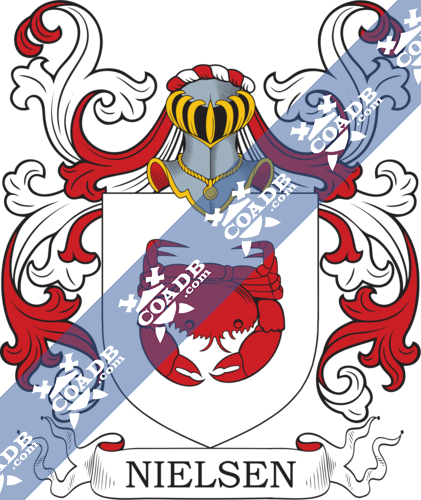 Nielsen Coat of Arms Gallery
Don't know which Coat of Arms is yours?
We can do a genealogical research. Find out the exact history of your family!
Learn More
Nielsen Surname Name Meaning, Origin, History, & Etymology
The Scandinavian or Noridc last name Nielsen is a Danish, Norwegian, and northern German patronymic (son of, descendant of) surname derived from the personal (first) name Niels, a shortened version of the masculine given name Nikolaus. The name Nicholas, Nikolas, Nicholas, or Nikolaus was originally an old Greek name which literally translated to "victory of the people". In his 1956 book titled Dictionary of American Family Names, Eldson Coles Smith, states the name Niel means "champion". The name is an ancient one, as the Athenian historian Thucydides mentions a soldier or diplomat named Nikolaus who was part of a Spartan delegation sent to meet with the Persian King during the Peloponnesian War that lasted from 431 to 404 BC. Spelling variations and names with similar etymologies include Nielssen, Nielesen, Nelson (English), Nelsen (Norway), Neilson (Gaelic), MacNial (Scottish), Nealson, Nilsson (Sweden), Nilson, Nilsen (Norway) and Nelsson. One of the earliest documented bearers of this surname was Mikkel Nielsen who was born in Hackås, Jamtland, Sweden in 1330 AD.  The Nielsen family motto is His regi servitium, which translated from Latin to English as "with these we render service to the King"
Popularity & Geographic Distribution
The last name Nielsen ranks 765th in popularity in the United Status as of the 2000 Census. The name ranks particularly in the top 100 surnames in three states: Utah (27th), Nebraska (52nd), and South Dakota (70th). The name ranks in the top 300 in the following states as well: Minnesota (119th), Wisconsin (270th), Washington (289th), Iowa (163rd), Idaho (122nd), Montana (180th), North Dakota (232nd), and Alaska (228th).
The surname Nielsen ranks as follows in Europe: Denmark (1st), Greenland (1st), Faroe Islands (9th), Norway (55th), and Sweden (162nd). It ranks as follows in the English-speaking world: Canada (642nd), England (3,152nd), Scotland (3,011th), Ireland (2,519th), Wales (4,622nd), Australia (603rd), New Zealand (632nd), Northern Ireland (8,430th) and South Africa (2,614th).
Nielsen Family Tree & Nielsen Genealogy
Some bearers of this surname during the time of the Middle Ages to the early modern period include:
1) Laurits Nielsen, son of Nis Joensen, was born in Arhus, Denmark in 1490 AD
2) Henrik Nielsen, son of Nils Hogenskild, was born in Odense, Denmark in 1400 AD
3) Jens Nielsen was born in Strat, Ribe, Denmark was born in 1535 and had a son named Soren Jensen
4) Knud Nielsen, son of Nils Hol, was born in Wold, Buskerud, Norway in 1545, married Brynnild Endresen, and had a son named Guri Knudsdatter
5) Velom Nielsen, son of Njell (Olsen) Madland, was born in Madland, Gjetal, Rogaland, Norway around 1605, married Eli Olasfatter, and had two issue named Berit Velumsdatter and Lars Velomsen
6) Jacob Nielsen was born in Denmark in 1662, married Mette Simonsdatter, and had issue named Simon, Ane, and Mette
7) Thomas Nielsen was born in Vasby, Denmark in 1703 and was the father of Dorthea Thomasdatter
8) Hans Nielson was born in Nykobing, Maribo, Denmark in 1752, married  Margrethe Jorgensen, and had a daughter name Juliane Hansen
9) Christen Nielsen was born in Asum, Odense, Denmark in 1764, married Maren Christendatter, and had a daughter named Ane Kirstine
10) Jens Nielsen, son of Niels Jensen and Elisabeth Jensdatter, was born in Hordum, Thisted, Denmark
Some marriages involving the Nielsen last name include:
1) Efven Nielsen Ranneberg married Stenvaar Asbiornsdr in Stavanger, Rogaland, Norway in 1695
2) Elling Nielsen married  Maren Andersdr Qvaan in Botne, Vestfold, Norway in 1746
3) Jacon Nielsen married Sara Casperdatter in Oslo, Norway in 1676
4) Oluff Nielsen married Gunnild Tingelbretsdr in Trogstad, Ostfold, Noway in 1656
5) Lasse Nielsen married Bente Pedersdatter in Kviinge, Kristianstad, Sweden in 1648
6) Nills Nilsson married Kirstin Larsdotter in Sodermanland, Sweden in 1682
7) Lars Nielsen married Ingebor Paulsdr in Ohio in 1848
8) Peder Nielsen married Anne Roarsen in Mitchell, Iowa in 1865
9) Peter Jacob Nielsen married Maren Kirsten Paulsen in Montcalm, Michigan in 1884
10) Anna Nielsen married Peter Wolter in Pommern, Prussia, Germany in 1657
Here is one early lineage of a bearer of this surname:
Erik (Arsael) "Weatherhat" Emundson (born 849 AD)
Björn III, King of Sweden (born in 868 AD in Uppsala, Sweden)
Olaf II, King of Sweden, known as "Mighty", former Bjornsson (born in Uppsala, Sweden in 885 AD)
Styrbiorn (Styrbjorn) "Sprakalegg, the Strong, Prince of Sweden" of Scotland formerly Munsö (born in Uppsala Sweden in 903 AD)
Torkel (Torgils) "Sprakalegg" Styrbjornson (born in Sweden in 950 AD)
Ulf af Skåne "the Earl, Jarl, Ulufius, Ulfui, Styrbiorn" Thrugilsson formerly Thorgilsson (born in Halland, Sweden in 995 AD)
Svend Estridsen, King of Denmark (born in Sweden in 1020 AD)
Niels Svendssøn, King of Denmark (born in 1065 AD)
Magnus "den stærke" Nielsson formerly Nielsen (born in Roskilde, Denmark in 1106 AD)
Niels Sweden (born around 1140 AD)
Anders Christian Nielsen was born in Hjørring, Denmark in 1848. He married Rulphine Andreasen in 1872. Before his 1929 passing in Junction City Oregon, he had three issue: Charles, Waldeman, and Andreas Christian. His son, Andreas Christian Nielsen, was born in Rock Falls, Illinois in 1877. In 1899, he married a woman named Helen and had the following issue: Viola Eva, Lester Frederick, Charles C., and Theodore Matt. His son Lester F. was born in Wisconsin in 1903. In 1931, he married Ethel Valentine in Hazen in Benton County, Oregon in 1931. He had a son named Douglas Lester Nielsen who was born in Medford, Oregon in 1941 and passed away in Washington in 1987.
Early American and New World Settlers
Two of the earliest settlers in colonial America bearing this name were Jonas Nielsen (Pennsylvania 1743) and Lorenz Nielsen (New York 1754). One of the earliest bearers who came to Canada was Niels Ingrord Nielsen (Halifax 1883).
Several thousand members of the Nielsen family came to the United States through Ellis Island, during the nineteenth century, including:
1) Niels C. Nielsen came from Norway aboard the John J. Boyd in 1856
2) Lillards A. Nielsen came from Germany aboard the Humboldt in 1858
3) Anna Maria Nielsen came from Sweden aboard the Dr. Barth in 1859
4) Peter M. Nielsen came from Germany aboard the Borussia in 1856
5) Andre Nielsen came from Bavaria aboard the New York in 1852
6) Andres Nielsen came from Denmark aboard the Zwede Cajecte in 1855
7) Solveig Nielsen came from Oslo, Norway aboard the Oslofjord in 1953
8) Hans Nielsen came from Norway aboard the John J. Boyd in 1856
9) Christ Nielsen came from Norway aboard the Saxonia in 1858
10) Friedrick Nielsen came from Denmark aboard the Sir Robert Peel in 1857
Notables
There are hundreds of notable people with the Nielsen surname. This page will mention a handful. Famous people with this last name include:
1) Carl August Nielsen (1865-1931) who was a Danish musician, violinist and conductor considered to be Denmark's greatest composer, having composed an opera named Maskarade and a symphony titled Sinfonia semplice
2) Allan Nielsen (1971) who was a former Danish soccer (football) player born in Esbjerg and had a career spanning 1989-2004, having played for teams such as Odense BK, FC Copenhagen, Bayern Munich, and the Tottenham Hotspurs
3) Richard Møller Nielsen (1937-2014) was a Danish football (soccer) player born in Ubberud, Odense who played for Ofense BK from 1952-1966, and then went on to having a managing career from 1962 to 2003.
4) Nielsine Nielsen (1850-1916) who was the first female physician and academic in Denmark, born in Svendborg
5) Leslie Nielsen (1926-2010) who is Canadian actor from Regina, Saskatchewan, known for his roles in movies such as The Naked Gun, Airplane!, and Forbidden Planet
6) Kirstjean Michele Nielsen (1972) who became the 6th United States Secretary of Homeland Security in 2017, born in Colorado Springs, Colorado
7) Erik Hersholt Nielsen (1954-2008) who was the 3rd Deputy Prime Minister of Canada from 1984-1986 and the Minister of National Defense from 1985-1986, born in Regina, Saskatchewan
8) Asta Nielsen (1881-1972) who was a Danish actress during the silent film era, born in Vesterbro, known for her roles in films such as Afgrunden, Hamlet, and The Fallen.
9) Kurt Nielsen was a professional tennis player from Copenhagen, Denmark who obtained his highest rank of 7th best player in the world in 1953, and was the winner of the US Open for doubles in 1957
10) Richard Alan Nielsen (1948) who is the lead guitarist and songwriter for the American rock band Cheap Trick, born in Elmhurst, Illinois
Nielsen American Civil War Veterans
There were many soldiers with the last name Nielsen who served in the American Civil War (1861-1865):
1) Philip Nielsen fought for the Union as part of the 13th Regiment Connecticut Infantry
2) Ole Nielsen fought for the Union as part of the 2nd Regiment Minnesota Cavalry
3) Albert A. Nielsen fought for the Union as part of the 15th Regiment Wisconsin Infantry
4) Erick Nielsen fought for the Union as part of the 15th Regiment Wisconsin Infantry
5) Erick Haaken fought for the Union as part of the 15th Regiment Wisconsin Infantry
6) Paul Nielsen fought for the Union as part of the 163rd Regiment New York Infantry
7) Jappe Nielsen fought for the Union as part of the 5th Regiment, Rhode Island Heavy Artillery
8) James Nielsen fought for the Union as part of the 1st Regiment, New York Infantry
9)  Peter Nielsen fought for the Union as part of the 5th Regiment US Cavalry
10) Nils Nielsen fought for the Union as part of the 15th Regiment Wisconsin Infantry
Blazons & Genealogy Notes
1) Danemark – (M. ét.) – D'argent à une jambe de gueules coupée à la cuisse d'or bottée de gueules éperonnée d'or Cimier un éperon d'or en pal la molette en haut entre deux proboscides de gueules et d'argent
2) Danemark – (M. ét.) – D'argent à un crabe de gueules la tête en bas. English: Argent with an crab gules the head downwards.
3) De gueules à la bande d'argent ch de trois coquilles au naturel. English: Gules a bend argent charged with three escallops proper.
4) Danemark – (M. ét.) – D'or à une aigle sans tête de sable. English: Or with an eagle without head sable.
5) Danemark – (An., 1453. M. ét) – D'argent au lion naissant d'azur Cimier le lion issant. English: Argent a lion naissant azure Crest: the lion issuant.
6) Danemark – (An, 1433. M. ét) – D'azur à un croissant montant de gueules posé en barre ayant entre ses cornes la moitié supérieure d'une étoile (8) d'or posée aussi en barre Cimier une étoile (5) d'or les trois rais supérieurs allumés de gueules. English: Azure with a crescent horns upward gules placed bendwise sinister having between its horns the upper point of an etoile of 8 points or placed also bendwise sinister Crest: an etoile ( of 5 points) or the three upper rays aflame gules.
7) Danemark – (M. ét.) – Coupé d'argent sur azur à l'aigle de gueules brochant sur le coupé. English: Per fess argent over azure with an eagle gules covering over the partition.
8) Danemark – (M. ét.) – D'argent à un bouc naissant de sable. English: Argent with a goat naissant sable.
9) Danemark – (M. ét.) – Coupé de gueules sur azur à la fasce échiquetée d'argent et de sable de huit points brochant sur le coupé Cimier deux proboscides échiquetées d'argent et de sable. English: Per fess gules over azure a fess checky argent and sable of eight points covering over the partition Crest: two proboscides checky argent and sable.