Noble Family Crest, Coat of Arms and Name History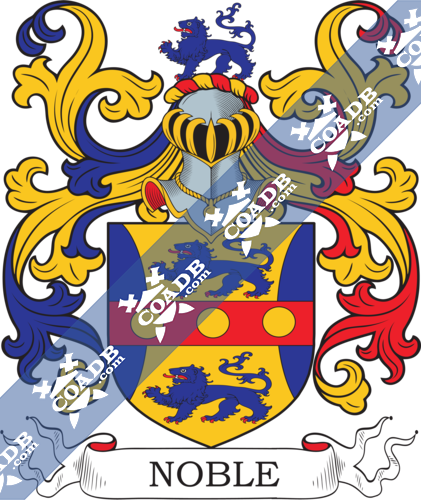 Noble Coat of Arms Gallery
Don't know which Coat of Arms is yours?
We can do a genealogical research. Find out the exact history of your family!
Learn More
Noble Origin:
England, Scotland, Ireland
Origins of Name:
The surname of Noble is derived from an ancient medieval name, which was spelled in various ways throughout history. Knoble or Knobell is derived from the pre 8th century Old French origins. It is said that the word "noble" was of a British derivative, an introduced by the Norman invaders in the Conquest of 1066. The word "noble" translates to mean of high birth. However, it has been said that the surname of noble more commonly came from the use of a nickname. This nickname was used to describe someone who played a member of nobility in the traveling theatre. So it is more likely that someone with the surname Noble did not descend from an actual member of nobility, but rather from someone who played them in the traveling theatre.
Variations:
More common variations are:
Nobley, Noable, Nobble, Nobile, Nioble, Knoble, Nobele, Noblea, Nouble, Noblie
History:
England:
The first recorded spelling of the surname of Noble was Peter Noble, who was recorded in the "Records of the Knight Templars of England" in the year 1185, under the rule of King Henry II, who was known as "The Builder of Churches" and reigned from the year 1154 to the year 1189. This recording shows that the first recorded mention of this name was either a Knight Templar or Crusader, who would have been led in the Christian Army by Richard, Coer de Lion. The Crusaders tried to reclaim the Holy Land from the Muslim people during the 12th Century. The Crusaders were unsuccessful and had many attempts to free this land. Other early recordings of the Noble surname were found in The Poll Tax Rolls for Yorkshire. These included Hugh le Noble in the year 1273 in Bedford, and Robertus Nobili in the year 1379. Other recordings of this surname came from church documents, including christenings and weddings. Damyan Noble was noted in the Reformation Church recordings as being baptized in the year 1544, at St. Nicholas Acons in London, while Christopher Knoble was wed to Ann Jarrat at the Church of St. Martins in the Field in Westminster in the year 1717.
Scotland
In East Lothian at the end of the 1300s an English family settled down with the surname Noble. William Nobilis would be the owner of said lands, and he served under William de Vallibus. His son Ralph would inherit the lands, and it would remain in the family for 100 years.
United States:
During the 17th Century, the European citizens fled to America to search for a new life. This was called the European Migration, and brought hordes of citizens over in ships with horrible living conditions. Oftentimes, those who made it to America were starving and ill. The first recorded person with the surname of Noble that fled to America was one woman named Ann Noble, who at twenty-two years of age, boarded the ship named the "Expectation" in May of 1635, which was one of the first trips to the New World. Ann Noble later settled in Providence, Rhode Island. George Noble, and Ann Noble also set sail for America in 1635, but settled in other countries instead. Two years later, in the year 1637, Wm Noble arrived in Virginia, and in the year 1643, Michaell Noble also landed in Virginia.
Australia and New Zealand:
The first settler in Australia to have the surname of Noble was Valentine Noble, who arrived in Adelaide, Australia in the year 1839 and sailed aboard the ship named the "Lady Lilford." In New Zealand, the first people recorded to settle there with the Noble surname were Joseph Noble, Mary Noble, and six-year-old Joseph Noble, who arrived in Wellington, New Zealand in the year 1856, aboard the "Shamrock."
Noble Today:
United States 47,700
England 18,117
Nigeria 13,297
Canada 7,829
Australia 7,444
South Africa 6,831
Scotland 3,380
Mexico 3,141
Ghana 3,115
Uganda 2,427
Notable People:
James Wilkes Noble (1922-2016) who was an actor best known for appearing in the American sitcom Benson as Gov. Eugene Gatling
Gilbert Edward "Gil" Noble (1932-2012) who was a TV reporter and interviewer from America
William Noble (1866-1945) who was an American missionary that served in Korea
Warren Noble (1885-1950) who was an automotive engineer that invented the electric stove, and was a British-born American
James Noble (born in 1922) who was a soap opera actor from America
James Noble (1785-1831) who was a U.S. senator from Indiana, and an American politician
Gladwyn Kingsley Noble (1894-1940) who was a zoologist from America
Elmer Noble ( 1909-2001) who was a professor of zoology at the University of California, American professor
David Gordon Noble (1900-1983) who was an American NFL running back nicknamed "Big Moose"
David L. Noble, who was an IBM engineer from America, and who also invented the floppy disk
Blazons & Genealogy Notes
1) (co. Cornwall, Belson and Bishops' Tentor, co. Devon, and Barming, near Maidstone, co. Kent). Or, two lions pass. guard. in pale az. betw. as many flaunches of the last, on a fesse gu. three bezants. Crest—A lion pass. az.
2) (co. Berwick). Erm. three leopards' faces sa. ducally crowned gu.
3) (Fairnell, co. Stafford). Or, on a fess gu. three bezants betw. two lions pass. az.
4) (Reresby, co. Leicester; Thomas Noble, b. 1574, grandson of William Noble, Esq., of Rushington, in same co. Visit. Leicester, 1619). Motto—Fide et fortitudine. Ar. on a chief gu. a lion pass. or. Crest—An eagle displ. or.
5) (co. Stafford). Ar. on a fesse gu. betw. two lions pass. guard, sa. three bezants.
6) Erm. three leopards' faces sa. ducally crowned or; another, Or, on a fesse gu. betw. two lions pass. sa. three bezants.
7) (Richard Noble, temp. Queen Elizabeth, Fun. Ent. Ulster's Office, 1604, of his wife, Mary, dau. of James Ryan, Sheriff of Dublin). Sa. a chev. ar. betw. three leopards' faces or.
8) (Fun. Ent. Ulster's Office, 1660). Or, two lions pass. in pale az. betw. as many flaunches of the last, on a fess gu. three bezants.
9) (Allenstown, co. Meath; granted by Betham, Ulster, to Rev. Mungo Henry Noble). Vert on a fess or, betw. three leopards' faces ar. a fleur-de-lis betw. two annulets sa. Crest—A dove ar. holding in the beak a ring or, gemmed az.
10) (Ardmore and Ardarden-Noble, co. Dumbarton). Motto—Virtute et valore. Gu. a chev. erm. betw. three bay leaves slipped or. Crest—A dexter hand holding a dagger all ppr.
11) Or, three fleurs-de-lis gu.