Northcote Family Crest, Coat of Arms and Name History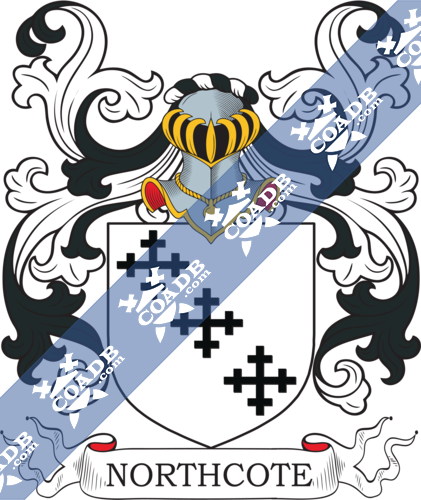 Northcote Coat of Arms Gallery
Don't know which Coat of Arms is yours?
We can do a genealogical research. Find out the exact history of your family!
Learn More
Northcote Origin:
England
Origins of Northcote:
According to the early recordings of the spelling of the name, this interesting and unique name was listed as Northcote, Northcott, Norcott, Norcutt, Norkutt, Norkett, and Narracott, this is an English surname. It is locational from any of the different places named with the old English pre 7th Century "North" which means "north," and "cot," a home or shelter. These places contain Northcott in the Tiverton county of Devonshire, and Norcott in Gloucestershire and Hertfordshire. An old lived Devonshire family of the name trace their origin from Galfridus Miles, who resided in the estate of Northcote in that division near the year 1103. Early records of the surname include William de Nordcote, in the Pipe Rolls of Gloucestershire in the year 1205. Amyas de Northcott, in the Hundred Rolls of Lincolnshire in 1273, and John atte Northcote, of Sussex, in 1296. A notable name ancestor was Sir John Northcote, (1599 – 1679), the sheriff of Devonshire, 1626 – 1627 and M.P., for Ashburton, in 1641.
Variations:
More common variations are: Northcotte, Northcoate, Northcot, Northcott, Northcoat, Norrthcott, Northcut, Northcutt, Northgate.
England:
The surname Northcote first appeared in Devon at Northcote (Northcott), a village, in the church of Boyton, union of Holsworthy, Hundred of Black Torrington. The surname is descendant "from Galfridus, who was of Northcote, in the church of East-Downe, in the twelfth century."
The very first recording spelling of the family was shown to be that of Nicholas de Northicote, dated about 1199, in the "Assize Court Rolls of the county of Staffordshire." It was during the time of King Richard I, dated 1189 – 1199. The origin of surnames during this period became a necessity with the introduction of personal taxation. It came to be known as Poll Tax in England. Surnames all over the country began to develop, with unique and shocking spelling variations of the original one.
Ireland:
Many of the people with surname Northcote had moved to Ireland during the 17th century.
United States of America:
Individuals with the surname Northcote landed in the United States in the 18th century. Some of the people with the name Northcote who arrived in the United States in the 18th century included Hazell Northcote, who settled in Virginia in 1726. James Northcote, who arrived in America in 1771.
Here is the population distribution of the last name Northcote: South Africa 384; England 312; Australia 223; Peru 199; United States 191; Canada 153; Scotland 131; Wales 56; New Zealand 38; Chile 27.
Notable People:
Sir Geoffry Alexander Stafford Northcote, KCMG (February 1881 – 10 July 1948) was a British colonial governor.
James Northcote RA (Plymouth October 1746 –July 1831 London) was an English painter.
James Spencer Northcote (born at Feniton Court, Devonshire, May 1821; d. at Stoke-upon-Trent, Staffordshire, March 1907) was an English Catholic bishop and author. He was born in Plymouth and was an assistant to his father, Samuel Northcote, a watchmaker. In his spare time, he drew and painted. In 1769, he resigned from his father's work and set up as a portrait painter. Four years later, he went to London and was selected as a student into the studio and house of Sir Joshua Reynolds. At the same time, he joined the Royal Academy schools.
Stafford Henry Northcote, 1st Lord of Iddesleigh GCB PC (October 1818 –January 1887), known as Sir Stafford Northcote, Bt, from 1851 to 1885, was a Traditional British political leader. He gave services as Chancellor of the Treasury between 1874 and 1880 and as International Secretary between 1885 and 1886 and was one of only two people to hold the office of First Earl of the Treasury without being Prime Minister.
Blazons & Genealogy Notes
1) (co. Devon; allowed by Cooke, Clarenceux). Ar. three crosses crosslet in bend sa.
2) (Hayne, co. Devon, bart.; descended from a family of great antiquity which derived, at a very early period, its name from Northcote, in the parish of East Down). Quarterly, 1st and 4th, ar. a fess betw. three crosses moline sa.; 2nd and 3rd, ar. three crosses crosslet in bend sa. Crest—On a chapeau gu. turned up erm. a stag trippant ar. Motto—Christi crux est mea lux.
3) (Crediton and Yewton, co. Devon; John Northcote, Eaq., of Yewton, second, but eldest surviving son of John Northcote, Eaq., of Crediton, who was son of Walter Northcote, and grandson of John Northcote, of same place. Visit. Devon, 1620). Ar. three crosses crosslet in bend sa. Crest, as Northcote, of Hayne.
4) (co. Devon, 1671). Or, a pale bendy of six ar. and sa. Crest—A demi unicorn ramp. erased ar. armed and maned or.
5) (Feniton Court, co. Devon, Somerset Court, co. Somerset). Motto—Cito non temere. Or, a pale engr. bendy of six, ar. and az. betw. four crosses botonnee of the last. Crest—A stag ar. charged on the body with two crosses botonnee gu. and resting the dexter fore foot on an escutcheon or, charged with a pale, as in the arms.