Norwich Family Crest, Coat of Arms and Name History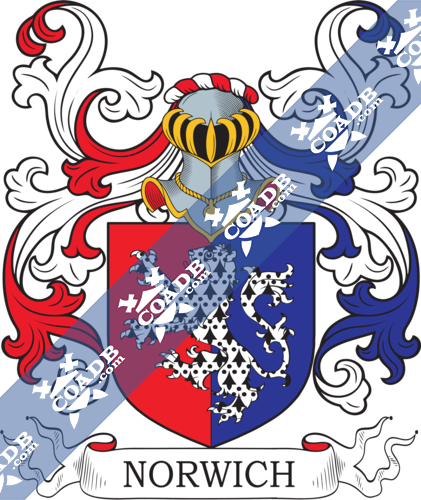 Norwich Coat of Arms Gallery
Don't know which Coat of Arms is yours?
We can do a genealogical research. Find out the exact history of your family!
Learn More
Norwich Origin:
England
Origins of Norwich:
According to the early recordings of the spellings of the name, this interesting and unique name was listed as Noridge, Norridge, Norwich, Northridge, and possibly many more, this is an English surname. As to where it acquires from, or whether it derives from a type of places is unknown. The earliest record is considered being that of William de Northerugg in the division of Sussex in the Premium tax rolls of 1332. This documentation shows that a place called Northridge once located in that division, although if this was the situation, it absolutely has not been for many centuries. Several suggestions have been made that this surname could be a regional or dialect form of the city of Norwich. It is quite possible as the city was first noted in the year 930 A.D. as Nordwic. The Oxford Dictionary of English place names gives a version of North Town, although this first recording would clearly show that it means the farm to the north (of the main settlement). William Norwich noted St Andrews Norwich, in October 1560. Finally, for some name ancestors at least, the surname could acquire from a now "lost" old place once called Norridge in the church of Upton Scudamore in Wiltshire. This Norridge noted in the place names list for that division in the year 1203 as Northrigge and did clearly mean the north ridge.
Variations:
More common variations are: Norich, Nerwich, Knorich, Narwich, Norrich, Norch, Knoerich, Gnoerich, Noriuchi, Norricha.
England:
The surname Norwich first appeared in Norfolk where one of the first records of the name was Sir John de Norwich who had a "license to make a palace of his house in Mettingham, in which he established a chantry committed to God and the Virgin Mary. He also organized a college at Raveningham, in Norfolk, in 1343, for a master and eight chaplains. "
Ireland:
Many of the people with surname Norwich had moved to Ireland during the 17th century.
United States of America:
Individuals with the surname Norwich landed in the United States in two different centuries respectively in the 19th and 20th. Some of the people with the name Norwich who arrived in the United States in the 17th century included T. Norwich at the age of 27, who moved to America, in 1896
The following century saw more Norwich surnames arrive. Some of the people with the name Norwich who arrived in the United States in the 20th century included Julius Norwich at the age of 46, who emigrated to the United States from London, England, in 1907. Samuel Norwich at the age of 61, who landed in America, in 1922. Emma Norwich at the age of 48, who settled in America, in 1923.
Canada:
People with the surname Norwich who settled in Canada in the 20th century included Arthur Craven Norwich at the age of 23, who settled in Canada, in 1918.
Here is the population distribution of the last name Norwich: United States 332; England 220; Canada 68; Norway 39; Scotland 20; Australia 6; Russia 4; Israel 3; Cambodia 2; Wales 2.
Notable People:
Julian of Norwich (c. 8 November 1342 – c. 1416) was an English anchoress and an important Christian scholar. Her Visions of Divine Love, written around 1395, is the first book in the English language known to have been written by a woman. She was also known as a spiritual power within her community where she also gave services as a teacher and advisor.
John Julius Cooper, 2nd Viscount Norwich, CVO was born in September 1929. He is known as John Julius Norwich, is an English famous biographer, travel writer and television personality. He is the son of the Conservative leader and politician Duff Cooper and Lady Diana Manners, a renowned beauty, and socialite.
Blazons & Genealogy Notes
1) (cos. Essex, Norfolk, Northampton, and Suffolk; temp. Edward II.). By some families of the name the field of the arme has been borne variously, per pale az. and gu. and per pale aa. and purp. and the lion ar. Per pale gu. and az. a lion ramp. erm. Crest—On a mount vert a cock ar. combed, legged, and wattled gu.
2) (Baron Norwich, extinct 1374; Sir John de Norwich deacendedfrom Geoffrey de Norwich, temp. King John, was summoned to Parliament 1342). Per pale gu. and az. a lion ramp. erm.
3) (Brampton, co. Northants, bart., extinct 1742). Per pale gu. and az. a lion ramp. erm.
4) (co. Norfolk). Erm. a fesse engr. az. (another, gu.).
5) Sa. an eagle displ. or.