Norwood Family Crest, Coat of Arms and Name History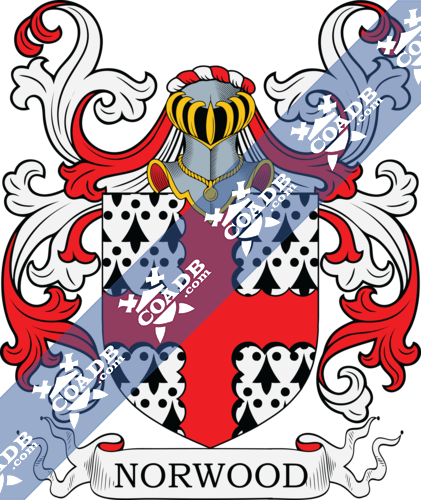 Norwood Coat of Arms Gallery
Don't know which Coat of Arms is yours?
We can do a genealogical research. Find out the exact history of your family!
Learn More
Surname Name Meaning, Origin, and Etymology
This Anglo-Saxon name is a local surname meaning of "Norwood", which was a parish in counties Middlesex and Surrey, as well as smaller places in various other counties. The longer form Northwood derives from parishes in counties in Salop and Hampshire. The meaning is "the north wood", given to someone who lived nearby. It derives from the Old English words norð (north) and wudu (woods). It was first found in Oxfordshire. It was also found in Sittingbourne in Kent, as one John Northwood, a gentleman, was recorded in the vicinity according to the book "A Topographical Dictionary of England".  One source claims the family originated in Kent, beginning with Sir Stephen de Northwode (1177-1231 AD), who was the son of Jordan of Sheppey (who in turn was a son of Harold II), who adopted this surname, which described where he lived: the north woods of his land on the "Island of Sheep".
Grantees
The first coat of arms shown above belonged to Sir Roger de Northwoode, who is documented in the Roll of Arms of 1240 AD. Another person bearing Norwood arms was Thomas Norwood of Astwood, Buckinghamshire, at the request of Rouge Croix. This is likely Thomas or Harrow, born in 1520, in 1540, received the Manor of Astwoodbury from Edmund Hazel. He was married three times: Margaret Goodrich, Ellen Warner, and Joane Warner.
Spelling Variations
Common spelling variations of this last name include: Northwood, Norwold, and Narwold.
Early Bearers of the Surname
The first known spelling was Painor de Norwude who was documented in the Pipe Rolls of 1176 AD. The Hundred Rolls of 1273 AD, a census of Wales and England, known in Latin as Rotuli Hundredorum, documents two people bearing this surname: Mauger de Northwode in county Bedford and William de Northwode in county Suffolk. David and William Bynorthwode are documented in the Devonshire Rolls of 1330 AD. John de Northwode was recorded in Southhampton during the era of King Henry III and Edward I, as documented in the Testa de Neville, sive Liber Feodorum. The Poll Tax of Yorkshire from 1379 AD lists Tillot de Northwode and Johannes Norwode.
Edmund Northwoode from county Bucks was listed in the Register of the University of Oxford in 1592. A one Thomas Norwood was buried at Kensington Parish in 1671. Early marriages involving this surname include William Norwood and Elizabeth Higgins at St. George's Hanover Square in 1789 and James Northwood to Penelope (surname unknown) at the aforementioned church in 1791.
History, Genealogy, and Ancestry
This surname is not discussed in Bernard Burke's book "Peerage and Knights" or "The Landed Gentry". Nathaniel Norwood was born in 1702 in Surry county Virginia. He married Mary William, and before he died in 1784, had a son named George. George was born in 1728 in Northampton, Carolina and he married Ann Oglesby. Together they had a son named William Mitchell Norwood. William was born in 1765 in South Carolina. He married Susannah Smith in 1794 and had the following issue with her: Charles Neil, Peninah, Elizabeth, Jonathan, Susannah, and Nancy, before he passed away in 1850 in Alabama. A one Belt Norwood was born in 1750 in Anne Arundel County in Maryland to unknown parents. He married a woman with the last name Hobbs in 1770, and later married Sarah Gaither in 1785. He left behind four issue: Anna, Thomas Mullikin, Joshua, and Ralph, before he died in 1814. Ralph was born in 1797 in Frederick, Maryland. He married Mary Ann Hyatt in 1816 and with her had two childnre: Jeremiah and Thomas, before he passed away in 1839. Jeremiah was born in 1818 and married Elvira Miles in 1844. They had a child named Bradley John Norwood, who was born in 1866, who in turn had one issue named Oliver, born in 1895. Oliver was the father of Charles Stanley Nowood, born in 1923.
Early American and New World Settlers
Early settlers to America include Francis Norwood who was from Gloucester. In 1662, he married Elizabeth Coldum, daughter of Clement, and with her had numerous children: Thomas (1664), Francis (1666), Elizabeth (1669), Mary (1672), Stephen (1674), Deborah (1677), Hannah (1679), Joshua (1683), Caleb (1685), and Abigail (1689). He passed away in 1709. Others include Richard Norwood (Virginia 1643), Richard Norwood (Massachusetts 1644), Andrew Norwood (Maryland 1650), and Richard Norwood (Georgia 1733).
The progenitor of the this family in Maryland was Captain John Norwood. He came in 1649 from Virginia with a group of Puritans who refused to submit to the will of Governor William Berkeley, who wanted them to use the Anglican Book of Common Prayer as part of their worship during church services.
Mottoes
The family motto is sub cruce vinces, meaning "under the cross you will conquer". Another motto is nunquam non paratus, meaning "never unready".
Notables
Famous people with this last name include: 1) Rose Finklestein Norwood (1890-1980) who was an Aermican labor organizer from Russia, 2) Scott Norwood (1960) who was a kicker in the National Football League for the Buffalo Bills, and 3) Thomas Manson Norwood (1830-1913) who was both a Representative and Senator in the United States from the state of Georgia.
Blazons & Genealogy Notes
1) (co. Bedford, Tulsey and Leckhampton, co. Gloucester). Erm. a cross engr. gu.
2) or Northwood – (cos. Buckingham and Norfolk; granted 1585). Same Arms, a crescent for diff. Crest—A demi lion ramp. erased ar. ducally crowned or, holding in the gambs a palm branch vert.
3) (cos. Devon and Glouceater). Erm. a cross engr. sa.
4) (arms in Throgmorton Manor House, co. Oxford. Visit. Oxon, 1566. Impalement Katherine, dau. of Henry Norwood). Erm. a cross engr. gu.
5) or Northwood – (Dean Court, co. Kent). Same Arms, in the dexter chief quarter a wolf's head couped (another, erased) gu. Crest—Out of a ducal coronet a boar's head and neck all or.
6) Ar. on a chev. gu. three crosses crosslet of the field.
7) (Ashford, Kent). Erm. a cross engr. gu. Crest—On waves of the sea ppr. a lion sejant, holding betw. the paws an anchor, fluxes upwards. Motto—Sub cruce vinces.
8) or Northwood – Erm. a cross engr. gu. in the 1st quarter a wolf's head couped.
9) (Baron Northwode; in abeyance since 1410, descended from Sir Roger De Northwode, Sheriff of co. Kent, 42 Henry III.; Sir John de Northwode, his son, was summoned to Parliament 1313; John, sixth Baron, d. s. p. leaving bis sisters his co-heirs. The arms are on a brass in Minster Church, Sheppy, to Sir John de Northwode). Erm. a cross engr. gu.