Nottingham Family Crest, Coat of Arms and Name History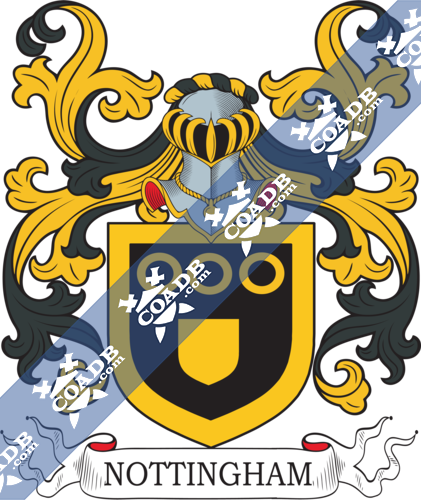 Nottingham Coat of Arms Gallery
Don't know which Coat of Arms is yours?
We can do a genealogical research. Find out the exact history of your family!
Learn More
Nottingham Origin:
England
Origin of Nottingham:
Nottingham is a simple English surname which holds different spellings forms, some very difficult. It is the locational surname from the traditional city of Nottingham, the division town of Nottinghamshire, and popular for relation to the criminal Robin Hood and his assorted gang of thieves. The spelling forms of this locational name are remarkable and recognized to contain such forms as Nottingham, Nottingam, Nottyngam, Nottram and stranger ones like Nodrum, Notram, Knoweltone, and even Noteyoung. The regional name then appeared in the form of Snotengaham first listed in the year 868 a.d. in the Anglo-Saxon registers, and after two centuries it was listed in the Domesday Book of 1086 as Snotingeham. It is related to the old English pre 7th century word "ham", which means a hamlet or home, plus "-ing" which means "the community of" and "Snot" a name which means "the house of the Snot People". The element "s" was misplaced in the 11th century, at the same time surname itself was first listed in the middle of 13th Century, with previous examples of documentations consisting of Ralph de Nottingham of Oxfordshire, and Robert de Notingham of Nottinghamshire, both in the Hundred Rolls of 1273. Further examples derived at random consists of Annes Nattingham, named at St. Giles, Cripplegate, in June 1567, Sarah Knowetone named at St Katherines by the Tower in May 1610, both city of London, and Thomas Nottram of Stanhope in Durham, in September 1783.
Variations:
More common variations of this surname are: Knottingham, Notingham, Nottinghame, Nottingam, Nottinghm, Nottngham, Nettingham, Nottinhgam, Nuttingham, Nattingham.
England:
The surname Nottingham first originated in Nottingham where they held a family seat as kings of the castle. Later during the war of Hastings in 1066, William, Duke of Normandy, having reigned over King Harold, gave out land to several of his winning lords. It was not unusual to find a prince, or a landlord, with sixty or more Lordships which stretched all over the country. These he provided to his sons, brothers and further offspring of his family and they appeared as under-tenants. They accepted the Norman system which was recognized as under-tenants of his lands so as to recognize him as the head of the family. Later after several difficult battles between his lords, Duke William instructed to commence a poll of all of England in 1086, settling once and for all, who guarded which land. He named the poll the Domesday Book, expressing that those landowners listed would hold the land till the end of time.
The very first recording spelling of the family was shown to be that of William de Nottingham, which was dated 1240, in the year of his election as fourth provincial administrator. It was during the time of King Henry III of England, dated 1216 – 1272.
United States of America:
Individuals with the surname Nottingham settled in the United States in three different centuries respectively in the 17th, 18th, and 19th. Some of the people with the name Nottingham who settled in the United States in the 17th century included John Nottingham came to Maryland in 1658. Rich Nottingham, who landed in Virginia in 1658. Thomas Nottingham and Thomas Nottingham arrived in Maryland in the same year 1670. Joseph Nottingham, who came to Virginia in the year 1673.
Some of the people with the name Nottingham who settled in the United States in the 18th century included James Nottingham who arrived in America in 1755. William Nottingham, who come to Virginia in 1768.
Some of the people with the name Nottingham who settled in the United States in the 19th century included William Nottingham, who landed in America in 1807. Eliza Nottingham, who settled in New York, NY in 1820. George Nottingham arrived in Philadelphia in 1821.
Here is the population distribution of the last name Nottingham: United States 4,921; England 1,543; Wales 90; Australia 136; Brazil 223; Canada 121; South Africa 183; Trinidad and Tobago 181; Scotland 33; New Zealand 133.
Notable People:
Charles Howard was the commander of the English group of ships against the Spanish Armada.
Edward Nottingham was a United States justice.
Sheriff of Nottingham was the imaginary criminal in the Robin Hood folk story.
Blazons & Genealogy Notes
1) (England). Sa. an inescutcheon betw. three annulets or. Crest—A dexter hand ppr. holding an annulet or.
2) Same Arms, a border of the second.
3) Sa. an inescutcheon or, in chief three annulets and a border of the last.
4) Az. on a bend cotised ar. betw. six lions or, three mullets pierced gu
5) Gu. a lion ramp. ar.
6) Ar. a chev. engr. sa. guttée d'or (another, d'eau).
7) (Reg. Ulster's Office). Gu. on a bend or three escallops az.
8) (Reg. Ulster's Office). Gu. a fess betw. three escallops or.