Novak Family Crest, Coat of Arms and Name History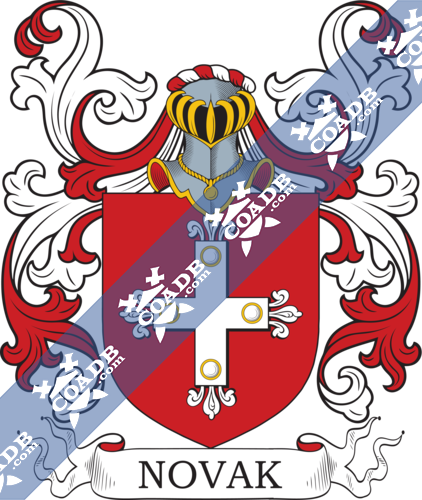 Novak Coat of Arms Gallery
Don't know which Coat of Arms is yours?
We can do a genealogical research. Find out the exact history of your family!
Learn More
Novak Surname Name Meaning, Origin, History, & Etymology
This popular Eastern European last name is primarily of Czech, Slovakian, Croatian, Serbian, Hungarian, Slovenian, Polish, and German origin and was derived from the Slavic word novy, Polish word nowy, or Serbo-Croatian novo, meaning "new", and is thought to have been a name that denoted a person who was a newcomer to the town, village, parish, or other place. Primarily in Slovenia, the name Novak referred to a peasant who settled in newly cleared land though use of the slash-and-burn method. Along the same lines, the name Novack may have referred to a person who was a new or recent convert to Christianity, a religion which began to spread over the large parts eastern part of Europe c. 600 AD. In Germany, it is said the family established itself in East Prussia and became Barons in Silesia and were seated at Fridland.
Surname Spelling variants
Spelling or names with similar etymologies include Novack, Nowak, Novaky, Novakh, Nowik (Poland), Novic (Croatia), Noweak (Germany), Novacek, Novkovic, Nowaczyk, Novichenko, Nowakinski, and Nowakowski.
Early Bearers of the Novak Surname
1) Karla Novak was born in Nemce, Slovenskoin 1409
2) Maria Novak was born in Nemce, Slovensko in 1547
3) Johann Novak, born in Mistřice, Česká republika in 1586
4) Elisabetha Novack, daughter of Georgius, was born in Tolna, Hungary in 1556
5) Martin Novák, born in panství Třeboň, České království c. 1610
Popularity & Geographic Distribution
The last name Novak ranks 899th popularity in the United Status as of the 2000 Census. The name ranks particularly high in the following four states: Nebraska (177th), Minnesota (186th), Wisconsin (242nd), North Dakota (253rd), and Illinois (271st).  The name is also present in Canada where it ranks 1,649th. It ranks highest in frequency in the following provinces: Saskatchewan, Yukon, and Manitoba.
The surname Novak frequency/commonness ranks as follows in the following European countries:
Slovenia (1st), Croatian (18th), Czech Republic (53rd), Austria (123rd), Ukraine (246th), Belarus (568th)
Slovakia (613th), Serbia (642nd), Bosnia and Herzegovina (1,279th), Russia (1,845th), Germany (3,480th), and Hungary (5,828th).
Marriages of Novaks
1) John Novack, son of Andrew, married Barbara Zinraike in Wayne County, Michigan in September 1890
2) Mike Novack married Mary Gerda in Luzerne, Pennsylvania in February 1895
3) Thomas Nowak married Helena Sosnowska in Boston, Massachusetts in June 1897
4) Johann Paulus Nowack married Margaretta Anna Felizitas Rorich in June 1896
5) Vaclav Novack married Katharine Krafta in Cuyahoga, Ohio in May 1891
6) Susannah Novak married John Foster in Barham, Kent, England in August 1855
First Known Novacks in the United States
1) Mathias Novak, age 50, Czech, came to New Orleans, Louisiana in 1852
2) Margarette Novak, age 42, Czech, came to New Orleans, Louisiana in 1852
3) Joseph Novak, age 40, Czech, came to New Orleans, Louisiana in 1852
4) Barbara Novak, age 37, Czech, came to New Orleans, Louisiana in 1852
5) Irene Novak, age 20, Czech, came to New Orleans, Louisiana in 1852
6) Johann Novak, age 26, Czech, came to New Orleans, Louisiana in 1855
7) Anna Novak, age 28, Czech, came to New Orleans, Louisiana in 1855
8) Wenzel Novak, age 9, came to New Orleans, Louisiana in 1855
9) Albertina Novak, age 45, Czech, came to Baltimore, Maryland in 1861
10) T. Novak, age 45, Czech, came to Baltimore, Maryland in 1861
11) Joseph Novak, age 52, Czech, came to Baltimore, Maryland in 1862
12) Maria Novak, age 50, Czech, came to Baltimore, Maryland in 1862
13) Franz Novak, age 50, Czech, came to New York, New York in 1863
14) Elisabeth Novak, age 36, came to Baltimore, Maryland in 1865
15) Franz Novak, age 41, came to Galveston, Texas in 1870
16) Antonia Novak, age 31, came to New York, New York in 1871
17) Josefa Novak, age 35, came to Baltimore, Maryland in 1872
18) Anna Novak, age 30, came to New York, New York in 1871
19) Catharine Novack, age 54, Czech, came to Baltimore, Maryland in 1872
20) Maria Novak, age 32, came to New York, New York in 1872
Notables
There are hundreds of notable people with the Novak surname. This page will mention a handful. Famous people with this last name include:
1) Grigory Irmovich Novak (1919-1980) was a Soviet weightlifter who won the world title in 1946 and won a silver medal at the 1952 Olympics, born in Chernobyl, Ukraine
2) Džoni Novak (1969) is a former Slovenian footballer (soccer player) whose professional career spanned from 1988-2002, playing for his national team in the Europe 2000 and 2002 World Cup
3) B.J. Novack is an American writer, actor, comedian, producer, and director best known for his role in the NBC TV show The Office, born in Newton, Massachusetts
4) Jan Novák (1921-1984) was a Czech composer of classical music in the 1960s, having composed music for the films of Karel Kachyna
5) Johana B. Novak (1896-1990), also known as Jane Novak, was an American silent film actress from St. Louis, Missouri, appearing in over 34 films, such as The Kiss, A Little Madonna, and The Yanks Are Coming
6) Kevin Novak (1982) who played two years in Major League Soccer for Real Salt Lake, born in Huntington Beach, California
7) Marilyn Pauline "Kim" Novak (1933) was an American film and TV actress born in Chicago, Illinois, best known for her roles in Picnic, The Man with the Golden Arm, and Alfred Hitchcock's Vertigo
8) Robert David Sanders "Bob" Novak  (1931-2009) was an American journalist, columnist, television personality, and conservative political commentator, born in Joliet, Illinois, having also served in the US Army during the Korean War, obtaining the rank of lieutenant
9) Štefan Novák (1879-1932) was a Greek Catholic heirach who was the Bishop of Eparchy of Presov from 1913-1918, born in Ubla, Austra-Hungary
10) Filip Novak (1982) was is a Czech born professional ice hockey player for has played in the NHL, WHL, AHL, KHL, and other leagues from 1999-2016
Novak America Civil War Veterans
There were at least two soldiers with the last name Novak who served in the American Civil War, including the following:
1) John Novak (or Nevack) of the 40th Regiment Missouri Infantry
2) Joseph Novak (or Novick) of the 8th Regiment Illinois Cavalry
Blazons & Genealogy Notes
Source for 1, 19-21: Rietstap's Armorial General
Source for 2-18: Siebmacher's Wappenbuch
1) Dalmatie – (Conc. d'arm., 15 juillet 1830) – Taillé au 1 de gueules à l'aigle d'or couronnée du même posée en barre au 2 d'or à une étoile de gueules et un croissant du même rangés en barre le croissant posé en bande Cimier une autruche issante d'argent tenant en son bec un fer-à-cheval du même les bouts en bas Lambrequin d'or et de gueules. English: Per bend sinister 1st gules with an eagle or crowned of the same placed bendwise sinister 2nd or with an etoile gules and a crescent of the same arranged bendwise sinister the crescent placed bendwise Crest: an ostrich issuant argent holding in its beak a horseshoe of the same the tips downwards Mantling: or and gules.
2) Nowak – Czech/Silesia – Nowack. (Taf 70). Wappen 1758: In Roth ein silberner Schrägbalken, begleitet unten von schwertschwingendem goldenem Greif, oben von silberner Lilie. Kleinod : zwiffen offenem schwarzem Flug die silberne Lilie ; Decken: roth-golden und. roth-silbern. Wappen 1777: Schild wie oben ; 2 Helme : I. wie oben; Decken : roth-golden II. der schwertschwingende Greif; Decken: roth -silbern. Ignaz Franz Nowack, mähr. Gubernialrath und Bürger zu Olmütz, wurde für sein tapferes Verhalten während der Belagerung von Olmütz am 30. IX. 1758 in den Adelstand, am 1. I. 1777 in den Ritterstand erhoben. (Schimon, cop. dipl.).
3) Nowak – Croatia/Slovenia – Novak I. v. Bozna. (Taf. 95). Wappen: In B. gegen einen spitzen w. Felsen anspringend, ein doppelschwänziger g. Löwe. Kleinod: # Flügel. Decken: bg. Adels- n. Wappenbrief v. König Rudolf, d. d. Pressburg 1578 (kundgemacht: Warasdiner Ctt, 1587) für Jacob Novak v. Bozna, für s. Kinder: Peter, Johann, Mathias, Barbara, und für des Erwerbers Bruder Johann. (Original im Convents-Archive in Jaszo). r, Ein Johann Novak fiel 1566 bei der Vertheidigung ozigeths unter Niklas Zrinyi.
4) Novak – Croatia/Slovenia – Novak II. (Taf. 95). Wappen: Auf einer Blätterkrone ein doppelt ge-krönter Doppeladler, der mit der rechten Kralle ein Schwert 1 mit der Linken ein Scepter hält. (Siegel des Peter Novak , Vicestuhlrichters von Wa-raadin, d. d. 1722 im kroat. Landesarchive).
5) Novak – Croatia/Slovenia – Novak III (Taf. 95). Wappen: In B. auf gr. Dreiberge gebogener, gepanzerter Arm, der in der Faust einen mit einem abgeschnittenen Türkenkopfe besteckten Krummsäbel hält. Kleinod: Wachsender g. Löwe, der in d. rechten Vorderpranke einen Krummsäbel hält. Decken: rs. bg. (Wappensammlung des Dr. L. Gaj in der Universität", Bibliothek in Agram).
6) Novakovich/Novakovic – Croatia/Slovenia – Novakovich (Novakovic I) (Taf 95) – Wappen: Von R. und G. schraglinks getheilt; vorne gekronter g. Adler, hinten von r. Sterne uberhohte r. Mondessichel. IV. 13. Kleinod: Sitzender n. Strauss, im Schnabel ein Hufeisen haltend. Decken: rg. (Handschrift d. Korjenic-Neoric v. 1595 in d. Aframer Universitats-Bibliothek). Im kroat. Landtage wurde 1588 der Adelsbrief des Johannes Nouakovich publicirt. Ein Geschlecht Novakovic gehorte dem kroatischen Uradel de genere Mogorovic an. (Bojnicic, Series Nobilium S. 17).
7) Novakovics/Novakovic – Croatia/Slovenia – Novakovics (Novakovic II). (Taf. 95). Wappen: In von G. und R. gespaltenem Schilde vorne vier b. Schrägbalken, hinten auf gekröntem gr. Dreiberge ein g. Löwe, in d. erhobenen Rechten einen Krummsäbel mit g. Parirstange, in d. gesenkten Linken drei gekreuzte Pfeile haltend. Kleinod: Zwischen offenem, rechts von G. und 11, links von lt. und G. getheiltem Auge, der Löwe wachsend. Decken: bg. — rg. Adels- a. Wappenbrief v. König Leopold II. d. d. Mailand, 6. Juni 1791 für Stefan, Paul u. Peter Novakovics. (Liber reg. LV 682).
8) Novakovic – Croatia/Slovenia – Novakovic III (Taf. 95). Wappen: Halb gespalten und durch einen g. Balken getheilt. 1 in B. ein Krummsäbel und ein Schwert mit g. Parirstange gekreuzt, über der Kreuzung ein g. Stern. 2 in R. auf gr. Boden ein g. Löwe, mit beiden Vorderpranken eine von G#G. getheilte Fahne haltend. 3 in B. auf gr. Boden eine w. gezinnte Mauer mit Thurm, offenem Thore n. 2 Schiessscharten. Kleinod: Drei bsr. Straussenfedern. Decken: bs. rg. Oesterr. Adelstand mit dem Prädikate "von Gjuraboj" von Kaiser Franz Josef d. d. 5. Mai 1852 für Elias Novakovic, k. u. k. Hauptmann im I. Banal-Grenz-Regiment. (Adelsarchiv in Wien). Ungar. Adelstand mit dem Prädikate "von Gjuraboj und Glina" von König Franz Josef d. d. 1894 für Michael Novakovic von Gjuraboj, Major der kön. ung. Leibgarde , dessen Frau Ida Stuart Stanclift und Sohn Paul Ludwig Alexander. (Orig. im Besitze des Erwerbers in Wien).
9 & 10) Nowack – Bohemia – Nowack Freiherren. (Taf. 110). Kommen auch als: Nowagk, Noback, Nobak, vor. Heinrich Wenzel Nowack, Hofrat und Kämmerer des Königs von Polen und Schweden, erhielt den 4 Februar 1660 den böhmischen F reiherrenstand, der aber mit seinem Tode wieder erlosch. Wappen I. (Taf 110). In Roth ein nach rechts laufender goldener, silbern gegurteter Fuchs, ein weisses Huhn im Rachen. Im rechten Obereck eine silberne goldbesamte Rose. — Kleinod: die Rose; Decken: roth-golden. Wappen II. böhmischer Freiherr. (Taf 110). Von Roth und Silber geviertet. 1. Bild von Wappen I.; 2. u 3. gekrönter schwarzer Adler aus der Spaltlinie brechend; 4. silberner Mühlstein, über demselben ein goldenes Kreuzehe silbernen Decken: Zwei gekrönte Helme mit rothsilberner doppelschwänziger Le Wachsend. II. zwischen offenem schwarzem Fluge eine silberne goldbesamte Rose.
11) Novak – Dalmatia – Novak, (Taf 65). Johann Franz Novak, erhielt als Erzbischof von Zara (1823 bis 1843) von kk. Ministerium des Innern de dato Wien 15. Juli 1830 einen Wappenbrief. — Wappen: In R. ein schmales freies, s. eingefasstes weisses Kreuz, dessen Mitte, sowie lilienförmig sich verlaufende Enden je mit einer g.-gefassten weissen Perle innen besetzt ist. — Kleinod: Den Schild deckt die Krone der Nobili.
12) Novak – Hungary – Novack, I. v. Bozna (Taf 335). Wappen: In B. gegen einen spitzen w. Felsen anspringend, ein doppelschwanziger g. Lowe. Kleinod: # Flugel. Decken: bg. Adels- u. Wappenbrief v. Konig Rudolf, d. d. Pressburg, 1578 (kundgemacht: Varasdiner Ctt, 1587) fur Jacob Novak v. Bozna fur s. Kinder: Peter, Johann, Matthias, Barbara, und fur des Erwerbers Bruder Johann. (Orig., C. A. Jaszo).
13) Novak – Hungary – Noväk, II v. Szamosujvär. (Taf. 335). Wappen: In von R. und B. geteiltem Schilde oben eine an ein g. Kreuz gehängte s. Wage , unten auf gr. Dreiberge eine r. gewaffnete w. Taube, im Schnabel einen haltend. gr. Blätterzweig — Kleinod: Die Taube ohne Dreiberg. — Decken: bg.-rs. Adels- und Wappenbrief v. König Maria Theresia, d. d. 20. Juni 1753 (kundgemacht : Szeben, 21. Aug. 1753) für die Gebrüder: Kristof Noväk sammt Ehefrau Maria Kristof, Jakob Noväk sammt Ehefrau Anna Oetves, Martin Noväk mit Ehefrau Helene Tödor und Manuel Novä mit d. Ehefrau Anna Däniel. Armenisches Geschlecht aus Szamosujvär in Sieben-bürgen, allwo sich die Vorfahren mannigfache Verdienste um das Land und um die reg. Fürsten erwarben. —Gegenwärtig blühen die Noväk von Szamosujvär im Ung-värer sowie im Märrnaroser Comitat. Eine Zierde seines Geschlechtes sowie der Stadt Ungvär welche er bewohnt, ist Andreas Noväk von Szamosujvär. Ritter des Franz-Josefs-Ordens, Dr der Medicin und der Chirurgie u. s. w. , welcher als der Begründer des imposanten Spitales der obgenannten Stadt sowie d der Majolika – Industrie (und Fabrik) dortselbst , genannt zu werden hat. Er ist vermalt mit Margarethe geb. Kinder entsprossen, Nagy-Ivän und sind dieser Ehe mehrere in utsprossen. (Leg. C. — Farn. Ber.).
14) Novak – Hungary – (Taf. 335). Wappen : Ueber einer w. Spitze welche mit einer mit fünf (1, 2, 2) sechsstrahligen g. Sternen belegten b. Bordure versehen erscheint , gespalten von R. und vorne ein einwärtsspringendes w. Ross, hinten ein r. bekl. gebogener Arm, in d. Faust eine Schreibfeder haltend. Kleinod: W. Flügel, belegt mit einem mit drei g. Sternen versehenen b. Schrägbalken. — Decken : rs. — bg. Adels – u. Wappenbrief v. König Leopold II., d. d. 1790 für Franz Noväk. Peter v. Noväk, lässt sub d. 1821 seinen Adel im Arader Ctte publiciren. Gleichnamige Adelsgeschlechter, kamen (oder kommen noch gegenwärtig) in den Ctten von Bihar, Szabolcs ec. vor. (Adami, Scuta Gent. Tom. VIII).
15) Novakovics – Hungary – Novakovics. (Taf 335). Wappen: In von G. und R. gespaltenem Schilde vorne vier b. Schrägbalken , hinten auf gekröntem gr. Dreiberge ein g. Löwe , in d. erhobenen Rechten einen Krummsäbel mit g. Parirstange , in d. gesenkten Linken drei gekreuzte Pfeile haltend. Kleinod: Zwischen offe-nem, rechts von G. und B. links von R. und G. geteiltem Fluge, der Löwe wachsend. — Decken: bg.-rg. Adels u. Wappenbrief v. König Leopold II. , d. 1791 für Stefan Paul u. Peter Noväkovics. (L. R.).
16) Novak – Novak (Taf 68) – Wappen: Unter b. Schileshaupte in R. auf gr. Hugel ein ganz in Gr. Gekl., nach links gekehrter Mann, mit einem Feuergewehre auf einen in n. Wasser stehenden Vogel schiessend. Kleinod: Kranich, in d. erhobeben Rechten eine Kugel haltend. Decken: bs.-rs. Adels: u. Wappenbrief v. Konig Rudolf, d.d. Prag, 24 April 1584 fur Ladislaus Novak u. fur seine Ehefrau Anna Teoke (?) sowie fur s. Verwandten Johann Novak (Orig. Conv. A. Lelesz).
17) & 18)) Nowack – Silesia – Nowack (Nobeck, Nowag, Nowagk) (Taf 28) – Altes schlesisches Adelsgeschlecht des Furstenthums Neisse aus dem gleichnamigen Stammhuase im Neisser Kreise; von Lucae auch zum Adel des Furstenthums Troppau gerechnet. Peter v. N. 1447-56 Bischof und Georg v. N (died 1492) Domherr in Breslau. Heinrich Wenzel v. N., Herr auf Friedland und Hermsdorf bei Weidenau wurde 1660 7. 2. in den bohmischen Freiherrenstand erhoben, hinterliess jedoch von Gemahlin Eva Maria v. Skal und Gross-Ellgut nur Tochter; auch die Bruder desselben setzten den Stamm dutch mannliche Nachkommenschaft nicht fort. Wappen: 1) adliges Wappen: in Roth (Schwarz?) ein gehender silberner Fuchs mit goldener Binde um den Lein und einem Huhne im Maule; im rechten Obereck eine silberne Rose. Kleinod: auf der Krone die silberne Rosel Decken: roth-silbern. b) Freiherrliches Wappen: quadrirt; 1) Figur des adlichen Wappens; 2 u. 3) in Silber us der Splatungslinie wachsender gekronter schwarzer Adler; 4) in Roth ein quer gelegter silberner Muhlstein, uber welchem ein goldenes Tatzekreuz. Zwei gekronte Helme mit roth-silberned Decken: I) aus der Krone wachsedn doppelschwanziger, silberner Lowe; II) zwischen offenem schwarzen Fluge die silberne Rose.
19) Novack – (Barons) – Autriche – D'azur à un ours rampant au naturel soutenu d'une terrasse de sinople et acc de deux étoiles d'or dans les angles du chef Casque couronné Cimier l'ours issant Lambrequin d'or et d'azur
20) Novak – Dalmatie – (Conc. d'arm., 15 juillet 1830) – De gueules à une croix florencée d'argent chacun des bras ch sur son extrémité d'une perle au naturel enchassée d'or
21) Novakovich – Serbie – Taillé au 1 de gueules à l'aigle d'or couronnée du même posée en barre au 2 d'or à une étoile de gueules et un croissant du même rangés en barre le croissant posé en bande Cimier une autruche issante d'argent tenant en son bec un fer-à-cheval du même les bouts en bas Lambrequin d'or et de gueules