Nowakowski Family Crest, Coat of Arms and Name History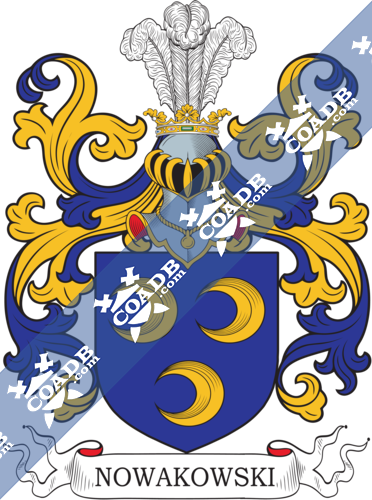 Nowakowski Coat of Arms Gallery
Don't know which Coat of Arms is yours?
We can do a genealogical research. Find out the exact history of your family!
Learn More
Nowakowski Origin:
Prussia
Origin of Nowakowski:
This surname comes from a Slavonic origin and is recorded all over Eastern Europe. There are over forty different forms of spelling of the surname though all acquire from the basic type of "Novak," itself a nick name used for a new migrator to a place, the crude translatioin of Novak is 'the new one.' This has been a combination of local or locational nicknames like the Polish 'owicz' or in the simplest form 'ak' and in many situations the addition of component 'ski' (male) or 'ska' (female), which is especially used for someone who arrived at a different place. The Czech form is similar to the Polish as the ending is 'cek,' while the Romanian examples consist of 'escu' and 'esco.' It is considered that in some situations the name may be a professional one of a shoemaker. It may be an evolution of an alternative name for someone who walked or moved. The name spelling types consist of Novic in Croatia, Nowik in Poland, Noweak in Germany, with nicknames like Novacek, Novkovic, Nowaczyk, Novichenko, Nowakowski, and Nowakinski. Later examples of the surname contain the wedding of Vaclav Novak and Marena Fejfarova in November in the year 1662, at Dasice, Pardubice, Czechoslovakia. Josepha Nowakowska, the daughter of Michal Nowakowski, was born at Lubien Kudauski, Bygoskiego, Poland, in April in the year 1793, and Trifus Novakovic was born in the year 1863, at Bijeljina, Bosnia-Hercegovina, Yugoslavia.
Variations:
More common variations of this surname are: Noakowski, Nowkowski, Nowiakowski, Nwakowski, Nowakaoswski, Nowikowski, Nowakowsky, Nowokowski, Nawakowski, Newakowski.
England:
The surname Nowakowski first appeared in East Prussia, where the name appeared from simple beginnings but obtained an important position for its donation to the developing of society. After sometime it seemed more important as many divisions of a similar house moved to faraway lands, some of which were situated in other countries. Through the acquirement of these lands was as large as their significant donations to society, the family successfully raised their social values. They would ultimately appear as landowners in Silesia with their main seat at Fridland.
The very first recording spelling of the family was shown to be that of Jakub Novak, which was dated June 24th, 1655, a naming assistant, at Semcice, Mlade Boleslaw, Czechoslovakia. It was during the period of Emperor Ferdinand III, of the Holy Roman Empire, dated 1637 – 1657. The origin of surnames during that time became a basic requirement for the presentation of personal taxation.
United States of America:
Some of the people with the name Nowakowski who settled in the United States in the 19th century included Michael Nowakowski at the age of 27, arrived in Missouri in 1840.
Here is the population distribution of the last name Nowakowski: United States 4,462; England 344; Poland 41,675; Germany 1,748; Australia 171; France 441; Canada 457; Brazil 286; Argentina 134; Mexico 131.
Notable People:
Piotr Nowakowski was born in December in the year 1987. He is a Polish player in volleyball, a representative of the Polish national group and Polish club Asseco Resovia Rzeszów. He was a member of the Olympic Games in London 2012, in Rio 2016, a 2014 World Champion, and part of the 2009 European Championship. He got a gold medal in the 2012 World conference, silver medal in the 2011 World Cup, a bronze medal in the 2011 European tournament and 2011 World Association, and three-time Polish Champion of 2012, 2013 and 2015.
Richard Nowakowski (born 1955) is a retired Polish-German fighter from East Germany. He won the silver medal in the men's featherweight division (57 kg) at the 1976 Summer Olympics in Montreal, Canada. There he was beaten in the final round by Ángel Herrera of Cuba.
Waldemar Nowakowski (born 1950) is a Polish politician. He was selected to Sejm in September in the year 2005, getting 4170 votes, competing from Samoobrona Rzeczpospolitej Polskiej list.
Emil Nowakowski was born in May 1974, in Lubin, Poland. He is a Polish football player who played initially in the Polish lower counties. He has spent time in the Polish first division and with teams in the United States, Italy, Greece, and Germany. He currently plays for FC Oberlausitz Neugersdorf in Germany.
Blazons & Genealogy Notes
First notation: 1764 ennoblement W na błękitnym polu trzy srebrne księżyce odwrotnie. Klejnot: 3 strusie pi"ra srebrne.