Oakes Family Crest, Coat of Arms and Name History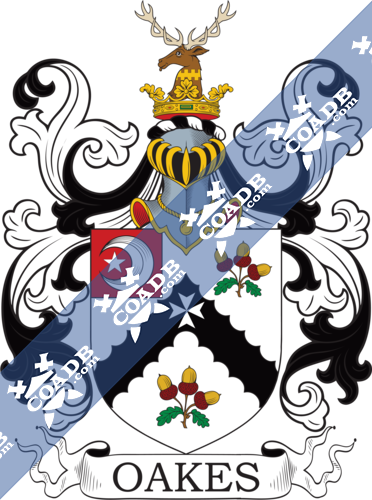 Oakes Coat of Arms Gallery
Don't know which Coat of Arms is yours?
We can do a genealogical research. Find out the exact history of your family!
Learn More
Surname Name Meaning, Origin, and Etymology
This Anglo-Saxon name is a local surname meaning "at the oak" or "at the oaks" given to a person who dwelled nearby. It derives from the Old English word ac, meaning oak. There are numerous places bearing this name, including locales in Derbyshire, Lancashire, and Somersetshire. The earliest recorded locale with this name was Acha, also spelled Acon, listed in the Domesday Book. It is documented as early as 897 AD. There are numerous other British last name that derive from trees: Alder, Appletree, Ashe, Aspen, Beech, Birch, Box, Cherry, Chestnut, Crabtree, Elmes, Hazel, Hawthorne, Laurel, Maple, Pine, Plumtree, Sickelmore, Thorn, Vine, Willows, and Wyche. In Ireland, it is an Anglicized form of the Gaelic last name MacDubhdara, meaning son of Dubhdara, a first name consisting of dubh (dark) and oak.
Spelling Variations
Common spelling variants Oaks, Oake, Oak, Oke, Ok, and others. Some claim the surname Noakes or Nokes have similar etymological origins, and even the last name Boak. Foreign equivalents are Oxi (Norse), Ochs (Dutch), Ocke (German), which were all personal names.
Popularity & Geographic Distribution
The last name ranks Oakes ranks 1,943rdth in popularity in terms in the United Status as of the 2000 Census and the variant Oaks ranks 4,646th. The name is particularly dense in Maine, Virginia, Connecticut, and Mississippi. The name is much more common in France, where it ranks 992nd in terms of popularity. It is particularly dense in Cheshire, Lancashire, Worcestershire, Suffolk, and Shropshire. Oakes ranks the following in other countries: Canada (2,206th), Australia (1,691st), New Zealand (2,206th), Ireland (2,105th), Wales (1,600th), and South Africa (2,930th).
The 1890 book Homes of Family Names by H.B. Guppy states "Oakes is an old Cheshire name. Its chief homes are in Marton and Siddington. The manor and township of Oulton gave a name to some ancient Cheshire families. Oulton was the name of the mayor of Chester in 1665, 1686, and 1700".
Early Bearers of the Surname
The Hundred Rolls of 1273 AD, a census of Wales and England, known in Latin as Rotuli Hundredorum, documents two people bearing this surname:  Adam at ye Ock in county Salop and Philip del Okes in the same county. The Poll Tax of Yorkshire in 1379 AD documents two bearers: Henricus ate Ok and Johannes del Okes.  The Calendarium Inquistionum Post Mortem lists one Richard atte Oke in 1319 AD. The Close Rolls list one Walter atte Ok during the reign of King Edward II of England (1307-1327). Kirby's Quest documents Watler atte Oke in county Somerset during the reign of Edward III (1327-1377). The Writs of Parliament document Roger of the Okes in 1319 AD. An early baptism involving this name was William Oakes, son of George, who was baptized in 1604 at St. Dionis Backchurch in London. An early marriage involving this surname is Mary Oake to Arthur Ayres in 1754 St. George's Chapel in Mayfair, London.
History, Genealogy, and Ancestry
The famous genealogist Bernard Burke's book "The Landed Gentry" discusses one branch of this family: Oakes of Nowtwon Court. It begins with James Henry Porteous, Esq. of Nowton Court in Suffolk, who was born in 1821 and succeeded his father in 1875. He was a Justice of the Peace and D.L., as well as a Member of Parliament for Bury St. Edmunds. Burke traces the lineage back to James Oakes, born in 1699, who married Susan, daughter or Orbbell Ray, and had issue with her: Susan (1740), Mary (1744), and Elizabeth (1747). They married George Green, James Bridge, and Reverend Richard Baker, respectively. He also has a son named James Oakes. James was born in 1741 and was a J.P. and D.L who married Elizabeth, the daughter of Christopher Adamson of Wereham, and had issue with her: Orbell, James, and Maria Susan. He was succeeded by his eldest son Orbell Ray Oalkes who was born in 1768. He married Elizabeth Frances, daughter of John Plampin, and had iossue with her: Henry James, Orbell (born 1800, captain in the Royal Navy who married Caroline Bryan), Hervey Aston Adamson, and Elizabeth Frances (married Lieutenant Colonel Robert Samuel Hustler). He was succeeded by his eldest son Henry James Oakes who was born in 1796 and was High Sheriff in 1847. In 1820, he married Mary Anne, daughter of Reverend Robert Portens, Rector of Wickham, and had children with her: 1) James Henry Porteous (mentioned at the beginning of this paragraph), Orbell Plampin (born 1824), Frederic Aston (born 1826), Francis Marian (married Henry Bunburk Blake). They family a coat of arms blazoned as follows: Sable on a fess engrailed between six slips of oak fructed or, three oaks cert, with an oak tree proper fructed or, encircile with palisades, as a crest.
William Cecil Oakes was born in 1807 in Pittsylvania, Virginia. He married Nicy Ashley in 1831 and had a child with her prior to his Attala, Mississippi: Pathenia (Dehart).
Early American and New World Settlers
The book Genealogical Guide to the Early Settlers, mentions five people bearing this surname: 1) Edward Oakes of Cambridge who was a freeman in 1642 and brought his wife Jane with him from England as well as their children Urian and Edward. He also had children named Mary and Thomas. He was lieutenant of Prentice's company in King Philip's War, as well a representative, 2) George Lynn Oakes who was recorded in 1654 who had children George (1664), John (1664), Mary (1666), Richard (1668), Sarah (1671), and Elizabeth (1674) with his wife Jennet, 3) Richard Oakes of Boston who receive a land grand in 1635, 4) Samuel Oaks of Boston in 1690, and 5) Thomas Oakes who was of Cambridge and brother of the previously mentioned Thomas. With his wife Elizabeth he had numerous issue: Elizabeth (1646), Thomas (1648), Elizabeth (1650), Hannah (1657), and Mary (1659). His daughter Elizabeth married Lemuel Jenkins and Hannah married Joseph Waite, both of whom were for Malden. Other early settlers to colonial America include Simon Oakes (New England 1632), Greg Oakes (Virginia 1637), John Oakes (Maryland 1672), and Thomas Oakes (Boston 1774).
Mottoes
The Oakes family motto is 1) Persevere, 2) Quercus robur salus patriae, meaning "The strength of the oak is the safety of our country", and 3) Esse quam videri, meaning "To be rather than seem to be".
Grantees
We have 5 coats of arms for the Oakes surname depicted here. These five blazons are from Bernard Burke's book The General Armory of England, Ireland, and Scotland, which was published in 1848. The bottom of this page contains the blazons, and in many instances contains some historical, geographical, and genealogical about where coat of arms was found and who bore it.
Later grantees of arms bearing this last name include: 1) Oakes of Marylebone, co. Middx., 1783,2) James, of Bury St. Edmunds, co. Suff., [1806], 3) Lieut.-Gen. Hildebrand, Commissioner-in-Chief of Malta [1810-13]. (Allusion in the Canton.) [1813], 4) Lieut.-Gen. Hildebrand, Bart. [1813], G.C.B. [1820]. Supporters, [1821], 5) (Olivar), of London, reputed dau. of Sir H. Oakes, Bart., wife of Wildman, of London, [1818], and 6) Oakes, late Woolhouse, O. [? Oakes], his wife, of Edwinstowe, co. Nottingham, [1827].
Notables
Famous people with this last name include: 1) Bernard F. "Bunny Oakes" (1898-1970) who was an American football player and coach that was head coach at University of Montana, Colorado, and Wyoming in the first part of the twentieth century, 2) Charles William Oakes (1861-1928) who was a Senator for New South Wales in Australia, 3) Sir Hildebrank Oakes (1754-1822) who was the first Baronet and Lieutenant General that served under Lord Cornwallis during the American Revolution, 4) Sir Harry Oakes (1874-1943) who was 1st Baronet of Nassau and an American born British Canadian investor, philanthropist, and gold miner owner, and 5) Thomas Oakes (1644-1719) who was a politican and politician who was the speaker of the Massachusetts House of Representatives.
Blazons & Genealogy Notes
1) (Mitcham Hall, co. Surrey, bart.). Ar. on a chev. engr. sa. betw. three sprigs of oak fructed ppr. a cross of eight points of the field, on a canton gu. a mullet of as many points within an increscent of the first. Crest—Out of a mural crown gu. a buck's head erased ppr. gorged with a collar embattled, counter-embattled or. Motto-Persevere.
2) or Okes – (Oundle, co. Northampton). Gu. two lions combatant ar. a chief of the last, quartering, Sa. a fesse betw. six acorns or. Crest—An oak tree vert fructed or, supported by two lions ramp. ar.
3) (Newton Court, co. Suffolk). Sa. on a fess engr. betw. six slips of oak fructed or, three oak leaves vert. Crest —An oak tree ppr. fructed or, encircled with pallisades. Motto—Quercus robur salus patriae.
4) (cos. Somerset and Wilts). Sa. on a fess ar. betw. six acorns or, a cross crosslet fitehfie betw. two oak leaves slipped vert. Crest—A demi leopard ramp. gorged with an antique crown, holding in the dexter paw an acorn branch fructed all ppr., and supporting with the sinister a cross crosslet, as in the arms. Motto—Persevere.
5) Ar. three hearts betw. two bendlets sa. Crest—A cockatrice sa.