O'Cullen Family Crest, Coat of Arms and Name History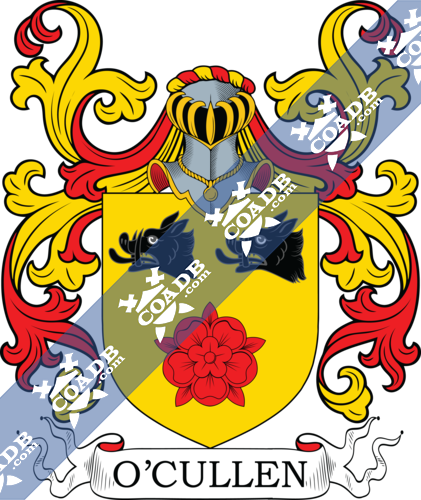 O'Cullen Coat of Arms Gallery
Don't know which Coat of Arms is yours?
We can do a genealogical research. Find out the exact history of your family!
Learn More
We don't yet have this section of research completed for this name. If you are interested in being notified when research becomes available, please use this form to contact us and we will let you know as soon as we have something!
Blazons & Genealogy Notes
1) (co. Donegal; Reg. Ulster's Office). Ar. a chev. betw. three ravens sa. beaked and legged az.
2) (the Sept of O'Cuillen). (Ballydonoghragh, co. Wicklow; Fun. Ent. Ulster's Office, 1622, the wife of Mortogh O'Cullen, of that place). Gu. on a chev. betw. three dexter hands erect couped at the wrist ar. a garb betw. two trefoils slipped vert. Crest—A mermaid with comb and mirror all ppr.
3) (Scotland). Or, two boars' heads erased in chief sa. and a rose in base gu.
4) (Laughs, co. Lanark, 1763). Az. an esquire's helmet ar. betw. two boars' heads erased in chief, and a cinquefoil in base or. Crest—A pelican in her nest feeding her young ppr. Motto—Non sibi.
5) (East Sheen, co. Surrey, bart.; extinct 1730). Or, an eagle displ. sa. armed gu. Crest—An eagle displ. gu.