Oldfield Family Crest, Coat of Arms and Name History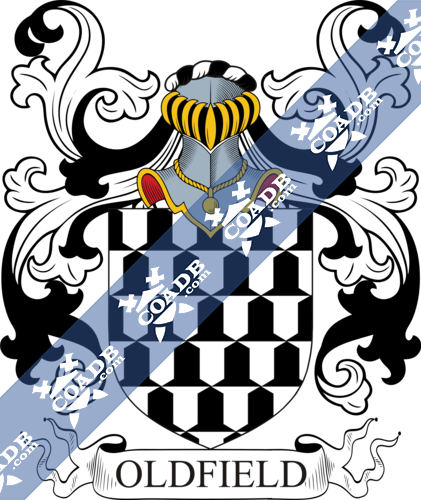 Oldfield Coat of Arms Gallery
Don't know which Coat of Arms is yours?
We can do a genealogical research. Find out the exact history of your family!
Learn More
Oldfield Meaning, Origin & Etymology
Oldfield is an Anglo-Saxon locational name, deriving from the areas known as Oldfield in Cheshire, Worcestershire and Yorkshire in England. The word dates back to pre-7th century Olde English from 'eald' and 'feld' meaning 'old' and 'pasture'.
According to Lower's 'Patronymica Britannica', the name first belonged to Richard de Oldfield, the grandson of Guy de Provence and Alice de Hartwell who acquired the manor and lands of Oldfield in Chester around 1236. The Norfolk branch of the Oldfield family tree can be traced back to James Oldfield, who was rector of Stratton during the reign of James II (1685-1688).
Variations
Following the Norman invasion of England, mixed languages led to a system of phonetic spelling with no fixed rules. As a result of this, names from this period vary enormously from family to family. Direct variations of Oldfield include Oldefield and Oldfeild, and similar names which may share the same origin include, but are not limited to, the following: Oldfiald, Oldfiled, Oldfeld, Oldfild, Oldffield and Ouldfield.
Popularity & Geographic Distribution
Some 15,755 people bear the name Oldfield, making it the 31,787th most popular name in the world. Most (5,883) of these people live in England, and it is particularly popular in Portsmouth where it is the 31st most popular surname in the area. In the USA, the highest concentration of Oldfields can be found in California, where 419 people carry the name.
Early Bearers
Oldfield was first recorded in Suffolk's 1221 'Ely Diocesan Registry' with Agnes de Aldefeld during the reign of King Henry III (1216-1272). Other early bearers include Adam del Oldefeld, recorded in the 1297 'Subsidy Rolls of Yorkshire'; Ricardus de Oldefelde, from the 1315 'Hundred Rolls of Gloucestershire'; and John del Oldefeld of Cheshire, recorded in 1438.
Mottoes
The Oldfield name carries 2 original known mottoes: In cruce vincam (I shall conquer in the cross) and viresco vulnere (I revive by my wounds), and also shared one motto with many other names, dum spiro spero (while I have breath I have hope).
History, Genealogy & Ancestry
One Christopher Oldfield was born around 1573 in Yorkshire, married a woman named Elizabeth and had the following issue: Margaret, Francis, Margaret, Cornelius, Isabella and Gilbert. Their son Francis Oldfield was born in 1618 and was father to Thomas Oldfield in 1654. Thomas married Mary and fathered Thomas in 1678 and Jane in 1680.
Early Settlers
Bearers of the Oldfield name who went on to colonise the 'New World' include George and John Oldfield, who arrived in Maryland in 1673 and 1684 respectively.
Grantees
We have 6 coats of arms for the Oldfield surname depicted here. These blazons are from Bernard Burke's book The General Armory of England, Ireland, and Scotland, which was published in 1848. The bottom of this page contains the blazons, and in many instances contains some historical, geographical, and genealogical information about where the coat of arms was found and who bore it.
Notables
Notable people through history who have carried the name Oldfield include, but are not limited to, the following: John Oldfield (1689-1863), a general who sketched plans of Waterloo for Wellington before participating in the battle; Anne Oldfield (1683-1730), an English actress who went from relative poverty to joining the cast of Drury Lane's Theatre Royal; Maurice Oldfield (1915-1981), who was the seventh director of MI6 (the Secret Intelligence Service); and Mike Oldfield (1953-present), whose 1973 album 'Tubular Bells' was featured in 'The Exorcist', which really turned some heads.
Blazons & Genealogy Notes
1) (Oldfield, co. Chester, where the family was seated above 400 years). Ar. on a bend gu. three crosses pattée fitchée of the field. Crest—Out of a ducal coronet or, a demi wivern, wings displ. or. Motto—In cruce vincam.
2) (Bradfield, co. Chester; confirmed 7 Feb. 1578). Same Arms. Crest—A demi eagle displ. ar.
3) (cos. Leicester and Oxford). (Spalding, co. Lincoln, bart., extinct temp. Quene Anne, created 1660; Elizabeth, dau. and co-heir of Sir John Oldfield, Bart., of Spalding, m. John Wingfield Esq., of Tickencote). Or, on a pile vert three garbs of the field. Crest—On a garb or, a dove ar. beaked and legged gu. holding in the beak an ear of wheat gold.
4) (Durington, co. Lincoln). Vaire erm. and sa. Crest—A dove close ar. holding in the beak an ear of wheat or.
5) Vaire ar. and sa. (another, sa. and or).