Oldham Family Crest, Coat of Arms and Name History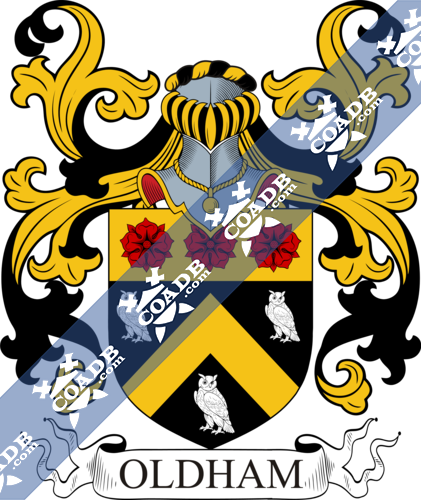 Oldham Coat of Arms Gallery
Don't know which Coat of Arms is yours?
We can do a genealogical research. Find out the exact history of your family!
Learn More
Oldham Surname Name Meaning, Origin, History, & Etymology
First, Oldham is likely a habitational name for a person who came from a place so named in Lancashire, deriving from the Middle English word ald or old (meaning old), and holm (meaning island, promontory). Second, it may be a topographic name deriving from the old English world eald (meaning old) and hamm (meaning water meadow or low-lying land near a river). Third, it may be of Norse or Viking origin or Anglo-Saxon origin, deriving from the Norse word holmr, meaning "old lands", assumedly meaning an area of land that had been farmed for many years. The town's name was first documented in the Book of Fees as Aldholm and in the Assize Rolls of Lancashire in 1226 AD. In his book, A Topographical Dictionary of England, Samuel Lewis states "Oldham was for a long period celebrated for the manufacture of hats, which was established as early as the fifteenth century". He also proffers the following origin theory: "This place anciently Fernet, was held in the reign of Henry III by Alwardus de Aldholme, founder of the family of Oldham. His daughter and co-heiress conveyed the manor to the Cudworths, a branch of a Yorkshire family; and from them the estate passed by sale to Sir Ralph Assheton, of Middleton".
Spelling Variations
Some spelling variants or names with similar etymologies include Oldom, Ouldham, Aldeham, Aldham, Ouldome, Houldham, Oldam, Olydamn, and others.
Popularity & Geographic Distribution
The last name Oldham ranks 2,604th in popularity in the United Status as of the 2000 Census. The name ranks particularly high in the following five states: Kentucky, Tennessee, North Carolina, Oklahoma, and Utah. The surname Oldham frequency/commonness ranks as follows in the British Isles: England (1,428th), Scotland (2,768), Wales (1,747th), Ireland (4,308th) and Northern Ireland (3,129th). In England, it ranks highest in counties Cheshire and Nottinghamshire. In Scotland, the surname ranks highest in Peeblesshire. In Wales, it ranks highest in Glamorganshire. In Ireland, it ranks highest in county Carlow. In Northern Ireland, it ranks highest in county Down. The name is also present throughout the remainder English speaking world:  Canada (5,736th), New Zealand (1,617th), Australia (2,341st), and South Africa (12,715th).
Early Bearers of the Surname
The earliest known bearer of this name was Achard de Aldeham, who was recorded in the Feet Fines of county Kent in 1218 AD. Other early bearers include Richard de Oldham (Calendary of Inquisitiones Post Mortem, Lancashire, 1324 AD), Robert Oldum (Close Rolls, London, 1470), and Ralph Oldham (Coroner's Rolls, Nottinghamshire, 1508). The Poll Tax of Yorkshire in 1379 AD lists two bearers: Agnes de Oldom and Robertus de Oldom. The Register of the University of Oxford lists   one John Oldham of Nottinghamshire in 1610. An early baptism involving this surname was Susann, daughter of Thomas Ouldome, at St. James Clerkenwell, London, England in 1633. An early marriage involving this surname was Charles Oldham to Margaret Coho at St. George's Chapel, Mayfair, in 1746.
Oldham Family Tree & Oldham Genealogy
The progenitor of this family was John Oldham who was born around 1400 AD. He had a son named Roger. Roger was born in Lancashire, England around 1424 AD. He married Margery and had a son named her named Hugh. This son, Hugh Oldham, was the Bishop of Exeter and was born around 1452 AD. He married Abigail Wood and had a son with her named John. Sir John Oldham was born in Derby, England around 1480. He had a son named John. John I, known as John Oldham or Houldham, was born in Kirkburton, West Yorkshire around 1505. He married a woman named Johanna and the following issue with her: John Thomas II, William, Thomas, James, Mary, and Lucretia. John Thomas Oldham of Odom II was born in Oldham, Lancashire, England in 1530. He married Isabell Hall and had a son with her named William. William Oldham (or Ouldham) Sr. was born in Derby around 1568. He married Philippia Sowter in 1588 at All Saint's Parish Diocese, and had the following issue with her: Margaret, Thomas Sr., John, Mary, Lucretia (Brewster), and William Odom. Thomas Sr. was born in Derbyshire, England in 1592. He married Elizabeth Rhodes and had the following issue with her: Ann, John, Thomas, Sarah, Joseph, Rebekah, and Jethro. His son Thomas Oldham was born in Derby, England in 1624, and he came to colonial America. He married Mary Wetherell and had the following children with her: Thomas Jr., Grace, Isaac, Sarah, Hannah, Elizabeth, Lydia, and Mary (Bisbee). His son Thomas Jr. was born in Scituate, Plymouth, Massachusetts, in 1660. He married Mercy Sprout and had the following issue: Joshua, Mercy, Elizabeth (Damon), Abigail, Anna, Desire, Thomas, Caleb, and Grace (Eames). His son Joshua Oldham was born in Plymouth, Massachusetts in 1684. He married Mehitable Gorham and later Bathsheba Brock, and had a daughter named Mehitable. She was born in 1717 and married Jon Nichols, having a son with him named Joseph.
Thomas Oldham was born in Clwyd Calverton, Flintshire, Wales in 1680. He married Susannah Few, and later went to Pennsylvania and married Rachel Minshall. He had the following children : Thomas Jr, Mary (Rowles), Thomas, Elizabeth, Deborah, Susannah, Martha, William, Hannah, and Rachel Ann (Rogers). His son Thomas Jr. was born in 1695. He had a son named William. William Oldham was born in Bethel Township, Pennsylvania in 1692. He married Sarah Dicks and had a son with her named Isaac. Isaac Oldham was born in Allegheny, Pennsylvania in 1739. He married Sarah Anderson and had two children with her: Elizabeth and Samuel Sr. Samuel Sr. was born in Pennsylvania in 1792. He was a schoolmaster and taught Seneca Indians on the border on Pennsylvania and New York. He married Rebecca Wylie and had two children with her: Samuel Hr. and Mary M. (Armstrong). Samuel Jr. was born in Ohio County, West Virginia in 1826. He married Mary Jane and had a daughter with her named Blanche. Blanche Lizabeth Oldham was born in Pennsylvania in 1859. She married James Montague Hogden and had the following issue with him: Anna Elizabeth (Hardy), James Montague Jr., and Robert Samuel.
Early American and New World Settlers
The book Genealogical Guide to the Early Settlers, mentions one bearer of this last name: John Oldham, of Plymouth, who came to America in 1623 aboard the Ann. He attempted to establish the settlement of Cape Ann, but was unsuccessful. He was killed by Indians in 1636 in the events leading to the Pequot War. It is unknown if he had a wife and children.  Other seventeenth century settlers include Margaret Oldham (1620), James Oldham (Plymouth, MA 1623), and Lucretia Oldham (Plymouth, MA 1623).
In Australia, one of the first settlers was John Oldham, a convict from Middlesex, England, who came to New South Wales aboard the Albion in 1826. In 1838, a family of this name came to Adelaide aboard the Lord Goderich, including: Frederick Bagot Oldham, William Oldham, and Sarah Oldham. In New Zealand, a family of this name came to the city of Auckland aboard the Mermaid in 1859, including the following: Alfred, Elizabeth, Frank, William, and Herbert Oldham.
Early Americans Bearing the Oldham Family Crest
Charles Bolton's American Armory (1927), Matthew's American Armoury and Bluebook (1907), and Crozier's General Armory (1904) do not contains any entries for this last name.
Mottoes
I have identified one Oldham family mottos: Sapere aude "Dare to be wise".
Notables
There are hundreds of notable people with the Oldham surname. This page will mention a handful. Famous people with this last name include: 1) Christopher Marin Oldham (1968) is a retired NFL football player from Sacramento, California who player for five different teams from 1990 to 2001, including the Arizona Cardinals and Pittsburgh Steelers, 2) George Ashton Oldham (1877-1963) who was the Bishop of the Episcopal Diocese of Albany from 1929 to 1950, born in Cleveland, Ohio, 3) John Oldham (1653-1683) who was an English satirical poet born in Shipton Moyne, Gloucestershire, 4) John Cyrus "Red" Oldham (1893-1961) who was a pitcher in the MLB who played for the Detroit Tigers and the Pittsburgh Pirates from 1914-1926, born in Zion, Maryland, 5) Richard Dixon Oldham (1858-1936) who was a British geologist born in Dublin, known for work on P-waves, S-waves, and surface waves on seismograms, 6) John Oldham (1779-1840) who was an Irish engineer best known for creating the Oldham coupler, 7) Colonel William Oldham who served in the battles of Brandywine and Monmouth during the American Revolution, 8) William Kavanaugh Oldham who was the Acting Governor of Arkansas for six days in 1913, born in Richmond, Kentucky, 9) William Simpson Oldham Sr. (1813-1868) who was a confederate state senator from Texas from 1862-1865, and 10) Derek Oldham (1887-1968) who was an English actor and singer most well-known for his tenor roles in the Savoy Operas.
Blazons & Genealogy Notes
1) (Oldham, co. Lancaster). (Cainham Court, co. Salop; Joseph Oldham, Esq., was High Sheriff of the co. 1789). Sa. a chev. or, betw. three owls ar. on a chief of the second as many roses gu. Crest—An owl ppr.
2) (Manchester, co. Lancaster, 1664). Same Arms. Crest—An owl ar. in front of a holly bush vert.
3) (Hugh Oldham, Bishop of Exeter, 1505-19; arms in the Hall of Corpus Christi College, Oxford. Visit. Oxon, 1566). Sa. a chev. or, betw. three owls ar. on a chief of the second as many roses gu.
4) (Hatherleigh, co. Devon). Quarterly. 1st and 4th, sa. a pale ar. over all a chev. betw. three owls counterchanged, a chief erminois, thereon three roses gu. barbed and seeded ppr., for Oldham; 2nd and 3rd, per fess or and ar. three piles in point, each charged with a thistle stalked and leaved of the first, for Laing. Crests— 1st, Oldham: On a mount vert in front of a tree an owl all ppr.; 2nd, Laing: A mount vert, thereon a cock, the dexter claw resting on a thistle ppr.