Pacheco Family Crest, Coat of Arms and Name History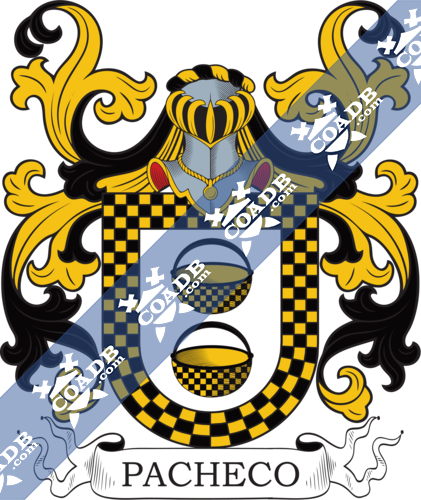 Pacheco Coat of Arms Gallery
Don't know which Coat of Arms is yours?
We can do a genealogical research. Find out the exact history of your family!
Learn More
Pacheco Surname Name Meaning, Origin, History, & Etymology
According to the Dictionary of American Family Names, published in 2013, Pacheco is a Spanish and Portuguese developed from a personal (first) name of an uncertain, perhaps pre-Roman origin (the Roman conquest of Spain lasted from 220 to 19 BC). Another theory is the name derives from the Roman-Latin masculine given name Franciscus, a name used to describe a person who was a Frank (a Germanic people that lived by the Lower and Middle Rhine, later becoming Frenchman). The name Frank was used as a first name beginning in the 400s AD and translates as "a free man". It may have been used as a derogatory term by Romans for a person who claimed to be free. It is unclear how to name evolved to Pachu, Pachon, and Pacheco on the Ibertian Peninsula during medieval times and the Middle Ages. A fourth theory is the name was born by a Roman General in 92 BC named Vivio Pacieco, who was a descendant of Lucio Vimino Pacieco, who lived/worked in Andalucia. One of his descendants, Don Diego Pacheco, known as "el Grande", a Portguese noble, was the first bearer of this name in Spain. The name first established itself in the Kingdom of Castile, a powerful state located on the Iberian Peninsula (modern day Spain) during the Middle Ages that existed between 1065-1230 AD, and existed as the County of Castile beginning in the 800s AD.
Popularity & Geographic Distribution
The last name Pacheco ranks 512th in popularity in the United Status as of the 2000 Census. The name ranks particularly high in the following five states: Rhode Island, New Mexico, Hawaii, Colorado, and Massachusetts. In all five aforementioned states, the name ranks in the top 200.
In Spain, the name ranks 189th. In Portugal, it ranks 108th. The surname Pacheco frequency/commonness ranks as follows in the Latin and South America: Mexico (108th), Honduras (159th), Panama (414th), Colombia (166th), Venezuela (66th), Argentina (178th), Nicaragua (400th), Ecuador (113th), Cuba (240th), Peru (83rd), Chile (139th), Bolivia (97th), Uruguay (147th), Dominican Republic (263rd) and El Salvador (189th).
Pacheco Family Tree & Pacheco Genealogy
Some bearers of this surname during the time of the Middle Ages to the early modern period include:
1) Duarte Pacheco Pereira (1460-1533), known as Aquiles Lusitano (Portuguese Achilles), was a soldier, explorer, sea captain, and cartographer who was born in Lisbon and explored the coasts of West Africa, India, and the Cape Verde islands
2) Lopo Fernandes Pacheco (died 1349 AD) was the first Lord of Ferreira de Aves, and was the first of his line to accede to the higher ranks of nobility, called rico-homem, in the Kingdom of Portugal
3) Juan Fernández Pacheco y Téllez Girón (1419-1474) was a Castilian nobelman of Portguese descent who was a prominent figure during the reign og King Juan II of Castile, and held the titles of Dukes of Escalona, Marquess of Villena, and Master of the Order of Santiago
4) Juan Manuel Fernández Pacheco (1650-1725) was the 8th Dule of Escalona, who also was the Director of the Royal Spanish Academy from 1713-1725, and lost the Battle of Torroella against the French in 1694 during the War of Spanish Succession
5) Maria Pacheco (c. 1496-1531) was a Spanish warrior from the noble House of Mendoza, born in Granada, the daughter of Inigo Lopez de Mendoza y Quinones, known for leading the defense of the city of Toledo against royalist forces after the death of her husband at the Battle of Villalar in 1521 AD.
6) Don Rodrigo Pacheco y Osorio de Toledo (1565-1652), the 3rd Marquis of Cerralvo, was a Spanish noble and viceroy of New Spain (Mexico) from 1624 to 1635
7) Alonso Pimentel y Pacheco, II Duque de Benavente (c. 1470-1572 AD), son of Rodrigo, married Condesa da Ana de Velasco y Herrera and Ines de Mendoza
8) Juan Jose Pacheco was born in 1708 in what is now New Mexico, and married Ynez Martin Serrano
9) Violante Lopes Pacheco was born around 1314 AD and married Diogo Afonso de Sousa
10) Amaro Pacheco was born on San Miguel Island, Azores in around 1580 AD, and he married Agnes de Frias Medeiros
Some marriages involving the Pacheco last name include:
1) Joseph Anaris Pacheco married Maria Antonia Guadalupe in Santa Catarina, Mexico in 1766
2) Nicolas Alejo Pacheco married Nicolasa Maria de la O Gomes in Merida, Yucatan, Mexico in 1718
3) Maria Ansures Pacheco married Lasaro in Arequipa, Peru in 1713 Del Corral
4) Manoel Pacheco married Roza Maria in Porto, Portugal in 1784
5) Francisco Pacheco married Antonia de Azevedo in Setubal, Portugal in 1653
6) Francisca Pacheco married Pedro de Salinas Penalosa in Granada, Spain in 1607
7) Antonio Pacheco married Maria de Torres Castillo in Granada, Spain in 1650
8) Joseph Pacheco married Francisca Chacon in what is now New Mexico in 1732
9) Romualdo Pacheco married Ramona Carrillo in San Diego, California in 1826
10) Adolfa L. Pacheco married Elizabeth W. Farmer in Portland, Maine in 1861
Jose Pacheco was born in Sao Miguel Island, Azores. In 1791, he married Francisca Theresa, daughter of Francisco Pereiera Furtado and Joana de Medeiros, and had a son with her named Joao. Joao Pacheco was born in Ribeira Grande, Sao Miguel Island, around 1795. In 1815, he married Jacintha Rosa Ferreira and had a son with her named Jacintho. This son, Jacinto Pacheco Ferreira, was born in the same town in 1834. In 1856, he married Anna Jacinta de Mell Ono and had the following issue with her: Antonio, Manuel Algravia, Jose Sr., Maria, Joao, Francisco Algavia, Maria, and Theodoro. One of his sons, Antonio was born in Nordeste, San Miguel Island around 1850. He went to the United States. He married Alexandria Jose in Hawaii in 1889. He had the following children: Maria, Louisa, Manuel, Sophia, Jacinth, John, Frances, Antonio, and Beatrice. His son, John "Secondhand" Pacheco was born in Kilauea, Hawaii in 1901. In 1929, he married Lydia Caroline Diaz. They had a son together named Stanley. His son Stanley was born in 1936 and passed away in 1966.
Early American and New World Settlers
One of the earliest known settlers of the New World bearing this name was Pedro Pacheco who came in 1510. Other early settlers with this name include Leonor Pacheco (Mexico 1534), Alonso Pacheco (Venezuela 1534), and Melchor Pacheco (Mexico 1538).
Several thousand members of the Pacheco family came to the United States through Ellis Island, during the nineteenth century, including:
1) David Pacheco came from Brazil aboard the Advance in 1890
2) Joao F. Pacheco came from Portugal aboard the Vega in 1891
3) Adalberto Pacheco came from Cuba aboard the Havana in 1913
4) Beninto Pacheco came from Portugal aboard the Havana in 1865
5) Juan L. Pacheco came from Cuba aboard the Atlas in 1874
6) Maria Pacheco came from Valparaiso, Chile aboard the Zacapa aboard the 1912
7) Jean Pacheco came from France aboard the Kanganore in 1862
8) Jacinth Pacheco came from Portugal aboard the Benguella in 1890
9) Romaldo Pacheco came from Mexico aboard the British Empire in 1881
10) Manuel Pacheco came from Mexico aboard the Gucatan in 1891
Notables
There are hundreds of notable people with the Pacheco surname. This page will mention a handful. Famous people with this last name include:
1) Angel Pacheco (1793-1869) was military officer in Argentina who was a top commander in the Confederacy during the Juan Manuel de Rosas dictatorship and never lost a battle
2) Abel Pacheco de la Espriella (1933) was the 44th President of Costa Rican from 2002 to 2006
3) Gregorio Pacheco Leyes (1823-1899) who was the President of Boliva from 1884 to 1888
4) Jorge Pacheco Areco (1920-1998) was a President of Uruguay from 1967 to 1972
5) Alfred Alberto Pacheco (1982-2015) was a Salvadoran soccer (football) player born in Santa Ana who plated from 2000-2013, holding the record for most national team appearances
6) Jordan Patrick Pacheco is a former professional baseball player born in Albuquerque, New Mexico who played in the MLB from 2011-2016 for three different teams: Colorado Rockies, Arizona Diamondbacks, and Cincinnati Reds
7) Edgar Patrício de Carvalho Pacheco (1977) was a professional Portuguese soccer (football) player whose career spanned from 1995-2009, playing for teams such as Real Madrid and Benfica
8) Alexander Melchor Pacheco Lara (1973) was a former baseball pitcher who played for the Montreal Expos in the MLB in 1996, born in Caracas, Venezuela
9) Fernando Castro Pacheco (1918-2013) was a Mexican painter, illustrator, and engraver born in Merida, known for his mural celebrating the history and spirit of the Mexican people
10) Carlos Pacheco (1962) is a Spanish comic book penciller and artist born in San Roque, Cadiz, best known for his work on titles such as Green Lantern, X-Men, and Avengers Forever
Pacheco America Civil War Veterans
There were around 82 soldiers with the last name Pacheco who served in the American Civil War:
1) Eustaquis Pacheco fought for the Union as part of the 1st Regiment New Mexico Infantry
2) Santiago Pacheco fought for the Union as part of the 3rd Regiment New Mexico Mounted Infantry
3) Fabian Pacheco fought for the Confederacy as part of the 8th Regiment Texas Infantry (Hobby's)
4) Francisco Pacheco fought for the Confederacy as part of the Ragsdale's Battalion, Texas Cavalry
5) Luciano Pacheco fought for the Confederacy as part of the 3rd Regiment, Texas Infantry
6) Louis Pacheco fought for the Union as part of the 1st Regiment, District of Columbia Infantry
7) Eustaca Pacheco fought for the Union as part of the 1st Regiment California Cavalry
8) Manuel Pacheco fought for the Union as part of the 1st Battalion Arizona Infantry
9) Rafael Jose fought for the Union as part of the 1st Regiment New Mexico Infantry
10) Fernandez Pacheco fought for the Union as part of the Mink's Independent Company, New Mexico Mounted Volunteers
Blazons & Genealogy Notes
1) Castille – D'argent à deux chaudières échiquetées d'or et de sable l'une sur l'autre à la bordure échiquetée de sable et d'or. English: Argent two cauldrons checky or and sable in pale a bordure checky sable and or.
2) Castille – D'azur à un pélican d'or sans petits avec sa piété de gueules Casque couronné Cimier le pélican. English: Azure with a pelican or without young in its piety gules Crowned with a helmet Crest: the pelican.