Pack Family Crest, Coat of Arms and Name History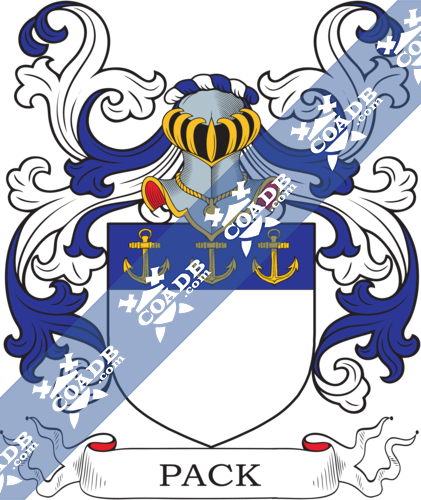 Pack Coat of Arms Gallery
Don't know which Coat of Arms is yours?
We can do a genealogical research. Find out the exact history of your family!
Learn More
Surname Name Meaning, Origin, and Etymology
This English (Kentish) last name is a baptismal surname meaning "the son of Pack", which is likely a harder form of Patch, with Pakes being the genitive form. It derives from the Old English personal (first) named Pacca, likely a derivative of the Latin Christian given name Paschalis or Paschal.  Alternatively, the name may have been a derivative of the Middle English paske or Old French pasque or paque, meaning Easter, and might have been a nickname for a person who was born on the Easter holiday in the Christian religion celebrating the resurrection of Jesus Chris. One author asserts it may derived from the old Anglo-Saxon given name Paeca, meaning "a deceiver". One source claims the name was first found in Sussex in England and in Languedoc in Languedoc.
Spelling Variations
Common spelling variants or names with similar etymologies include Packe, Pakes, Pakke, Pake, Payke, Pac ,and Paik. Other names with this word in them include Packer, Crumpacker, Packey, Packebush, Pennypacker, Packet, Packwood, Packard, and Pakenham. It can also be an Anglicized spelling of the Dutch surname Pak, and an Ashkenazic Jewish occupationale name for a wholesaler or trader from the surname word pack, meaning package. Foreign equivalents include Pak (Dutch), Pake (Flemish), and Pache (German).
Popularity & Geographic Distribution
The last name ranks Pack ranks 1,773rd in popularity in terms in the United Status as of the 2000 Census.  The name ranks particularly high in the following six states: West Virginia, Utah, Ohio, Tennessee, Kentucky, and South Carolina. The surname is even more common in England, where it ranks 4,125th. It ranks highest in the following counties: Huntingdonshire, Bedfordshire, Northamptonshire, and Devon. The name is common throughout the English speaking world:  Scotland (4,818th), Wales (7,279th), Ireland (19,046th), Canada (7,615th), New Zealand (7,457th), Australia (7,293rd), and South Africa (17,476th).
Early Bearers of the Surname
The earliest known bearer of this surname was John Pac who was documented  in the Kalendar of Bury St. Edmunds Suffolk in 1190 AD. Five years later, Roger Pake was listed in the Pipe Rolls of Leicestershire. The Hundred Rolls of 1273 AD, a census of Wales and England, known in Latin as Rotuli Hundredorum lists four bearers of this surname: John filius Pake county Cambrideshire, Alexander Pake in county Cambridgeshire, William Pakke in county Bedfordshire, and Agnes Pake in county Bedfordshire. A one Edward Pake was listed in county Somerset during the first year of the reign of King Edward III (1327) in Kirby's Quest. Early marriages involving this surname include Humfrey Pakes to Martha Brittaine in London in 1568, Matthew Pake to Elizabeth Rogers in 1590, and Edward Pack to Hester Blunt in 1603.
History, Genealogy, and Ancestry
The famous genealogist Bernard Burke's book "The Landed Gentry" discusses two branches of this family: 1) Pack of Avisford and 2) Packe of Prestwold.
The first branch begins with a mention of Arthur Denis Henry Heber Reynell-Pack, Esquire of Avisford, Sussex, England, who was born in October 1860. Burke states of the family of Packe, of county Leicester, is stated to have went to Ireland, who was a Major in Oliver Cromwell's Army, and was the ancestor of the Very Reverend Thomas Pack, Dean of Ossory, of the Packs of Kilkenny. Thomas Pack of Ballynakill in Queen's county married a daughter of the Kelly gamily had had three sons with her: Thomas, Richard (married Mary Percy), and Samuel (of Dublin, married Jane Caddel). His son and heir Rev. Thomas married Catherine, daughter of Denis Sullivan of Bere or Berehaven, and had one son with her. That son was Major-General Sir Denis Pack, who received the thanks of Parliament for his military services. He was born in 1775, who in 1816, married Lady Elizabeth Louisa Beresford, who was the daughter of George, 1st Marquess of Waterford, and had four children with her: Arthur John Reynell, Denis William, Anne Elizabeth (married Reverend George J. Mapletoft Paterson), and Elizabeth Catherine (married Sir William Hamilton Hanson). He died in 1823 and was succeeded by his son Arthur John. Arthur John was a Colonel in the army and Knight of the Legion of Honour, born in 1817. In 1850, he married Frederica Katherine, daughter of Colonel Henry Hely Hutchinson of Weston, and had issue with her: Arthur Denis Henry Heber, Louisa Frederica (married Arthur Becher Ellicott), Elizabeth Georgiana Anne, Mary Isabella Harriet, and Harriet Katherine Grace. He took the surname Reynell in 1857, when he succeeded the late Sir Thomas Reynell in the Manors of North and East Bowers. The Pack Family Crest is blazoned as follows: Quaterly, sable and ermine, in the 1st quarter a sword in bend sinister argent, encircled by a wreath of the last, in the 4th cinquefoil of the third. Pendany from a crimson ribbon bordered blue, in the centre chief a representation of the golden cross and claps presented to Major-General Pack by His Majesty King George III, in testimony of his royal approbation of the signal valour displayed by the said Major-General Pack in divers actions with the enemy in the Peninsula of Spain.
The second branch begins with a mention of Hussey Packe, Esquire of Prestwold Hall in county Leicester, and Caythorpe, county Lincoln, Justice of the Peace, counties Leicester, Lincoln, and Nottingham, who was Deputy Lieutenant for counties Leicester and High Sheriff in 1877. He was born in 1846 and in 1872, he married Lady Alice Wodehouse, daughter of John, 1st Earl of Kimberley, and had four issue with her: Richard Hussey (1874), Edward Hussey (1878), Florence Marion (1873), and Sybil Alice (1876). This family was originally of county Northampton. Sir Christopher Packe, Lord Mayor of London in 1654, was a zealous Parliamentarian, and a member of Cromwell's other House of Parliament, as Lord Packe.  After the Restoration, he was deprived of his aldermanic gown, he lived at Cotes in county Leicester, where he was living when the Heralds visited that county in 1691. He died in 1691 at the age of about 89 years. His grandson was Clifton Packe, Esquire of Prestwold, son of Christopher, who married Penelope, daughter and heir of Edward Bate of Maid's Morton. His son and heir was Charles Packe, Esq. of Prestwold Hall who married Rebecca, daughter of John Harvey of Old Buckenham. He was succeeded by his son Charles James Packe, Esquire of Preswold Hall who was born in 1726. Charles married Charlotte, daughter of Thomas Pochin of Barkby Hall, and had issue with her named Charles James, Rebecca, and Charlotte (married William Hanbury). He later married Catherine, daughter of Robert Clifton, and had children with her: Robert Christopher, Henry (of Twyford Hall, Lieutenant Colonel Grenadier Guards who married Eliza Isham), and Frances (married Robert Andrew of Harleston Park), Catherine Maria, and Anne. His heir was his son from the first marriage: Charles James. Charles James was born in 1758, was Lieutenant Colonel Leicesershire Militia, and in 1791, married Penelope, daughter of Richard Dugdale, Esquire of Blyth Hall, and had the following issue with her: Charles William, George Hussey, Edmund (an officer in the Royal Horse Guards), James (1801, of Melton Lodge, married Sarah Martha Chapman), and Augustus (Reverend, Rector of Walton-on-the-Wolds, born 1805, who married Frances Henrietta Campion). His eldest son, Charles William Packe, was Esquire of Prestwold Hall and a Member of Parliament for South Leicestershire born in 1792. In 1822, he married Kitty Jenkyn, daughter of Thomas Hort. He died in 1867 and was succeeded by his brother: George Hussey Packe. He was of Prestwold Hall and Caythorpe Hall in county Lincoln who was Justice of the Peace for Leicester, Lincoln, and Hungtondon, Deputy Lieutenant for Lincoln and its High Sheriff in 1843. He was also a Member Parliament for South Lincolnshire starting in 1859. He was born in 1796, and in 1824, he married Mary Anne Lydia, daughter of John Heathcote of Connington Castle, and had the following children with her: Charles Hussey (1827), Hussey, Marianna and Penelope Catherine. The Pack Coat of Arms has the following blazon in heraldry: Quarterly, sable and or, in the first quarter a cinquefoil argent, with an ermine spot on each leaf.
An unknown Pack had two sons: John and Thomas. Thomas was born in Haisford, England in 1564 AD. He in turn had a son named Thomas Pack II who was born in 1885 in Ballynakill. This Thomas had a son named Dennis. Dennis was born in Haisford in 1620. He married Ann Langston and had two sons with her: John Arthur and Christopher. His son Colonel John Arthur Reynolds Pack in 1650 in the same town. He had three sons: Christopher, John, and Graves. His son Captain Graves Pack or Packe was born in 1680 in London, England. He married Mary Thompson in 1700 in York County, Virginia, United States. He had the following issue with her: Simon, Joseph, Samuel Augustus Sr., Samuel, and Jacob. His son Samuel Augustus was born in 1720 and he married Emmeline G. Grubb, with whom he had two sons: George Washington Pack Sr. and Samuel Augustus Pack Jr. The former was born in 1755 in Augusta, VA. He married twice: Mary Christiana Brown in 1778 and Elizabeth Sheppard Brown in 1799. He had the following children prior to his 1825 death in Kentucky: Samuel, Charles, Elizabeth Calloway, George Washington Jr., Berry, Sarah Ann (Hayes), William, and Isaac. Samuel was born in 1780 in Jamestown, VA. He married Jane Brown and had the following children with her: George, Sally, William, Isaac, Cornelius, and John.
Early American and New World Settlers
Colonial Americans settlers bearing this name include Stephen (or Steephen) Pack (Virginia 1635) who came aboard the Constance, Christian Pack (Virginia 1642), Jacob Pack (New York 1709), and Beate Lowis Pack (Virginia 1773). William Pack, aged 27 years, came to Virginia in July 1635 aboard the Paule. A one Richard Packe was listed as living in Virginia in February 1623 at Elizabeth Cittie, who came at the age of 23 aboard the Warwicke two years earlier. One of the earliest settlers in New Zealand bearing the name was Mary Pack, who came to Auckland in 1860 aboard the Nimroud.
Mottoes
We have identified two Pack or Packe family mottoes: 1) Fidus confido, meaning "Good faith and trust" and 2) Libertas sub rege pio, meaning "Liberty under a pious king".
Grantees
We have 5 coats of arms for the Pack surname depicted here. These 5 blazons are from Bernard Burke's book The General Armory of England, Ireland, and Scotland, which was published in 1848. The bottom of this page contains the blazons, and in many instances contains some historical, geographical, and genealogical about where coat of arms was found and who bore it. People with this last name that bore a Pack Coat of Arms include:
1) L. Packe (1809)
2) John Packe, High Sheriff of Suffolk, 20 January 1696
3) John Packe of Prestwold Hall, county Leicestershire, crest of Hussey (1821)
Notables
There are thousands of notable people with the Pack(e) surname. This page will mention a handful. Famous people with this last name include: 1) Carl Pack (1899-1945) who was an American lawyer and politician that served in the New York State Assembly and Senate, 2) Charles Lathrop Pack (1857-1937) who was a very wealthy American in the timber industry and was involved in the war garden movement in the United States during the First World War, 3) John Pack (1809-1885 who was a member of the Council of Fifty and missionary in the Church of Jesus Christ of Latter-day Saints, 4) Randolph Greene Pack (1890-1956) who was born in Cleveland Ohio and was involved in forestry, and 5) George Willis Pack (1831-1906) who was a timberman in Michigan and father of the aforementioned Charles.
Blazons & Genealogy Notes
1) Quarterly, ar. and erm. in the first quarter a cinquefoil or. Crest—A leg in armour, couped and bent at the knee, spurred all ppr.
2) Ar. on a chief az. three anchors or.
3) (Avisford, co. Sussex; as borne by Colonel Arthur John Reynell-Pack, C.B., of Avisford, elder son of Major General Sir Denis Pack, K.C.B., who assumed the prefix surname of Reynell, 1857). Motto—Fidua confido. Same Arms, quartering Reynell. Crest—A mural crown ar. issuing therefrom a lion's head gu. gorged with a wreath or.
4) (granted by Betham, Ulster, to Major-General Sir Denis Pack, K.C.B., K.T.S., son of Very Rev. Thomas Pack, D.D., Dean of Ossory, and grandson of Thomas Pack, Esq., of Ballynakill, Queen's co., and to their descendants). Motto—Fidus confido. Quarterly, sa. and erminois, in the 1st quarter a sword in bend sinister ar. hilted and pommelled or, the hilt encircled by a wreath of the last; in the 4th quarter a cinquefoil of the third; pendent from a crimson ribbon, bordered blue, in the centre chief a representation of golden cross and clasps presented to Major-General Denis Pack by George III., for his services in the Peninsula. Crest—A mural coronet ar. issuant therefrom a lion's head gu. gorged with a wreath or.