Parkhurst Family Crest, Coat of Arms and Name History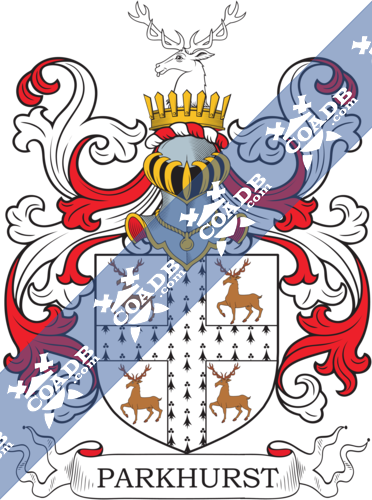 Parkhurst Coat of Arms Gallery
Don't know which Coat of Arms is yours?
We can do a genealogical research. Find out the exact history of your family!
Learn More
The name Parkhurst is part of the old legacy of the Anglo-Saxon tribes of Britain.  It is a product of when the family resided in the region of Parkhurst or wood in the park.  Parkhurst is a geographic surname, which given to a person who resided near a physical feature such as a hill, stream, church, or type of tree.  Habitation names form the other broad category of surnames that acquired from place-names. More common variations are: Parkhursat, Parkhuirst, Parkhurest, Wparkhurst, Parkheurst, Parckhurst, Parkhuyrst, Parkhurstw, Parkurst, Parkhrst.
The surname Parkhurst first appeared in Herefordshire where Sir Osbern Pentecost (died 1054), a Norman knight who followed Edward the Confessor to England built the castle at Ewyas, one of the first Motte and Bailey structures in England.  He like many other Normans transported from England, so he secured safe passage to Scotland in 1052 AD but later killed at the Battle of Dunsinane. Some of the people with the name Parkhurst who arrived in the United States in the 17th century included George Parkhurst, who settled in New England in 1630.  Anthony Parkhurst, who settled in Virginia in 1635.  Antho Parkhurst, who landed in Virginia in 1642.  George Parkhurst, who arrived in Watertown, Massachusetts in 1643. People with the surname Parkhurst who landed in the United States in the 18th century included John Parkhurst, who settled in Maryland in 1774.
Blazons & Genealogy Notes
1) (London). (Ripple, co. Worcester; Fleetwood Parkhurst, of that place, was High Sheriff co. Worcester in 1792). Ar. a cross erm. betw. four bucks trippant ppr. Creat—Out of a pallisado coronet or, a buck's head erased ar. attired of the first.
2) Same Arms. Crest—A griffin ramp, per fess or and gu.
3) (Lord Mayor of London, 1635). (Hall, co. Norfolk; granted 2 Elizabeth). Same Arms, on a chief gu. three crescents or.
4) (Guildford, co. Surrey). Same Arms. Crest—A demi griffin, wings endorsed sa. holding in the dexter paw a cutlass ar. hilt and pommel or.