Patterson Family Crest, Coat of Arms and Name History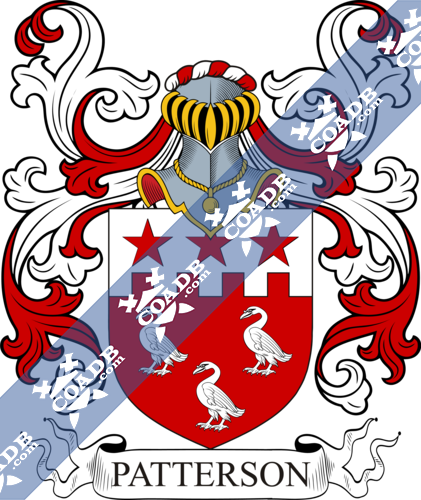 Patterson Coat of Arms Gallery
Don't know which Coat of Arms is yours?
We can do a genealogical research. Find out the exact history of your family!
Learn More
Surname Name Meaning, Origin, and Etymology
The last name Patterson or Paterson has several origin theories or meaning. First, this is a Scottish or northern English baptismal or patronymic surname meaning "the son of Pate" or "the son of Pate", with Pate being a reduced form or nickname for the personal (first) name Patrick. In turn, the masculine given name Patrick derives from the Latin word patricius, meaning a patrician (the Roman hereditary aristocracy) or nobleman, a name popularized throughout Britain (particularly Ireland) by St. Patrick (around 385-461 AD), whose birth name was actually Sucat, who was a Christian Briton and citizen of the late Roman Empire who became a missionary to (and patron saint of) Ireland. The personal name was used seldom before the 1600s, as it was considered too sacred, but became extremely common thereafter. A second theory is that an Irish last name in Ulster (of English/Scottish origins) and Galway, which is an Anglicized version of the Gaelic surname Ó Caisín, meaning "descendant of the little curly-headed one", deriving from the Gaelic word casán, typically Anglicized to Cussane (meaning "path") or Kissane, the later becoming obsolete. Originally, the family (Clan Pheadirean) owned lands in northern Lochfyne. In Ireland, this last name was first established in Connacht, where it was one of the eight Sodhans (septs located in Hy Many or Ui Maine). In Scotland, the name was first found in Ross-shire, which emerged from the Gaelic lordship of the Earls of Ross.
Spelling Variations
Common spelling variants or names with similar etymologies include Paterson, Pattinson, Pattison, Patteson, Paton, Paty, Patrickson, and others.
Popularity & Geographic Distribution
The last name Patterson ranks 105th in popularity in terms in the United Status as of the 2000 Census. The name ranks particularly high in the following twelve states: North Carolina, Ohio, Tennessee, Pennsylvania, Alabama, Michigan, South Carolina, Indiana, Missouri, Oklahoma, Mississippi, and Kansas. The spelling variants Paterson ranks 4,762nd.
The surname Patterson frequency/commonness ranks as follows in the British Isles: England (172nd), Scotland (232nd), Wales (377th), Ireland (766th) and Northern Ireland (36th).
In England, it ranks highest in Northumberland. In Scotland, the Patterson surname ranks highest in popularity in counties Berwickshire and Roxburgshire. In Wales, this last name is common in county Radnorshire. In Ireland, it ranks highest in Donegal. In Northern Ireland, it ranks highest in county Down.
The name is also present throughout the remainder English speaking world:  Canada (172nd), New Zealand (157th), Australia (204th), and South Africa (1,310th).
History, Genealogy, and Ancestry
The famous genealogist Bernard Burke's book "The Landed Gentry" discusses two branches of this family: Paterson of Castle Huntly and Paterson of Carpow.
Paterson of Castle Huntly
George Frederick Paterson was an Esquire of Castle Huntly in county Perth, Scotland, who was born in January of 1857. Burke traces the lineage/pedigree of this branch of the Paterson family tree back to George Paterson, Esq. of Castle Huntly who was born in 1734. He was a medical professional and went to India as a secretary of Sir Robert Harland. In November of 1776, he married Anne Gray, daughter of John (12th Lord Gray of Kinfauns) and the following year he purchased the ancient castle of Lyon, in Carse of Gowrie, and restored its old name, Huntly, a name granted by his wife's ancestor, Andrew, the 2nd Lord Gray, who built the castle in 1452. He had nine children with her, many of whom served in the military with rank: George, John (born 1778, Captain in the Royal Navy, married Jessie Paton), David (born 1781, Captain in the Royal Navy), 4) Charles (Lieutenant-Colonel in the Army, Major in the 53rd Regiment, married Eleanor Philippa Dacres, died in the battle of Vittoria), William (born 1783, Captain in the Royal Navy, married Sarah Bisset), James (born 1821, a Captain, married Davie Erskine), Francis Gray, Margaret, and Augusta Anne. His eldest son George Paterson was an Esquire of Castle Huntly and Colonel of the 3rd Foot Guards who was born in 1778. In 1818, he married Margaret, daughter of John Smith, Esq.) and had the following issue with her: George and Helen. His son George, Esq. of Castle Huntly was born in 1819 and succeeded his father in 1846. He married Catherine Jemima Jane, daughter of Joseph Robertson and had issue with her as follows: George Frederick, Charles James George, Philip John William, Georgiana Margaret (married Captain A.P. Samuels), Alma Helena Jemima, Margaret Augusta Jane, and Victoria Anne Gray. He passed away in 1867.
The Paterson Coat of Arms (mistakenly called the Paterson Family Crest) is blazoned in heraldry as follows: Argent, three pelicans feeding their young in nests proper, on a chief embattled azure, a bezant between two stars of the field. Crest: A pelican feeding its young in the nest proper. Mottoes: Above the crest, Merui. Below the shield, Je meurs pour ceux que j'aime.
Paterson of Carpow
Edmund Paterson-Balfour-Hay was an Esquire of Carpow, Leys, and Randerstone in counties Fife and Perth who was born in 1840 and succeeded his father in 1865, and his great-uncle, David Balfour Hay. The Paterson genealogy traces back to John Paterson, Esquire of Carpow, son of John. In 1807, he married Jane, daughter of John Hay Balfour, and had issue with her, including Peter, Katherine (married Sir William Dunbar, Baronet of Mochrum), Elizabeth , Helen, Margaret, and Jane (married John Rollo). His son Peter Hay Paterson was Esquire of Carpow who was born in 1816. In 1848, he married Marianne, daughter of 8th Lord Elibank, and had five children with her: Edmund, Marianna Hay, Pater Hay, Jane, and Charlotte Emily de Haya. He died in 1865. This branch of the family tree was seated in Carpow, Aberneth in county Perth, Scotland, as well as Mugrdum House in Newburgh, county Fife, Lews, Errol, and Randerstone Castle, Kingsbard, county Fife.
Paterson Family Tree & Pedigree
Adam Aslots de Coden (Auchincloss) Patterson was born at St. Ninian's Episcopal Church in Kirkcudbrightshire, Scotland in 1405 AD. He married Marion Knox and had a son with her named John. John was born in the same Scottish county in 1425 and he married Agnes Schells, with whom he had the following issue: William, Robert, Elizabeth, Andrew, Marion, and James. His son Robert was born in Irwin, Forfarshire in 1449. He married Janet Hair and had the following issue: John, James, Andrew, John, Alexander, William, Marion, and Patrick. His son John was born in Forfarshire, Scotland in 1480 AD and he married Marion Knox, with whom he had three children: John III, Patrick, and Elizabeth. John Paterson III was born in Glengamock, Strathclyde in 1530 AD. He married three times and had three sons: Robert, William, and James. His son Willliam was born in Alloa, Clakcmannanshire in 1565. He married Elisabeth Hegait and had the following issue: Robert, Jacobus, John, Thomas, Isaac, Joneta, Esabella, James, and George. His son William was born in Edinburgh, Midlothian in 1590 and he married Mary Watson and Christian Harrower and had the following children: Matilda, John, Andrew, James, Elspeth, Elizabeth, Alexander, Patrick, Alexander, and James. His son John was born in Hillsborough, UK in 1622. He married Ellen Gay and had two issue with her: John and William I. William Patterson I was born around 1680 in Craigie Parish and he married Jannet Irwin and Margaret Donnell who had the following issue: Robert, Nathaniel, Janet, Edward, William, Erwin, Mary, Matthew, James, John, Elizabeth, Jane, and Robert R. His son Robert R. was born in Ireland in 1710. He married Elizabeth and had the following children with her: Robert, Nathaniel, James, Edward, William, Erwin, Mary, Matthew, James, John, Elizabeth, and Jane. His son Robert was born in Craigie Parish in 1700 and married Frances Anderson and had the following children with her: Thomas, John, Mary, Elizabeth, Abigail, and Isabel. His son John was born in 1730 in Olstore, Ulster and had the following issue prior to his death in Georgia, United States: John, Samuel, Alexander, James, Thomas, Frances (Gillespie), George, Robert, Joseph, Elizabeth, William Baskin, and William Tryon Sr. His son Alexander Patterson was born in South Caroline in 1751 and he married Catherine McCaleb, with whom he had the following issue: Alexander Thompson, Alexander Thompson Sr., Malcom, Samuel, James, Jane, and Josiah. His son Alexander Jr. was born in South Carolina in 1791 and he married Elizabeth Link with whom he had the following issue: Mary W. (Proctor), Malcom, Thomas, Alexander L, Robert O.,  James, E.L., Carolne (Gaughan) and Josiah. His son Robert O. Patterson was born in 1823 and he married Emoline Pearson, with whom he had two issue: Louisa Frances and James M. His son James M. was born in 1853.
Early American and New World Settlers
The book Genealogical Guide to the Early Settlers, mentions six bearers of this surname:
1) Andrew Patterson who came from Scotland in 1685 aboard the Henry & Francis to Perth Amboy. He flew from "the severities of the administration against the covenanters". In 1691, he married, Elizabeth Peat and had issue with her: Sarah (1694), Charles (1696), William (1698), Hannah (1703), Mary (1706), and John (1711).
2) David Patterson, a Scottish prisoner from the "Worcester fight" who came aboard the John and Sarah from London in 1651 and arrived in Boston, Massachusetts.
3) Edward Patterson, New Haven, 1639, probably the man named by Mason in history as one of the soldiers in the Pequot War in 1637. He likely came aboard the Christian from London in 1635 aboard the Elizabeth at the age of 33. In 1647 he married, and had issue named Elizabeth and John.
4) Edward Patterson of Reboboth, 1643, Hingham. He had a daughter named Faith who was born in 1656.
5) James Patterson of Billerica, who may have been the brother of David, who likely came aboard the John & Sarah of London in 1651. The author states "if so, he is one of only four or five that prospered here among the great crowd of romantic followers in Scotland of Charles II, who in the bloody days of the successful years, 1650 and 1651; was captain on the fields of Cromwell's glory at Dunbar and Worcester, and transported to the colonies, to be sold in the shambles like other cattle, of which the cargoes to Boston would amount to as many hundreds". In 1662, he married Rebecca, daughter of Andrew Stevenson of Cambridge and had the following issue with her: James (1669), Andrew (1672), John (1675), Joseph (1678), Rebecca (1680), James (1683), and Jonathan (1675). He fought in the great war with the Narive Americans and was rewarded a land grand in Narragansett for his service.
6) Peter Patterson of Saybrook, who married Elizabeth Rithway in June 1678.
Early settlers in colonial America bearing this name include Abraham Patterson (New Jersey 1738), and Elizabeth (Virginia 1740). In Canada, one of the first bearers of this last name was. In Canada, one of the first bearers was John Patterson who came to Hector, Pictou in 1773.In Australia, one of the earliest bearers of this surname was William Patterson, a convict from Edinburgh, Scotland who came in April of 1820 aboard the Agememnon and settled in New South Wales (then a penal colony). In New Zealand, Mary Paterson, who came in 1842 at the age of 18 (a housemaid by occupation) aboard the Birman, which arrived in 1842.
Early Americans Bearing the Patterson Family Crest
Charles Bolton's American Armory (1927) contains one entry for this surname: Argent three pelicans in their piety [or, nests vert] Crest: a pelican of the field. Motto: Such is love Bookplate Evan Paterson. F. Garden, sc. Bookplate Walter Patterson of N. J. and Penn. ( J. D. Stout, sc.) has for motto: I die for those I love.
Crozier's General Armory (1904) and Matthew's American Armoury (1907) and do not contain entries for this surname.
Mottoes
We have identified ten Patterson family mottoes:
1) Huc tendimus omnes (We strive for this)
2) Virtute viresco (I flourish by virtue)
3) Hinc orior (Hence I rise)
4) Pro rege et grege (For God and the flock)
5) Merui (I have deserved)
6) Je meurs pour ceux que j'aime (I sacrifice all for those I love)
7) Pro Deo et grege (For God and the flock)
8) Tache sans tache (Strive without reproach) (Patterson of Kelvin Grove)
9) I die for those I love
10) Such is love
Clan Paterson
Clan Paterson is a Lowland Scottish clan, which is officially recognized by the Lord Lyon, but it is not technically considered an armigerous clan at this time, which has been historically seated at Bannockburn House. The last name  Paterson in Scottish Gaelic is MacPhadraig, which might be a reduced form of MacGille Phadraig, which means son of the devotee of Saint Patrick. In the 1200s AD, the family established themselves upon Loch Fyne and branched out into Lowlands.  The surname is also considered to be a sept of Clan Farquharson and MacLaren, who are Highland Clans.
George Fraser Black's 1946 book, The Surnames of Scotland, states the following in regard to this surname: "Scottish forms of "Patrick's son' or 'Patrickson,' and one of the commonest of Scottish surnames. The native home of the Clan Pheadirean (Patersons) was on the north side of Lochfyne where they were formerly numerous See under Macfateuck. Patterdale in Westmoreland was formerly Patrickdale, 'the dale or valley of Patrick. William Patrison and John Patonson, 'gentillmen,' witnesses in Aberdeen, 1446. Donald Patyrson was admitted burgess of Aberdeen, 1494. Ade Patersoun is mentioned in 1499 and in 1524 letters were issued against Patrik Patersoune for defrauding the king's customs. Robert Patersoun was 'capitane of ane were schip of Dundee,' 1544 (CRA p. 205), and John Patersoune held land in Glasgow, 1553. Fyndlay Patersoun had a tack of the lands of Owar Elrik from the Abbey of Cupar, 1557, and in the same year John Patersoun, custumar of Cuper, and David Petirsoun rendered to Exchequer the accounts of that burgh (ER., XIX, p. 8). John Patersoune was burgess of Northberwyk, 1562, George Paterson, a monk in the monastery of Culross, 1569. and Alexander Patersone, burgess of Aberdeen, 1594. William Paterson (1658-1719) was author of the ill-fated Darien Scheme and originator of the plan of the Bank of England. Patirsone 1497. Ade Patrisoun had a precept of remission in 1530. James Patirsone, sherifaf-depuy of Innernes, 1530, may be James Patirsoun, provost there, 1573. One of the Farquharson genealogies says that "the Patersons in the North" are descended from Patrick, grandson of Ferquhard from whom the clan Farquharson take their name".
Grantees
We have 3 coats of arms for the Patterson surname depicted here. These 3 blazons are from Bernard Burke's book The General Armory of England, Ireland, and Scotland, which was published in 1848. The bottom of this page contains the blazons, and in many instances contains some historical, geographical, and genealogical about where coat of arms was found and who bore it. People with this last name that bore a Patterson Coat of Arms include:
1) Paterson, of St. Paul's Cray, county Kent, 1860
2) Patterson, of Dry Grange, Roxburgh, Scotland, (See Wilkieson), 1779.
Notables
There are hundreds of notable people with the Patterson surname. This page will mention a handful. Famous people with this last name include: 1) Isaac Lee Patterson (1859-1929) who was the 18th Governor of Oregon and a former state legislature as well as a farmer, 2) Paul Linton Patterson (1900-1956) who was a Republican politician from Ohio who served in World War I and became the 26th Governor of Oregon during the 1950s, 3) Peter Patterson (1768-1851) who was an English-born (in Yorkshire) merchant and businessman who was a seigneur (feudal land owner) in Quebec, 4) Bruce Patterson (1947) who was a Republican member of the Michigan Senate from 2003-2011 for the 7th district covering portions of Wayne County, 5) Arthur Lindon Patterson (1902-1964) who was a New Zealand born physicist (lived in Canada, England, and US) who was known for his pioneering work on X-ray crystallographer, 6) Major General Arthur Gordon Patterson (1938-1972) who commanded the 17th Gurka Division and served in World War II as well as other conflicts, 7) Colin Alexander Patterson (1960) who is a Canadian ice hockey player in the NHL who played for the Calgary Flames and Buffalo Sabres, 8) Daniel James Patterson (1857) who was an American architect in the late 1800s and early 1900s who did much work for the Southern Pacific Railroad who was born in New York and practiced in San Francisco, CA, 9) Daniel Todd Patterson (1786-1839) who was a US Navy Officer born in Long Island, NY who served in the Quasi-War, First Barbary War, and War of 1812, 10) David Trotter Patterson (1818-1891) who was a US Senator from Tennessee after the Civil War who was a firm supporters of the Union, and 11) Floyd Patterson (1935-2006) who was an American professional boxer nicknamed "The Gentleman of Boxing" who was born in Waco, North Carolina and was twice the world heavy weight champion from 1956-1962, as well as the winner of a gold medal in the 1952 Summer Olympics.
Blazons & Genealogy Notes
1) Ar. on a fesse az. three fleurs-de-lis of the first.-Crest, a pelican, in her nest, close, vulning her breast, all ppr.
2) Ar. three pelicans or, in their nests vert, vulning themselves ppr.-Crest, a naked arm, erect, holding a pen ppr.
3) (Reference Mullins genealogical map of the Families of Ireland) Gules, three swans, argent, on a chief embattled, of the second, three mullets, of the field.