Patton Family Crest, Coat of Arms and Name History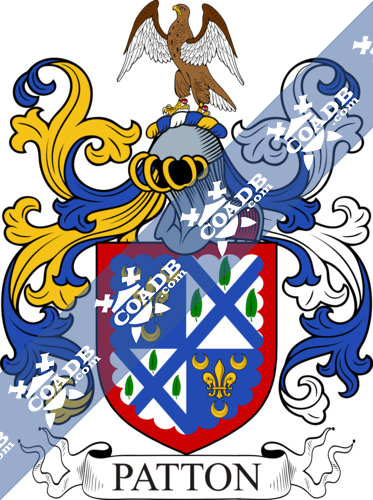 Patton Coat of Arms Gallery
Don't know which Coat of Arms is yours?
We can do a genealogical research. Find out the exact history of your family!
Learn More
Surname Name Meaning, Origin, and Etymology
The English, Scottish, and northern Irish last name has four origin theories. First, Patton is a baptismal one meaning "the son of Patrick", deriving from Pate, a nickname or reduced or pet form of the personal (first) name Patrick. The masculine or male given name Patrick derives from the Latin name Patricius (deriving from the word patrician, meaning noblemen, a term that referred to the ruling class in ancient Rome), which was popularized throughout the British Isle (particularly Ireland) by St. Patrick, a Welshmen, who lived in the 400s AD and was a missionary and bishop in Ireland, who is widely credited for Christianizing the island nation. The shortened version Pate or Pat means "Little Pat". A second origin theory exists, suggesting the last name may have derived from a nickname for a bald person or cropped hair, as the Middle English word pate means head or skull. A third origin theory is that it is a locational name for a person from Patton in Yorkshire, spelled Patun in the Domesday Book of 1086 AD, a survey of England and Wales ordered by William the Conqueror. Fourth, it is a topographic or habitational name for a person who lived near a stream, hill, tree, or church. One source asserts the family lived in the manor of Patton in county Shropshire, England and later moved to Scotland
Spelling Variations
Common spelling variants or names with similar etymologies include Patten, Pattin, Patin, Paddon, Padon, and Patonson. Similar foreign names include Paddinge (Dutch).
Popularity & Geographic Distribution
The last name Patton ranks 464th in popularity in terms in the United Status as of the 2000 Census. The name ranks particularly high in the following seven states: Tennessee, Ohio, Indiana, Alabama, Kentucky, Missouri, Oklahoma, Arkansas, and Kansas.
The surname Patton frequency/commonness ranks as follows in the British Isles: England (2,587th), Scotland (1,253rd), Wales (2,488th), Ireland (833rd) and Northern Ireland (197th). In England, it ranks highest in Northumberland and Durham. In Scotland, it ranks highest in Perthshire. In Wales, it ranks highest in Flintshire. In Ireland, it ranks highest in Donegal. In Northern Ireland, it ranks highest in county Down.
The name is also present throughout the remainder English speaking world:  Canada (1,816th), New Zealand (2,165th), Australia (1,894th), and South Africa (7,226th).
Early Bearers of the Surname
Richard Patten, the son and heir of Richard, was from Patine or Patten near the city of Chelmsford in county Essex, England who lived in 1119 AD. A one Hugo Patun was recorded in the Patent Rolls of Northumberland in 1230 AD. An early baptism involving this surname was Martha Patton, daughter of Thomas, at St. James Clerkenwell in 1695 AD. An early marriage involving this last name was Edward Patten to Dorothy Wainforde in 1583 AD.
The Patton Surname in Scotland
George Fraser Black's 1946 book The Surnames of Scotland, states the following in regard to this last name: "In Ayrshire pronounced Pauton. Paton is said to have been the name of a son of Sir Patrick Herring (fourteenth century). Royal pardons were granted to Paten Broune alias Broun and to the servant of Patein or Pateman Broin, 1407 (Bain, IV, p. 150). Patone de Hangald-syde (1467) appears again in 1469 as Patrick Hangangside. Three persons named Pawton were voters in the parish of Qwilton (Coylton), 1513, and James Padyne, witness, 1514 . Thomas Pattoun, who was admitted burgess of Aberdeen in 1538, may be the Thomas Patton of Aberdeen slain at Pinkie in 1547. Pattoun Gallowey had a tack of two acres in Carsegrange in 1550 and John Pattoun was admitted burgess of Dundee in 1597 Joneta Pautoun is recorded in Galstoun, 1606 (Retours, Ayr, 81), and Ousteane Paton in Trewin was fined for reset of Clan Gregor in 1613. Alexander Paton of Kinaldie was one of the commissioners appointed for ratifying the valuations of Aberdeenshire, 1662, James Patoune was retoured heir in lands in Tilliecultrie, 1682, and James Patone took the Test in Paisley in 1686. Paton is the one prevailing surname in the fishing village of Usan, the only exception being "one or two Perts and Coutts. . . by marriage of Usan Patons with Ferryden folks" (Edwards, Arnong the fisher folks of Usan and Ferryden, 1921). As forename we have Paton Cudbert 1466, Pattoun Millar 1492, Patton Burakyl 1520, and Pattoun Gallowey mentioned above. Patoun 1590 Patowne and Pattoun 1686 Pattone 1695, Pattoune 1654, Pawtoun 1529, Pawtoune 1554."
History, Genealogy, and Ancestry
The famous genealogist Bernard Burke's book "The Landed Gentry" discusses five branches of this family: 1) Patton of Clayton Priory.
Patton of Clayton Priory
General Walter Douglas Phillipps of Clayton Priory county Sussex was born in 1821 and he was Colonel of the 74th Highlanders, a Knight of Medjidie, and a Brigadier-General in Burmah. He was succeeded his father in 1876 and in 1855, he married Julia, daughter of Sir Howard Elphinstone and five children with her: Walter Denman Elphinstone (1859), Herbert Bethune (born 1860, 2nd Lieutenant 3rd Hussars), Douglas Elphinstone Bethune, Julia Elphinstone, and Anne Florence Louisa Mary Bethune. Burke traces the lineage of Patton genealogy to Colonel Henry Patton of the 6th Royal Regiment of Clatto in county Fide, the eldest surviving son of Andrew Patton, Esquire of Springfield in Donegal (the family gained lands there generations prior for displaying valour in battle). In 1747, he married Mary, daughter and heiress of Henry Bethune of Clatto and Nydie, and he had issue with her. His son was James Susannau Patton, Esq. of Clatto in county Fife and of Priory, Lichfield who was Justice of the Peace and Deputy Lieutenant who was born in 1753. He was Major in the 93rd Highlanders and Colonel Staffordshire Volunteers who, in 1780, married Merrial, daughter of Thomas Docksey of Snetsone, and had the following issue with her: Henry (born 1780, Lieutenant 1st Royals), Peter (born 1783, Captain Royal Engineers), James (born 1791, served in Royal Navy), Thomas (of Bishop's Hall), Richard (married Hannah Cullen), John (born 1793, member of Royal Navy), Maria Elizabeth, Susan, Mary (married Lieutenant-Colonel Elliott), Merrial (married a member of the Dodson family), Emma (married Reverend Richard Winsloe), Charlotte (married Sir William Palmer). He died in 1812 and was succeeded by his son Thomas Patton of Bishop's Hull and Stoke Court, Somerset, who was born in 1792 and became a Commander in the British Royal Navy. In 1819, he married Matilda, daughter of Reverend Richard Winsloe, and had nine children with her: Walter Douglas Phillipps, Herbert Winsloe (born 1823, Captain in the British Royal Army, married Mary, daughter of Charles Gifford), Henry Bethune (born 1834, married Clara Fripp, was Justice of the Peace, Captain of 27th Inniskillings), Lionel Thomas (born 1839, Captain in the 2nd Somerset Militia, married Annette Isaac), Aubrey de Lisle (born 1841, Captain 14th Regiment, married Agnes, daughter of William Corbett, Esq.), Emma Matilda (married Lieutenant Colonel Rawlins), Clara Agnes, Matilda Winsloe (married Cranstoun Adams), and Isabella (married Theobald Walsh). The Patton Coat of Arms (erroneously referred to as the Patton Family Crest) was blazoned in heraldry as follows: Azure, a sword argent hilted or, between three crescents of the second. Crest: A hawk argent.
Patton Genealogy and Pedigree
Richard Patten was born in 1244 AD in Chelmsford, Essex. His son Richard Patten was born in Chelmsford, Essex in 1270 AD. He married a woman named Eyre and had a son with her named Richard. This son Richard Patten, Sir Knight of Essex, was born in Dagenham, England in 1291 AD. He married a woman named Mary and he had issue with her. His son Richard Patten was born in Essex in 1317 AD. He had issue: John, Robert, and Richard. His son John Patten was born in Essex, England in 1343 and he married a member of the Revyle family. His son John was born in the same city in 1369 and married a member of the Poole family. He had two sons: William and John. His son John was born in Essex in 1399. He married a member of the Westingcroft family and he had a son named Nicholas. This Nicholas Patten was born in Lincolnshire, England in 1421. He had a son named Richard who was born in Lincolnshire in 1451. He married Margery Breeton and had a son with her named Richard. This Richard was born in Derbyshire in 1481 and he had two issue: Richard and Alice (Wade). His son Richard was born in the same town in 1507 and he married Grace Baskerville with whom he had five issue: Alice, William, Joan, Lettice, and Mary. His son William Patton (spelling change) was born in Stoke Newington, Middlesex in 1533. He married Anne Johnson and had the following issue with her: Humphrey, Mercury, Richard, Thomas, Gratian, Elizabeth, Pallas, and Anne.
Dr. George Edward Patton was born in Kinsport, Tennessee in 1830. He married Keziah Robertson Vance and had the following issue with her: Samuel N., William Nicholas II, Mary Frances, George Edward, Henry Eugene, Sydney Ellerslie, Annie, Alberta Bertie, Charles V., and Herman. His son Henry was born in the same town in 1868. He married three times and had five children: Ethel Grace, Sidney Austin, Ralph E., Edward Kenner, and Charlie W.
Early American and New World Settlers
One of the earliest documented bearers in colonial America was Mary Patton who came, with her husband, to Virginia in 1654. In Canada, one of the first recorded immigrants bearing the name was Elenor Patton who came in 1823 and arrived in the province of Nova Scotia. In New Zealand, one of the earliest settlers bearing this last name was one J. Patton, who landed in the city of Wellington in 1855 aboard the New Era.
Mottoes
We have identified two Patton family mottoes: Virtute adepta, meaning "Acquired by virtue" and Virtus laudanda, meaning "Virtue is praiseworthy".
Grantees
We have 4 coats of arms for the Patton surname depicted here. These 4 blazons are from Bernard Burke's book The General Armory of England, Ireland, and Scotland, which was published in 1848. The bottom of this page contains the blazons, and in many instances contains some historical, geographical, and genealogical about where coat of arms was found and who bore it. People with this last name that bore a Patton Coat of Arms include:
1) Patton, now Masterman, John, of Strokesely, in county York, 1717
2) Patton-Bethune, General W.P.D., of Clayton Priory, county Sussex, 1883
3) Phillips-Patton, General W.D. of Clayton Priory, county Sussex, 1882
4) Patoun, William, of Richmond, county Surrey, and Renfrew, Scotland, June 1772
Notables
There are hundreds of notable people with the Patton surname. This page will mention a handful. Famous people with this last name include: 1) George Smith Patton (1886-1945) who was a General in the US Army during World War II who commanded the Seventh Army in the Mediterranean and Europe, but was best known for leading the Third Army in France and Germany after the Allied invasion of Normandy, who first say combat during the Pancho Villa Expedition in 1916, 2) John Patton (1822-1900) who was the mayor of Detroit, 3) James Patton (1780-1830) who was the 2nd Lieutenant Governor of Mississippi who previously served in the state's militia, 4) Charles Emory Patton (1859-1937) who was a member of the U.S. House of Representatives from Pennsylvania, 5) John Patton Jr. (1850-1907) who was a U.S. Senator from Michigan, 6) Paul Edward Patton (1937) who was the 59th Governor of Kentucky, 7) Robert Miller Patton (1809-1885) who was the 20th Governor of Alabama, 8) Charley Patton (1891-1934) who was an African American blues musician from Mississippi, and 9) Henry Edmund Patton (1867-1943) who was the 10th Bishop of Killaoe.
Blazons & Genealogy Notes
1) (Glenalmond, co. Perth, 1809). Quarterly, 1st and 4th, az. a fleur-de-lis betw. three crescents or; 2nd and 3rd, ar. a saltire az. betw. three edock leaves in chief and flanks vert, all within a bordure engr. gu. Crest—A sparrow-hawk rising ppr. Motto—Virtute adepta.
2) (Cairnies). Az. a fleur-de-lis betw. three crescents or, on a chief of the second a cross pattee gu. Same Crest and Motto as Patten, of Glenalmond.
3) Per pale gu. and ar. three crescents counterchanged. Crest—On a rock a swan close ppr.
4) (Bishops Hall and Stoke Court, Taunton). Az. a sword ar. hilted or, betw. three crescents of the second. Crest—A hawk ar. Motto—Virtute adepta.