Pennell Family Crest, Coat of Arms and Name History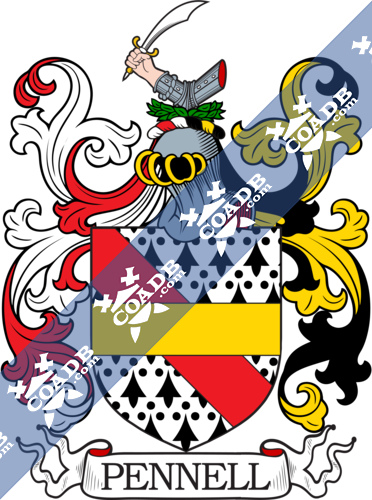 Pennell Coat of Arms Gallery
Don't know which Coat of Arms is yours?
We can do a genealogical research. Find out the exact history of your family!
Learn More
Pennell Origin:
England
Origins of Pennell:
Listed in many forms including Penell, Pennell, Peniall, Penniall, Penniell, and Pernell, this is an English surname, but which in some examples may have an ultimate French origin.  According to the famous Victorian etymologist Canon Charles Bardsley, it has two possible origins, both from specific names but we would add a third that it is locational.  The first origin is a metronymic from the female name of Petronella, popular in the Middle Ages.  It was a name which was either introduced by the Normans after the Invasion of 1066, or possibly by the Crusaders returning from the Holy Land in the 12th century.  The second is as a little of the pre 7th century Olde English name Payne, to give Payn-el, while the third option is locational either from Penheale, a village in Cornwall or from Penn Hall previously Penehull, in the district of Worcester.  In this example, Alredus de Penhull noted in the Assize Rolls of Worcester in the year 1221, when it shows that he may not have paid his taxes.  It is clearly a locational record, but that of William Pennel, noted in Colchester, Essex in 1377, suggests an improvement from a personal name.   Other early records include Anne Pennyale at St Margarets, West Minster, in the year 1571, Thomas Pernell of St Columb Major in Cornwall in 1580, Elizabeth Penniall who married Robert Wood at St Margarets, Westminster in the year 1640, and Samuel Pennell, at St Mary Aldermanry, in the city of London in the year 1671.
Variations:
More common variations are: Pennella, Pennelli, Pennello, Pennelle, Pennelly, Pennuell, Pennwell, Peennell, Pennyell, Penneall.
England:
The surname Pennell first appeared in Essex where they held a family seat in Colchester.  The Saxon command of English history declined after the Battle of Hastings in 1066.  The language of the courts was French for the next three centuries, and the Norman ambiance predominated.  But Saxon surnames remained, and the family name first mentioned in the year 1377 when William Pennell noted on the Tax Rolls for the division of Essex.
Ireland:
Many of the people with surname Pennell had moved to Ireland during the 17th century.
United States of America:
Individuals with the surname Pennell landed in the United States in two different centuries respectively in the 17th and 18th.    Some of the people with the name Pennell who arrived in the United States in the 17th century included George Pennell settled in Virginia in 1655.  George Pennell, who landed in Virginia in 1655.
The following century saw more Pennell surnames arrive.  Some of the people with the surname Pennell who arrived in the United States in the 18th century included Thomas Pennell, who arrived in New England in 1740.  Thomas Pennell settled in New England in 1740.
Australia:
Some of the individuals with the surname Pennell who landed in Australia in the 19th century included Matthew Pennell, English convict from Middlesex, who was transported aboard the "Albion" on May 17, 1823, settling in Van Diemen's Land, Australia [1].  William Richard Pennell, aged 22, a Sawyer, arrived in South Australia in 1853 aboard the ship "Shackamaxon."  John Pennell, aged 19, arrived in South Australia in 1853 aboard the ship "Shackamaxon."
Here is the population distribution of the last name Pennell:
United States 6,830; England 1,527; Canada 1,482; Australia 765; New Zealand 393; Wales 203; Belize 93; South Africa 73; Scotland 59; Switzerland 27.
Notable People:
Pennell (Kent cricketer), was an English professional cricket player.
Chris Pennell (born April 1987) is an English rugby union player.  He currently plays for Worcester Warriors in the Aviva Premiership.  He plays as a fullback and is an old captain of Worcester Warriors.
He is the son of England cricketer Graham Dilley.  After his parents' marriage, had broken down, Pennell's mother married a British Army soldier, and Pennell took his surname. The family moved to Portadown, Northern Ireland, where he educated at Millington Primary School.
Eagle Pennell (1952–2002), was an American independent filmmaker.
Edward Pennell (1894–1974), was a Royal Flying Corps officer.
Elizabeth Robins Pennell (1855–1936), was an American author.
Francis W. Pennell (1886–1952), was an American botanist.
Gerry Pennell (1959- ), is a British Manager.
Harry Pennell (1882–1916), was a Royal Navy Officer.
Henry Singleton Pennell (1874–1907), was an English winner of the Victoria Cross.
Joseph Pennell (1857–1926), was an American artist and writer.
Larry Pennell (born 1928), was an American television and film actor.
Lawrence Pennell (1914–2008), was a Canadian advocate and leader.
Maynard Pennell (1910–1994), was an American businessman.
Nicholas Pennell (1938–1995), was an English actor.
Rebecca Pennell (1821–1890), was an American professor.
Robert Franklin Pennell (1850–1905), was an American professor and classicist.
Russ Pennell (born 1960), is an American basketball coach.
Steven Brian Pennell (1957–1992), was an American serial killer.
To receive a complete surname meaning report by PDF you can order our SURNAME MEANING PACKAGE for $129.   This report is great to share with family and friends.  It includes everything you see above plus any other information we can find on the specified surname.  It does take approximately 10 to 15 days for us to complete this custom report.
To receive a direct lineage & coat of arms search for your specific line(s) you can order one of our GENEALOGY PACKAGES ranging in price from $249 to $999.   All research is completed by a professional genealogist with over 30 years' experience.  All reports and coat of arms files are sent by email in PDF and JPG format.
Blazons & Genealogy Notes
Ermine a bend gules surmounted by a fesse or. Crest—An arm in armour, couped at the shoulder, embowed, and resting the elbow on the wreath, holding a scimetar all proper.