Penner Family Crest, Coat of Arms and Name History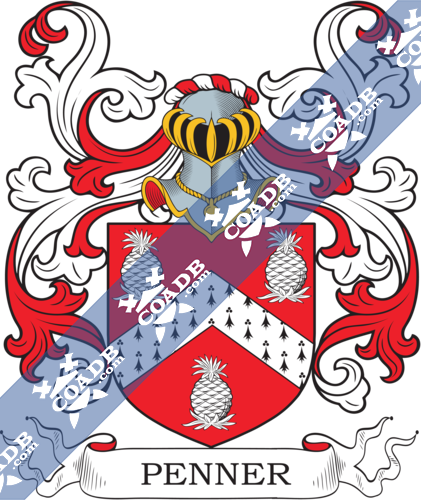 Penner Coat of Arms Gallery
Don't know which Coat of Arms is yours?
We can do a genealogical research. Find out the exact history of your family!
Learn More
Penner Origin
England
Origin of Penner
It is unique surname which is normally used to describe a job. It acquires from the Ancient English 'Pinn' which means a pin or needle, or in a conveyed impression – a pine tree. Some name bearers will have locational origins from the hamlet of Pinner in Middlesex. Even then the name means mostly the same 'the point of the pin builder' or likely 'the pine trees.' A 'pinner' was a greatly practiced profession, and not only prescribed to pins and needles but also wire things like baskets and bird cages. There are various spellings of the names like Pinner, Piner, Pinor, Pinar, Pyner, Pynner and Penner. Similarly, the French spellings or types of the name contain Pinar, Pineaux, and Pinard. Early recordings contained Richard Richard de Pinner of London in 1275, and there cannot be enough confusion where he appeared from, whereas Walter Le Pinnere, also of London in 1281, was absolutely a pinmaker. Edward le Peniur of Norfolk in 1275 was appropriately a comb manufacturer, and this acquires from the French 'peignour' represented by the Normans later 1066. Over the centuries the spellings of the name have devolved to the place where it is impossible to decipher the actual origin. Church documentation had contained Wynifred Pynner named at St Margarets, Westminster, on 6th October 1595, Ann Penner, named at St Marys Church, Putney, on 27th June 1625, and Catherine Piner married John Turner at St James Church, Westminster, on 21st April 1772.
Variations:
Some common variations are: Penneru, Pennera, Pennery, Puenner, Penneri, Pennere, Peanner, Pennyer, Pener, Pennoyer.
England:
The surname Penner first originated in Buckingham where they held a family seat from ancient times, and the first documentation was recorded on the pre-census rolls taken by the ancient Lords of Britain to decide the rate of levying a tax of their affairs.
The very first recorded spelling of the family was shown to be that of Adam Le Pinare, dated 1244, in the pipe rolls of the city of Worcester. It was during the time of King Edward III who was known to be the "the Father of the English Navy,"1327 – 1377. The origin of surnames during this period became a necessity with the introduction of personal taxation.
Ireland:
People of Penner also moved to Ireland during the 17th century.
United States:
People of Penner settled in the United States in two different centuries respectively in the 18th and 19th. Some of the people of Penner family who settled in the United States in the 18th century included Daniel Penner, Henry Penner and Christian Penner these all arrived in Pennsylvania in the same year in 1765.
Some of the people of Penner family who settled in the United States in the 19th century included Henrietta Penner at the age of 17 and Eva Penner at the age of 45 arrive in New York in 1874. Heinrich Penner at the age of 56, Erdman Penner, aged 9, and Anna Penner arrived in Nebraska, in the same year in 1874 during the 19th century.
Canada:
People of the Penner family who settled in Canada in the 19th century included Abraham Penner arrived in Manitoba in the year1874. Bernhard Penner, David Penner, and Aaron Penner arrived in Manitoba in the same tear in 1875.
Here is the population distribution of the last name Penner: United States 6,774; Germany 8,372; Canada 12,327; Russia 1,268; Paraguay 1,077, Brazil 954, Kazakhstan 405; Belize 373; Mexico 288; Itlay 202.
Notable People:
Alden Penner (born 1983), is a Canadian musician and artist.
Berry Penner (born 1966), is a Canadian politician.
Dick Penner (born 1936), is a retired English scholar and co-writer of Ooby Dooby, Roy Orbison's rockabilly classic.
Dustin Penner (born 1982), is a Canadian professional player in ice hockey.
George Penner (born 1940), is a chairmab of Penner Enterprise Inc.
Keith Penner (born 1933), is a Canadian public official and politician.
Jack Penner, was a Canadian politician.
Jacob Penner, (1880-1965), was a Canadian socialist politician.
Jim Penner, (1939-2004), was a Canadian businessman and politician.
Joe Penner (1904-1941), was an American theater entertainer.
Jonathan Penner (1941), is an American fiction author.
Lucille Recht Penner (born 1942), is an American author of children's books.
Rolan Penner (born 1924), is a Canadian professor and politician.
Blazons & Genealogy Notes
Gu. a chev. erm. betw. three pine apples ar. (another, or).