Perry Family Crest, Coat of Arms and Name History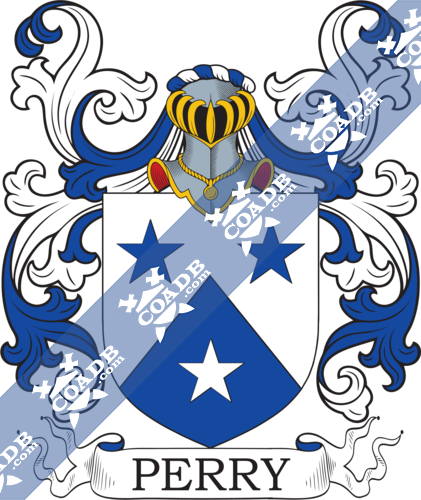 Perry Coat of Arms Gallery
Don't know which Coat of Arms is yours?
We can do a genealogical research. Find out the exact history of your family!
Learn More
Surname Name Meaning, Origin, and Etymology
This last name has five origin theories. First, it is a local surname meaning "at the Pery", with pery meaning a pear tree, deriving from the Old English word pyrige, given to a person who live nearby (or owned the orchard).  A line from Chaucer utilized the term: "And thus I let him sitting in pery, And January and May roming ful mery". Second, it is a baptismal surname meaning "the son of Perry", a the  French version of the first name Peter, coming from the Old French personal name Pierre. Third, it means "of Pierre", a local in France that signified a stony place with many rocks. Fourth, and most unlikely, was that this surname and others like it (Ale, Beer, Claret, Ginn, Portwine, Rum, Sherry, etc.) was given to persons who traded such beverages. Fifth, one source (Mark Antony Lower) source claims it's a narrowed spelling of the Welsh surname Parry, Ap-Harry. Another source notes it is similar to the French Perree.
As to the geographic distribution of the surname, H.B. Guppy's 1890 book "Homes of Family Names" states the following: "Restricted to the southern half of England. It has two principal homes, one in the south – west, especially in Somerset, Cornwall, and Gloucestershire, the other in the south – east, in Essex." It was recorded in the 1500s in locales in Colchester and Essex, such as Lexden and Copford. The name became established in Ireland in the 1600s. The family also established itself in Scotland (ex. Donald Pery was a tenant in Utircloy in 1504 AD). In recent years (2014), 67% of the world's Perrys are estimated to reside in the United States.
One source notes a branch of this family arrived in England in 1066 AD, and Matilda de Perer was the mother of Hugo Parcarius. Many in the family descended from Norman Perree (tenant in chief in the Domesday Book of 1086 AD) who received lands in Hampshire.
Spelling Variations
Common spelling variants include Perrie, and other variants include Pereyra,Pereyro, Pereiro, Pereiros, Pereire, Perera, Perer, Perero, Pereros, and Pereyro. It should be noted that the Portuguese last name has similar origins regarding the pear tree. Sometimes, the Italian surname Perri became Anglicized to Perry.
Early Bearers of the Surname
A one Pery was listed in the Roll of Battell Abbey (a list of lords/warriors who accompanied William the Conqueror to England in 1066 AD during the Norman Conquest). A one Peret was listed in the Domesday Book of 1086 AD from county Hants. Henry de Peri was recorded in the Pipe Rolls of Staffordshire in 1176 AD (and also the Assize Rolls of Staffordshire several years later), and was likely the first documented person to bear this surname. The Pipe Rolls of Kent from 1198 AD list Richard Pirie. The Assize Rolls of Somerset from 1243 AD list one William de la Purie. The Hundred Rolls of 1273 AD, a census of Wales and England, known in Latin as Rotuli Hundredorum, documents four people bearing this surname: Walter ate-pyrie in county Oxfordshire, Roger de la Peyre in county Cambridge, and Richard de la Pirie in county Oxforshire, and John Pery in county Oxfordshire. A one Richard ate Pyryre in county Somerset during the reign of King Edward III (1327-1377 AD) in Kirby's Quest. William ate Perye was recorded in the Close Rolls during the reign of the same king. Early marriages involving this surname include Daniel Perry to Elizabeth Pye in 1619 in London. An early recorded baptism involving this surname was a one Thomas, son of William Perry, at St. Peter, Cornhill.
History, Genealogy, and Ancestry
The famous genealogist Bernard Burke's book "Peerage and Knights" discusses two branches of this family. The first is Perry of Birham (near Leamington). It begins with a mention of Thomas Aloysius Perry, Esq. of Bitham House in Avon Dassat in county Warwick. He was a J.P. and was born in 1820. In 1840, he married Helen, daughter of William Knight of Houghton and Dorothy Knight, and had eight children with her: Joseph Knight, William Stanislaus, Mary, Helen, Georginia Mary, Agnes Mary, Anna Maria, and Pauline Marie Therese. Burke traces the lineage back to Thomas Perry, the son of Thomas Perry, and Anne Hopkins (who was Welsh). He married Mary Ann Budd in 1812 and had issue with her: Peter James, Mary, Frances Elizabeth, Matilda Veronica, Ann, and Thomas Aloysius. The family bore the a coat of arms blazoned as follow: Argent, on a pile vert three pears stalked and leaved or, impaling, in right of his wife, the arms of Knight, viz., gules, two lions rampant in fess and within a bordure argent, a canton ermine thereon a spur or. Crest—A gryphon sejant dexter claw upon a mascle gold.
The second is Perry of Woodroof. This begins with a mention of Samuel Perry, Esq. of Woodroof in county Tipperary, J.P. and D.L, and member of the 12th Royal Lancers. He was born in 1839 and he married Mary De la Poer, daughter of Jower Power of Gureetn, in 1839 and had the following children with her: William (1869), John (1875), Frances, Mary, Edith, Kathelen, Florence, Harriette, and Blanche. Burke traces this line or pedigree back to John Perry of the same county, whose will of 1709 states he married a woman named Elizabeth and had two sons with her: John and Samuel. Samuel married Phoebe, daughter of William Norcott, and has issue with her, including a son named William. Richard, of Cork, married Ellen Lavitt and had a son named Samuel. His second wige was Mary, daughter of Adam Newman, and had numerous issue with her. His eldest son was William Pery, nephew and devisee of his uncle John, who succeeded the family estate and married Anne Peffer in 1764. He in turn was succeeded by his eldest son Samuel, who was born in 1765. He married the Honorable Deborah Prittie in 1791, who was the daughter of Lord Dunally. They had numerous issue together: William, Henry Prittie, Samuel, Catherine, Anne, Mary, and Phoebe (married Sampson Towgood French). He died in 1829 and was succeeded by his son and heir William, who was High Sheriff in 1828 and born in 1793. William married Mary, daughter of Major Langley and Brittas Castle, in 1838. Together they had three children: Samuel (mentioned at the beginning of this paragraph), Maria, and Mary Anne Deborah Margaret (who married William Thomas Erskine in 1867). He died in July of 1869. The family is seated at Woodrooff, Clonmel.
A one Bendict Perrie was born in Wendron, England (in Cornwall) in 1622. He married Margaret Simons and had a son named Adam Perry, born in Ireland around 1640. Adam had a son named James, who was born in Perrymount in county Down in 1669. He married Ann Swift in 1692 in England and they had a son named John. John was born in 1720 in Ireland, married Elizabeth Quinn, and was the father of Daniel, born in 1734, also. Daniel married Eleanor Charlon. He was the father of Eleanor Perry (born in 1776 in Maryland, later married Robert Nickell and had 11 children with him). He died in 1815 in Fleming, Kentucky.
Early American and New World Settlers
The book "Genealogical Guide to the Early Settlers of America" briefly discusses eighteen different people bearing this last name.  1) Anthony Perry (or Pury) of Rehoboth, 1658-78, was a representative and may have had children Jariel and Mehitable prior to his 1683 death, 2) Arthur Perry of Boston, 1638, who was a tailor, and had with his wife Elizabeth children Elishua (1637), Seth (1639), John (1642), Elizabeth 1647), Sarah (1647), Deborah (1649), and was a drummer, 3) Edward Perry of Sandwich who married a woman name Mary (perhaps daughter of Edward Freeman) and had children with her including Samuel (1664), 4) Ezra Perry, of Sandwich, who married Elizabeth, daughter of Thomas Burge in 1652 and had issue with her: Ezra (1653), Deborah (1654), John (1657), Samuel (1667), Benjamin (1670), and Remembrance (1676), 5) Francis Perry of Salem, who was a wheelwright born in 1608, who with Sarah joined the church in 1641 and had children Sarah (1641), Benjamin (1641), David (1641), Samuel (1642), and Elisha (1644), 6) Henry Perry of Salem, 1652, 7) Isaac Perry who was recorded in Boston in 1631 who likely arrive with the apostle Eliot aboard a ship named the Lion, 8) John Perry of Roxbury, the brother of Isaac, who had issue: Elizabeth (1638), John (1639), and Samuel (1641) and died of consumption in 1642, 9) John Perry, recorded in Newbury in 1651, who was married to a woman named Demaris, 10) John Perry, recorded in Medfield in 1678 (perhaps the son of John of Roxbury) who married Bethia (daughter of Daniel Morse) in 1665 and had children with her: John (1667), Samuel and Joseph (1674), Nathaniel (1671), Nathaniel again, Bethia (1685) and Eleazer (1680), 11) John Perry of New Haven, a proprietor in 1685, 12) John Perry of Taunton in 1643, 13) John Perry of Watertown in 1674, who was then 61 years old and married Sarah (daughter of John Clary) and left many issue with her: John (1668), John (1670), Joanna (1672), Sarah (1675), Josiah (1677), Elizabeth (1681) Josiah (1684), Joseph (1691), and Sarah (1694), 14) Joseph Perry of Secunk (also called Rehoboth) recorded in 1651, maybe was the brother of Anthony, or Thomas of Scituate, 15) Nathaniel Perry, from Rehoboth, who married Sarah Carpenter, daughter of Samuel, in 1683, 16) Richard Perry recorded in New Haven in 1640 who had issue Mary (1641), Micajah (1641), Samuel (1645), John (1647), and Grace (1649), 17) Thomas Perry of Ipswich recorded in 1648, Thomas Perry of Scituate in 1643, who married Sarah, daughter of Isaac Stedman, who had Thomas, William, Henry, Joseph, John, and others, 18) William Perry, also of Scituate, recorded in 1638, who moved to Watertown and with wife Ann had a daughter Elizabeth in 1641, as well as others (Obadiah, Samuel, Sarah, Ann, and Abia) prior to dying in 1683 at age 75.
Thomas and Benjamin Perry came aboard the Bonaventure to Virginia in 1634. A one Marie Perry came to Virginia in 1635 aboard the Faulcon. Hugh Perry came the same year aboard a ship named Catch. A one William Perry was documented as receiving a patent (of land, 100 acres?) in 1626. George Perry owned 100 acres at Archer's Hope. A one Jone Perry was recorded as being buried in the parish of St. Michael's in Barbados in 1678.
Other early settlers include Christian Perry (Pennsylvania 1750), Eben Perry (Boston, 1767), Jack Perry (Pennsylvania 1775), and Howland Perry (Kennebunk, Maine, 1830).
Mottoes
Recte agens confide, meaning "While acting uprightly I am confident" is the motto of the Perry family of Avon Dasset.
Grantees
Later people bearing this surname that bore the arms: 1) Perry, Micajah, of the Citv of London, 23 July 1701, 2) Perry, Timothy, of Loudon, s. of Thomas, of Cirencester, co. Glouc, deed, 14 Sep. 1708, 3) Perry, Samuel, J.P., of Goodman's Fields, co. Middx., s. of Samuel, of Rodborne, co. Glouc, deed., 24 Mar. 4) Perry to Ogilvie, …. Arms to Clarke, wife of, of co. Middx., and Scotland, [1801], 5) Perry, . . . ., of Moor Hall, co. Essex, [1849], 6) Perry [to Perry-] -Watlington, . . . ., of Moor Hall, co. Essex ; Caldecott
House, Aldenham, co. Hertf. ; and the Inner Temple, London, [1849], 7) Perry, Thomas, of Bitham House, Avon Dassett, co. Warw., [1856], and 8) Walter C, of Manchester Square, London, Bar.-at-Law, 1886.
Notables
Famous people with this last name include: 1) Matthew Calbraith Perry (1794-1858) who was a Commodore of the United States Navy during who served in the War of 1812 and the Mexican-American War, 2) Samuel Augustus Perry (1787-1854) who was a soldier and surveyor from England, 3) George Sessions Perry (1910-1956) who was an American novelist, and 4) Enoch Wood Perry, Jr. (1831-1915) who was a well-known American painter that studied under Emanuel Leutze.
Blazons & Genealogy Notes
1) (Turville, co. Buckingham). Per chev. ar. and az. three mullets counterchanged.
2) (co. Cornwall). Per pale indented or and gu.
3) or Pery – (Walter, co. Devon). Quarterly, gu. and or, on a bend ar. three lions pass. az. Crest—A hind's head erased or, holding in the mouth a sprig of pear tree vert, fructed gold.
4) (Wotton-Underedge, co. Gloucester). Ar. on a chev. oz. betw. three lions ramp. gu. as many buglehorns or. Crest—A stag's head ppr. pierced through the neck with an arrow or, feathered ar. headed sa.
5) (co. Gloucester). Quarterly, ar. and vert, in the first quarter a mullet gu.
6) (London; granted 8 March, 1700). Quarterly, or and ca. on a bend gu. cotised erm. three lions pass. guard. ar. Crest—A hind's head erased ppr. gorged with a ducal coronet or, holding In the mouth a pear tree branch vert, fructed gold.
7) (co. Worcester). Ar. on a bend sa. three pears or. Crest—A cubit arm in armour ppr. grasping in the gauntlet a sword ar. hilt and pommel or, strings and tassels flowing from the pommel gu.
8) (Bitham House, co. Warwick). Ar. on a pile vert three pears stalked and leaved or. Crest—A gryphon sejant, wings elevated or, the wings fretty vert and resting, the dexter claw upon a mascle gold. Motto—Recte agens confido.
9) Az. a fesse embattled ar. betw. three pears or. Crest—An arm armed and erect ppr. issuing out of the top of a tower gu. holding in the hand a dagger sa.
10) Vert a fesse embattled betw. three pears or. Crest—A castle ar. masoned sa.
11) Or, a fesse engr. az.
12) Quarterly, sa. and ar.
13) Ar. three fusils sa., two and one, on each a bezant.
14) Quarterly, 1st and 4th, quarterly, gu. and or, on a bend ar. three lions pass. ppr., for Perry; 2nd and 3rd, barry of six ar. and sa. on a chief gu. a saltire or, for Watlington. Crest—A lion's head erased ppr. ducally crowned or.
15) (co. Clare; descended from Capt. George Perry, who went to Ireland, 1639, son of James Perry, Esq., co. Gloucester; allowed by Hawkins, Ulster, 1773). Quarterly, gu. and or, on a bend ar. three lions pass. guard. sa. Crest—A hind's head couped ar. holding in the mouth a pear branch fructed ppr.