Pickman Family Crest, Coat of Arms and Name History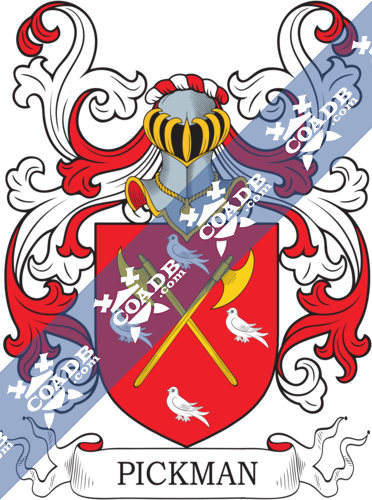 Pickman Coat of Arms Gallery
Don't know which Coat of Arms is yours?
We can do a genealogical research. Find out the exact history of your family!
Learn More
Origins of Pickman:
The origins of the Pickman name acquire from when the Anglo-Saxon clans ruled over Britain.  The name Pickman originally acquired from a family having resided in Bikome, a town in the county of Somerset.  Before English spelling regulated a few hundred years ago, spelling variations of names were a common occurrence. Components of Latin, French and other languages became incorporated into English through the Middle Ages, and name spellings changed even among the educated.
Variations:
More common variations are: Pickeman, Pickmann, Peickman, Pikman, Packman, Pikeman, Peckman, Bickman, Pockman, Picmann.
England:
The surname Pickman first appeared in Leicestershire where they have held a family seat from old times, long before the Norman Invasion in 1066 A.D.
United States of America:
Some of the people with the name Pickman who arrived in the United States in the 17th century included Nathaniel Pickman, who landed in Salem, Massachusetts in the year 1639.  Benjamin Pickman, who arrived in Salem, Massachusetts in the year 1661.
Blazons & Genealogy Notes
Gu. two poleaxes in saltire or, betw. four martlets ar.