Pigot Family Crest, Coat of Arms and Name History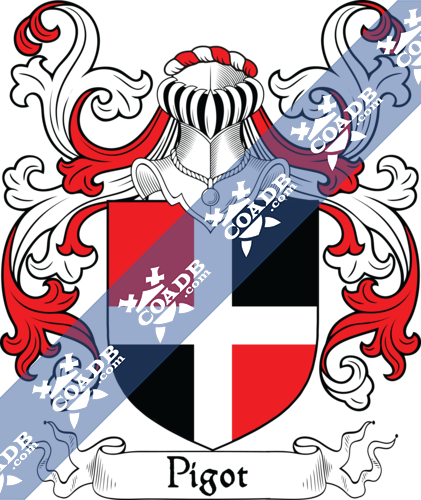 Pigot Coat of Arms Gallery
Don't know which Coat of Arms is yours?
We can do a genealogical research. Find out the exact history of your family!
Learn More
Pigot Origin:
Norman
Origins of Name:
The Pigot surname originated in Normandy and made its way to England after the Norman conquest of England of 1066. The surname was a descriptive surname originally deriving from the Germanic word 'pic' which means sharp or pointed. It was used to describe a home near a pointed hill, use of a pointy tool, sharp object, or weapon, or a nickname for a tall person who was thin. Norman use would combine 'pic' with the suffixes 'et' or 'ot' and the surname Picot or Pigot was created.
Variations:
More common variations are:
Pigott, Piggot, Piggett, Piggott, Piggot, Pigot, Picot
History:
England:
The first known instance of the surname was in Cheshire and Cambridgeshire. Picot of Cambridge was a Norman landowner who would eventually be appointed by William the Conqueror as the first Sheriff of Cambridgeshire in return for his loyalty. The family would lose their entire estate when his son Robert was connected in a conspiracy against King Henry I. Robert left the country and the entire family's estate was forfeited.
The first known recording of the surname Pigot is of Roger Picot in 1086 in the Domesday Book of Cheshire.
William Piket was recorded in 1177 in Berkshire, Waubert Pyket was recorded in 1277 in London, and Peter Pygot was recorded in 1285 in Cambridgeshire.
Adam Pickett was the commander of the ship New London in 1679, which would sail for Barbados.
Pigot Today:
3,500 in the United States
1,700 in England
540 in Australia
Notable People:
Mary Pigot (1640), former wife of Sir Robert Burdett, 3rd Baronet
George Pigot (1719), 1st Baron Pigot former governor of Madras
British Major General Henry Pigot(1750), British army officer
Edward Pigot (1858), Irish/Australian Jesuit priest, seismologist and astronomer
John Edward Pigot (1822), Irish music collector
Neil Pigot (1961), Australian actor
Blazons & Genealogy Notes
1) (Patshull, co. Stafford, bart.). Motto—Tont foys prest. Erm. three pikeheads in fess sa. Creat—A wolf's head erased ar.
2) (co. Derby). Gu. a bend fusily betw. six martlets or.
3) (co. Norfolk). Ar. on a bend betw. two cotises engr. sa. three mullets of the field.
4) (London). Gu. a fess engr. ar. betw. three bezants.
5) (Dodington, co. York). Az. two bars or, in chief three bezants.
6) (co. York). Or, on a cross gu. five escallops ar.
7) (Radcliffe-upon-Soar, co. Nottingham). Az. a bend fusily betw. six martlets or.
8) (Preston, co. Lancaster, 1664). Erm. three fusils conjoined in fess sa. Crest—A wolf's head erased sa.
9) Ar. three mullets betw. two bends engr. sa. Crest—A martlet gu.
10) Quarterly, gu. and sa. a cross ar.
11) Quarterly, az. and gu. four lions ramp. counterchanged.
12) Ar. three martlets in bend sa. betw. two bendlets engr. gu.
13) Sa. a saltire patonce ar. betw. four lions pass. or.
14) Az. a bend fusily betw. six martlets or.
15) (Baron Pigot, of Patshull, co. Dublin; created 1766, extinct 1777). Supporters—Two leopards guard. ppr. Ar. three fusils in fess sa. Crest—A wolf's head erased sa.