Pike Family Crest, Coat of Arms and Name History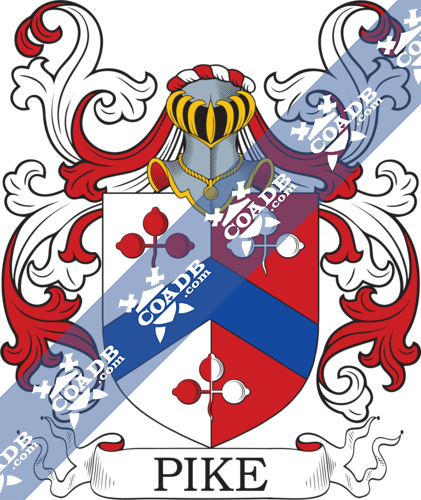 Pike Coat of Arms Gallery
Don't know which Coat of Arms is yours?
We can do a genealogical research. Find out the exact history of your family!
Learn More
Surname Name Meaning, Origin, and Etymology
Our research indicates there eight primary origin theories for origin of the Anglo-Saxon or French last name Pike, which is more than any other surname we have researched. First, it is a topographic name given to a person who live near a hill with a sharp point, deriving from the Old English word pic (point or hill). Second, it is a occupational name for a fisherman (called a fishmonger in the Middle Ages), from the Middle English word pike (a type of fish that has a long body, is predatory, and lives in freshwater, primarily in North America and Eurasia). Third, it is an occupational name for a person who busted up earth and rock with a tool known as pike, which is a long pile with metal on the end, from the Middle English word pike and the Old French word pique. Fourth, it may have been a nickname for a skinny, tall person. Fifth, it could be derived from an Old Germanic personal (first) name Pic. Sixth, it could be from the nickname in Old French pic, meaning woodpecker, ultimately deriving from the Latin word picus. Seventh, In Ireland or Ulster, it cane be an Anglicized variant of the Gaelic surname MacPeice. Eight, it could be a nickname given to a military soldier in the Middle Ages of medieval times who carried a long sharp weapon. Ninth, it is an Americanized variation of the German last name Peik, deriving from the Middle Low German word pek, meaning a pointed, sharp weapon or tool. The Pike family first became established in county Devon in England.
It is interesting to note that Picus was an ancient Italian/Roman deity who according to folklore, was transformed into a woodpecker by Circe.
Spelling Variations
Common spelling variants or names with similar etymologies include Pyke, Pikes, Pikes, McPike, Pique, Picke, and Pick. It is also a weak form of Peake or Peak.
Popularity & Geographic Distribution
The last name ranks Castle ranks 1,235th in popularity in terms in the United Status as of the 2000 Census, and. The name ranks particularly high in the following seven states:  Maine, New Hampshire, Vermont, Kansas, Alabama, Kentucky, and Massachusetts. The name is more common in England where it ranks 552nd. It ranks highest in the three following counties: Wiltshire, Somerset, Devon, and Dorset. The name is common throughout the English speaking world:  Scotland (1,179th), Wales (377th), Ireland (2,468th), Canada (845th), New Zealand (827th), Australia (582nd), and South Africa (5,004th). It is frequent in the areas that were in the former Kingdom of Wessex and hence can be thought of or classified as a Wessex name.
Early Bearers of the Surname
The first known bearer of this last name was Aluric Pic, who was recorded in the Domesday Book of 1066 AD, which was a survey of Wales and England ordered by William the Conqueror. A one Alexander le Pik, a fisherman and owner of a boat, was listed in the Subsidy Rolls of London in 1292 AD. The Hundred Rolls of 1273 AD, a census of Wales and England, known in Latin as Rotuli Hundredorum, documents two people bearing this surname: Walter Pik in county Huntingdonshire and Richard Pik in county Wilshire. A one Baldewyn Pike was listed in Kirby's Quest during the reign of King Edward III of England (1327-1377)) in Kirby's Quest.
History, Genealogy, and Ancestry
Genealogists have identified 46 different Pike family lines. Another source claims the number is 50. The famous genealogist Bernard Burke's book "The Landed Gentry" discusses two branches of this family: Pike of Glendarary and Pike of Besborough.
The first begins with a mention of William Pike, Esq. of Glendarary, Achill Sound in county Mayo, Ireland. He was a Justice of the Peace and Barrister at Law who married Marion, daughter of John Watson and had seven children with her: Richard James (1850, Lieutenant of 12th foot), William Watson (1860), Mary Anne Laming (1859), Sarah Helen Nicholson (1865), Elizabeth Barrington, Marion Watson, and Isabella Harriet Wilkinson. Burke states the Pyke family resided in Devon for many years, and that there was also a branch living at Ilford in Essex during the 1300s AD. Richard Pyke or Pike was an Esquire of Newbury in county Berkshire who was born in 1598 AD. He had considerable lands and had a son also named Richard, who was an Esquire of Sarsfield Court in county Uork. He was born in 1627 in Newbury and was the first member of the family to settle in Ireland. In 1655, he married Elizabeth, daughter of J. Jackson of London. They had a son together named Richard, Esq. of Summerhill in county Cork born in 1659. He married Sarah, daughter of John Watson of Kilconnor in county Carlow and had fought daughters and two sons with her. One son was also named William and was born in 1695. This William married Deborah, daughter of John Pim of Edenderry and had a son with her named Richard. Richard was born in 1748 and was an Esquire of Summerhill and Fullers Court. In 1779, Richard married Ann, daughter of Jonathan Wilkinson of Riversview. They had a son together named Jonathan. Jonathan Pike, Esq. of Beechgrove in county Tyrone was born in 1782 and married Sarah, daughter of James Nicholson of Grange Lodge, in 1813. They had five children together: Richard, James Nicholson (of Derry Vale), 3) William (mentioned at the beginning of this paragraph), Annr, and Lydia Clibborn (who married Ebenezer Pike in 1841). The family bore the following Pike family crest: Per pale or and argent, on a chevron azure, between three trefoils slipped vert an escallop of the second. Crest: An arm embowed in armour gauntleted, grasping a broken spear all proper and charged with an escallop azure.
The second branch begins with a mention of Ebenezer Pike, Esquire of Besborough in county Cork who was born in 1806. In March of 1841, he married Lydia Clibborn and they had numerous children together: Joseph (1851), Ebenezer (1853), Robert Lecky (1858), Sarah Louisa, Mary Lecky, Elizabeth, Lydia Josephine, Henrietta, Anne Emily, and Florence Lilias. Burke traces the lineage of this branch back to Ebenezer Pike, son of Richard Pike.
George Pike was born in 1625 and married twice: Sarah Washington and Esther Atkins. He left behind two children: Sarah (Collins) and George, prior to death death in Mendon, Massachusetts. His son George was born in 1664 in Truro, MA. He married a woman named Tabitha and had two issue with her: George and Leonard. Leonard was born in 1696 in Truro and married Ann Snow in 1723. They had numerous children together: Mary, George, Phebe (Hilliard), John, Leonard II, Elisha, Ann, Tabitha, Elizabeth (Lombard), and Sarah. Leonard II Pike was born in 1730 in the same town. He married Sarah Case and later Susanah Sprague. He had many children: Ruth, Irena, Sarah, Eunice, Leonard, Elijah, Elisha, Hannah, John, Eunice, Jephthah, Sarah, Absalom, Leonard, Orasan, Roswell, Sussanah, Ruth, Dorcas, Ambrose, Anna, Phebe, and Mason. His son Roswell was born in Whitingham, Vermont in 1785. He married Sally Wheeler and had issue with her: Ruddy Ready, Louisa, Deliverance, Susannah, Roswell, Sally Sarah, Ruth A. (Shippee), Matilda, Leonard Whitman, and George Bonaparte. His son Leonard was born in 1832 in the same state. He married Almeda Clark and later Mary Jane Davis and had issue: Mary Ellen, Emma Louisa, Arthur, Laura Jane, Harriet Almeda (Smith), Clara Luella, James Francis, Charles Leonard, and Alena Pearl. His daughter Mary Ellen Pike was born in 1857 in New York.
John Pike was born in London, England in 1648. He married a woman named Emily and had five children: Affrica, Edward, John, Elizabeth, and Mary.
Early American and New World Settlers
The book Genealogical Guide to the Early Settlers, mentions ten people bearing this surname: 1) William Pike of Marblehead in 1668, 2) Hugh Puke of Newbury who was a soldier (under Turner) at Hatfield who married Sarah, daughter of Francis Brown, in 1685 and had issue with her named Hugh and Joseph, 3) James Pike of Charlestown in 1647 who was a freeman and church administrator who moved to reading and was married twice (Naomi and Sarah) and had issue John, John, and Zachariah, 4) Jeremiah Pike from Reading who had several children: Jeremiah (1674), James (1676), Elieser or Ebenezer (1677), Michael (1678), James (1679), Rachel (1681), James (1682), Nathaniel (1685), William (1687), and Naomi (1689), 5) John Pike of Newbury who name aboard the James in 1635 from Southampton who moved to Salibury from Piscataqua and had several children including John and Dorothy (married Daniel Hendrick), 6) John Pike of Roxbury who has a child named Jessie born in 1685, 7) Joseph Pike in Charleston in 1683 who married a woman named Susanna and was killed by Indians near Dover in 1694, 8) Richard Pike of Newbury in 1655 who lived at Falmouth in 1675, 9) Robert Pike of Salisbury who was son of John and a freeman in 1637. In 1641, he married Sarah Sanders (daughter of John?0 and had issue with her: Sarah, Mary, Dorothy, Mary, Elizabeth, John, Robert, and Moses. He was a church member and a captain major in command of an Essex regiment and 10) Robert Pike of Providence, Rhode Island in 1645. John Pike came aboard the Expedition in 1635. Grace Pike, daughter of Oliver and Grace, was baptized in December of 1678 in the parish of Christ Church in the Barbados.  Other early settlers in colonial America bearing the Pike surname include Ann (Maryland, 1637), Humphrey (Maryland 1654), and Samuel and Benjamin (New York 1812). One of the earliest settlers in Canada with this last name was John Pike, who came to Halifax in 1778.
Mottoes
The Pike family motto is Vrai a la fin, meaning "True to the end".
Grantees
We have seven coats of arms for the Rodgers surname depicted here. These seven blazons are from Bernard Burke's book The General Armory of England, Ireland, and Scotland, which was published in 1848. The bottom of this page contains the blazons, and in many instances contains some historical, geographical, and genealogical about where coat of arms was found and who bore it. One specific holder of an armorial bearing was John Pike of county Somerset, and Gotteuburgh, 1751.
Notables
Famous people with this last name include: 1) Albert Pike (1809-1891) who was an attorney and General in the Confederate Army who was born in Boston, MA, 2) Austin Franklin Pike (1819-1886) who was a United States Senator from New Hampshire, 3) William Pike (died 1591) who was a Roman Catholic martyr from England, 4) Samuel Pike (1717-1773) who was a British minister associated with the religious movement known as Sandemanians, and 5) and Jill Pike (1980) who is an American political commentator.
Blazons & Genealogy Notes
1) (co. Devon). Per pale ar. and gu. a chev. az. betw. three trefoils, slipped and counterchanged.
2) (co. Essex). Sa. on a pale ar. three crosses formée gu. a bordure engr. of the second.
3) (London). Gu. three pikes naiant wavy ar. a bordure engr. of the second.
4) (Gottenburgh, Sweden; granted 1751). Sa. three piker staves ar. two and one, on the top of cach an annulet or. Crest—A demi Moor ppr. in the ears rings and drops ar. holding in the dexter hand a like pikestaff as in the arms.
5) (Livericks, co. Kent). Az. three talbots or.
6) Per pale or and gu. a chev. az. betw. three trefoils slipped and counterchanged. Crest—A pike naiant or.
7) (Glendarary, co. Mayo; confirmed to William Pike, Esq., of that place, J.P., Barrister-at-law, son of the late Jonathan Pike, of Beechgrove, co. Tyrone, and grandson of Richard Pike, of Summerhill, co. Cork, and Fuller's Court, co. Kildare, and to their descendants). Per pale or and ar. on a chev. az. betw. three trefoils slipped vert an escallop of the second. Crest—An arm embowed in armour, the hand gauntleted grasping a broken spear all ppr. and charged on the elbow with an escallop az. Motto—Vrai à la fin.