Pope Family Crest, Coat of Arms and Name History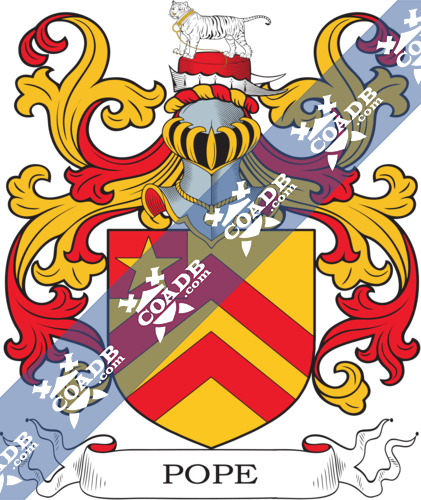 Pope Coat of Arms Gallery
Don't know which Coat of Arms is yours?
We can do a genealogical research. Find out the exact history of your family!
Learn More
Pope Origin:
Scotland
Origins of Name:
The surname of Pope is of a Scottish origin, but has possible derivatives in the languages of: Italian, Spanish, Portuguese, Russian, Bulgarian, English, French, German, Czech, Polish, Flemish, Dutch, Finnish, Romanian, Croatian, and Latin. The surname of Pope is said to be an English name denoting status or wealth. This surname of Pope derives from the ecclesiastical title of the Roman Catholic Church, which comes from the Latin word "Papa" which can be translated to mean "father" but in a transferred sense, "The Pope." Originally, in the Christian Church, the Latin "Papa" was used to mean "father" as the title of respect and recognition for those in all ranks of the clergy. However, in the Western Church, "Papa" became reserved only to recognize a bishop, and then eventually only used to denote the bishop of Rome. In the Eastern Churches, "Papa" is still used today to refer to all clergymen, such as priests. As a surname, Pope most likely originated as a nickname for someone who was said to have a rigid religious appearance, such as an actor who played the part of The Pope in a medieval pageant or play.
Variations:
More common variations are:
Popey, Poppe, Poope, Popie, Popea, Popeo, Popei, Popee, Popoe, Popeh, Pape, Papa, Papaccio, Papazzo, Papamino, Papaminas, Lepope, Pabst, Babst, Baff, Paff, Pfaff, Pfaffe, Papez, Papiez, Papierz, Papis, De Paepe, Pappi, Popov, Patatov, Popa, Popescu, Pfaffel, Papen, Paffen, Popovic, and Popescu
History:
England:
The first recorded spelling of the surname of Pope was found in the country of England in the year 1287. The person who was said to be named as one Agnes le Pope, who was a witness to a charter in Cambridgeshire, which was known as the "Liber Memorandorum Ecclesie de Bernewelle." Those who live in the country of England who bear the surname of Pope are found throughout the entire country. The place that is most populated with those who bear the surname of Pope is the southern coast of the country. Those who bear this surname can be found from Cornwall to Kent, and everything in between.
Scotland:
Those who bear the surname of Pope originated in the Caithness region of the country of Scotland. However, since this original mention of the surname of Pope, those who bear this surname have spread into the regions of Aberdeenshire, Lanarkshire, Midlothian, Angus, and Renfrewshire counties.
United States of America:
During the Great European Migration in the 17th Century, many settlers from Europe began to move to the United States of America in search of a better life. Those who migrated to the United States were interested in the freedoms that were promised in this new land, which was referred to as The New World, and The Colonies. The first person who bore the surname of Pope and made the trek to the New World was one Elizabeth Pope, who landed in the state of Virginia in the year of 1623. Thomas Pope followed Elizabeth seven years later, and arrived in Dorchester, Massachusetts in the year 1630. Those who carry the surname of Pope can be found in the eastern half of the United States and especially found in North Carolina, Georgia, Illinois, Texas, New Jersey, Alabama, New York, California and the state of Michigan.
Pope Today:
United States 70,901
England 13,702
Australia 5,314
Canada 3,850
South Africa 1,991
New Zealand 1,690
Ghana 1,198
Germany 1,143
Wales 1,050
Scotland 788
Notable People:
Miss Effie Brooks Pope, who was a 1st Class Passenger from Farmington, Connecticut, USA, who was aboard the RMS Lusitania when it began to sink, but managed to escape and survived the sinking of this vessel
Brigadier-General Francis Horton Pope (1879-1971) who was attached to the Office of the Quartermaster-General from the year 1941 to the year 1943
Lawrence Edgar Pope (1940-2013) who was an educator and politician from America, and was a member of the Iowa House of Representatives from the year 1979 to the year 1983
A.J. Pope, who was a Delegate to the Republican National Convention from Iowa in the year 1868, and was a Republican politician from America
Alexander Pope, who was a Member of the Texas State House of Representatives in the 14th District from the year 1887 to the year 1888, and was a politician from America
Alexander H. Pope, who was a Delegate to the Democratic National Convention from California in the year 1956 as an alternate, and as a Delegate in the year 1964, and was a Democratic politician from America
To receive a complete surname meaning report by PDF you can order our SURNAME MEANING PACKAGE for $129.   This report is great to share with family and friends.  It includes everything you see above plus any other information we can find on the specified surname.  It does take approximately 10 to 15 days for us to complete this custom report.
To receive a direct lineage & coat of arms search for your specific line(s) you can order one of our GENEALOGY PACKAGES ranging in price from $249 to $999.   All research is completed by a professional genealogist with over 30 years' experience.  All reports and coat of arms files are sent by email in PDF and JPG format.
Blazons & Genealogy Notes
1) (Hendall, co. Sussex; descended from Edmond Pope, Esq., of Hendall, d. 1550, great-grandson of Thomas Pope, of the Privy Chamber to Henry VI., by Joan his wife, dau. and heir of William Weston, of Bucksted, co. Sussex). Or, two chev. gu. on a canton of the second a mullet of the first. Crest—On a chapeau gu. turned up erm. a tiger statant ar. tufted, maned, collared, ringed, and lined or.
2) Same Arms. Crest—A demi lion vert.
3) (Marnehull, co. Devon, and co. Dorset). Ar. two chevronels gu. on a chief of the last an escallop or, a bordure of the second.
4) (London). Ar. two chev. gu. on a canton of the last a mullet or.
5) Ar. a fess chequy ar. and az. betw. three bells of the last.
6) (Wilcote, Wroxton, and Dedington, co. Oxford, and Tittenhanger, co. Herts). Per pale or and az. on a chev. betw. three griffins' heads erased four fleurs-de-lis all counterchanged. Crest—Two griffins' heads erased addorsed or and az. ducally collared, counterchanged.
7) (Earl of Downe, extinct 1668; Sir William Pope, only son of John Pope, Esq., of Wroxton, and grandson of William Pope, Esq., of Dcelington, was created a bart. 1611, and Earl of Downe 1628; Тhomas, last Earl of Dovme, d. unm. in 1668, leaving his sisters his co-heirs, viz., Anne, m. to Sir Edward Boughton, Bart.; Beata, m. to Sir William Soames, Bart.; Frances, m. to Sir Francis North, the celebrated Lord Keeper; and Finetta, in. to Robert Hyde, Esq.). Same Arms and Crest. Supporters—Two griffins, the dexter az. ducally gorged or, the sinister or, ducally gorged az.
8) (co. Salop). Motto—Mihi tibi. Or, two chev. gu. a canton az. Crest—A cubit arm erect, habited gu. cuffed ar. holding in the hand ppr. a pair of scales or.
9) (co. Cornwall). Az. three griffins' heads erased or. Crest—A griffin pass. ar. collared gu.
10) Ar. two chev. gu. on a chief of the second an escallop or.
11) Ar. a bend and chev. gu. on a canton of the second a mullet pierced or.
12) Sa. two keys in saltire or, in chief three talbots' heads couped ar.
13) (General George Pope, C.B., 1862). Motto—Fideliter et fortiter. Gu. an antique crown within two branches of laurel in saltire betw. three mullets or, on a chief erm. a key sa. surmounting a sword ppr. in saltire. Crest—A demi lion ramp. gu. gorged with an antique crown or, and holding in the dexter paw a key in bend of the last.