Portman Family Crest, Coat of Arms and Name History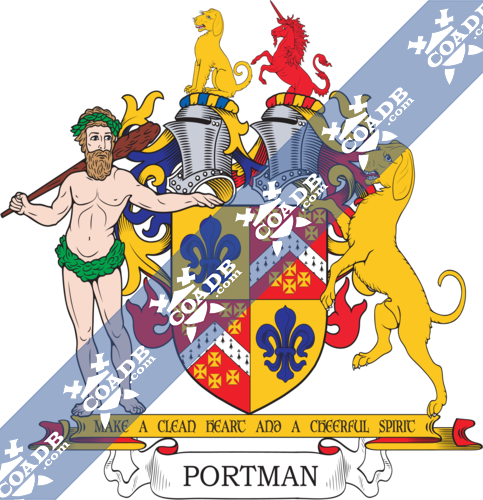 Portman Coat of Arms Gallery
Don't know which Coat of Arms is yours?
We can do a genealogical research. Find out the exact history of your family!
Learn More
Portman Origin:
England, France
Origins of Portman:
It is a famous surname. Listed in many forms such as Port, Porte, Portman, Porta, Porte, Porti, Portis, Portilla, Portillo, and more and noted all over the continent of Europe since at least the 13th century, it has three known sources. The first is Norman-French, being geographical from a place called Port-en- Bessin in the section of Calvados. The earliest record from this origin happens towards the end of the 11th century, being that of Henry de Port in the Winton Rolls of Hampshire in England in the year 1115. Secondly, the name can be geographic for a person who existed by or probably was responsible for, the operation of the gates of a town. The origin is from the Roman (Latin) word 'porta' which means a gateway or opening. An early example from this origin is that of Hugh de la Porta who in the year 1096 gave land to the parish of St. Peter at Gloucester. Thirdly, the surname may acquire from the Latin word "portus" which means a refuge, and hence again either geographical for one who resided at such a place or professional for a worker in a shelter.
Variations:
More common variations are: Portmann, Poortman, Porteman, Poorteman, Portamann, Partman, Pertman, Bortman, Portmen, Pratman.
England:
The surname Portman first appeared in Somerset where the name was acquired from the trade or profession of a civil officer. "The family of this name in Somersetshire shows to have been raised so early as the reign of Edward I."
The very first recording spelling of the family was shown to be that of Henry Portman, dated about 1225, in the "Assize Rolls of the County of Somerset." It was during the time of King Henry III who was known to be the "The Frenchman," dated 1216 – 1272. The origin of surnames during this period became a necessity with the introduction of personal taxation. It came to be known as Poll Tax in England.
Ireland:
Many of the people with surname Portman had moved to Ireland during the 17th century.
United States of America:
Individuals with the surname Portman landed in the United States in two different centuries respectively in the 17th, and 19th. Some of the people with the name Portman who arrived in the United States in the 17th century included Tho Portman, who landed in Virginia in 1665. Christopher Portman, who came to Carolina in 1679.
The following century saw more Portman surnames arrive. Some of the people with the surname Portman who arrived in the United States in the 19th century included Peter Portman, who arrived in Allegany (Allegheny) Division, Pennsylvania in 1836. Caspar Portman who settled in New York in 1881.
Here is the population distribution of the last name Portman: United States 2,294; England 1,312; Rusia 391; Israel 342; Germany 269; South Africa 237; Mexico 236; Canada 190; France 184; Brazil 143.
Notable People:
Adolf Portmann (May 1897-June 1982) was a biologist. He was born in Basel, Switzerland, he studied zoology at the University of Basel and worked later in Geneva, Munich, Paris and Berlin, but mainly in marine biology laboratories in France.
Natalie Portman was born in June in the year 1981. She is an actress, farmer, and director with double American and Israeli citizenship.
Robert Jones "Rob" Portman was born in December 1955. He is an American advocate and the junior United States Senator from Ohio, in office since 2011.
Rachel Mary Berkeley Portman was born in December 1960. He is an English writer, famous for scoring films.
Eric Portman (July 1901–December 1969) was an English stage and film actor. He is perhaps famous for his roles in many films for Michael Powell and Emeric Pressburger during the 1940s.
John Calvin Portman Jr. is an American futuristic engineer and real estate developer widely known for popularizing hotels and office buildings with multi-storied interior atria.
Robert M. "Bob" Portman was born in March 1947. He is an old American professional basketball player.
Blazons & Genealogy Notes
1) (Bryanston, co. Dorset, and Orchard Portman, co. Somerset, bart., extinct 1695; a family of great distinction and antiquity, co. Somerset; descended from Walter Portman, son of William Portman, of Taunton, temp, Henry IV., a lineal descendant of Thomas Portman, temp. Edward I.). Or, a fleur-de-lis az. Crest—A talbot sejant or.
2) (Berkeley-Portman, Orchard-Portman, co. Somerset; Sir William Portman, fifth bart. of Orchard Portman, settled his estates on his next heirs in the female line; they eventually devolved on William Berkeley, Esq., of Pylle, who assumed the surname of Portman; hia great-grandson, Edward Berkeley Portman, was created, 1837, Baron Portman, and 1873, Viscount Portman). Quarterly, 1st and 4th, same as the last, for Portman; 2nd and 3rd, gu. a chev. erm. betw. ten crosses pattée or, for Berkeley. Crests—1st, Portman: Same as the last; 2nd, Berkeley: A unicorn gu.
3) (Baron Portman). Same Arms and Crest as the preceding. Supporters—Dexter, a savage wreathed about the head and waist with ivy, in his dexter hand a club resting on the shoulder ppr.; sinister, a talbot or. Motto—Make a clean heart and a cheerful spirit.