Potter Family Crest, Coat of Arms and Name History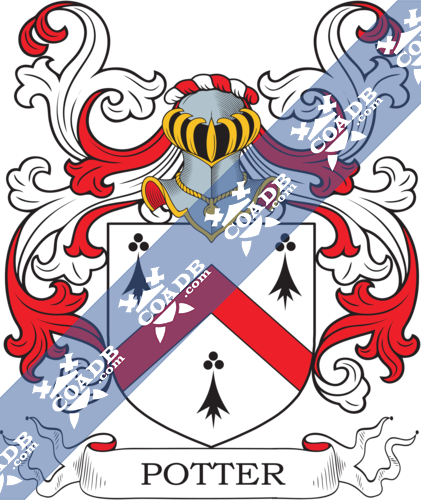 Potter Coat of Arms Gallery
Don't know which Coat of Arms is yours?
We can do a genealogical research. Find out the exact history of your family!
Learn More
Potter Origin:
England, Germany
Origins of Name:
The surname of Potter has been recorded as being an English surname and was used as an occupational surname for a maker of drinking and storage vessels. This surname comes from the Old English pre 7th Century word of "pott" which comes from the Old Roman (Latin) word of "pottus" which can be translated to mean "drink" or "draught." It is important to remember that occupational surnames were given to the original bearer because it denoted their actual occupation. After that, It became hereditary when a son followed a father into the business or profession. Throughout the Middle Ages, the term "potter" was applicable to describe those who worked in earthenware, metal, and clay.
More common variations are:
Poutter, Poetter, Peotter, Piotter, Potteri, Pottery, Pottera, Poitter, Potteru, Potterr, Powder, Podder, Powter
History:
England:
The first recorded spelling of the surname of Potter was found in the country of England in the year of 1172. One person, by the name of Seuard le Potter, who was mentioned and recorded in the charters relating to the Gilbertine Houses, which were under the reign of King Henry II of England, who ruled from the year 1154 to the year 1189. Other mentions of the surname of Potter in England included Geoffrey Potter, who was mentioned in the Curia Rolls of Leicestershire in the year 1196, while John le Potier was mentioned in the Pipe Rolls of Essex for the year 1197, and Lambert le Pottur who was in the Curia Regis Rolls of Essex in the year 1214. In church documents throughout history, there were many people who bore the surname of Potter. The registers of the diocese of Greater London mentioned and noted George Powder and his wife Caroline who were witnesses to the christening of their son Godfrey Powder at St. Mary Whitechapel, Stepney, on November 18th 1759. Those who bear the surname of Potter in England, are scattered throughout the countryside. Many people who bear this surname are found in high concentrations in the counties of Yorkshire, Lancashire, Hampshire, Lincolnshire, Suffolk, Surrey, Kent, Devon, Essex, and Derbyshire counties, as well as the city of London.
Scotland:
Those who bear the surname of Potter can be found throughout most of the region of Scotland. There are high percentages of those who bear the surname of Potter in Midlothian, Lanarkshire, and West Lothian counties.
United States of America:
During the European Migration, which is when English settlers were fed up with their homeland and it's poor living conditions, and emigrated out of their home country, many settlers sought out the United States of America, which at that time was referred to as the Colonies, or the New World. The United States promised freedom from religious persecution, better living conditions, and no overall ruler. The first of these settlers who was recorded to bear the surname of Potter was one Henry Potter who arrived in the state of Virginia in the year 1619. Ann Potter also landed in the state of Virginia in either the year of 1624 or the year 1625. Those who bear the surname of Potter and live in the United States of America can be found in the multiple states of New York, New Jersey, Connecticut, Massachusetts, Michigan, Iowa, California, Illinois and Ohio.
Potter Today:
United States 82,979
England 26,624
Australia 9,332
Canada 7,269
South Africa 4,274
Brazil 2,814
New Zealand 1,714
Scotland 1,628
Wales 1,388
Russia 1,067
Notable People:
Dean S. Potter (1972-2015) who was a free climber from America, who was also an alpinist, a BASE jumper, BASEliner, and a highliner who died during a wingsuit flight in Yosemite
Henry Potter (1881-1995) who was an Olympic Silver medalist from America, for golf in the 1904 Olympic games
Brigadier-General Waldo Charles Potter (1885-1971) who was a Chairman of the 2nd Section from America, and a War Department of the Manpower Board from 1943 to 1945
Mrs. Lily Alexenia Potter (nee' Wilson) who was a 56-year-old First Class Passnger from Philadelphia, Pennsylvania who was aboard the RMS Titanic when it began to sink, but escaped the sinking by escaping in life boat 7
John William Potter (1918-2013) who was a federal judge in the United States
William Everett Potter (1905-1988) who was a Governor of the Panama Canal Zone from the year 1956 to the year 1960
Nels Potter (1911-1999) who was a baseball player from America
Helen Beatrix Potter (1866-1943) who was an English reclusive author and illustrator
Blazons & Genealogy Notes
1) (co. Chester). Ar. a chev. gu. betw. three erm. spots.
2) (cos. Devon, Kent, Oxford, Leicester, and Somerset). Sa. a fess erm. betw. three cinquefoils ar. (another, or). Crest—A seahorse or (another, ppr.).
3) (Сhristopher Potter, D.D., Proyost of Queen's College, Oxford, and Dean of Worcester, d. 3 March, 1645). Ar. on a pale az. three pairs of wings conjoined and elevated of the first.
4) (Buile Hill, near Manchester; Sir John Potter, Knt., J.P. for that city and co. Lancaster, son of Sir Thomas Potter, the first Mayor of Manchester, received knighthood on the Queen's visit to that city in 1851). Sa. on a fess erm. betw. in chief two cinquefoils pierced or, and in base a knight's helmet ppr. a terrestrial globe also ppr. betw. two garbs of the third. Crest—On a mount vert a seahorse erect ppr. gorged with a collar gemel sa. and supporting a rudder or.
5) Ar. on a pale az. three wings conjoined of the first. Crest—A star of twelve rays or, betw. a pair of wings ar.
6) Ar. on a chief az. two fleshpots or.
7) (William Potter, Esq., of Liverpool). Az. a fess vairé or and gu. cotised engr. betw. three cinquefoils of the second. Crest—A seahorse or, in front of a cross crosslet fitchée gu.
8) (co. Norfolk). Sa. a fess betw. three mullets ar. Crest—An elephant's head erased ar. guttée de sang.
9) (co. Kent). Per saltire az. and gu. a griffin pass, betw. five fleurs-de-lis, two in chief and three in base or.