Potvin Family Crest, Coat of Arms and Name History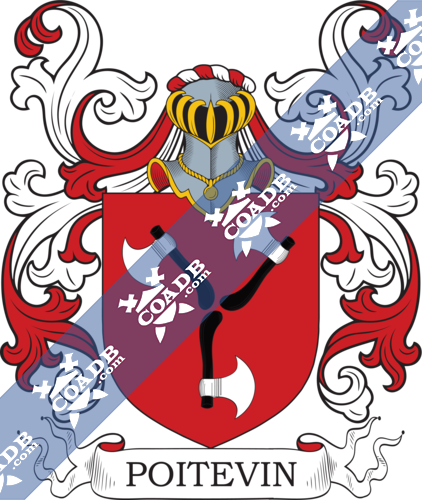 Potvin Coat of Arms Gallery
Don't know which Coat of Arms is yours?
We can do a genealogical research. Find out the exact history of your family!
Learn More
Meaning, Origin, Etymology
The surname of Potavin is a variation of Poitevin.  The surname of Poitevin was first found in the area of Poitou, where Poitevin (Poetevin) is a language that is spoken within this regional area that dates back to the 13th century when it first began to appear in legal documents and charters of that time.  The people who spoke the Poitevin language were called Poitevins. Today this region located in Western France, is called Marais Poitevin (Poitevin Marsh) and has been primarily used for farming and has lots of areas that are a maze of islets and canals. It is nicknamed The Green Venice (la Venise Verte.)  There was a young man in the 10th century named Podevin that was a page of Duke Wenceslaus I of Bohemia. In England the surname of Poitevin was first found in Yorkshire where they held a family seat as Lords of the Manor of Headingley, the surname is descended from the tenant of the lands of Headingley, which William de Poitevin acquired through marriage to the daughter of Ilbert de Lacy who was recorded in the Domesday book census of 1086.  They were originally from Poitou in Normandy. Today it can can be found in the areas of Dover and Canterbury. Researching this name can be challenging due to the spelling of the surname changing from record to record. If you are researching this name, a good idea would be to use the spelling variations that are provided below.
Spelling Variations
Potvin, Potvan, Potavin, Poitvin, Poitevin, Pottevin, Pottvin, Poittvin, Poiteuin, Poitevin, Paytfen, Peytwin, Peteyvin, Peytivin, Portwine, Portwin, Potwin, Potwyn, Potwyne, Portwyn, Pettevin, Petvin, Peytvin, Portway, Portwey, Potyn. Poidevin, Le Poidevin, le Poideven, Podevin, Portanova, Patvine, Potvin, Potwin, Portwin, Portwine, Putwain, Puddifin, Puddifant, Puttifent
Early Marriage Records for Potavin and Variations
Pierre Poittevin married Rebecca Sheridan in 1843 in Goulburn, New South Wales
Marguerie Arpin Poitevin married Antoine Marie Emery in 1791 in St-Ours, Quebec
Joseph Arpin Poitevin married Marie Charlotte Stmarc in 1792 in St-Ours, Quebec
Marguerite Arpin Poitevin married Michel Vacher Stantoine in 1792 in St-Ours, Quebec
Jean Baptiste Arpin Potevin married Madeline Aslin in 1798 in Lanoraie, Quebec
Jean Baptiste Podevin (Potavin) married Jeanne Marie Francoise Hodeyer on November 13, 1793 in Vitre, Ille-et-Vilaine, France
Jacques Poettevin married Mathurine Pottier on July 14, 1715 in Rennes, Ille-et-Vilaine, France
Joseph Louis Poitevain married Jeanne Marguerite Lecomte in February 1792 in Grand-Fougeray, Ille-et, Vilaine, France
Julienne Poitevin married Etienne Herrauld in January 30, 1572 in Sainte-Gregoire, Ille-et-Vilaine, France
Jean Poitevin married Julienne Bonneau on January 6, 1622 in Rennes, Ille-et-Vilaine, France
Bertran Poitevin married Jeanne Tremorin on November 18, 1628 in Baguer-Morvan, Ille-et-Vilaine, France
Philippe Poitevin married Jeanne Rageot on October 7, 1634 in Rennes, Ille-et-Vilaine, France
Jean Poitevin married Thomasse Lebreton on April 24, 1636 in Plouer-sur-Rance, cotes-d'Armor, France
Jan Poitevin married Christophelette Gautier on July 30, 1641 in Baguer-Morvan, Ille-et-vilaine, France
Mamie Poitevin married E.W. Smith in April 1879 in New Orleans, Louisiana
Genevieve Poitevin married Pierre Compagnotte on December 28, 1840 in St. Francis Xavier, Vincennes, Knox, Indiana
Victoria Poitevin married Louis Ravalette on October 9, 1843 in St. Francis Xavier, Vincennes, Knox, Indiana
Francois Potevin married Victoire Sanson on July 6, 1818 in St. Francis Xavier, Vincennes, Knox, Indiana
Marie Potevin married Francois Cayon on July 24, 1797 in St. Franci Xavier, Vincennes, Knox, Indiana
Jainieo Poitevin married Margtt. Damberboss on May 13, 1667 in Saint James Dukes Place, London, England
Gabriel Poytevin married Peter Dutar on December 23, 1683 in Stepney, Middlesex, England
Madeline Poitevin married Jean Jouvaux on December 20, 1734 in Westminster, Middlesex, England
Alexander Potevine married Frances Waldenfeild on March 21, 1677 in Temple Church of England, London, England
Elizabeth Potevine married Stephen Tuck on February 6, 1769 in Saint Alphege, Canterbury, Kent, England
Ann Gabriel Poytevin married Peter Dutartre on December 23, 1683 in Saint Dunstan, Stephney, London, England
Early Census Records in the United States
U.S. Census Reconstructed Records 1660-1820 for Potavin
Antho Poievain 1720 South Carolina
Anthony Poitevine 1740 South Carolina
Anthony Potvine 1730 Prince George, Winyah Parish, South Carolina
Louisiana, Compiled Census and Census Substitutes Index 1791-1890
Ludger Petavin 1860 Convent P.O., Saint James Parish, LA
J.B. Petavin 1860 Convent P.O., Saint James Parish, LA
Fran Potouvin 1860 New Orleans 11th Ward, Orleans Parish, LA
Celestine Peytavin 1860 Opelousas, Saint Landry Parish, LA
Reynaud Peytavin 1804 New Orleans, Orleans Parish, LA
Popularity & Geographic Distribution
The last name  ranks 93,972nd  in popularity worldwide as of the 2014 Census and approximately 5,103 people carry the  surname worldwide. The name ranks particularly high in the following six states: California, Florida, Washington, Idaho, Kansas, and New Jersey.  It ranks highest in the following countries: France (4,204), Brazil (268), Guatemala (150), United States (130), Argentina (105), Canada (83).
Early Bearers of Surname
Peiteuin de Eya 1186, Pipe Rolls, Suffolk
Peyteuinus le Esquier 1274, Assize Rolls Beds
Rogerus Peteuinus, Pictauensis 1086, Derbyshire, Essex
Rogger Peiteuin 1094, Anglo Saxon Chronicle
Ralfph Patefine HY 1 Whitby, Yorkshire
Odo Petefin of Yorkshire
Adam Petevin 1198, Feat of Fines, Kent
David le Poitevin 1199, Assize Rolls, Staffordshire
Rainer le Osemund Petewin 1279,Rotuli Hundredorum, Cambridgeshire
Preciosa Potewyne, of Cambridgeshire
Reginald Peytewin 1296, Surrey & Sussex
History, Genealogy & Ancestry
Roger the Poitevin (Roger de Poitou) was born in Normandy in the mid-1060s and died before 1140.  He was an Anglo-Norman aristocrat, who possessed large holdings in both England and through his marriage in France.   He was the third son of Roger of Montgomery, 1st Earl of Shrewsbury and Mabel de Bellême. The appellation "the Poitevin" was for his marriage to an heiress from Poitou.   uired a great lordship in England, with lands in Salfordshire, Essex, Suffolk, Nottinghamshire, Derbyshire, Lincolnshire, Hampshire and North Yorkshire.[2] The principal part of the Lordship was in what was then called inter Mersam et Ripam, that is, "between the Mersey and the Ribble"[3] and is now part of divided into Lancashire, Merseyside, and Greater Manchester. After 1090, he also assumed the title 1st Lord of Bowland.  Before 1086, he had married Almodis, daughter of Count Aldebert II of La Marche in Poitou, and sister and presumptive heiress of count Boso III who was childless and unmarried.  Around 1091 Roger's brother-in-law Boso died, but Roger was apparently preoccupied with Norman and English affairs, and his wife's uncle Odo became count of La Marche. In 1092 Roger acquired a large part of what is now north Lancashire. These grants gave Roger effective control of all the lands north of the River Ribble to the River Lune, which formed a natural border between the secure Norman lands in England and the strongly contested Scottish frontier lands in Cumberland. Due to long established lines of communication across Morecambe Bay, Roger also assumed authority over the regions of Furness and Cartmel; these remained a part of Lancashire until as recently as 1974. The expansion of Roger's lands followed his support of King William II Rufus's invasion of Cumbria in AD1092, where Dolfin of Dunbar probably ruled as a vassal of Scottish King Malcolm Canmore. Dolfin was driven out and the Anglo-Scottish border was established north of Carlisle.  Roger also acquired the great honour of Eye centered in Suffolk 1088 he led a military force, with Alan Rufus and Odo of Champagne, against William de St-Calais, bishop of Durham, at the request of William Rufus when the bishop was implicated in a revolt against the king; Roger also negotiated with the bishop on the king's behalf before the bishop went to trial. Roger's father Roger de Montgomery died in 1094. In 1094 Rufus sent Roger to hold the castle at Argentan in Normandy, but Roger surrendered it to Philip I of France on the first day of the siege; Roger and his men were held for ransom and purchased their freedom.[6] Though Philip I was an ally of Curthose, it is thought that this action was less a betrayal of Rufus and more a result of Roger's dual vassalage between the King of England and the King of France.[7] Roger did not lose his English lands as a result of this action but held no position in Rufus' government from this point.[8] Roger continued to be loyal to Rufus but in 1102 joined his brothers' failed rebellion against Henry I of England in favor of Robert Curthose. As a result Roger de Poitou lost his English holdings. The King put those in Craven into the governance of Robert de Romille    Roger then went to his wife's holdings in Poitou. Almodis's uncle Odo was ousted as count of La Marche in 1104, and subsequently the sons of Roger and Almodis are styled as count. In 1109 Roger was permitted to briefly return to England to the court of Henry I[10] though did not recover his earlier English holdings. After ca. 1109, Roger appears to have either lost interest in governing in La Marche or lost the political power itself as he is only seen once in the documents of La Marche as his wife and sons held the authority in the region.  The children of Roger and Almodis include: Aldebert IV of La Marche; Boso IV of La Marche; Odo II of La Marche; Pontia of La Marche, who married Wulgrin II of Angoulême; Avice de Lancaster.
A Journey through Hunter's "SOUTH YORKSHIRE" From observations I perceive that most people seem to use 'South Yorkshire' as a basic reference when looking for information about a specific place, reading only what is written under that one town or village heading. The work does not have a comprehensive index, listing only the main sources for each specific topic, and further information about places and people is often included in genealogical information contained under other areas. By studying all the families who intermarried into a specific family of a district, and especially by concentrating on the alliances made by female heiresses, it is possible to trace the changing fortunes of land inheritance. Furthermore this lends to an understanding of why later marriages between cousins far removed were more likely to be the concerns of family fortunes rather than in the interests of true love.Once upon a time there were seven sisters ……. around the beginning of the thirteenth century, to be more precise.At the time of the Domesday Survey, 1086, the manors of 'Burg' and 'Scanhalla,' (Skellow) were held by William Pictavus or Poictevin under the lordship of Ilbert de Laci; he also appears to have held Leid (Lead) and Ackton. William is mentioned as having given two garbs1 in Skellow to the Chapel of St. Clement in Pontefract Castle before 1100.The manor of Burg appears to have descended through the male line of Pictavii until the beginning of the thirteenth century, at which time it was held by a Robert Pictavus/le Poitevin. Robert was succeeded by seven daughters, all presumably his coheirs. Hunter, in the section on Burghwallis, lists the marriages of these coheirs as:-"Eva, who married Richard son of Robert de Reecroft.Dionysia, mother of Richard le Wallis.Galiena, Agatha and Matilda.Muriel, from whom descended Henry de Rockley, who was the defendant.And Agnes, who married Elias de Midhope, and had James."He mentions that "one of the coheirs married the lord of Tankersley;" this must have been either Galiena, Agatha or Muriel. Also that "Rockley is believed to have descended from the Pictavii in the line of De La Hay." There was still a house in the parish by the name of Rockley-Hall when Hunter wrote, but this appears to have been demolished by the time of the first O.S. map of 1854. There were also "Midhopes and Barnbys possessing lands here ….. and Tyas had possessions here."Under Burghwallis, only the main line is followed in any detail, being the Wallis's from which the parish took its name. However, by following elsewhere in the two volumes the genealogies of the families into which these coheirs married, it has been possible to extract much more information about how the land was divided between them, and how some of the holdings were brought back under one ownership by marriages between distant cousins.Dionysia was the daughter who married into the family from which the manor was to acquire its final name, becoming known as BurghWallis; she married Robert, seneschal of Pontefract, the son of Henry le Wallis. Her son Henry married Elizabeth, who was the daughter and coheir of Jordan de St. Mary and Alice Haget(died 1247). Their second son, sir Richard le Wallis, inherited BurghWallis from his father and land at Frickley through his mother; he presented the first recorded rector to the church in 1253. Apart from a brief lapse in the 1320's, when Richard le Wallis appears to have forfeited the manor for a short period during the affair of the Earl of Lancaster, BurghWallis remained in the hands of the Wallis family until at least 1344.Stephen le Wallis was succeeded by a daughter, Elizabeth. She may however have been underage at the time of her father's death, because from 1350 to 1372 the rectors were presented by Sir Robert de Swillington, who in his inquisition of 1393 appears to have held the manor for 'term of life.' Elizabeth married twice, having a daughter who married sir William Mowbray. His grand-daughter Elizabeth married sir William Gascoigne of Gawthorpe, Lord Chief Justice and a man of great wealth. The manor was to continue in the lordship of the Gascoigne family for the next one hundred and seventy years, though it is probable that these sir Williams had very little direct contact with Burghwallis. The first mention of a Gascoigne living there is of Thomas, a younger son, who died in 1554; it is thought to be his commemorative brass in the church. After his death the manor appears to have passed to a younger sister as her dowry, for in Bernard's Survey of 1577 Leonard West of Burghwallis, husband of Barbara Gascoigne, lays claim; Martin Anne of Frickley is said to have held the lordship of Burghwallis from this Leonard West. Elizabeth, daughter of Martin Anne, became the second wife of Francis Gascoigne, brother of Barbara and the last sir William Gascoigne. The Wests continued to make presentation to the church, the assigns of Leonard's son, William, doing so in 1586 and 1606. Hunter was not clear how the manor passed from the West family to the Annes, previously of Frickley, although they had possessed land here from an earlier time. They were lords of the manor from the early seventeenth century up to the late 1930's.Now to return to the sisters of Dionysia. One of them married the lord of the manor of Tankersley. Under the history of Tankersley we find that the lord in question was Henry de Tankersley, who "is said to have married one of the coheirs of Robert le Poitevin, the lord of Burgh (-wallis)." Hunter also states here that "the marriage of these coheirs is to be referred to the reign of Henry III;" [This information would have been handy if repeated under Burghwallis, as little indication of date is given there.] Either his (Henry's) son or his grandson had two daughters Joan and Alice, coheirs, who married respectively Hugh de Eland and Richard le Tyas. Initially both Richard Tyas and Hugh Eland presented to the church at Tankersley (1290), but it seems that eventually Tankersley passed into the line of Eland and holdings at Burghwallis and Skellow became the property of the Tyas family, Richard le Tyas being shown as holding land there in 1284 and 1319. There is no indication however that the family lived at Burghwallis, the main family seat being at Lead/Lede. Richard and Alice had two daughters, coheirs, Joan who married John de Wentworth and Constance who married Henry de Rockley, (died 1340). Of the two remaining sisters, Muriel married Robert Rockley, whose family seat was near Wosborough. In 1319, the great grandson of Muriel, Henry de Rockley, was granted a yearly rent of £20 by Richard le Tyas, (the above mentioned) to be taken out of the manors of Burghwallis, Tankersley, Woodsome and Lede. Henry and Richard were distantly related through marriage. Henry de Rockley married Ellen the daughter of William De La Hay, who had land at Stainborough. The pedigree of Rockley is to be found under the section on Wosborough. Here Hunter shows Henry de Rockley to have married Ellen, "daughter and heir of William de la Hay, or de Holme, son of Roger, son of Robert Pictaviensis de Burgh." A likely explanation for the change of 'surname,' is that one of the 'sons' was actually a son-in-law. It seems unlikely that this Roger was the son of the Robert Pictavus with seven daughters, as he would then have inherited Burgh(wallis); whatever the relationship, he seems to have held land in the eastern part of the parish of Burghwallis. The hamlet of Haywood used to be part of the parish of Burghwallis, and Rockley-Hall was situated not far from Haywood. A recent survey undertaken by the South Yorkshire Archaeology Unit has identified the site of Rockley-Hall, and also the site of a settlement not far away, on the eastern side of Shirley Pool. This marriage between Henry and Ellen would bring adjacent land-holdings together under one tenancy. The Rockley-Hall at Burghwallis however may not have been the main residence of this younger branch of the Rockley family; this was the also-named Rockley Hall on the land which had belonged to de la Hay at Stainborough.The son of Henry and Ellen, also Henry, married Constance daughter of the Richard le Tyas who held land in Burghwallis in 1319. These were distantly related cousins, Robert Pictavus being the great-great-grandfather of Constance and the great-great-great-grandfather of Henry. Thus land which had been the inheritance of two of the daughters of Robert was to be reunited by the joining of two of his descendants, and also land that had been split from the family holdings at an earlier period. The family of Rockley seem to have left Burghwallis by the end of the fourteenth century. Sir Robert, grandson of Henry and Constance, was still a minor on his father's death, c.1340, and his mother Cecilia had let the house. The next Sir Robert founded the Chantry at Wosborough, and from the pedigree in Hunter it appears that he had taken up the family seat at Rockley in Wosborough when the main line ended in the death of an unmarried heiress.There is the marriage of one further daughter of Robert Pictavus to consider, that of Agnes to Elias de Midhope; he is to be found in the section on Hallamshire. In 1260 he 'put his lands in Burghwallis in pledge.' The land passed through the female line into the family of Barnby, whose history is to be found in the section on Barnby, under Cawthorne. In an inqusition-post-mortum of 1558, Ralph de Barnby was said to have held the manors of Sutton and Burghwallis, among his many other land-holdings. The inheritance of the Barnby family was distributed, by the marriages of heiresses, between several families, and there is no mention in Hunter of to whom the land at Burghwallis passed.Although there is only one reference to Burghwallis in the index to 'South Yorkshire', this being to the main section, through following family lines it has been possible to find fourteen other mentions, in family genealogies and associated information. This has greatly increased the understanding of the intricacies of changing land-ownership within the parish.It has been possible to build up an extended family tree, starting from Robert Pictavus, which illustrates at a glance over four centuries of the history of one small parish. It has also provided a list of names from which further information can be sought through family documents.Note. . a 'garb' is a payment of rent with corn. Extended family tree to show the parishes in Hunter's 'South Yorkshire' in which extra information on the families of Burghwallis can be found. (The parishes are shown in bold type.)Margaret L Pidcock Burns.
Quebec, Genealogical Dictionary of Canadian Families (Tanguay Collection) 1608-1890
BARBEAU DIT POITEVIN, JOSEPH Charbonneau, Elizabeth widow of Andre Sire, b 1663; s 18 feb. 1738, St. Francis Island Jesus. Marie-Madeline b August 13, 1698 at Repentigny; 1 ft to Charles Chartrand 2 ft 29 feb. 1740 to Ignance Lemay; Marie-Therese, b March 14, 1701; Joseph b. April 27 and June 4, 1703; Mayor Elizabeth, 28th August, 2nd Sept. 1705; Joseph b and s 1 Nov. 1707; Jean-Baptiste b June 9, 1653 m Jan 10, 1717 to Marie Henaut; Julienne b s 20 feb. 1710.
POTAVIN OF NEW YORK
ELIAS POTAVIN born 1819 in New Jersey, Monmouth, New Jersey died 1902 in Brooklyn, Kings, New York married Margaret Ann Smith (1829-1890), Their children: Sarah Catherine (1848), Mary Ann (1851-1909), Elias Charles (1856-1927), Martha Jennifer (1860-1901), Georgianna (1865), Margaret (1869).  WILLIAM ALBERT POTAVIN born 1849 in Marlboro, Monmouth, New Jersey died May 11, 1898 in Brooklyn, Kings, New York, married Hannah C. Hulsart (1852-1931). Their Children: Philip (1865), Charles E. (1876-1913), James A. (1879-1884), Margaret Elizabeth (1876-1913), Edward. CHARLES E. POTAVIN born August 1876 Brooklyn, Kings, New York died February 24, 1913 in Brooklyn, Kings, New York, married Margaret Mabel Fitzsimon born 1877.  Their Children: Edna Catherine (1896-1987), Alberta M. (1898-1978), William Edward (1900-1981), James Francis (1902-1976), Jenie (1903), George (1904), Charles A. (1908-1989). CHARLES A. POTAVIN born December 3, 1908 Brooklyn, Kings, New York died October 5, 1989 in Brooklyn, Kings, New York married Maude Fry (1911-2010) Their Children: Patricia Agnes (1940-2003). FRANK RONALD POTAVIN born February 24, 1938 Brooklyn, Kings, New York died November 29, 1999 in Flushing, Queens, New York. .   WILLIAM EDWARD POTAVIN born May 25, 1900 in Brooklyn, Kings, New York died June 9, 1981 in Flushing Queens, New York married Elizabeth A. Bossler Schnetzer (1913-1980) Their Children: Edward R. (1936-1996), Frank R. (1938-1999), Robert Warren (1939-1999), Corinne (1942-2010), Gerald John (1943-2011), Sharyn Ann (1945-1992).
POTWINE OF EAST WINDSOR, CONNECTICUT
POTWINE, of E.W. This family probably of French-Huguenot origin.  French, POITEVIN, meaning an inhabitant of Poiton, in France; Eng., POTYN; has only one coat of arms, which bears a fleur-de-lis.  The E.W. Potwines have dropped the final e in the name. The following genealogy is mostly compiled by Mr. Arthur E. Potwine of E.W., with contributions from other sources.  John born 1698 (son of John, a physician in Boston, said to have been born in England, who died 1700, leaving a wife, Sarah Hill), married 1st April 20, 1721, Mary Jackson, who died in Coventry, Connecticut, March 31, 1766 in 68th year; he married 2nd February 7, 1771, Elizabeth (widow of Capt. Abner) Moseley of Glastonbury, Connecticut, who died April 19, 1778 in her 76th year., he died E.W., May 16, 1792 in 94th year. They had issue: 1) Mary born Boston May 1, 1723 died in Boston, June 23, 1730.  2) Sarah born Boston July 10, 1724 died in Boston July 2 3) Elizabeth born Boston May 25, 1720 married Joseph Church November 27, 1746 at Hartford, Connecticut; she died August 7, 1751 They had issue i) Joseph (Church) ii) Elizabeth (Church). 4) John born in Boston May 7, 1728. (Fam.2) 5) Ann born Boston, December 20, 1729; died Boston January 31, 1731. 6) Thomas (Rev.), born in Boston, October 3, 1731. (Fam.3) 7) Mary born in Boston May 26, 1734; died E.W., May 22, 1792 in 59th yr. 8) Nathaniel born in Hartford, Connecticut June 8, 1737; died June 20, 1737 at Hartford.  9) Sarah born Hartford February 24, 1738 died April 14, 1739, at Hartford. 10) Sarah born Hartford, Connecticut June 25, 1740 died September 1802 married Dea. John Bancroft. FAM2 – John of E.W. (John, Dr. John) married January 18, 1751, Eunice (daughter of Captain Thomas and Hepzibah Merrill) Seymour. She was born May 6, 1732; admitted to Church at East Hartford, November 19, 1758, and died February 27, 1768; buried in Old Center Burying Ground. After her death he removed to E.W. and married 2nd January 18, 1770, Rachel Thompson of E.W., who was born 1731 and died at E.W. August 10, 1817 age 86.  He died August 20, 1785. Children by 1st marriage: 1) Eunice born October 15, 1751 married December 24, 1772, Robert (son of Ebenezer and Anne Trumbull) Watson, born September 4, 1747 she died December 21, 1844 and they had 8 children. 2) John born 19; bp. E.H. May 26, 1755. His godfather, Thomas Seymour, left him, by will, and to his brother George one whole right in the Susquehanna Purchase. He died at Roxbury, Massachusetts, August 22, 1775 in his 21st yr. 3) Elizabeth born July 22, 1756 died September 7, 1756; buried East Hartford Burying Ground. 4) George born December 28, 1759 (FAM4) 5) David born January 21, 1764 died September 29, 1775 6) Rachel born May 14, 1771 died September 5, 1810 married 1st Gordon Pinney September 6, 1791 2nd Samuel Taylor.  7) Robert born November 5, 1772 (FAM5). FAM3 – Thomas (Rev.) (John, Dr. John), graduate Yale College 1751 married 1st June 20, 1754, Abigail the daughter of Captain Abner Moseley of Glastonbury, Connecticut who died July 23, 1759, in his 27th year; he married 2nd at Wallingford, Connecticut to Lydia Hall October 8, 1761 who died September 19, 1817 age 83; Rev. Thomas died E.W. November 15, 1802. The children by his 1st wife: 1) Abigail born April 3, 1755 married Nathaniel Stoughton of E.W. September 23, 1778; removed to Vermont. 2) Thomas born October 18, 1756 (FAM6) 3) Benjamin born January 16, 1759 (FAM7) 4) Lydia born October 7, 1762 married Gideon Chapin November 8, 1780 died September 19, 1817. 5) Damaris born April 11, 1764 married September 29, 1785 to Eli Bissell died July 31, 1853.  6) Caleb born November 14, 1765 (FAM8) 7) Elizabeth born March 24, 1768 married Captain Job Elisworth of E.W. 8) Unknown, twin to Elizabeth died day of birth. 9) Mary born 1772 married Dea. Noah Allen April 2, 1822. 10) William born 1774 died April 23, 1794 11) Stephen born April 20, 1776 (FAM9). FAM4 – George (John, John, Dr. John) served in the Revolutionary Army 1776-1780; in 1781 removed to Weathersfield, Vermont where he resided for 30 years then removed to Poultney, Vermont thence to Cambridge, Vermont in 1832; resided there 1833; married Abigail the daughter of Joseph and Abigail (Wolcott) Stoughton, July 9, 1783; she was born February 23, 1762; died August 11, 1833; he died February 1, 1835. Their children are: 1) Abigail born August 31, 1784 died August 31, 1811. 2) George born June 28, 1786 (FAM10) 3) Eunice born August 7, 1788 married Samuel White died July 2, 1856.  4) John S. born May 21, 1790 (FAM11) 5) Betsy born May 5, 1792 married Jesse Fletcher died October 1, 1832 6 children. 6) David W., born June 13, 1794 (FAM12) 7) Mary born June 26, 1796 died March 10, 1815. 8) Nancy born October 15, 1798 married Jeremiah Eaton died January 22, 1868. 2 children. 9) Sarah born March 2, 1801 died March 24, 1815. 10) Anson C. born July 1, 1804 (FAM13) 11) Seymour born August 12, 1806 died March 22, 1815. FAM5 – Robert (John, John, Dr. John) married June 12, 1804, Jemima Collins born 1777 who died November 30, 1843 age 66; he died April 15, 1853, age 80 resided at Melrose, Connecticut Their children are: 1) John T. born March 24, 1805 died June 17, 1807 2) George C. born December 24, 1806. 3) Louisa born June 4, 1809 died October 15, 1811. 4) Joseph Jackson (twin) born May 11, 1812 5) John Thompson (twin) born May 11, 1812. 6) Louisa P. born April 6, 1815 died September 24, 1818.  7) Mary Ann born March 25, 1818 married O.H. Greenleaf of Springfield Jan. 31, 1847. 8) Caroline A. born August 13, 1820 married Lewis H. Taylor of Springfield September 4, 1844. FAM6 – Thomas (Rev. Thomas, John, Dr. John) of E.W. married September 23, 1773, Martha the daughter of Israel Stiles of E.W. she was born March 13, 1760 died July 9, 1822. He died September 14, 1824. Their children 1) Martha born October 9, 1779 married Simeon Barber. 2) John born August 17, 1781 (FAM16) 3) Thomas born January 17, 1784 (FAM17) 4) Israel born March 23, 1786 (FAM18) 5) Benjamin (Dr.) born July 24, 1788 (FAM19) 6) Abigail born September 24, 1790 married Dr. Henry Allyn Porter of E.W. she died April 24, 1872 7) Lydia born November 8, 1792 married 1st February 8, 1819 Ephraim Wight of Troy, N.Y. who died September 1823 age 31 2nd Simeon Van Auken. She died September 9, 1826. Children by 1st marriage. i) Thomas P. born January 16, 1820 died October 22, 1842 age 22  ii) Israel H. born March 22, 1822 died children by 2nd marriage iii) Lydia Ann Potwine born August 7, 1824 at Wolcott, New York married W. Wight of Troy, New York 1844 had the children Daniel, William, Clara, and Arthur. 8) William born February 1, 1795 married Aurella Spear of Ell. 1825. He died April 17, 1877 she died March 17, 1882. 9) Nathaniel born January 4, 1798 (FAM20). 10) Sarah born August 4, 1800 died August 7, 1825 unmarried. 11) Anne born December 10, 1802 married September 2, 1833, Orrin Clark, merchant of Cleveland, born Somers February 5, 1787 died June 22, 1844 she died February 1, 1892. Their children i) Anne P. born September 12, 1834 married December 17, 1862 to Chas W. Colehour, She died 1887; Mr. C born February 5, 1787 died June 22, 1844; had a) Mabel bor May 23, 1865 b) Grace born Jan. 11, 1868; c) Carl born July 24, 1871 d) Nellie born Jan. 29, 1874 e) Thomas f) James. ii) Samuel born July 3, 1836. iii) Thomas W. born June 3, 1838.  iv) James O. born October 1839 married Anne C. Keith of Boston January 8, 1890. v) Richard born January 11, 1843 died May 1844. FAM 7 – Benjamin (Rev. Thos., John, Dr. John) married Abigail Chapin born 1765 who died November 14, 1846 he died July 5, 1787; removed to Vermont. Their children James born December 18, 1785; Abigail; and Hope FAM 8 – Caleb (Rev. Thos., John, Dr. John) married Mary Wells born February 12, 1781, who died April 13, 1836 age 55 he died September 8, 1840 age 74. Their children: 1) William born July 24, 1801 died January 16, 1870 married Mary A. Waters January 18, 1852 2) Caleb born January 24, 1808 3) Thomas Hall born August 5, 1805 4) Sabra born September 3, 1807 died September 10, 1869. 5) Charles Wells born January 8, 1809 died July 18, 1832. 6) Henry born January 18, 1811 7) Mary born December 28, 1816 8) David F. born December 21, 1820. "More information can be found in Families of Ancient Windsor Connecticut Consisting of volume II of The History and Genealogies of Ancient Windsor, Connecticut; Including East Windsor, south Windsor, Bloomfield, Windsor Locks, and Ellington, 1635-1891 by: Henry R. Stiles."
Early American Immigration and New World Settlers
Poitevin Settlers in United States in the 18th Century
Rebeca Poitevin, who arrived in Virginia in 1700
Louis Vincent Poitevin, who landed in Louisiana in 1719
Poitevin Settler to Canada
Vincent Poitvin from La Copechagiere (St. Jean- Evangeliste) (Vendee)
Mathurin Poitevin from Auge (Deux-Sovres)
Jean Poitevin from Fontenay-le-Comte (Vendee)
Jean Poitevin from St-Etienne-des-Loges, aju. St. Hilaire-del-Loges (Vendee)
Joseph Poitevin from Beauvoir-sur-Niort (St-Nicolas) (Deux-Sevres)
Gabriel Poitevin from Rouille (St-Hilaire) (Vienne)
Pierre Poitevin from Poitiers (St-Paul)(Vienne)
Pierre Poitevin from Melle (Deux-Sevres)
Gabriel Poitevin Lusignan (Notre-Dame)(Vienne)
Grantees
POICTEVIN – Sainte-Flayve … Charles Poictevin, Sr. of La Barette.
POICTEVIN – The Clouzeaux..Jacques Poictevin, Sr Plessis-Landry.
POITEVIN – Beaulieu …. Antoine Poitevin, Sr. of La Guitiere.
POICTEVIN – Poictevin Gate: from guille has 3 axes of silver arms wrapped in sand and finished with silver.
POITEVIN OF THE CROSS (the), C., general commander, in Bone (Algeria). Weapons. Normandic: Gules a three bunch of golden grapes, crescent silver cazur.
POITEVIN. 1. P. de la Fregoniere, at the castle of Feusse, by Saujon (Charente-Inferieure); 2. P. de Maureillan, 278 Saint-Honore Street, Paris; 3. P. de la Moriniere, 34, rue Vivienne, Paris; 4. P. de la Motte, Ispector of Haras, rue Saint-Louis, Amiens (Somme); 5. P. de Neyriere, chief of office, at the registration, 19bis, rue de la Chaussee-d'Antin, Paris. Weapons. Languedoc: Gules a chevron Or, accompanied in chief of a cinquefoil Argent, tigee Vert, and in base of a lion crawling Argent, the whole overcomes of a height party of two traits, the first of Vert a cuirass argent franged Gules, the second Argent a maconnee tower and open sand, the third of the barons of the empire. Paris: Argent has two fasces of sand. Picardie: Argent has a chief azure escartele sand.
Notables
Jean Étienne Casimir Poitevin de Maureilhan, French Divisional General during the French Revolutionary and Napoleonic Wars from 1789 to 1815
Guy Poitevin (1927-2008), French footballer and manager, active in the 1950s through the 1960s
Alphonse Poitevin (1819-1882), French chemist, photographer and civil engineer, inventor of photolithography and collotype processes
Blazons & Genealogy Notes
1) Le Poitevin dit Le Roulx – Jersey – D'azur à la bande d'or acc en chef d'un faucon au naturel et en pointe d'un lion d'argent Cimier un faucon essorant au naturel. Source: Rietstap's Armorial General.
2) Normandie – Sieurs de Launay, de Chancourt, des Ventes, d'Argences, etc. Maint. en 1666 – De gueules à trois grappes de raisin d'or au croissant d'argent en coeur. Source: Rietstap's Armorial General.
3) or Poictevin (Poitou – Sgr de la Bidoliere – D' az. A une aigle eployee d'argt becquee el membree de gue. . Source: Grand Armorial de France.
4) or Poictevin (Poitou – Maintenu noble en 1667, Compartant a' Tours en 1789 – Sgr de la Barette, de la Guittiere, du Plessis-Landry, de la Riviere – Et ? En Bretagne, Poictevin de la Rochette?) – De gue. A 3 haches d'armes d'argt emmanchees de sab. Abouttees et posees 2 et 1 . Source: Grand Armorial de France.
5) Poictevin – De gue a un croissant d'argent accomp. De 3 grappes de raisin d' or 2 et 1 (Armorial General Normandie 2). Source: Grand Armorial de France.
6) Poictevin – D'az. Seme de mures (pommes de pin) d'or, au chef d'argt charge de 3 trefles de gue. (Armorial General Tours 1). Source: Grand Armorial de France.
7) Pending. Source: unknown.
8) Normandie – Poitevin dit Potvin – D'argent, à une coquille de sinople parti d'or, à une larme de gueules. .". Source: unknown.
9) Normandie – Poitevin dit Potvin – D'argent, à une coquille de sinople parti d'or, à une larme de gueules. .". Source: unknown.
10) Poitou – (Petiet) – De gueules à trois haches d'armes d'argent emmanchées de sable 2 et 1 aboutées d'argent. Source: Rietstap's Armorial General.
11) Languedoc, Montpellier – (Arm. gén. de 1696) – De gueules au chevron d'or acc en chef de deux roses d'argent tigées et feuillées et en pointe d'un lion d'or couronné du même. Source: Rietstap's Armorial General.
12) Prov. rhénanes – De gueules au chevron d'or acc en chef de deux roses d'argent tigées et feuillées d'or et en pointe d'un lion d'argent couronné d'or Bourlet d'argent de gueules et d'or Cimier trois plumes d'autruche d'argent de gueules et d'or Lambrequin d'or et de gueules Supports deux lions regardants d'or. Source: Rietstap's Armorial General.
13) Poitou (?) – Sceau de P. Poitevin, clerc XIVe siècle – Un pal accosté de dix macles. Source: Rietstap's Armorial General.
14) France – (baron de l'Empire) – De gueules au chevron d'or acc en chef de deux roses d'argent tigées et feuillées de sinople et en pointe d'un lion d'argent au chef parti a de sinople à une cuirasse d'argent b d'argent à une tour de sable. Source: Rietstap's Armorial General.
15) Bretagne – D'argent à trois losanges de sinople. Source: Rietstap's Armorial General.
16) Languedoc – D'azur à un rocher d'argent surmonté d'un geai du même au chef de gueules ch de trois étoiles d'or. Source: Rietstap's Armorial General.
17) France – (De Rozière) – D'azur à la bande d'or acc de trois besants mal-ordonnés d'argent l'écu bordé d'or. Source: Rietstap's Armorial General.
18) Poitevin de La Bidollière – Poitou – D'azur à l'aigle éployée d'argent becquée et armée de gueules. Source: Rietstap's Armorial General.
19) Poitevin de Maureillan – Languedoc – Les armes de Poitevin aux Prov rhén. Source: Rietstap's Armorial General.
20) Poitou – D'azur à l'aigle d'argent armée languée et becquée de gueules. Source: Rietstap's Armorial General.
21) Poictevin de La Renaudière – Bretagne – D'azur au chevron d'or acc en pointe d'une chausse-trape du même. Source: Rietstap's Armorial General.