Powe Family Crest, Coat of Arms and Name History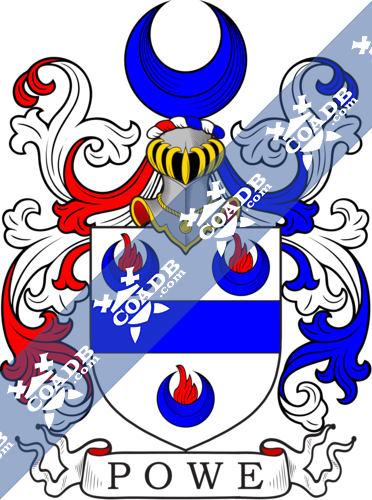 Powe Coat of Arms Gallery
Don't know which Coat of Arms is yours?
We can do a genealogical research. Find out the exact history of your family!
Learn More
Powe Origin:
England, Wales
Origin of Powe:
It is an interesting and unique surname which is listed in different spellings forms such as Po, Poe, Poo, Pow, Powe, and possibly Paw, Piau, and Pooe, and the great Pugh. It not only represents the simplest forms of all the surnames but also it holds several origins. We are inclined to say that it is an English surname and for several name bearers it is. But it can also relate to Welsh, and possibly as Pow, mainly Scottish, it is also a regional surname, and Italian from old inhabitants by the famous river known as Po. Elizabeth Po, was an associate at St Ann's Soho, Westminster, in October 1757. In the current dictionary of the surname records it is either English, and an ancient pet name which relates to the peacock bird, which in its simple form is recognized as 'po', or Welsh and a merged form of Howe, which means boy of Howe, with it being similar to the Galic-Celtic word 'Mac and Mc'. However, the surname has been well listed in all the spellings in the city of London since at least the Elizabethan era. These documentations consist of several instances like David Poo who married Margaret Reinolds at Lawrence Pountney in July in the year 1564, Ann Poe, who married John Smith in March in the year 1636, at St Martins in the Field, Westminster, and Ann Pow named at St Dunstans in the East, Stepney, in July in the year 1736. The developmental name included as Poe, Po, Poee, Pow, Pough and many others.
Variations:
More common variations of this surname are: Powie, Powey, Powei, Poewe, Pouwe, Poweh, Powae, Powee, Poe, Pwe.
England:
The name Powe first appeared in Devon where they held a family seat as kings of the castle of Blackborough. The family may discover their origin as far back as 846 in Brittany to the landholders of Poncar. Subsequently by William the attacker at Hastings in 1066, they were given estates in Devon.
Ireland:
People with the surname Powe had moved to Ireland during the 17th century.
United States of America:
Individuals with the surname Powe settled in the United States in two different centuries respectively in the 18th and 19th. Some of the people with the name Powe who settled in the United States in the 18th century included Gavin Powe, who landed in South Carolina in the year 1740.
Some of the people with the name Powe who settled in the United States in the 19th century included Edward Powe, who arrived in Arkansas in the year 1882.
Here is the population distribution of the last name Powe: United States 4,649; England 307; Wales 56; Australia 314; India 981; Botswana 345; Germany 168; Jamaica 89; Tanzania 85; Canada 75.
Notable People:
Leon Powe, Jr. was born in January 1984. He is an outstanding American professional basketball player and defender. Selected in 2006 by the Denver Nuggets. He grew up in Oakland, California, and played college basketball at the University of California, Berkeley.
Bruce William Powe was born in March 1955. He is more commonly known as B. W. Powe. He is a Canadian poet, novel writer, essay author, philosopher, scholar, and professor.
Jerrell Quartez Powe was born March 1987. He is an American football player and also referee who is now a free agent. He was selected by the Kansas City Chiefs in the sixth session of the 2011 NFL Draft. He played college football at Ole Miss.
Darroll Bradley Powe was born in June 1985. He is a Canadian professional ice hockey player who played six seasons in the National Hockey League (NHL) for Philadelphia, Minnesota, and New York. He attended Princeton University, earned a degree in sociology and played ice hockey for all four years of undergrad.
Blazons & Genealogy Notes
Argent a fess between three crescents azure issuing flames proper. Crest—A crescent azure.