Pozniak Family Crest, Coat of Arms and Name History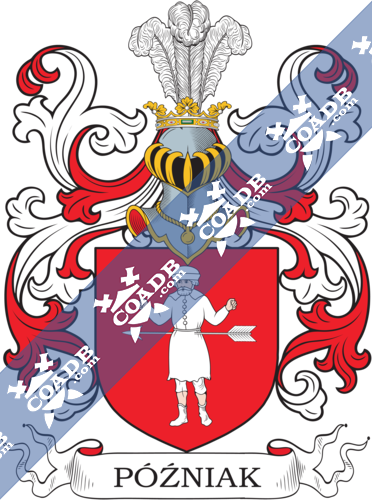 Pozniak Coat of Arms Gallery
Don't know which Coat of Arms is yours?
We can do a genealogical research. Find out the exact history of your family!
Learn More
Variations:
More common variations are: Poznik, Poznak, Powazniak, Poznyak, Puzniak, Pozniak, Poznick, Pazniak, Bozniak, Poznakh, Poznako.
England:
The surname Pozniak first appeared in Polesie, the largest province of Poland.  It inhabited by Ruthenians, called Polesians, of Ukrainian descent.  The main towns are those of Brest Litovsk, Pinsk, Kobryn, Kamenets, Litovsk, and Luninets.  It was in this county that the renowned Radziwills and Sapiehas held their vast estates.  Wolczyn was the seat of the Czartoryski family.  The surname became noted for its many sections in the region, each house acquiring a status and control which desired by the princes of the region.  In their later history, the name became a power unto themselves and promoted to the ranks of nobility as they grew into this most influential family.
United States of America:
Some of the people with the name Pozniak who arrived in the United States in the 20th century included Franciszka Pozniak who sailed to America in the year 1911.
Blazons & Genealogy Notes
W polu czerwonym mąż przebity strzałą w pas, srebrne. Klejnot trzy strusie pióra srebrne, labry czerwone podbite srebrem.