Priestley Family Crest, Coat of Arms and Name History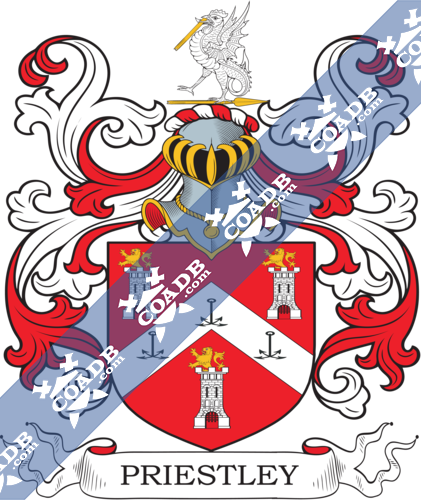 Priestley Coat of Arms Gallery
Don't know which Coat of Arms is yours?
We can do a genealogical research. Find out the exact history of your family!
Learn More
Priestley Origin:
England
Origins of Priestley:
This interesting surname is of an Anglo-Saxon source and is either a geographical name from Priestley in Bedfordshire, Prestolee (Somerset), Prestolee in South East Lancashire, or a geographical name from a person who lived in or near a priest's pasture. It acquired from the Olde English pre 7th Century "preost," which means bishop, priest, with "leah," which means valley, woodland, pasture, farmland. Geographical Surnames created in very old times provided easily identifiable outstanding names in the small areas of the Middle Ages. Habitational names were frequently given to local landholders, and the king of the palace, and especially as a source of recognition to those who departed from their mother town to settle to any other place. Early examples of the surname contain one Richard de Presteley in Yorkshire in 1297 and Walter Prestlegh in Somerset in the year 1327. In May 1671, Henry Priestley and Ann White married in Toddington, Bedfordshire. A Coat of Arms granted to William Priestley of Yorkshire circa 1272, is a red shield, on a chevron between three silver towers, issuing out of each a gold demi lion rampant, as many black grappling-irons
Variations:
More common variations are: Preiestley, Prriestley, Priestly, Prestley, Pristley, Priestle, Preistley, Priestely, Priestlay, Preastley.
England:
The surname Priestley first appeared in Yorkshire where they held a family seat from old times and their first documents found in the first poll rolls derived by the early Kings of Britain to decide the rate of taxation of their activities.
The very first recording spelling of the family was shown to be that of Samson de Presteleia, dated about 1198, in the "Pipe Rolls of Bedfordshire." It was during the time of King Richard I who was known to be the "Richard the Lionheart," dated 1189-1199. The origin of surnames during this period became a necessity with the introduction of personal taxation. It came to be known as Poll Tax in England.
United States of America:
Individuals with the surname Priestley landed in the United States in three different centuries respectively in the 17th, and 19th. Some of the people with the name Priestley who arrived in the United States in the 17th century included Joseph Priestley at the age of 24, landed in Virginia in 1683.
The following century saw more Priestley surnames arrive. Some of the people with the name Priestley who arrived in the United States in the 19th century included Abraham, Henry. James, John, Joseph, Patrick and Samuel Priestley, all came to Philadelphia between 1840 and 1870. Thomas Priestley arrived in Iowa in 1886.
Canada:
People with the surname Priestley who settled in Canada in the 20th century included John Priestley, L Priestley and Miss M Priestley, all arrived in Saint John, New Brunswick in the same year 1907.
Australia:
Some of the individuals with the surname Priestley who landed in Australia in the 19th century included Joseph Priestley, an English prisoner from London, who shifted aboard the "Argyle" in March 1831, settling in Van Diemen's Land, Australia. Alfred Priestley arrived in Adelaide, Australia aboard the ship "Abberton" in 1849. William Priestley arrived in Adelaide, Australia aboard the ship "Caroline Agnes" in 1850.
Here is the population distribution of the last name Priestley: England 5,646; United States 2,465; Australia 2,306; Canada 1,201; New Zealand 781; South Africa 657; Wales 587; Germany 235; Scotland 230; Brazil 207.
Notable People:
Arthur Priestley was an English Liberal Party leader and cricket player.
Briggs Priestley (1831–1907), was an English cloth designer and Liberal Party leader.
Julian Priestley (born 1950), is a Secretary-General of the European Parliament.
Mary Priestley (born 1925), is a British musician.
Philip Priestley (born 1946), is a British representative.
Dr. Priestley was a fictional inspecter.
Joseph Priestley (1733–1804), was a British philosopher, dissenting priest, a scholar of nature, chemist, professor, and political philosopher.
Maurice Priestley (1933–2013), was a retired professor of statistics at the University of Manchester.
Blazons & Genealogy Notes
1) (Whitewindows, Sowerby, co. York; William Priestley, resident at York temp. Edward I., occurs as a juryman in a writ of enquiry respecting the fishery on the river Ouse; and another William Priestley was living in Sowerby 22 Henry VIII.). (Lightcliffe, afterwards Thorparch, co. York; descended from Priestley, of Whitewindows). Gu. on a chev. betw. three towers ar. issuing out of each a demi lion ramp. or, as many grappling-irons sa. Crest—A cockatrice ar. standing on the lower part of a broken spear lying fessways or, in the mouth the other portion. Motto—Respice finem.
2) Gu. a fess erm. Crest—A demi lion sa.