Puchala Family Crest, Coat of Arms and Name History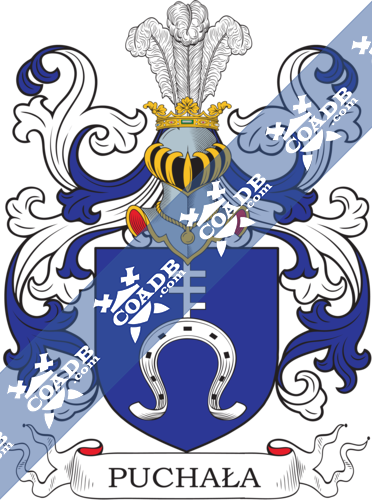 Puchala Coat of Arms Gallery
Don't know which Coat of Arms is yours?
We can do a genealogical research. Find out the exact history of your family!
Learn More
Origins of Puchala:
The Polish Puchala surname acquired from the word "puch," which means "down" or "fluff;" or it may derive from the Polish term "puchacz" which literally meaning "an owl." Spelling variations of this family name contain as Puc, Puchala and much more.
Variations:
More common variations are: Puchalla, Puchaala, Puchal, Pchala, Puchaliya, Buchala, Pichala, Pochala, Puchale, Puchall.
Poland:
The surname Puchala first appeared in Poland, where Puchala produced by members of a sept of the Polish tribe Pobog, as well as by two noble families from the region.
United States of America:
People with the name Puchala moved to America in many centuries like Balint Puchala, who arrived at Ellis Island in 1892.  Peter Puchala of Ungarn, who arrived at Ellis Island in 1892.   Victoria Puchala of Austria who arrived at Ellis Island in 1892.
Blazons & Genealogy Notes
First notation: XIV Century W polu błękitnym, na srebrnej podkowie półtrzeciakrzyża takiegoż. Klejnot: trzy pióra strusie srebrne (późniejsze wersje dopuszczały złotą podkowę, a nawet złoty krzyż).