Ravenscroft Family Crest, Coat of Arms and Name History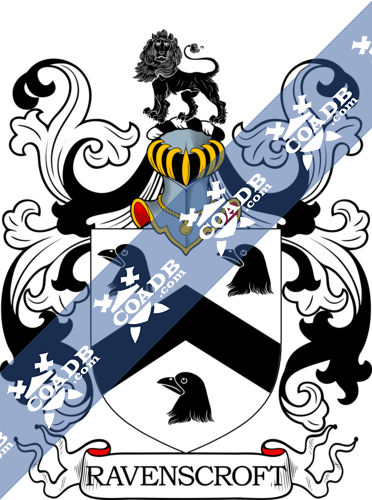 Ravenscroft Coat of Arms Gallery
Don't know which Coat of Arms is yours?
We can do a genealogical research. Find out the exact history of your family!
Learn More
Ravenscroft Origin:
England
Origins of Ravenscroft:
This interesting surname, of English origin with different spellings Ravenscroft, Ravenscroftt, and Ravenscraft is a geographical name from Ravenscroft in Cheshire, acquiring from the genitive case of the Olde English pre 7th Century byname "Hroefn" which means "raven," and "croft" which means "paddock, small-holding." So, "Hraefn's croft." The placename was noted as Ravenescroft in the "Catalogue of old Deeds". The surname records back to the middlle of the 16th Century. More documentation contains one Robertt Ravenscroft, who married Jone Mylles in May 1569, at St. Lawrence Jewry and St. Mary Magdalene, Milk Street, London. One Richard Ravenscrofte of Occleston noted in the Wills of Chester of 1574, and Ann, daughter of John Ravenscroft, named in August 1582, at St. Lawrence Jewry and St. Mary Magdalene, Milk Street, London. Amongst the name ancestors were recorded in the "Dictionary of National Biography" is one Thomas Ravenscroft (1592 – 1635) who was a singer. He announced "Pammelia," the earliest collection of Rounds, Catches, and Cannons printed in England (1609).
Variations:
More common variations are: Ravenscroft, Ravennscroft, Ravenscoft, Ravenscroft, Ravenscraft, Rovenscroft, Ravinscroft, Rravenscraft, Ravonscoft, Ravinscraft.
England:
The surname Ravenscroft first appeared in Cheshire where they held a family seat from old times and their first records showed on the early census rolls derived by the early Kings of Britain to decide the rate of taxation of their services.
The very first recording spelling of the family was shown to be that of Martin Raynscrofte, dated about 1565, in the "Register of the University of Oxford." It was during the time of Queen Elizabeth I who was known to be the "Good Queen Bess," dated 1558 – 1603. The origin of surnames during this period became a necessity with the introduction of personal taxation. It came to be known as Poll Tax in England.
Ireland:
Many of the people with surname Ravenscroft had moved to Ireland during the 17th century.
United States of America:
Individuals with the surname Ravenscroft landed in the United States in two different centuries respectively in the 17th, and 18th. Some of the people with the name Ravenscroft who arrived in the United States in the 17th century included Benjamin Ravenscroft who settled in Virginia in 1679. Samuel Ravenscroft, who arrived in New England in 1679.
The following century saw more Ravenscroft surnames arrive. Some of the people with the name Ravenscroft who arrived in the United States in the 18th century included Francis Ravenscroft, who settled in Maryland in 1733. Richard Ravenscroft who settled in Philadelphia in 1772.
Here is the population distribution of the last name Ravenscroft: England 2,092; South Africa 1,571; United States 1,282; Australia 392; Wales 124; New Zealand 66; Scotland 53;Switzerland 45; Canada 43; Qatar 29
Notable People:
Stephen Charles Wood Ravenscroft was born in November 1970 in Bradford. He is an old English rugby union football player who played at center for Saracens and London Welsh. He got two England caps in 1998. He is now a lawyer and plays special rugby for the SpoonAAs, earlier Anti-Assassins team.
Christopher Ravenscroft was born in 1946. He is an English actor, famous for his recurring role as DI Mike Burden in The Ruth Rendell Mysteries, the ITV adaptation of Ruth Rendell's Inspector Wexford mysteries.
Trevor Ravenscroft was a writer.
Thurl Ravenscroft (1914–2005), was an American voice actor and musician.
Timothy John Ravenscroft was born in January 1992. He is a Guernsey, cricket player. He is a right-handed batsman who bowls right-arm off break. He was recognized by the Guernsey Cricket Association at an early age, after which he began playing age group cricket for Hampshire from the age of eleven after being recognized by Rajesh Maru when he visited Guernsey.
Thomas Ravenscroft (c. 1588–1635), was an English writer and he passed away in 1635.
Christopher Ravenscroft (born 1946), is an English actor.
Edward Ravenscroft (c. 1654–1697), was an English writer.
Edward James Ravenscroft (1816–1890), was an author of Pinetum Britannicum.
George Ravenscroft (1632–1683), was a designer of lead crystal glass in England.
Blazons & Genealogy Notes
1) (co. Chester, Bretton, co. Flint, co. Lancaster, and Horsham, co. Sussex). Ar. a chev. betw. three ravens' heads erased sa. Crest—On a chapeau gu. turned up erm. a lion pass. guard. ar.
2) (Pickhill, co. Denhigh, 1681; descended from Ravenscroft of Bretton, co. Flint). Same Arms. Crest—A lion statant sa.