Reynolds Family Crest, Coat of Arms and Name History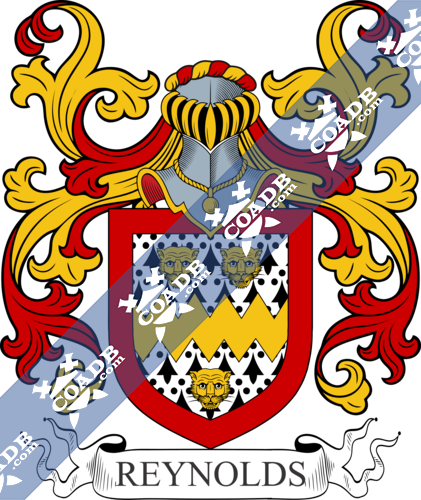 Reynolds Coat of Arms Gallery
Don't know which Coat of Arms is yours?
We can do a genealogical research. Find out the exact history of your family!
Learn More
Reynolds Surname Name Meaning, Origin, History, & Etymology
This is a patronymic/baptismal last name meaning "the son of Reynold" or "son of Reginald", with Reynold or Reginald being an old personal (first) name, deriving from the French masculine given names Renauld or Renaud, which ultimately derives from the name Rainhold, a Teutonic/German personal name of great antiquity that derives from the words raginą and walda, meaning powerful ruler .The Domesday Book of 1086 AD, a survey of England and Wales ordered by William the Conqueror, lists several tenants in chief named Rainaldus. Modified spellings, diminutives, and nickname for the name include Reyard, Rennals, Reynardson, Renn, Renny, Rennie, Rainey, and Rennison.
One theory is that the name is Norman French in origin and came to the British Isles during the Norman Conquest of 1066 in medieval times or the Middle Ages. One of the first bearers listed was Willemus filius Raundali who was recorded in 1086 AD. Some early bearers of this last name in Normandy, France, where Godfrey, Robert, and Torketil Renoldus were documented in 1198 AD.
A second theory is that the name is Saxon in origin. William Arthur, in his 1857 book, An Etymological Dictionary of Family and Christian Names, asserts this is a Saxon name that means pure love or sincerity, from the world rhein (meaning pure) and the Old English word hold (meaning love), and states it "may signify a strong or firm hold".
A third theory is that this is an old Viking/Norse name. In his 1903 book, British Family Names Their Origin and Meaning, author Henry Barber states, this name derives "From the Old Norse, Rognvoldr; from the Swedish, Reinhold; from the Dutch, Reinold, Renuel; a personal name". Author authors believe it means councel or consellor, from the Old Norman name Ragnaldry or he names Reginald or Regenweald. In this theory, it was introduced into England by Viking raiders in the 700s AD in the form of Rognvaldr.
The family became prominent and notable in county Somerset, England where Sir Richard Reynell (died 1213 AD) was seated (owned land and titles) at Pitney and out in charge of Castles at Exeter and Launceston by King Richard I when he went to the Hold Land during the Crusades in 1191 AD. Also, several of the junior branches of the Reynolds family tree had joined the  Earl of Pembroke's (Gilbert fitz Gilbert de Clare, also known as Strongbow) Irish invasion, where they became the Earls of Cavan, of Lisburne, of Mountmorris. Wikipedia.org states "In the 17th century giving rise to the Reynells of Reynell castle. In some cases it is difficult to distinguish early migrants from native Irish Reynolds who derive their name from McRannell, formerly spelled "Mac Ragnaill" and "In Ireland, the Reynolds surname originates in and around County Leitrim, where the name was rather influential before the seventeenth century. In the Irish language, the surname is rendered Mac Raghnaill, and the name is ultimately derived from the Old Norse Rognvald a Latin borrowing of the two words regal and valor. It was also a surname of Irish Huguenots who came to Ireland from France to evade religious persecution in the 1600s. The original surname being Renault. Throughout Ireland's rich history, the Reynolds family name was a prominent one, and even today, County Leitrim is the principal stronghold of the name, nearly half the people in Ireland so called hailing from that area". One source asserts that the name, in Ireland, was first established in Connacht where they held seat.
It is believed the oldest coat of arms, perhaps granted by King Edward III of England (reigned from 1327-1377 AD) has an ermine field charged with a red chevronel, and a chief intended in black.
Spelling Variations
Some spelling variants or names with similar etymologies include Reynold, Raynolds, Rainolds, Reignolds, Reanolds, Reynaud, Reynald, Raynoldson, Runnalls, Rennels, Reynardson, Rennals, Reynell, Reynollds, Reynoulds, Rheynolds, McRannall, McReynolds, MacRanel, McRanel, Grannell, and several others.
Popularity & Geographic Distribution
The last name Reynolds ranks 106th in popularity in the United Status as of the 2000 Census. The name ranks particularly high in the following four states: Vermont, Kentucky, Arkansas, and Virginia. The surname Reynolds frequency/commonness ranks as follows in the British Isles: England (117th), Scotland (258th), Wales (98th), Ireland (163rd) and Northern Ireland (356th). In England, it ranks highest in county Shropshire. In Scotland, the surname ranks highest in East Lothian. In Wales, it ranks highest in counties Pembrokeshire, Carmarthenshire, and Radnorshire. In Ireland, it ranks highest in county Leitrim. In Northern Ireland, it ranks highest in county Fermanagh. The name is also present throughout the remainder English speaking world:  Canada (319th), New Zealand (188th), Australia (136th), and South Africa (536th). The 1890 book Homes of Family Names by H.B. Guppy, states the following in regard to this surname: "Its area of distribution is confined, for the most part, to the central part of England extending to the eastern counties between the Wash and the Thames. It is rare or absent in the south coast counties, excluding Cornwall, and excepting a scanty representation in Lancashire it does not occur north of a line drawn from the Humber to the Mersey. Shropshire, Norfolk, Wilts, and Cornwall are its principal homes. This name takes its origin from Rainhold, a Teutonic personal name of great antiquity. As Reynala it was well represented in the reign of Edward I. in Oxfordshire, Norfolk, and Suffolk (Hundred Rolls), in which last two counties the name is still established."
Early Bearers of the Surname
Wilham Reynaud was listed in the Records of Hornchurch Priory, Essex, England in 1273 AD. The Hundred Rolls of 1273 AD, a census of Wales and England, known in Latin as Rotuli Hundredorum lists three bearers of this surname: John Reynold (Cambridgeshire), Roger filius (Latin meaning son of) Reynald (Oxfordshire), and William filius Renaud (Cambridgeshire). A one John Reynalds in the Subsidy Rolls of Worcestershire in 1275 AD. The Poll Tax of 1379 AD of Yorkshire lists one bearer: Ricardus Raynoldson. An early marriage involving this surname was Robert Reyghnoldes to Jane Watts in 1617 AD.
Irish Reynolds
The book A Genealogical of Irish Families by John Rooney, published in 1895, states the McRannall or Reynolds family descends from King Milesius of Spain and Ireland (born around 47 AD in Galicia) through the line of his fifth son who was named Ir. This is a dubious claim, made throughout Mr. Rooney's book about many Irish surnames, due to the fact that historians doubt the existence of said king and believe he is a mythological figure. The son of Ir, named Heber, was the founder of Clanna Rory, of which the McRannalls belonged. The founders of the family were Fergus, King of Connaught, and his consort, Maude, around the year 60 AD. Rooney goes on to state "The chiefs of the McRannalls were Princes of Clan McCall, in the present County of Donegal, and Chiefs of Muinter Eolius, in the County of Leitrim. This latter territory was sometimes called Clonmacni of Moyrein, and comprised almost the whole of the present baronies of Leitrim, Mohill,and Carrygallen, in the County of Leitrim, with a portion of the north of Longford. The Mc- Rannalls were of the same stock as the O'Ferrals, Princes of Anally or Longford. They had castles at Rinn, Leitrim, and Lough Scur. This name has been Anglicized Reynolds and McReynolds".
Reynolds Family Tree & Reynolds Genealogy
The following is a discussion of three different noble, royal, landed, or aristocratic families bearing this last name.
Reynolds of Canonsgrove
The lineage or ancestry of this branch of the Reynolds family tree traces back to Vincent Stuckey Reynolds, Esquire of Canonsgrove, son of John of Manchester and Anne Stuckey of Langport, who in 1823, married Marian, daughter of George Basevi, of London, and had two issue with her as follows: Vincent John and Emma Louisa (married C.F.D. Caillard, Judge of the County Courts for Wiltshire, having two daughters and give sons with her). Vincent John Reynolds was an Esquire of Canonsgrove Somerset, Justice of the Peace, M.A. of Trinity College, and Barrister-at-Law who was born in June 1825. In 1859, he married Jessie, daughter of Reverend T. Prowse Lethbridge, grand-daughter of Sir Thomas Lethbridge, and had a daughter with her named Isabella. The Reynolds Coat of Arms (mistakenly called the Reynolds Family Crest by those unfamiliar with history and genealogy) is blazoned as follows: Azure, a chevron between three foxes heads erased or. Crest: A fox's head erased or. This family was seated at Canonsgrove, Taunton, England (in modern day United Kingdom in the British Isles of Europe, once called Great Britain).
Baronet Reynolds
This branch of the Reynolds family tree traces back to William Reynolds of Oakville, Sanfield Park, Liverpool, of count Lancaster, England, who was born in the late 1700s. He had a son named Francis William Reynolds who was of Hillside, Woolton, Liverpool, who was born in 1825. In 1849, he married Clare, daughter of George Gibson, of Hornby, and had issue with her including: Sir James Philip, Baronet. Sir James was a Member of Parliament for Liverpool, England in 1929, a Deputy Lieutenant, Justice of the Peace, High Sheriff, and Lieutenant Colonel who served in World War I, born in 1865. He was created a Baronet in 1923. In 1892, he married Elizabeth Emilia, daughter of Nicholas Robert Roskell, and had eight children with her as follows: 1) John Francis Roskell (2nd Baronet, discussed below), 2) James Roskell (educated in Downside and Meron College Oxford, was a Major of the Duke of Lancaster's Own Yeomantry, served in World War II, married Helen Mary Gillow of Leighton Hall, had sons Richard James Gillow and Simon Anthony), 3) William Frances Roskell (married Nany Planche, daughter of Rupert Bendall, had issue named Nicholas Francis Roskell in 1938 and Juliet Mary Roskell in 1936), 4) Monica Bawn (of Dolphin House, Westcliff, South Africa, married Edgar Hastings Dowler and later Captain Charles Francis Onslow Master and later Frank Christopher Codrington), 5) Leila Elizabeth Josephine (married Colonel George Ferdinand Hay Faithfull and later Cuthbert Worsley), 6) Rhode Clare (became a nun), 7) Barbara (married Gerald Cyrill Russell), and 8) Delphine Rose (married Arnost Schwenk Polak, son of Emanuel Polak of Jicin in Czechoslovakia). He died in 1899 and was succeeded by his son: Sir John Francis Roskell Reynolds, 2nd Baronet, of Woolton, county Lancaster, was a Justice of the Peace, and Lieutenant Colonel of the Irish Guards who served in World War I and World War II, born in 1899. In 1921, he married Millicent Lilian Elizabeth, daughter of James Alexander Orr-Ewing, and had one son and one daughter with her as follows: David James (1924) and Hermlone Mary Elizabeth (in 1922, married Edward Raymond Courage of Edgcote). In 1933, he married his second wife: Eleanor Constance, daughter of Lieutenant Colonel James Henry Edward Holford, and had two issue with her: John Jullan and Merilyn Mary, born in 1942 and 1935, respectively. The Reynolds Coat of Arms is blazoned in the medieval European art of heraldry as follows: Per chevron ermine and or, in chief two lions passant gules, and in base three leopards faces able. Crest: A demi-moorcock displayed proper, charged on each wing with a leopard's face or. Motto: Perseverando.
Reynolds of Norfolk and Devon
The Reynolds genealogy, ancestry, or lineage of this family is of great antiquity, tracing back to Reynold, the son of Guthferth, the Dane, King of Northumberland, who was driven out of England in 944 AD, and took refugee, with his sons, in Normandy, France. From him sprung Reynolds, Fitz Reynolds who returned with to England with William the Conqueror during the Norman Invasion of the British Isles in 1066 AD, where he married a Saxon Mercian heiress. This family journeyed to Scotland, and eventually ended up establishing themselves in Norfolk, England. From this family descended one James Jones Reynolds, Esquire of Winsford House, Devon, England, the son of Robert Reynolds and Mary Jones (daughter of Thomas Jones of Bristol), who was born in 1779. In 1817, he married Frances, daughter of John Husband of Raleigh, Devon, England, and had eight issue with her as follows: James Jones (rector of Shaftesbury), John Villiers, George, Reginald, Joseph Jones, Fanny Elizabeth Letitia, and Sophia Frances (married her cousin, Reverend Edward Reynolds of Appledore, and had three sons with her named Edward Osmund, George Herbert, and James Jones). His son The Reverend James Jones Reynolds was born in 1818 and was the Rector of Shaftesbury, county Dorset, England, who, in 1845, married Elizabeth Sophia, daughter and co-heir of Lieutenant Colonel Hatherley of Kenwith, county Devon, and had issue with her as follows: James Jones (1849), Seymour Baylie (twin with James Jones), Sophia Harriet Louisa, and Harriet Georgina. The coat of arms of this branch of the family tree has the following heraldic blazon: Azure, a chevron ermine, between three cross-crosslets fitchee. Crest: A dove proper. Motto: Spectamur Agendo.
Other Reynolds Pedigree & Family Trees
Robert Reynolds Sr. was born in Kent, England in 1475 AD. His son Robert was born in East Bergholt, Kent, around 1505 AD. He married Agnes Hall and had issue with her as follows: Henry, Cicely, Christopher Tillman, Robert, Francis, Dorothy, Anne, and Nathaniel. His son Christopher T. was born in Kent around 1530 AD. He married Charissa Huntington and had the following children with her: George, John, William Sr., William, Thomas, Cornelius, Mary, Richard, and Robert. His son Richard Reynolds was born in Kent, England around 1573 AD. He married Anne Harrison and had a son with her named William. This William was born in Kent, England around 1620. He went to colonial America where he married Margaret Exton in Pennsylvania on 1644. His son, Henry Reynolds, was born in 1655 or 1635 in Chichester, Sussex, England and came to Burlington, New Jersey. He married Prudence Clayton and later a women named Rachel. He received lands in Pennsylvania or Maryland called Nottingham Lots. He died in Pennsylvania in 1724, having had four children: Francis, Henry, Hannah (Brown), and William. His son William Reynolds Sr. was born in Chester, Pennsylvania in 1701 AD. He married Mary Brown and later a woman named Rachel and had the following children: William, Isham, Jeremiah, John David, Mary (Osborn), and Solomon. His son Jeremiah was born in Chester County, Pennsylvania in 1726. He married Susannah Chamness in North Carolina in 1755. He was the father of the following children: William, Sarah, Mary (Lamb), Hannah, Jeremiah II, Elizabeth Wren. His son William was born in New Garden, Guilford, North Carolina in 1756. He married Rhoda Elliott and had a son with her named Jesse. This Jesse Reynolds was born in Guilford, NC in 1785. He married Welmet Lamb and had a son with her named Nathan. Nathan was born in Randolph County in 1818. He married Amelia Doshier and had a son with her named Jesse. This son Jesse L. Reynolds was born in Illinois in 1844. He married Mary Jane Evans and had a daughter with her named Florence who was born in 1888. Florence married Melvin Clyde Phillips and had a son with her named Homer.
George Reynolds WAS born in London, Middlesex, England in 1555 AD. He married Thomasyn Church and had issue with her, including a son named Christopher. Christopher Reynolds was born in Gravesend, Kent in 1611 AD. He went to colonial America and lived in Virginia. He patendted 450 acres of land near Pagan Creek, Warwick County, VA and later procured 100 acres near Warrisquick Bay. He served as a Burgess representing the Isle of Wight, Virginia. He married Elizabeth Matthews and had the following children with her: Abbasha, John, Richard, Elizabeth (Jordan), Christopher, Jane, and Thomas. His son Richard was born in Isle of Wight, VA after 1638. He married a woman named Joyce and had issue with her as follows: Richard Sharpe Jr., Jane (Casey), and Christopher. His son Richard Sharpe Reynolds Jr. was born in Isle of Wight County, VA around 1669. He married Mary Anderson and had three sons with her: James, William, Richard III. Richard III was born in the same town in 1727. He married Elizabeth Herndon and a woman named Mary. His son was named Joseph. This Joseph Reynolds was born in Virginia in 1760. He married Sarah Perkins and was the father of two children: Mary (Slone) and Joseph. His son Joseph was born in Patrick, VA in 1805. He married Quentina Amburgey and had the following children with her: Elizabeth (Honeycutt), John, Nancy (Short), and Wesley. His sons were born in Kentucky in the 1830s and 1840s.
Early American and New World Settlers
Robert Reynolds and Anne Qualie Reignolds was among the dead in Virginia ("at ye Plantacon ouer against James Cittie") in February 1623. Christopher Reynolds came to Virginia under the Muster of Edward Bennett in 1622 aboard the John and Francis. Sarah Reynolds, age 20, came to New England aboard the Elizabeth of Ipswich in 1634. Robert Reynolds came to Salem, Massachusetts with his wife Mary and four children in the year 1630. Other settlers in colonial America bearing this surname include: Henry Reynolds (Massachusetts 1647), Darby Reynolds (Virginia 1702), Edward Reynolds (Maryland 1719), and Arnold Reynolds (Maryland 1740).
In Canada, one of the first settlers bearing this last name was Benjamin Reynolds, who came to Nova Scotia, in the year 1761. In Australia, one of the earliest bearers was George Reynolds, a convict from Edinburgh, Scotland, who came aboard the Agamemnon to New South Wales (then a penal colony) in 1820. In 1822, another convict, John Reynolds, from Southampton, England, came to New South Wales aboard the Asia. In New Zealand, Jane Reynolds, age 22, a dressmaker by trade, came to the city of Wellington aboard the Duke of Roxburgh in 1840. In 1841, George Reynolds came to Port Nicholson aboard the Jane.
This last name was also present in the Caribbean starting in the late seventeenth century. James Reynolds was buried in the parish of St. Michael's in the Barbados (an island country in the Lesser Antilles) in 1678. Susanna, daughter of Thomas and Susanna Reynolds, was buried in St. Michael's parish, Barbados, in September of 1679. Thomas Reynoldson and his wife owned 3 slaves and had 3 servants in the town of St. Michaell's in Barbados in 1680. Simon Reynolds was buried in Christ Church, Barbados in November of 1678. Richard Rainolds, age 19, came to the Barbados aboard the Hopewell in February of 1634.
Early Americans Bearing the Reynolds Family Crest
Charles Bolton's American Armory (1927) contains two entries for this surname:
1) [ ] two bars [ ] between three foxes passant Crest: a fox of the field. On gravestone of Joseph Reynolds, d. Jan. 16, 1759, at Bristol, R. I., aged 83. See pict. in Hist. John and Sarah Reynolds, 1924, p. 11.
2) Or on a chief vert three lions rampant of the first Crests: a fox's head (?) erased, a dove rising contourné. Mottoes: Sola virtus invicta, 1632; Pugna pro patria, 1625 Bookplate John Phillips Reynolds III, Boston, His Book, 1887. J. P. R., Jr., Del.
Matthew's American Armoury and Bluebook (1907) and Crozier's General Armory (1904) do not contains any entries for this last name.
Mottoes
I have identified six Reynolds family mottoes:
1) Jus meum tuebor (I will defend my right)
2) Fide, sed cui vide (Trust, but in whom take care)
3) Favente Deo (By God's favour) (of Great Yarmouth and Necton)
4) Spectemur agendo (Let us be viewed by our actions)
5) Sola virtus invicta (Virtue alone invincible)
6) Pugna pro patria (Fight for your country)
Grantees
We have 40 coats of arms for the Reynolds surname depicted here. These 40 blazons are from Bernard Burke's book The General Armory of England, Ireland, and Scotland, which was published in 1848. The bottom of this page contains the blazons, and in many instances contains some historical, geographical, and genealogical about where coat of arms was found and who bore it. People with this last name that bore an Reynolds Coat of Arms (or mistakenly called the Reynolds Family Crest)
1) Anthony Reynolds, fined for Sheriff of London, 1706, and to his nephews Anthony and John, 22 May 1714
2) Reynolds to Moreton, Thomas, Baron Ducie, Supporters, 1771
3) Thomas Reynolds, son of Baron Ducie, of London, and county Gloucestershire, 1797
4) of Adisham, county Kent, 1809
5) of Manchester, county Lancaster, 1810
6) of Bank House, Wellington, Shropshire, 1815
7) Captain, Royal Navy, C.B., of Penair, county Cornwall, 1838
8) Sir J.R. Reynilds, Baronet, of Grosvenor Street, London, 1894
9) William Reynolds of The Grove, Highgate, county Middlesex, 1893
Notables
There are hundreds of notable people with the Reynolds surname. This page will mention a handful. Famous people with this last name include: 1) Alan Reynolds (1974) who was a former Irish football (soccer) player born in Waterford, Ireland who played for 5 different teams in the League of Ireland Premier Division from 1991-2007, later becoming a coach of Waterford United, 2) Lieutenant Colonel James Henry Reynolds (1844-1932) who was born in Kingstown, Dublin, Ireland and a recipient of the Victoria Cross for his action in the Battle of Rorke's Drift in the Anglo-Zulu War as a surgeon, 3) Osborne Reynolds (1842-1912) who was a well-known Irish physicist and engineer who made innovations in the field of fluid dynamics, born in Belfast Ireland, mainly spending his career was the University of Manchester in England, 4) Burton Leon "Burt" Reynolds (1936) who was an American actor and former college football player who was born in Lansing, Michigan, known for his roles in movies such as Smoke and The Bandit, The Longest Yard, Gunsmoke, Riverboat, and Boogie Nights, 5) Alexander Welch Reynolds (1817-1876) who was an Army Officer who served in the Mexican American War and was also a Brigadier General in the Confederate Army during the American Civil War, born in Frederick County, Virginia, 6) Allie Pierce Reynolds (1917-1994) who was a former pitcher in Major League Baseball who played for the Cleveland Indians and New York Yankees from 1942-1954, who was a six time all-star, born in Bethany, Oklahoma, 7) William Hayden Reynolds (1847-1935) who was the 20th Mayor of Orlando, Florida from 1910-2913, and owned a telephone company from 1908 to 1914, 8) William Edward Reynolds (1860-1944) who was the fifth Commandant of the US Coast Guard from 1919 to 1924, born in Montgomery County, Maryland, who served during the Spanish-American War and World War I, 9) Thomas M. Reynolds (1950) who was a member of the US House of Representatives from 2003 to 2009 for the state of New York, born in Bellefonte, Pennsylvania, 10) Thomas Reynolds (1796-1844) who was the 7th Governor of Missouri from 1840 to 1844, a member of the Illinois House of Representatives from 1826 to 1828, and a Chief Justice of the Illinois Supreme Court, born in Bracken County, Kentucky, 11) Thomas Caute Reynolds (1821-1887) who was a Confederate Lieutenant Governor of Missouri from 1860-1861, born in Charleston, South Carolina, 12) Samuel Williams Reynolds (1890-1988) who was a Republican US Senator from Nebraska in 1954, and 13) Ryan Rodney Reynolds (1976) who is an actor born in Vancouver, British Columbia, Canada who is known for his roles in movies such as National Lampoon's Van Wilder, The Proposal, Waiting, and Deadpool.
Blazons & Genealogy Notes
1) (co. Devon). Ar. a portcullis sa. over all three bars az. Crest—A fox statant ppr. Motto—Jus meum tuebor.
2) (co. Devon). Ar. a portcullis sa. chained az.
3) (Colchester, co. Essex). Ar. a fess dancettée betw. three leopards' faces or, a border gobony of the first and second. Crest—A griffin's head erased per pale or and ar.
4) (Milford House, co. Hants). Ar. a portcullis sa. Crest—A cock's head erased gu. beaked or.
5) (co. Leicester). Az. a chev. embattled erm.
6) (Braunston, co. Leicester; Robert Reynolds, Esq., of that place, temp. Henry VIII.; his dau. and heir, Mary, m. Richard Wightman, Esq., of Burbage, co. Leicester. Visit. Notts, 1614). Az. on a chev. erm. three crosses crosslet fitchée sa.
7) (London). Erm. two lions pass. guard. in pale gu. ducally crowned or. Crest—A wivern, wings elevated vert, holding in the dexter claw a sword paleways ppr. Motto—Fide sed cui vide.
8) (London; granted 1714). Per fess or and az. in chief three lions ramp. vert. Crest—On a mount vert a panther couchant guard, ar. spotted various colours, fire issuing out of the mouth and ears ppr. gorged with a collar gu. ringed and lined or.
9) or Raynold (London). Erm. a fess dancettée betw. three leopards' faces or.
10) Same Arms, a border gu.
11) (Attleborough, co. Norfolk). Or, on a chev. vert three lions ramp. of the first. Crest—A cat couchant ppr collared and lined or.
12) (co. Somerset). Az. a chev. betw. three foxes' heads erased or. Crest—A fox's head, as in the arms.
13) (Great Yarmouth, co. Norfolk; descended from John Reynolds, b. 1739, Mayor of Great Yarmouth, 1781 and 1784). Ar. a chev. chequy gu. and az. on a chief of the last a cross formée fitchée betw. two mullets of the field. Crest—A cubit arm erect holding a roll of parchment all ppr. Another Crest—A fox's head erased per pale ar. and sa. gorged with a collar or, thereon three torteaux.
14) (Belsted, co. Suffolk). Ar. on a chief sa. three mullets pierced of the first. Crest—A wolf's head erased sa. collared or.
15) (Shotley, co. Suffolk). Ar. a chev. chequy az. and gu. betw. three crosses formée fitchée vert, on a chief embattled sa. as many mullets or. Crest—A fox's head erased sa. gorged with a collar or, charged with three torteaux, a martlet for diff.
16) (co. Suffolk, and Great Yarmouth, co. Norfolk). Ar. a chev. lozengy gu. and az. on a chief of the third a cross formée fitchée betw. two mullets or. Motto—Favente Deo.
17) (Carshalton, co. Surrey). Ar. a chev. chequy gu. and az. betw. three crosses crosslet fitchée of the third. Crest—Out of a mural crown or, a demi talbot salient ar. eared gu. collared and line ending in a knot gold.
18) Az. a chev. erm. betw. three crosses crosslet fitchée ar. Crest—An eagle close ar. ducally gorged and lined or.
19) Same Arms, a crescent for diff. Crest—A dove ar.
20) Ar. a chev. lozengy gu. and az. betw. three crosses formée fitchée vert, on a chief sa. three mullets of the field.
21) Az. on a chev. erm. three crosses crosslet fitchée gu.
22) Az. a chev. erm. in chief three crosses formée -fitchée vert.
23) Sa. a chev. erm. betw. three crosses crosslet fitchée ar.
24) Per fess ar. and gu. on a bend sa. three hounds' heads erased of the first.
25) Erm. a fess dancettée gu. betw. two leopard's faces in chief and a mullet in base or.
26) Erm on a chev. az. three mullets, with a Crest, viz., A dexter arm in armour, the hand holding a garb, all ppr.
27) (borne by Sir Joshua Reynolds, as appears from a grant of the Freedom of a London Company to him). Ar. a chev. lozengy gu. and az. betw. three crosses crosslet az. Crest—Out of a mural crown or, a demi talbot ar. collared and lined or.
28) (Humphry Reynolds, Esq., son of John, grandson of Humphry, great-grandson of Thomas, and great-great-grandson of William Reynolds, d. 19 May, 1661, and was buried in St. John's Church, Dublin; Fun. Ent. Ulster's Office). Vert a lion ramp., or, armed and langued gu. betw. three escallops of the second.
29) (Laghnie, co. Leitrim; Fun. Ent. Ulster's Office, 1636, Charles Reynolds, Esq., of that place). Same Arms, a crescent for diff. Crest—On a mount vert a stag lodged ppr.
30) (Tully, co. Cavan; confirmed by Fortescue, Ulster, to George Nugent Reynolds, Esq., of Tully). Vert a lion ramp. betw. three escallops or. Crest—A stag couchant on a mount ppr.
31) (Young-Reynolds, Tully, co. Cavan; exemplified by Fortescue, Ulster, to Richard Young, Esq., of Tully, on his assuming, by royal licence, 1808, the additional surname of Reynolds, in conformity to the will of his brother-in-law, George Nugent Reynolds, Esq., of Tully). Quarterly, 1st and 4th, vert a lion ramp. betw. three escallops or, for Reynolds; 2nd and 3rd, gu. on a chev. ar. three trefoils slipped vert, a chief or, charged with three pellets, for Young. Crest—A stag couchant on a mount ppr.
32) (Johnstown, co. Wexford; Mary, eldest dau. and heiress of John Reynolds, who was possessed of that place in right of his wife, m. 1682, John Grogan, afterwards of Johnstown). Sa. a lion ramp. or, betw. three escallops ar. a border of the second.
33) (or Reignolds, of Denbighshire, Wales) Gules, a cross between four pomegranates or, seeded proper.
34) (Stratford, co. Warwick). Az. a chev. betw. three foxes' heads erased or. Crest—A fox's head erased or.
35) (co. Leicester). Az. on a chev. embattled erm. four crosses crosslets fitchée gu.
36) (Atleburgh, co. Norfolk; confirmed 14 Oct. 1576). Or, on a chief vert three lions ramp. of the first.
37) Ar. a chev. counter-componée or and gu. betw. three crosses formée fitchée sa. on a chief embattled sa. three mullets of the second. Crest—A fox's head couped sa. collared with two bars gemelles or, and betw. them three bezants.
38) (Sir Cary Raynolds, knighted at Dublin, by Robert, Earl of Essex, 12 July, 1599). Or, a chev. chequy ar. and gu. betw. three crosses pattée fitchée sa. on a chief of the last two mullets ar.
39) or Reanolds (cos. Devon and Somerset; granted 1607). Ar. a chev. lozengy gu. and az. betw. three crosses crosslet fitchée of the third. Crest:— Out of a mural coronet ar. a talbot's head az. bezantée, eared or.
40) or Reynolds (co. Suffolk). Ar. a chev. lozengy gu. and az. betw. three crosses fitchée vert, on a chief sa. two mullets of the field.
41) Tierced per fess three foxes statant [tinctures not indicated]. On gravestone of Joseph Reynolds, d. Jan. 16, 1759, at Bristol, R. I., aged 83. See pict. in Hist. John and Sarah Reynolds, 1924, p. 11.
42) It is believed the oldest coat of arms, perhaps granted by King Edward III of England (reigned from 1327-1377 AD) has an ermine field charged with a red chevronel, and a chief intended in black.
43) Reynell – Argent, masonry sable a chief indented of the second. (Source: he Visitations of the County of Devon: Comprising the Heralds' Visitations of 1531, 1564 & 1620, Exeter, 1895)