Reyes Family Crest, Coat of Arms and Name History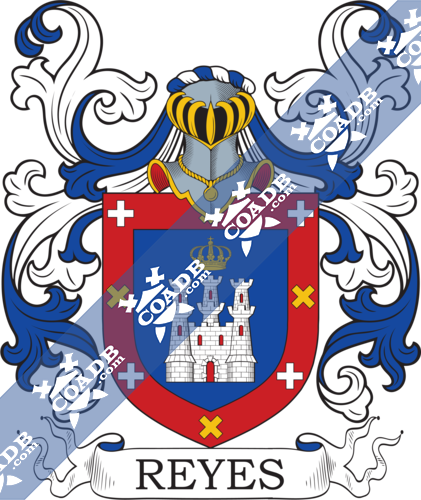 Reyes Coat of Arms Gallery
Don't know which Coat of Arms is yours?
We can do a genealogical research. Find out the exact history of your family!
Learn More
Surname Meaning, Origin, and Etymology
Reyes is a popular surname from Spain, however, its origin can be traced back until outside the Iberian nation into other countries like England and France. This is a surname which origins can´t be located exactly in just one place, because of the hard mix of languages in Europe during medieval times. Perhaps the most accepted origin for Reyes is that is a derived word from the old Roman word "Rex" which evolved into "Rey" which means "the King". However, that doesn't mean that everyone who carries it may count on noble or royal ascendancy, it is most likely that this surname has been used, in the first place, as a nickname for someone who played a king in a contest or in a theater play. It can also be the case for someone who worked in a royal house. Another explanation tells that this is a surname with a topographical origin, which means that it was given to someone who used to live at a "rea". A "rea" was a piece of hard soil in a swamp.
The consequence of each of these both possible origins, is that the bearers of Reyes don't necessarily belong to the same family, because in the beginning, it was used as a nickname or as an indicative of the place where the person lived, so it could be used for different people in different places. One of the first records of this surname belongs to a Roman soldier named Clemente Reyes around the year 230 D.C.
As it said above Reyes is very popular in Spain, this was because it was a common surname among the knights that retook Sevilla from the Muslims in 1248, following King Fernando. Reyes already existed in Sevilla before the Muslim invasion, but its bearers were exiled to Asturias, so it is probable that it was started to been used in Spain during the Visigoth period of this country.
Spelling Variations
The surnames created during the medieval era count on many spelling variations thanks to many reasons like the mix of languages, the lack of grammatical rules in most of the languages and the fact that many words were written as they sound, which means that everyone could write them in different ways. In the case of Reyes, there are even more reasons to have spelling variations, it has three possible countries for its origin, even when it is most popular in Spain, and besides, it has two possible etymological reasons of origin. Because of all of those reasons Reyes count on many spelling variations such as Reyes, Rey, de Reyes, de Los Reyes, del Rey, Reina, de la Reina, Reinoso, de Reinoso, de Reynoso, Reinosa, de Reinosa, Reynosa, de Reynosa, Real, de Real and many others.
Popularity & Geographic Distribution
Reyes has spread across many Spanish-speaking countries and it is carried by a lot of people, approximately 2,095,356 and it is the 226th most common surname in the world. It is most prevalent in Mexico and it has its highest density in Northern Mariana Islands. The second country with the highest amount of Reyes is the United States, followed by Colombia in the third position. All of this data is taken from the census of 2014.
Early Bearers of the Surname
Because of the many people that have carried this surname, there are good records of its old bearers or others with a variation. Some of them were Ralph de la Reye, who appeared in the Hundred Rolls of the county of Oxford, England in 1279 during the reign of King Edward I, Juana Reyes from Misson San Carlos, Monterey, on December 27, 1786, Maria Dominguez Reyes from San Gabriel, Los Angeles on January 16, 1816 and America Ray, who married Thomas Jefferson Bidwell in California on December 20, 1859. There were others such as Casiodoro Reina a Spanish theologian and Bible translator from the sixteenth century, Rodrigo de Reinosa a Spanish poet also from the sixteenth century, Francisco de la Reina Spanish writer from the same century, Andrés Rey de Artieda a playwright and poet from Spain during the seventeenth century and Juan de Los Reyes (1652-1676) a priest from Spain.
History, Genealogy, and Ancestry
As it said before, Reyes is a popular surname in Spanish-speaking countries and one with high detailed records of its branches is Chile. One of those lines began with Matías Alfonso de los Reyes who arrived in Chile from Portugal where he was born. He got married to Inés de Borda Hidalgo, daughter of Juan Bautista de Borda and María Hidalgo, and with her, this line of Reyes in Chile started. They had two sons, Manuel Reyes Borda, who doesn't count on any record of a marriage or offspring and Judas Tadeo Reyes de Borda, who was born in 1755 and in 1799 got married to Ignacia de Saravia y Bantierra, daughter of Antonio Sánchez de Saravia and María Baltierra.
Judas and Ignacia had seven children, the first one was José Tomás Reyes Saravia who grew up to marry Micaela Jara Ormaza, daughter of Antonio Jara Vargas and Tadea Ormaza. Together they had three children: Carmen Reyes Jara, Dolores Reyes Jara, with no records of marriage or offspring and José Rafael Reyes Jara who got married to Javiera Prieto Oliva and had one child, Lucía Reyes Prieto who grew up and married Maximiliano Grez Moreira.
The second child of Judas Tadeo Reyes de Borda and Ignacia de Saravia y Baltierra was Domingo Reyes Saravia who got married to María Mercedes Pérez Cotapos de la Lastra, daughter of José Miguel Pérez Cotapos y Guerrero and María del Carmen de la Lastra y de la Sotta. The children of this marriage were: Domingo Reyes Cotapos, Dolores Reyes Pérez Cotapos who married Ramón Alcalde Velasco, Ana María Reyes Cotapos who was born in 1833 and got married to José Antonio Lecaros Valdés on June 15, 1856, Tránsito Reyes Cotapos who married Francisco de la Lastra Izquierdo, Adelaida Reyes Cotapos, Encarnación Reyes Pérez Cotapos who got married to Felipe Solo Zaldívar Allende and Francisco Javier Reyes y Pérez Cotapos who got married to Trinidad Echaurren Larráin. Francisco and Trinidad had four children: Ana Luisa Reyes Echaurren who married Rafael Echeverría Valdés, Amelia Reyes Echaurren who married Matías Edwards Garriga, Carlos Reyes Echaurren who married Amelia Puelma Rodríguez and Emilio Reyes Echaurren who married Elisa García Huidobro.
Ignacio Reyes Saravia is the third child of Ignacio Reyes Saravia, he got married to María Micaela Pérez Cotapos de la Lastra and they had six children. They were Josefina Reyes Pérez Cotapos who got married to Gregorio Víctor Amunátegui Aldunate in Santiago on April 6, 1857, Tadea Reyes Cotapos who married Domingo María Izquierdo Izquierdo, Tadeo Reyes Cotapos who was born in Santiago on January 9, 1832 became a lawyer and got married to Elisa Videla Correas on February 20, 1860, and had two sons Ernesto Reyes Videla and Hijo Reyes Videla. The following Reyes Cotapos were Mercedes Reyes Cotapos who got married to Manuel José Olavarrieta Cruzat, Teresa Reyes Cotapos who married Antonio García Reyes and Alejandro Reyes Pérez Cotapos who was born in Santiago on February 24, 1825, and got married twice, the first one to Hortensia Lavalle Correas and the second to Fanny Ovalle Vicuña.
The children of Alejandro Reyes Pérez Cotapos were Hortensia Reyes Lavalle, Elena Reyes Lavalle, who married Adolfo Murillo Sotomayor, Ignacio Reyes Lavalle, Julio Reyes Lavalle who married Elena de la Cerda y de la Cerda and had seven sons, Alejandro Teófilo Reyes Cerda who married Eulogia Errázuriz Mena and Teófilo Reyes Cerdas who married Blanca Morandé Campino in 1921 and had two daughters: Carmen Reyes Morandé and María Elena Reyes Molandé. The other Reyes Cerda were Eduardo Reyes Cerda who married Lidia Matte Hurtado and their daughter was María Elvira Reyes Matte, Ana Reyes Cerda, Sofía Reyes Cerda, Julio Reyes Cerda and Elena Reyes Cerda.
The fifth child of Alejandro Reyes Pérez Cotapos was Eduardo Reyes Lovalle who got married to Luisa Foster Recabarren and its children were Jorge Reyes Foster, Alberto Reyes Foster, Luisa Reyes Foster, Inés Reyes Foster, Josefina Victoria Reyes Foster and Hortensia Reyes Foster.
The children of Alejandro Reyes Pérez Cotapos in his second marriage were Arturo Reyes Ovalle who married Zulema Valledor Sánchez and his children were Arturo Reyes Vallador, Zulema Reyes Vallador, Violeta Reyes Vallador, Violeta (the second) Reyes Vallador and María Reyes Vallador, then there was Eugenio Reyes Ovalle who married María Amelia Ovalle Bascuñán, Elisa Reyes Ovalle who married Alberto Philips Hunees, Virginia Reyes Ovalle who married Agustín Rengifo Salinas, Clemencia Reyes Ovalle who married Carlos Videla Pineda and Emiliana Reyes Ovalle who married Juan Enrique Infante Costa.
The following Reyes Saravia is José Reyes Saravia who married to Luisa Gómez Díaz, daughter of Ambrosio Gómez del Valle and Dolores Díaz, and their sons were Vicente Reyes Gómez, Rosario Reyes Gómez who got married to Juan Bello Dunn, María Concepción Reyes Gómez who got married to Francisco Javier Ovalle Bezanilla, Josefa de los Reyes Gómez who got married to Rafael Garmendia Orrego and José Luis Reyes Gómez who got married to Domitila Tagle Fontecilla.
The fifth child Judas Tadeo Reyes and Ignacia de Saravia was Manuel Reyes Saravia, who got married to Mercedes Palazuelos Astaburuaga, daughter of Pedro José Palazuelos Aldunate and Teresa de Astaburuaga Pizarro. The first child of Manuel and Mercedes was Vicente Palazuelos who was born in 1835 and got married to Luisa del Solar Valdés in 1853. From this union would be born Ricardo Reyes Solar who got married to Amelia Mont Herrera, Sara Ryes Solar who got married to Alberto Llona Alvizú, María Luisa Reyes Solar who got married to Carlos Llona Alvizú, Elvira Reyes Solar, Marta Reyes Solar, Amelia Reyes Solar who got married to Adolfo Valdés Riesco, Patricio Reyes Solar who got married Beatriz Letelier Matta and had one son, Gonzalo Reyes Letelier, Vicente Reyes Solar and Inés Reyes Solar who got married to José Letelier Espinola.
The other children of Manuel Reyes and Mercedes Palazuelos were Heraclio Reyes Palazuelos who got married to Carmen Prado Castillo, Manuel Reyes Palazuelos, Luis Reyes Palazuelos, Rosa Reyes Palazuelos and Ignacia Reyes Palazuelos.
The last two children of Judas Tadeo de Borda and Ignacia Saravia y Baltiera were Tadea de Reyes y Saravia who got married to Antonio García Haro and Pedro Reyes Saravia.
Early American and New World Settlers
After the arrival of Cristopher Columbus to America, travels between the old continent and the new one became something regular and many people decided to do the journey from Europe to America. They carried their culture, their traditions and of course, their surnames. Such was the case of the Reyes, which count with some bearers that landed in the new continent across the centuries. Some of them who crossed the sea during the 16th century were Baltasar de los Reyes, who landed in New Spain in 1576, Gaspar de los Reyes who arrived in Mexico in the same year and Melchor de los Reyes who also arrived in New Spain in 1576 too.
In the 17th century the Reyes that landed in the United States were Thomas Reyes, who landed in Virginia in 1648, Roger Reyes also arrived in Virginia but in 1664 and Jane Reyes arrived in Maryland in 1671. Robert Reyes also arrived in Virginia in 1704 and in the 19th century was the turn for Maria DeLaLuz Reyes, who landed in Puerto Rico in 1813, Gabriel Delos Reyes also arrived in Puerto Rico but in 1816 and in 1820 Antonio de los Reyes did the same, Jastaguro Reyes arrived in New Orleans in 1829 and Gonzalo Reyes arrived in Venezuela in 1834.
Mottoes
We were unable to locate any documented mottoes for the Reyes family.
Grantees
We were unable to locate any documented grantees for the Reyes family.
Notables
Some Reyes played key roles in different fields such as Faustino Reyes (b.1975) a Spanish boxer, Al Reyes (b. 1970) a Major League Baseball pitcher, Alfonso Reyes (1889-1959) a writer, philosopher and diplomat from Mexico, Ginger Reyes (b. 1980) an American rock musician, Judy Reyes (b. 1968) an American actress, Rick Reyes (b. 1979) a Cuban-American professional wrestler, David Reyes (1985) a football player from Chile, Ara Marie Cristine Reyes (b.1989) a Filipina actress and Dennys Reyes (b. 1977) a Mexican Baseball player.
Blazons & Genealogy Notes
1) Galice, Léon, Andalousie – D'azur à une tour sommée de trois tourelles d'argent celle du milieu plus élevée et surmontée d'une couronne royale d'or la tour ouverte et ajourée de gueules à la bordure de gueules ch de quatre croisettes d'argent dans les cantons alternant avec quatre flanchis d'or. English: Azure with a tower surmounted by three turrets argent that of the middle higher and surmounted by a Royal crown or the tower doorways and openings gules a bordure gules charged with four crosslets argent in the quarters alternatively with four saltorels or.
2) En campo de oro, un castillo de piedra, aclarado de gules y surmontado en el centro del jefe, de una estrella de azur; bordura de plata, con ocho armiños, de sable. Estas armas pertenecen según varios hidalguistas, a la casa solar del Valle de Mena (Burgos).
3) Algunos modificaron el escudo anterior, organizándolo en la siguiente forma: En campo de azur, un castillo de plata, aclarado de gules y surmontado de una corona real de oro; bordura de oro, con cuatro cruces llanas, de plata, alternando con cuatro sotueres, de gules.
4) Otros, según Cadenas, traen: El campo de plata, sembrado de flores de lis, de azur.