Richmond Family Crest, Coat of Arms and Name History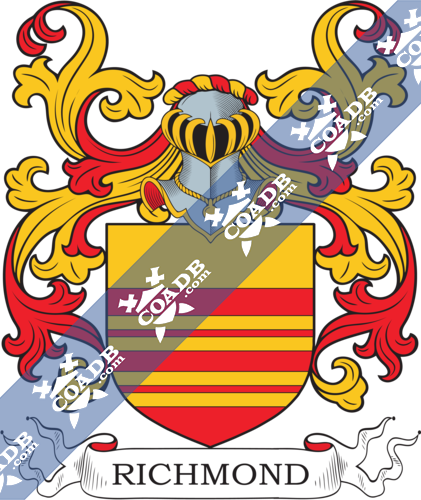 Richmond Coat of Arms Gallery
Don't know which Coat of Arms is yours?
We can do a genealogical research. Find out the exact history of your family!
Learn More
Richmond Origin:
England, France
Origins of Name:
The surname of Richmond is of French origin, and derives from the places in North France with the Old French elements of "riche" which translates to mean rich or splendid, and "mont" which translates to mean hill. This surname is a long-established name with a variation of spellings based on which part of France or England the person is named after. This surname also correlates and derives from Richmond in the North Riding of Yorkshire, which was originally transcribed as "Richemund" in Early Yorkshire Charters, in the year 1108. This name was derived from the Richemonts in France, directly following the Norman Conquest in the year 1066. It is believed that Richmond in South West London was named following the accession of Henry VII, who was formerly the Earl of Richmond and was deemed unlikely to be the source of this surname.
Variations:
More common variations are:
Richmonde, Richomond, Richmoend, Richmound, Reichmond, Richemond, Richamond, Richmmond, Richimond
History:
England:
The first recorded spelling of the surname Richmond was in the "Carte Antiquae Rolls" as Roger de Richemund, in the year 1199, under the reign of King Richard I, who was also known as "Richard the Lionheart," and ruled from the year 1189 to the year 1199. In England, those who bear the surname of Richmond are found all throughout the country, with a high concentration in the areas of Durham, Lancashire, Nottinghamshire, Yorkshire, and the city of London.
Scotland:
The surname of Richmond is also found throughout the country of Scotland; it is said that this surname covers most of the country. The largest concentrations of the Scottish citizens who carry the surname of Richmond are found in Ayrshire, Lanarkshire, and Renfrewshire.
United States:
During the European Migration, the United States was a popular destination for disgruntled European citizens who were looking for a place to start over. In the United States of America, which was then referred to as The New World, or The Colonies, religious freedom, and succession from England was underway. Many European citizens migrated this area and began their lives over again. However, it is important to note that the ships that carried these citizens were cramped, with little ventilation and scarce rations, often causing the settlers to start their new life starving and ill. Because of the living conditions on these ships, some European emigrants never made it onto American soil. Of these migrating settlers, those who were recorded to bear the surname of Richmond settled in New York, North Carolina, Michigan, Texas, Massachusetts, Texas, Mississippi, and Louisiana, Kentucky, Tennessee. The first recorded Richmond to emigrate to America was one William Richmond, who landed in Virginia in 1622.
Australia and New Zealand:
During the 19th Century, people began to migrate to the countries of New Zealand and Australia. The first person with the surname of Richmond that was recorded in Australia was Nathanial Richmond, who was a convict from Staffordshire, and was transported the ship named the "Arab" to Van Diemen's Island, Australia in the year 1822. John Richmond, who was twenty-seven years of age and was a laborer, was the first person with the surname of Richmond to arrive in New Zealand. He arrived to Auckland, New Zealand aboard the ship named the "Queen of Nations" in the year 1874.
Richmond Today:
United States 42,170
Ghana 12,142
England 9,739
Ivory Coast 5,406
Nigeria 5,196
Canada 3,205
Australia 2,902
South Africa 1,808
Philippines 1,611
Scotland 1,247
Notable People:
Brigadier-General Adam Richmond (1889-1959) who was the Judge Advocate for the 3rd Army in 1941
Mrs. Byron L. Richmond, who was a Member of the Michigan Republican State Central Committee in 1939, and was an American Republican politician
Allen D. Richmond, who was a Member of the New Hampshire State Senate in the 23rd District from 1903 to 1904, and was an American Republican politician
Albert E. Richmond, who was a Member of the New York State Assembly from Rensselaer County in the 2nd District in 1852, was an American politician
Cedric Richmond, who was a Delegate to the Democratic National Convention from Louisiana in 2004, who was an American politician
Charles H. Richmond (born in 1821) who was a Delegate to the Michigan State Constitutional Convention in 1867, and a Member of the Michigan State Senate in the 4th District from 1883 to 1884, was an American Democratic politician
Charles Richmond, who was a United States Consul in Lahaina, from 1860 to 1861, and was an American politician
To receive a complete surname meaning report by PDF you can order our SURNAME MEANING PACKAGE for $129.   This report is great to share with family and friends.  It includes everything you see above plus any other information we can find on the specified surname.  It does take approximately 10 to 15 days for us to complete this custom report.
To receive a direct lineage & coat of arms search for your specific line(s) you can order one of our GENEALOGY PACKAGES ranging in price from $249 to $999.   All research is completed by a professional genealogist with over 30 years' experience.  All reports and coat of arms files are sent by email in PDF and JPG format.
Blazons & Genealogy Notes
1) (Highead Castle, co. Cumberland, temp. Henry VIII., afterwards of Catterlen; Christopher Richmond, Esq., of Highead Castle, m. Mable, dau. and co-heir of John Vaux, Esq., of Catterlen; the dau. and eventual heiress of Christopher Richmond, Esq., of Highead and Catterlen, m. John Hutchinson, Esq., of Framwell Gate). Gu. two bars gemel and a chief or.
2) (alias Webb) (Stewley, co. Buckingham, and Bedborne, co. Wilts). Ar. a cross patonce az. betw. four estoiles (another, mullets) gu. Crest—A tilting spear ar. headed or, broken in three parts, one piece erect, the other two in saltire, enfiled with a ducal coronet gold.
3) (co. Cumberland). Ar. a fess engr. betw. six fleurs-de-lis sa.
4) (Hedenham, co. Norfolk). Erm. on a chief sa. a griffin pass. or. Crest—On a mount vert an eagle, wings expanded erm. the beak and feathers on the back of the head and tip of the tail or.
5) (co. York). Gu. two bars gemel or, a chief ar.
6) Az. (another, gu.) a sun in glory or.
7) Gu. two bars and a chief or.
8) Gu. on a chief ar. two bars gemel az.
9) Per fess gu. and ar. a cross patonce betw. four mullets counterchanged.
10) Barry of six or and gu. (another, or and az.)
11) Az. a bend cotised or, betw. six lions ramp. of the second.
12) (Scotland). Chequy or and az. a canton erm. Crest—A mullet gu. betw. two palm branches orleways vert.
13) Same Arms, a border gu.
14) (alias Rider) (London; granted 1 Aug. 1759). Or, on a chev. engr. ermines betw. two roses in chief and a lion pass. reguard. in base gu. four barrulets wavy ar. Crest—An eagle displ. sa. holding in the dexter talon an olive branch vert, and in the sinister a thunderbolt ppr.