Rickford Family Crest, Coat of Arms and Name History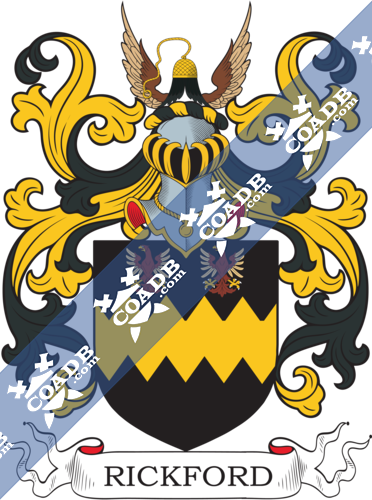 Rickford Coat of Arms Gallery
Don't know which Coat of Arms is yours?
We can do a genealogical research. Find out the exact history of your family!
Learn More
Rickford Origin:
England
Origins of Rickford:
Listed as Reckford, Retchford, Richford, Rickford, and possibly more, this is an English surname. It is locational, and one of those names which in form, presumes that it is quite popular, but in fact is very limited. The name perhaps starts from Rickford, now a 'lost' old hamlet near Guildford in the division of Surrey, or from Rickford, near Axminster, in Somerset. Both places perhaps have a similar meaning of the small and shallow river crossing from the pre 7th century Olde English "ric-forda." Locational surnames usually 'from' names. That is to say, names were given to people after they departed from their original hamlet to move somewhere else, and were most easily recognized by being called after their initial residences. In this example, the surname was quite well noted in the remaining church records of the city of London from Elizabethan times. Early examples comprise those of Thomas Retchford who married Sara Dowcher at St James Clerkenwell, in 1573, William Richford, who was named at St. Mary Whitechapel, Stepney, in 1634, Charles Rickford, who was a christening witness at the famous parish of St Martins in the Field, Westminster, in 1694, and Simon Reckford who married Mary Martin at St. Benets, Pauls Wharf, in 1729. Surnames became necessary when governments started personal taxation. In England, this was known as Census Tax. Throughout the centuries, surnames in every country have continued to "develop" often leading to astonishing variants of the original spelling.
Variations:
More common variations are: Ricford, Rockford, Ruckford, Reckford, Ricaford, Rickfard, Rackford, Rocford, Rokford, Rigford.
England:
The surname Rickford first appeared in Buckinghamshire where they held a family seat as Lords of the Manor. The Saxon rule of English history declined after the Battle of Hastings in 1066. The language of the courts was French for the next three centuries, and the Norman atmosphere overcame. But Saxon surnames remained, and the family name first mentioned in the year 13th century when they held estates in that shire.
Ireland:
Many of the people with surname Rickford had moved to Ireland during the 17th century.
Here is the population distribution of the last name Rickford: United States 225; England 108; Canada 50; Guyana 33; Australia 9; Trinidad and Tobago 2; Northern Ireland 1; Barbados 1; South Africa 1.
Notable People:
Greg Rickford, PC, was born in September 1967. He is an old Canadian leader, who gave services as the Minister of Natural Resources in the government during the rule of the Prime Minister Stephen Harper. He was selected to the House of Commons in the 2008 general election and represented the constituent district of Kenora as a member of the Moderate Party.
John Russell Rickford was born in September 1949, in Georgetown, Guyana is a Guyanese academic and writer. His book Spoken Soul as The Story of Black English, which he wrote together with his son, Russell J. Rickford, won the American Book Award in 2000.
Russell John Rickford (born c. 1975) is an American professor and writer. An assistant professor in the History Office at Cornell University, he has written the only in-depth profile on Betty Shabazz.
Blazons & Genealogy Notes
(London, and Aylesbury, co. Buckingham). Motto—Deeds, not words. Sa. a fess dancettée or, in chief two eagles displ. ppr. Crest—A hawk's lure or, stringed sa. betw. two wings ppr.