Rickman Family Crest, Coat of Arms and Name History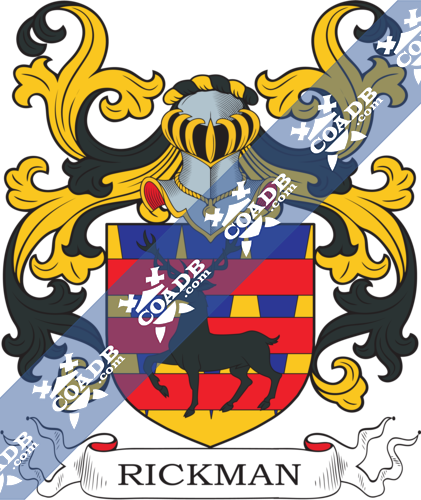 Rickman Coat of Arms Gallery
Don't know which Coat of Arms is yours?
We can do a genealogical research. Find out the exact history of your family!
Learn More
This interesting surname noted in many forms including McRae, MacRae, Rae, Ree, and Rea, is of old Scottish origin, although there can be confusion with English name holder of similar spellings.  The origin is from the pre 7th century Old English 'ra'.  This word showed the roe deer, and when used as a nickname was on the face of it, a description of a rather timid person. More common variations are: Rawe, Raye, Raey, Wrae, Raei, Raee, Raie, Raue, Raea, Roae.
The surname Rae first showed in Cumberland at Gill, in the church of Bromfield which related to the family from the time of William the Lion, king of Scotland (died 1214.) The very first recording spelling of the family was shown to be that of Vlui Ra, dated 1095, in the Records of the Abbey of Bury St. Edmunds, Suffolk. It was during the reign of King Henry 1st, who was known as "The Lion of the Justice" dated 1087-1100.  Surname all over the country became a necessity with the introduction of personal taxation.  It came to be known as Poll Tax in England.  Surnames all over the country began to develop with unique and shocking spelling varieties of the original one.
Some of the people with the name Rae who arrived in the United States in the 17th century included John Rae who settled in Nevis in 1663.  Robert Rae arrived in New Jersey in 1685. People with the surname Rae who landed in the United States in the 18th century included James Rae, who arrived in Virginia in 1716.
Blazons & Genealogy Notes
Or, three piles az. surmounted with as many bars gu. over all a buck pass. sa.