Stark Family Crest, Coat of Arms and Name History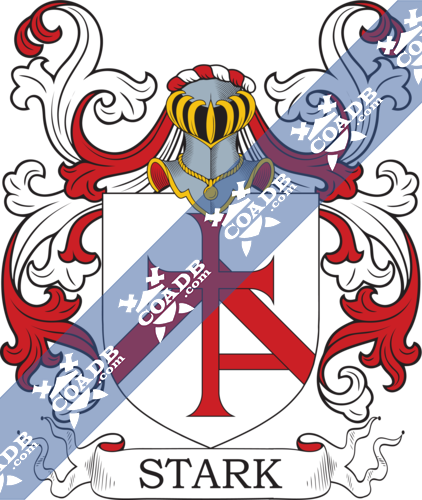 Stark Coat of Arms Gallery
Don't know which Coat of Arms is yours?
We can do a genealogical research. Find out the exact history of your family!
Learn More
Stark Surname Name Meaning, Origin, History, & Etymology
This is Anlgo-Saxon last name, primarily English and Scottish, derived from the Old English word strearc or the Middle English word stark, meaning firm, severe, strong, or unyielding, that developed as a nickname for a person whose personality of physicality demonstrated such qualities. In some instances, the name is German in origin, deriving from the Middle High German word stark, meaning strong or brave, and hence shares the same etymology as its English/Scottish counterpart. The name may also have Scandinavian roots, as the word appears as sterk-r in Old Norse and as stœrk in Dano-Norwegian. In his book Dictionary of American Family Names (1956), Eldson Coles Smith states this name is German, and means "Descendant of Starco", which is a pet form of the name Starculf, meaning strong and/or wolf. In Britain, the family first appeared in Sussex. In Germany, the family had an early presence in Westphalia where the name was borne by as noble family seated (owned lands and titles) near Bochum.
Spelling Variations
Some spelling variants or names with similar etymologies include Starke, Sterk, Starkey, Starkie, Starks, and Strack.
Popularity & Geographic Distribution
The last name Stark ranks 823rd in popularity in the United Status as of the 2000 Census. The name ranks particularly high in the following four states: Minnesota, Wisconsin, Missouri, and Nebraska.
The surname Stark frequency/commonness ranks as follows in the British Isles: England (1,616th), Scotland (475th), Wales (1,600th), Ireland (4,790th) and Northern Ireland (5,630th). In England, it ranks highest in counties Durham and Somerset. In Scotland, the surname ranks highest in Kinross-shire.
In Wales, it ranks highest in Monmouthshire. In Ireland, it ranks highest in county Limerick.  In Northern Ireland, it ranks highest in county Tyrone. The name is also present throughout the remainder English speaking world:  Canada (1,213th), New Zealand (972nd), Australia (1,073rd), and South Africa (2,109th).
Early Bearers of the Surname
The earliest documented bearer of this last name was Rannulf Stark who is listed in the Pipe Rolls of Suffolk in 1222 AD. William Stark is recorded in the Fine Court Rolls of Essex in 1314 AD. Richard Starke owned the lands of Estirbalbretane in 1376 AD. William Stark was a tenant in Castalstairs in 1540 AD. A Beatrix Stern was documented in Glasgow, Scotland in 1544 AD. An early marriage involving this surname was John Starke to Honour Paterson at St. George, Hanover Square in 1757. Another was Francis Stark to Martha Orom at St. George's Chapel, Mayfair.
Stark Family Tree & Stark Genealogy

Stark-Christie of Teasses
This branch of the Stark family tree claims descent from Alexander Robertson of Strowan, chief of Clan Robertson who died in 1506 or 1507. According to tradition, Alexander was the younger son of Paul, was part of a family feud, the result of which ended up with him being found guilty of manslaughter, whereupon he fled to the Scottish Lowlands, where he acquired the estate of Ballindean, changing his name to Stirk, later spelled Stark. Generations later, Robert Christie, Esquire, son of James of Durie and Mary Turner, in 1829, married Mary Butler, daughter of James Stuart, thereupon assumed the surname Stark, and had the following issue prior to his 1861 passing: 1) James Henry Robinson, 2) Robert Lindsay Bruce (married Julianne Cockburn, daughter of Captain A. Scott, of Scotts of Malleny), 3) Thomas (of Ballindean, born 1840, Justice of the Peace), 4) John Boswell, 5) Margaret Isabel (married Major General Hugh Lindsay, son of Charles, and had issue named Charles Robert, Mary Agnes, and Hughina Margaret). He died in 1862 and was succeeded by his eldest son, James Henry Robertson Stark-Christie, of Teasses, county Fife, Advocate at the Scottish Bar, M.A. of Trinity College Cambridge, born in 1830. In 1860, James married Marion Jane, youngest daughter of Archibald Young Howison of Hyndford, county Lanark, and had issue with her as follows: 1) Henry Robert, 2) Lindsay Bruce, 3) Arthur William, 4) Eliza Margaret, 5) Mary Harriet, 6) Agnes, and 7) Gertrude Emily. He died in 1875 and was succeeded by his eldest son Henry. Henry Robert Stark-Christie was an Esquire of Teasses, county Fife, born in 1868. This family was seated at Teasses, Largo, county Fife, Scotland.
Starke of Laugharne Castle
The genealogy of lineage of this family traces back to Richard Starke, Esquire of Epsom, county Surrey, England, who for many years, was the governor of Fort St. David, Madras. He married Mary, daughter of Isaac of Banstead, and had three issue with her: Louisa, Mary Anna, and Richard. His son, Richard Isaac Starke, was an Esquire of Epsom and a Lieutenant-Colonel in the army. In 1798, he married Elizabeth, daughter and heiress of Colonel Ravenscroft of Burwood, county Chester, and Laugharne, county Caermarthen, Wales and Sarah, daughter of Pennoyre Watkins of Pennyore, and had the following children with her: 1) James Ravenscroft (see below), 2) Richard Isaac Hughes (married Clara Dixon), 3) John Francis Theophilus (Lieutenant in the Royal Navy, married Caroline Anne, daughter of Charles Claude Clifton of Tymaur), and 4) Eliza Ravenscroft (married William Robert FitzGerald in 1831). James Ravenscroft was an Esquire of Laugharne Castle, county Caermarthen, who was born in 1810. In 1839, he married Alicia, daughter of Reverend Hugh Ellard, the Vicar of Kilfinane, county Limerick, Ireland, and had the following issue with her: James Ravenscroft (1849), Elisabeth Frances (1852), Emily Mary, Margaret Maria, Anne Matilda, Alicia Ellard, and Amy Louise.
Major-General William Starke
His arms were as follows: Quarterly 1 and 4, azure, a chevron argent, between a bull's head erased and two acorns in chief, and in base a key fessewise, wards downwards or (Stark); 2 and 3, gules, a martlet between three cinquefoils argent, a bordure embattled or (Hamilton). Crests:  1) A dexter hand proper, gripping by the lug and the horn a bull's head downwards, erased or, distilling drops of blood proper; 2, an antelopes head proper, gorged and attired gules. Mottos: Fortiorum fortia facta (Stark), Invia virtutis pervia (Hamilton); and below the shield "Auxilio Dei". He was the only surviving son of James Starke of Troqueer Holm.
Other Branches of the Stark Family Tree
Thomas Muirhead was born in Lauchope, Scotland in 1340 AD. He married Janet Finlay and they had a son named William. Sir William Muirhead was born in the same town in Lanarkshire, Scotland in 1380 AD. In 1414, he married Jean Hay, and had the following issue: William, Andrew, Vedestus, Janet, and Jean. His son William was born in 1415 AD and he later married Lady Mariota Hamilton, Baroness, and had two sons: John and Richard. His son John was born in Castle Lauchope in 1443 AD. He married Margaret Hepburn and had one son with her: John. This son, born John Lauchope Muirhead in 1466 AD. John assumed the surname and arms of Stark. In 1487, this John Stark married Margaret Borthwick, and had two issue with her: James and William Dulluttur. William Dulluttur Stark was born in Dumbarton, Dunbartonshire, Scotland in 1520. He married Marie Fleming and had a son named William. This son, William Auchenstarry Stark was born in Auchenvole in 1450. He married Margaret Hamilton and had a son with her named John. This John Stark I was born in Killermont, Clyde River, in 1575. He married Margaret Cunningham and they had a son named John II. John II was born in the same town around 1604. He married Margaret Naper and had a son with her named John III. John III was born in Glasgow around 1635. He married Isabell Weir and had a son with them named John IV. John Stark IV was born in Glasgow, Lanarkshire, Scotland in 1665 AD. He married twice: Elizabeth Thornton and Susanna Elizabeth Archibald. He went to colonial America. He had two sons: James and John V. John Starke V was born in King and Queen, Virginia in 1715. In 1735, he married Anna Wyatt. He owned 400 acres of land along the north fork of the Moreman River, 379 acres on Ducking Hole Swamp, and 292 acres on Dirty Swamp. He had the following children: Elizabeth Wyatt, Anne, Thomas, Wyatt, John VI, Lucy, Wyatt, Fannie, Mary, Joseph, Sally, Jane, and Anne. His son Wyatt was born in 1747. He married Mollie Broffard and had a son with her named John. John was born in 1777. He married Sallie Whiteside and had the following issue with her: Addison, Milton, Allen, Wyatt, John, Dryden, George Washington, Thomas Jefferson, and Creed Taylor. His son Milton Starke was born in Virginia in 1805. He married a woman named Sarah in 1840 and had the following issue: John Harden, Creed, Roxolene (Aultman), Hypaisia, Charles Boatright, Milton Hiram, and Sarah Melvina. His son John Harden Starke was born in 1841 in Cooper County, Missouri. He served in the Civil War as a Corporal in the 45th Regiment of Infantry from the Missouri Volunteers. In 1866, he married Elizabeth Susannah Koontz and had the following children: Sallie Christena, William Alexander, Wilson Milton, Charles, George Sydney, and John Dave. His son, Charles L. was born in the 1870s. He had the following children: Djalma, Letha, Avis, John, Doyt, DeLoss, and Joe.
Early American and New World Settlers
Some settlers in colonial America bearing this surname include: William Stark (Massachusetts 1641), Israel Stark (Delaware 1793), Mary Stark (Virginia 1715), Archibald Stark (New England 1720), and Jacob Stark (Philadelphia 1750). In Canada, one of the first settlers bearing this last name was John Stark, who came to Quebec in 1825. In Australia, Richard Stark, a baker by trade, came to New South Wales around 1830. In 1839, Alexander Stark came to Adelaide aboard the Lady Bute. In New Zealand, a family of this name came to Bluff aboard the Christian McAusland in 1875, James and Rosina Stark, assumedly husband and wife, both years old, along with their small children James, Robert, and John.
Early Americans Bearing the Stark Family Crest
Charles Bolton's American Armory (1927), Matthew's American Armoury and Bluebook (1907), and Crozier's General Armory (1904) do not contain any entries for this last name.
Mottoes
I have identified two Stark family mottoes:
1) Fortiorum fortia facta (The brave deeds of brave men)
2) Auxilio Dei (With the help of God)
3) Pelasgi (The Pelasgi, the name of ancient inhabitants of Northern Greece)
Grantees
We have 5 coats of arms for the Stark surname depicted here. These 5 blazons are from Bernard Burke's book The General Armory of England, Ireland, and Scotland, which was published in 1848. The bottom of this page contains the blazons, and in many instances contains some historical, geographical, and genealogical about where coat of arms was found and who bore it.
Notables
There are hundreds of notable people with the Stark surname. This page will mention a handful. Famous people with this last name include: 1) John Stark (1728-1822) who was an American General during the American Revolution who was known for his heroism at the Battle of Bennington, born in Londonderry, New Hampshire, 2) Benjamin Stark (1820-1898) was a merchant for served as US Senator from Oregon from 1861-1862, born in New Orleans, Louisiana, 3) Monroe Randolph Stark (1885-1924) who was a professional baseball player from Ripley, Mississippi who played in the MLB from 1909-1912 and also coached the Mississippi A&M Aggies, 4) Harold Rainsford Stark (1880-1972) who was a US Navy Officer during both the First and Second World Wars, born in Wilkes-Barre, Pennsylvania, nicknamed "Betty", 5) James R. Star (1943) who was a Rear Admiral in the US Navy who served in both the Vietnam and Yugoslav Wars, born in Arlington Virginia, 6) William Edwin Starke (1814-1862) who was a Gulf Coast businessman and Brigadier General in the Confederate States of America who died at the Battle of Antietam, born in Brunswick County, Virginia, 7) Peter Burwell Starke (1813-1888) who was an American political and Brigadier General in the Provisional Army of the Confederate States, and was the brother of the previously mentioned William E., 8) Rodney William Stark (1934) who is an American sociologist of religion born in Jamestown, North Dakota who has authored over 30 books, including The Rise of Christianity, 9) Fortney Hillman "Peter" Stark Jr. (1931) who was a member of the US House of Representative from California from 1973-2013, 10) Lloyd Crow Stark (1886-1972) who was the 39th Governor of Missouri from 1937-1941, and 11) Melissa Stark (1973) who is an NFL Network reporter from Baltimore, Maryland.
Starks in the American Revolution
There are numerous bearers of this surname who served in the Revolutionary War. A handful are listed below:
1) Sergeant David Stark of New York
2) Private James Stark of Connecticut
3) Ephraim Stark of Connecticut
4) Caleb Stark of New Hampshire
5) Benjah Stark of Vermont
6) Private Leman Stark of Massachusetts
7) Private Timothy Stark of Connecticut
8) Second Lieutenant Richard Stark of Virginia
9) Captain William Stark of Virginia
10) Private Phineas Stark of New Hampshire
Blazons & Genealogy Notes
1) or Starke – (Killermont, Scotland, 1672). Az. a chev. betw. three acorns in chief or, and a bull's head erased in base of the second. Crest—A dexter hand holding by the horns a bull's head erased ar. distilling drops of blood ppr. Motto—Fortiorum fortia facta.
2) or Starke – (Judge of Supreme Court, Ceylon, 1848). Az. on a chev. ar. betw. a bull's head erased, and two acorns in chief or, and In base a key fessways, wards downwards, of the third, a martlet betw. two cinquefoils gu. Crest—As the Arms. Mottoes—Over the crest: Fortiorum fortia facta; below the arms: Auxilio Dei.
3) or Starke – Ar. a chev. betw. three lions' heads erased or. Crest—Out of a ducal coronet or, a stag's head guard, gu. armed gold.
4) Coire – De gueules à la bande d'argent accostée de deux trèfles du même posés dans le sens de la bande Cimier un demi-vol aux armes de l'écu. Source: Rietstap's
5) Berne – Une marque de marchand représentant une croix latine pattée la traverse soutenue d'un chevron la jambe senestre jointe au fût de la croix par une traverse. Source: Rietstap's
6) Starke van Dahlhausen – Dusseldorf – (De Raadt) – Parti au 1 d'azur au lion contourné d'or couronné du même lampassé de gueules au 2 de sable au lynx rampant d'or lampassé de gueules Casque couronné Cimier deux proboscides coupées alternativement d'azur et de sable Lambrequin à dextre d'or et d'azur à senestre d'or et de sable Tenants deux chevaliers armés de toutes pièces tenant chacun dans la main qui touche l'écu une bannière coupée d'azur sur sable frangée d'or la hampe du même et de l'autre main tirant l'épée du fourreau chaque chevalier portant sur le casque cinq plumes d'autruche à dextre alternativement de gueules et d'or à senestre alternativement d'or et de gueules. Source: Rietstap's
7) Finlande – (Sceau de Michel , 1447, R. Hansen, les sceaux finlandais n 322) – Trois têtes d'homme barbus 2 et 1 coiffées chacune d'un chapeau plat Casque avec lambrequins Cimier une des têtes entre un vol. Source: Rietstap's