Starr Family Crest, Coat of Arms and Name History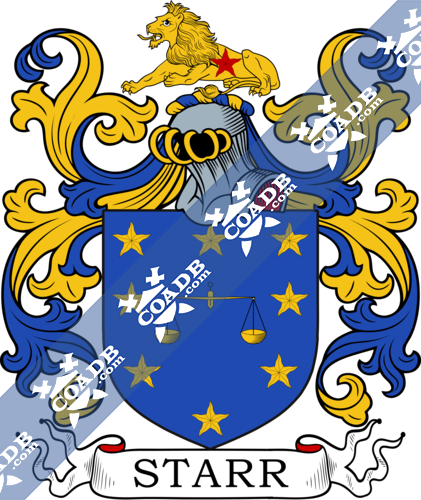 Starr Coat of Arms Gallery
Don't know which Coat of Arms is yours?
We can do a genealogical research. Find out the exact history of your family!
Learn More
3,888; Australia 3,116; Canada 2,164; Philippines 1,224; South Africa 913; Germany 639; Russia 414; Mexico 288; New Zealand 225
Notable People:
Leonard Starr (1925-2015) who was a comic book artist, and a cartoonist from America, he is most notably recognized for creating the comic strip "On Stage" and reviving Little Orphan Annie
Blaze Starr (1935-2015) who was born with the name Fannie Belle Fleming, and who was a stripper and burlesque comedienne, who was most notably recognized for her affair with the Governor of Louisiana, Earl Kemp Long, and who was the inspiration of the 1989 film Blaze
Albert Starr (born in 1926) who was cardiovascular surgeon from America, and who was the co-winner of the 2007 Lasker Award for clinical research
James Harper Starr (1809-1890) who was a civil servant from America, who served as the Secretary of the Treasury of the Republic of Texas
Kenneth Winston Starr (born in 1946) who is a judge, solicitor general, and lawyer from America, and who was most notably recognized for his investigation of figures during the Clinton administration
Ringo Starr(born in 1940) who was born with the name of Richard Parkin Starkey, and who was an English musician, a singer, a songwriter, and who is most notably known for being the drummer of The Beatles
Blazons & Genealogy Notes
1) (Canterbury, co. Kent). Az. a pair of scales or balances within an orle of eight estoiles or. Crest—A lion couchant or, charged with an estoile gu.
2) Ar. a heart gu. a chief potence of the last. Crest—A demi lion ppr. holding a mullet or.
3) (co. Wilts; settled for several generations in the parish of Longbridge-Deverell, in that county; represented by Starr, co. Northampton). Vert on a chev. ar. betw. three estoiles or, a human eye ppr. betw. two lozenges of the field. Crest—On a mount vert a cat-a-mountain sejant guard. ppr. the dexter forepaw resting on an estoile or.