Sweet Family Crest, Coat of Arms and Name History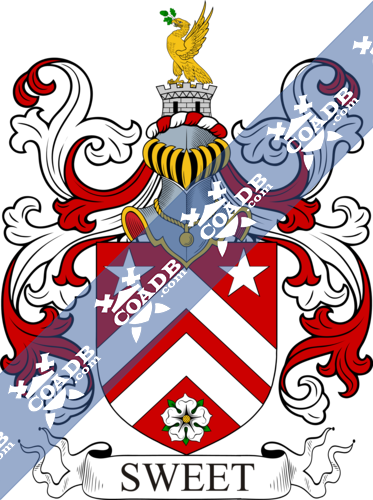 Sweet Coat of Arms Gallery
Don't know which Coat of Arms is yours?
We can do a genealogical research. Find out the exact history of your family!
Learn More
Surname Name Meaning, Origin, and Etymology
This Anglo-Saxon last name has three origin theories. First, it is a baptismal surname meaning "the son of Sweet", analogous to the French name Douche v. Dowse. Second, it derived from the nickname "the sweet", a good, pleasant, or agreeable person, from the Middle English word swete. The old English personal (first) names Sweta and Swete also derive from this word and may by the source of the surname. Third, as asserted by William Arthur in his book An Etymological Dictionary of Family and Christian Names, the name refers to a Swede, a person from Sweden or who was native to that country. Fourth, it can be an Anglicized version of the German/Jewish surname Suess and the French surname Ledoux. The given names Suet and Suot were documented in the Domesday Book of 1086 AD, which was a survey of England and Wales ordered by William the Conqueror. Fifth, the book English Surnames by Mark Antony Lower claims it's a nickname for a person "who has either a vinegar face or a foxy complexion". One source asserts the family first established itself in county Somerset where they held land and titles before the Norman Conquest of 1066 AD.
Spelling Variations
Common spelling variants or names with similar etymologies include Swet, Swete, Sweete, Sweett, Sweit, and Suete. There are numerous names that have the word Sweet in them: Sweetapple, Sweetgood, Sweeten, Sweeting, Sweemouth, Sweetpinte, Sweetbutter, Sweetland, Sweetster, Sweetsir, Sweetnam, Sweetlove, Sweetcock, and Sweetman. The Dutch equivalent is Swidde. There is a German name Süss.
Popularity & Geographic Distribution
The last name ranks Sweet ranks 1,111th in popularity in terms in the United Status as of the 2000 Census. The name ranks particularly high in the following twelve states:  Vermont, Michigan, New York, Washington, Oregon, Wisconsin, Connecticut, New Hampshire, Rhode Island, Idaho, Wyoming, and Alaska. The surname is also common in England, where it ranks 1,555th. The name is common throughout the English speaking world:  Scotland (2,652nd), Wales (742nd), Ireland (5,846th), Canada (1,526th), New Zealand (2,953rd), Australia (1,856th), and South Africa (5,063rd).
Early Bearers of the Surname
The earliest known bearer of this surname was  Wilmund Svote who was listed in the Book of Seals of Bedfordshire in 1179 AD. The Hundred Rolls of 1273 AD, a census of Wales and England, known in Latin as Rotuli Hundredorum lists two bearers of this surname: Adam Swet in county Oxford and Roger Swet in county Cambridgeshire. A one Roger Swet was listed in the Fines Roll during the reign of King Edward I of England (1272-1307). A one Walter Swete was listed in Kirby's Quest during the reign of King Edward III of England (1327-1377). The Poll Tax of Yorkshire of 1379 AD lists two bearers: Johannes Suete and Johannes Swete. An early marriage involving this surname was Robert Sweete to Johanna Sweete. An early baptism involving this surname was Ann, daughter of James Sweet, who was at St. James Clerkenwell in London in 1700 AD.
History, Genealogy, and Ancestry
Robert Swete was born in 1278 AD in Darthmouth, Devon, England. He had a son named John Swette Wemund Austyn who was born in 1304 in the same town. John married Matila Wemund Austyn and had a son with her named Sir John Swete who was born in 1347. Sir John has a son named Sir John Swete (A Knight of Castron) who was born in South Milton in 1371.  He had a son named John A. Swete II who was born in 1390.  John. A married Alice and Sarah and left a son named Sir Thomas. Sir Thomas Swete was born in 1425 in Devon. He married Curry Rivel and had a son with her named John. John was born in South Milton in 1450. He married Margaret Nutt and had two sons with her: Philip John and John Swete. John Swete of Upton, also known as John Swett, was born in 1512 in Devon. He married Johane Scoss and had issue with her: William, Nicholas, Adrian, Robert, and John. His son John Sweet or Swett was born in 1531 in Modbury, England. He married Margery Periam and had children with her: John, Henry, Elizabeth, Agnes Parnell Wolcott, Adrian, Thomas, and Robert of London. His son Robert Isaac Sweet, Swett, or Swete was born in 1552 in Hackney, London. He married Johanna Rainham and had issue with her: John and Adrian. John Isaac Sweet was born in Modbury, Devon in 1579. He married Mary Holliman and went to Newport, Rhode Island. They had three children together: John, James "Bonesetter", and Meribah Gereardy. His son James was born in 1622, likely ion Wales. He married Mary Greene and they had the following children together: Philip, James Jr, Mary (Wickham), Captain Dr. Benoni, Valentine, Martha (Allen), Samuel, Jeremiah, Renewed (Geready), and Sylvester. His son Philip was born in 1655 in Warwick, Rhode Island and he married Elizabeth Blackington. They had the three issue: Philp II, John, and Jeremiah. His son John was born in 1723 in the same town. He had a son named Valentine Sweet born in 1758. He in turn had a son, also named Valentine, born in 1800. This Valentine had a son named Chester Burlingame Sweet who was born in 1830 in Rhode Island. He married Margaret Ann Cunningham and they had a daughter named Elizabeth Huntington Siegman.
Philip Sweet was born in Prudence Island, Rhode Island in 1685. He had a son, also named Philip, who was born in 1713 in Warwick, RI. He married Lydia Rice and had a son with her named John Wait. John Wait was born in 1756 in Toronto, Canada. He married Phebe Slocum and they had a son together named Wait. This Wait Sweet was born in Toronto in 1782. He married Fracnes Archibald and had numerous issue with her: Moses, Elizabeth (Shermann), John, Susanna (Sherman), Frances (Furman), Sarah (Sudweeks), Marilla (Hanshaw), Lovina (Whipple), and Joanna (Philpott). His son Moses was born in 1814 in Hamilton, Ontario. He married Nancy Diseur and had the following issue with her: John, Martha, Mary, Susanna (Marble), James, George Arthur, Daniel, Samuel, William, and Alice Helena (Crawford). His son George Arthur was born in 1847 in Northville, Illinous. He married Lizzaetta Angelena Burr and had three issue with her: Florello Burr, Mary Eliane, and Huldah Dorris (Brown).
Early American and New World Settlers
Robert Sweet was recorded as living in Virginia in 1623 (in Elizabeth Cittie?). A John Banum and Robart Sweete had a muster (as assembly of troops) in Virginia in the 17th century. Other early settlers in colonial America with this surname include John Sweet (Salem 1630), Thomas Sweet (Boston 1633), Win Sweet (Virginia 1650), Amount Sweet (New York 1711), Isaac Sweet (Virginia 1714), and William Sweet (1760). Some of the earliest settlers in Canada bearing the Sweet surname were Benoni and Nehemiah who came to Nova Scotia in 1760.
Mottoes
I have been unable to document a Sweet family motto.
Grantees
We have two coats of arms for the Sweet surname depicted here. These two blazons are from Bernard Burke's book The General Armory of England, Ireland, and Scotland, which was published in 1848. The bottom of this page contains the blazons, and in many instances contains some historical, geographical, and genealogical about where coat of arms was found and who bore it. People with this last name that bore a Sweet Coat of Arms include: Adrian Swete of Train, co. Devon, and to the descendants of his father (sic, no name given), 13 February 1712.
In 1473, King Edward IV of England granted the above arms to Guy Swete of Traine Manor, Modbury, Devonshire. Swett-genealogy.com states "The coat of arms on a stone gateway at Traine Manor, Modbury, Devonshire, with the date 1472, is a shield with two stars over two chevrons over a rose. It has no crest. The date indicates that someone who carried this shield either was or was made lord of the manor of Traine in 1472". He received the arms for fighting on the York side in the War of the Roses.
Notables
Famous people with this last name include: 1) Burton Erwin Sweet (1867-1957) was a four-term Republican U.S. Representative from Iowa, 2) Don Sweet (1948) who was a football kicker for the Montreal Alouuettes and Concordes in the Canadian Football League, 3) Sergeant Major Herbert Joseph Sweet (1919-1998) who was the fourth Sergenat Major of the United States Marines who served in World War II and the Korean War, 4) Sidney Matthew Sweet (1964) who is an American rock singer and musician, 5) Thaddeus Campbell Sweet (1872-1928) who was an American manufactures and politican from New York who served in the U.S. House of Representatives in the 1920s, and 6) Edwin Forrest Sweet (1847-1935 who was a politician from Michigan who served in the U.S. House and was appointed Assistance Secretary of Commerce by Woodrow Wilson.
To receive a complete surname meaning report by PDF you can order our SURNAME MEANING PACKAGE for $129.   This report is great to share with family and friends.  It includes everything you see above plus any other information we can find on the specified surname.  It does take approximately 10 to 15 days for us to complete this custom report.
To receive a direct lineage & coat of arms search for your specific line(s) you can order one of our GENEALOGY PACKAGES ranging in price from $249 to $999.   All research is completed by a professional genealogist with over 30 years' experience.  All reports and coat of arms files are sent by email in PDF and JPG format.
Blazons & Genealogy Notes
1) Gu. two chev. betw. as many mullets in chief and a rose in base ar. seeded or, barbed vert. Crest—On tho top of a tower issuing ppr. an eagle with wings endorsed or, in the beak an oak branch vert.
2) [Train, Devonshire,] gu. two chev. betw. as many mullets, in chief, and a rose, in base, ar. seeded or.-Crest, a mullet or, pierced az. betw. two gillyflowers ppr.