Swanson Family Crest, Coat of Arms and Name History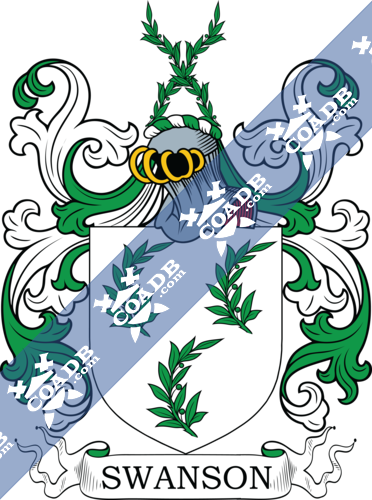 Swanson Coat of Arms Gallery
Don't know which Coat of Arms is yours?
We can do a genealogical research. Find out the exact history of your family!
Learn More
Surname Name Meaning, Origin, and Etymology
The surname Swanson has several origin theories and meanings. First, it could be a baptismal name meaning "the son of Swan", deriving from the personal (first) name Swan. The given name Swan appeared in the Pipe Rolls of Cumberland in 1177 AD as Suannus Faber and in the Assize Court Rolls of Yorkshire in 1218 AD as Suan Filius Arkill. Second, it could be an Anglicized or Americanized spelling of the Norwegian or Danish surname Svensen or Svendsen. Third, it could have originated as a nickname for a person who was pure of graceful like a swan, deriving from the Old English word swan or swon. Fourth, it might have been an occupational name for a person who a herdsman or a swineheard, deriving from the Middle English word swain.
The last name Swanson was first found in county Durham in England, where they were Lords of the estate of Stockton in antiquity. By the early thirteenth century, the family made its way into Scotland and procured or were granted lands of Swaynystoin, close to Colinton, in Midlothian, where a man named Dunca Swainston became scion of the branch.
Spelling Variations
Common spelling variants or names with similar etymologies include Swainston, Swanston, Swenson, and Swenston.
Popularity & Geographic Distribution
The last name Swanson ranks 375th in popularity in terms in the United Status as of the 2000 Census. The name ranks particularly high in the following seven states: Minnesota, Wisconsin, Iowa, Nebraska, South Dakota, North Dakota, and Montana.
The surname Swanson frequency/commonness ranks as follows in the British Isles: England (3,265th), Scotland (867th), Wales (3,682nd), Ireland (8,504th) and Northern Ireland (5,630th).  In England, it ranks highest in county Northumberland. In Scotland, it ranks highest in county Caithness. The name is also present throughout the remainder English speaking world:  Canada (1,121st), New Zealand (1,388th), Australia (1,770th), and South Africa (2,822nd).
Early Bearers of the Surname
The Poll Tax of Yorkshire in 1379 AD lists one bearer of this last name: Matilda Swanson. A one Agnes Swanson was documented in the Calendar Pleadings during the reign of Queen Elizabeth I of England (1558-1603). Early marriages involving this surname include: 1)  Elizabeth Swanson to John Cobham at St. Mary Somerset in 1559, 2) Elin Swanson to George Newes at St. Mary Wooldchurch Haw in 1561, and 3) Jane Swanson to Christopher Beard at St. Thomas the Apostle in 1572 AD.
History, Genealogy, and Ancestry
The famous genealogist Bernard Burke's book "The Landed Gentry" and "Peerage and Knights" do not contain entries for this family.
Christopher Swanson or Swaynson was born in Bermondsey, London, England around 1512 AD. He had a son named Edward Sr. who was born in the same town in around 1534. He in turn had a son named Edward Swanson Jr. who was born in Westminster, England in 1560. He married Ellin Thomas and had a son with her named Robert. Robert was born in St. Margaret Westminster in 1584 and he married Elizabeth Oxley with whom he had a son named Robert. Robert was born in 1612 and he married a woman named Barbaray in Virginia in colonial America, where he received a grant of land and was a planter in Norhumberland County, VA. He had a son with her named John. John was born in 1634 in Virginia and he married Mary Bryant. He had the following children: Benjamin N., Matthew, Dennis, John, Richard, and Mary. His son Richard Swanson was born in Accomack, VA in 1656 and he married Rebecca Ann Lench. They had a son together named Edward. Edward was born in Brunswick, VA in 1700 and he married a woman named Sarah, with whom he had two sons: Richard and John. His son Richard Swanson was born in Edgecombe, North Carolina in 1725 and he married Olive Hanson, with whom he had the following issue: Pennina, Richard, William C., Susan, Phillip, Edward, John, Lydia, Olive, Zelpha, Luvisa, Dicey, Mary, and Nancy. His son John was born in the same town in 1761. He married Elizabeth Betsy Clifton and had the following children: Isaac, John, James, Elizabeth, John, Anna, Emily, Luther, and William Rufus.
Johannes (John) Swanson was born in Jonkoping, Sweden in 1836. He married Hannah Anderson in Sweden in 1866, and then came to Minnesota in the United States where he married Olga Swenson in 1887 and Kate (last name unknown) in 1898. He had the following children: Alice Elizabeth (Blanchard), Sarah (Hall), Carl Marin, and August. His son Carl Martin Swanson was born in Illinois in 1883 and he died in Rochester, Minnesota in 1953.
Francis Swanson Sr. (Francis I) was born in Europe in 1645. He married Isabella Saddler and had a son with her named Francis who was born in Calvert, Maryland in 1674. This Francis married Susana Plummer and he had four issue with her: Mary Jacobs, Margaret Wells, Isobel Swanson, and Susannah.
Early American and New World Settlers
Early settlers in colonial America bearing this name include John Swanson (Philadelphia 1627), Anna Swanson (Massachusetts 1630), Robert Swanson (Virginia 1649), James Swanson (Maryland 1665), Thomas Swanson (Maryland 1733), and Nicholas Swanson (Pennsylvania 1771).
In Australia, some of the first settlers bearing this name, William and Jane Swanson, came in 1854 to South Australia aboard the Marion and Dirigo, respectively. One of the first beaters in New Zealand was one J. Swanson who came to Auckland in 1841.
Early Americans Bearing the Swanson Family Crest
I researched the following three resources and did not find any coats of arms for Swanson: Bolton's American Armory, Matthew's American Armoury and Bluebook, and Crozier's General Armory.
Mottoes
I have been unable to identify a Swanson family motto.
Grantees
We have one coats of arms for the Swanson surname depicted here. This blazon is from Bernard Burke's book The General Armory of England, Ireland, and Scotland, which was published in 1848. The bottom of this page contains the blazons, and in many instances contains some historical, geographical, and genealogical about where coat of arms was found and who bore it.
Another book, the Encylopedia Heraldica, by William Berry, lists two similar names and provides blazons for each:
1) Swanston, [Scotland] Argent a martlet sable; on a chief az. three swans, with wings endorsed, of the field. Crest, a wolf's head issuing.
2) Swanton: Argent a fesse gules  between three chess-rooks sable.
Notables
There are hundreds of notable people with the Swanson surname. This page will mention a handful. Famous people with this last name include: 1) Carl A. Swanson (1879-1949), a Swedish immigrant who settled in Omaha, Nebraska, and founded the national food production company Swanson, 2) Lori Swanson (1966) who is the 29th Attorney General of Minnesota, 3) Steven Ray Swanson (1960) who was an American astronaut born in Syracuse, New Uork who completed four spacewalks and received numerous awards and honors, 4) Don R. Swanson (1924-2012) who was an American information scientist known for work in literature based discovery in the biomedical field, 5) Daniel Joseph Swanson (1986) who is a Scottish footballer (soccer player) born in Edinburgh who has played midfielders on various teams (ex. Berwick Rangers, Dundee United), 6) Jon Edward Swanson (1942-1971) who was a United States Army helicopter pilot born in Boulder, Colorado who served in Vietnam who destroyed five enemy bunkers before who was shot down in Cambodia, and he received the Medal of Honor posthumously in 2002, 7) John Swanson (1842-1923) was a native Sweden who was sailor in the U.S. Navy during the American Civil War who received a Medal of Honor for his actions during the Second Battle of Fort Fisher, 8) Gloria May Josephine Swanson (1899-1983) who was an American actress and producer born in Chicago, Illinois, best known for her role as Norma Desmond in the 1950 fill, Sunset Boulevard, 9) Charles Edward Swanson (1879-1970) who was born in Galesburg, Illinois and became a two term Republican U.S. Representative for Iowa, and 10) Becca Swanson (1973) who is an American bodybuilder born in Omaha, Nebraska know for holding various records in lifting and wrestling, often called "The Strongest Woman in the World".
Blazons & Genealogy Notes
Ar. three laurel branches vert. Crest—Two branches of laurel in saltire ppr.