Swindell Family Crest, Coat of Arms and Name History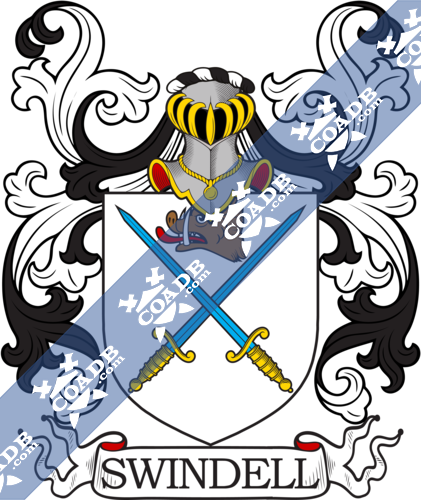 Swindell Coat of Arms Gallery
Don't know which Coat of Arms is yours?
We can do a genealogical research. Find out the exact history of your family!
Learn More
Swindell Origin:
England
Origin of Swindell:
Listed in so many spellings like Swendell, Swindall, Swindell, Swindle, Swyndell, Swindells and probably others. It is a surname of Northern English origins. It is fairly boundless in the divisions of Lancashire and Yorkshire, and is a functional name. It is considered to evolved from Swindale, a village near Shap in the province of Westmorland, so called from the Ancient English before 7th-century word "swin." It means forest boar. Furthermore, "dael", a dale, thus, the dale where the forest boars roamed. It is also possible that the surname may have evolved from a now "lost" primitive area in the church of Cheadle, in the division of Cheshire. The Wills Document of Cheshire for the year 1611 contains the following announcement. A division of the family of Howford held a small land here in the 14th century. Swyndell married Janet Winterbotham on November 1575, at Rotherham in Yorkshire. While at Almondbury, in Yorkshire, Joannes Swendell, the son of Petri Swendell named in April 1578, and James Swindells married Faith Ormondroyd at Bradford in Yorkshire on January 1820. The developmental names of the surname are Swindell Swindell, Swindale, Swindle, Swyndel, Swindlehurst, Shinglehurst, Singlehurst, Swindlehirst, Swindlehirst and much more.
Variations:
Some common variations are: Swindelle, Swindello, Swindeall, Swinedell, Swindella, Sweindell, Swindel, Swindll, Swndell, Swindall.
England:
The surname Swindell earlier originated in Cheshire where they held a family seat as Kings of the lands near Cheadle. The Saxon effects of English past declined after the war of Hastings in 1066. The language of the courts was French for the coming three centuries, and the Norman atmosphere predominated. But Saxon surnames remained, and the family was first attributed in the 14th century when it considered that they were a section of the Howford family.
The very first recording spelling of the family was shown to be that of Roger Swyndels, of Marple, in Cheshire, dated 1522, in the Wills Records at the city of Chester. It was during the time of King Henry VIII of England, 1509 – 1547. The origin of surnames during this period became a necessity with the introduction of personal taxation. It came to be known as Poll Tax in England. Surnames all over the country began to develop, with unique and shocking spelling varieties of the original one.
United States of America:
Some of the people with surname Swindell settled in the United States in the 19th century included William Swindell, who arrived in Allegany (Allegheny) Division, Pennsylvania in 1861.
Here is the population distribution of the last name Swindell: United States 5,080; England 914; Scotland 72; Australia 95; Sweden 29; Canada 91; South Africa 201; New Zealand 19; Spain 10; Wales 3.
Notable People:
B. Swindell (born 1945), was an American politician and lawmaker. He was born in October 1945 in Robeson Division, North Carolina. He was an independent representative of the North Carolina General Assembly stating the state's eleventh Senate division, containing a division in Nash and Wilson divisions. He was first selected in November 2000 and gave services to five two-year terms. In the November 2010 election, he was chosen by Eldon Newton, a Republican.
Charles Swindells was an ancient United States messenger to New Zealand and Samoa (2001-2005). He was selected to the post by U.S. administrator George W. Bush, with the firm support of his hometown of Oregon's two American politicians. He gave services from 2001 to 2005.
Cole Swindell (born 1983), was an American country musician, singer, and composer. He has written scripts for Craig Campbell, Thomas Rhett, Scotty McCreery, and Luke Bryan, and created two albums for Warner Bros. Records Nashville. The first album was composed of four songs: "Chillin' It", "Hope You Get Lonely Tonight", "Ain't Worth the Whiskey", and "Let Me See Ya Girl," all of which have listed in the top 5 of Hot Country Songs.
Greg Swindell (born 1965), is an American Major League player in Baseball.
Jackie Swindells (1937-2009), was an English football player. He played as a Beginner for Manchester City, before professionally with Blackburn Rovers in 1957.
Michael Swindells was a British police officer stabbed to death in 2004.
Robert Swindell (born 1950), is an English retired cricket player.
Robert Swindells was a British children's author.
Sammy Swindell (born 1955), is an American race car driver.
Steve Swindells (born 1952), is an English musician, composer, keyboardist, club promoter and journalist.
Blazons & Genealogy Notes
Argent two swords in saltire azure hilted or, in chief a boar's head erased proper.