Sykes Family Crest, Coat of Arms and Name History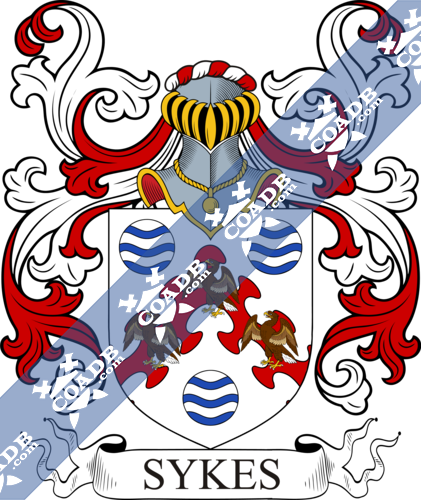 Sykes Coat of Arms Gallery
Don't know which Coat of Arms is yours?
We can do a genealogical research. Find out the exact history of your family!
Learn More
Surname Name Meaning, Origin, and Etymology
This Anglo-Saxon surname is a local one meaning "at the syke", given to a person who lived alongside a sike, which is a  marshy stream, spring well, waterfall, damp gully,  and hence has similar origins to other surnames such as Brook, Brooks, Beck, and Gott. It also may be a habitational last name for a person who was from locales called Sykes in West Yorkshire and Lancashire. Another origin theory, offered by Mark Antony Lower is his book Patronymica Brittanica is that Sykes is a nickname for the ancient personal (first) name Simon, in the same way Gilkes is a nickname for Gilbert and Hicks is a nickname for Isaac. Another source asserts the last name came from Sikes-Dyke by Carlisle in county Cumberland, England. Yet another source claims it is a locational name for a person who was from a place in Rochdale county in Lancashire. It derives from the Old English word sic, meaning stream or water course.
Spelling Variations
Common spelling variants or names with similar etymologies include Sikes, Sykkes, Sike, Siks, Sikkes, and Syks.
Popularity & Geographic Distribution
The last name ranks Chapman ranks 1,214th in popularity in terms in the United Status as of the 2000 Census. The name ranks particularly high in the six following states: North Carolina, Virginia, Mississippi, Tennessee, Illinois, Maryland, and Arkansas. In England, the name is even more popular as it ranks 420th in popularity, where it is particular common in the following counties: Yorkshire (ranks 22nd),  Lincolnshire, Derbyshire, Lancashire, and Leicestershire. The name is common throughout the English speaking world:  Scotland (983), Wales (535), Ireland (2,355), Canada (2,384), New Zealand (1,146), Australia (859), and South Africa (2,649).
The 1890 book Homes of Family Names by H.B. Guppy states "Sykes is a very characteristic West Riding name. Though it also occurs in Lincolnshire, it is there much less frequent. The Yorkshire representatives of the name are very numerous in- the Huddersfield district. Its ancient home was in Cumberland and Yorkshire, and probably there were different parent stocks. One of the early Yorkshire families possessed land at Flockton in the reign of Henry II; and from the Plockton stock the Sykes family of Driglington branched off in the time of Edward VI. The wealthy Leeds merchants of this name-in the 17th century, who were lords of the manor of Leeds, and who filled the offices of mayor and alderman of the town, belonged to- a family that in the beginning of the 16th century hailed from the SykeS family of Sykes-dyke near Carlisle. Sykehouse is the- name of a "West Riding township and village. Sykes is still a- common Leeds name".
Early Bearers of the Surname
The first known person with this last name was Ralph de Sich who was recorded in the Pipe Rolls of Norfolk in 1166 AD. The Poll Tax of Yorkshire in 1379 AD lists five people bearing this last name: Robertus del Dyke, Rogerus del Sykes, Johannes del Syke, Agnes del Syke, and Henricus del Syke. Early marriages involving this surname include Samuel Weeden Sykes to Jemima Jones at St. George's Hanover Square in 1794 and James Sikes to Eleanor Adie in 1804.
History, Genealogy, and Ancestry
The famous genealogist Bernard Burke's book "Peerage and Knights" discusses the royal members, lineage, and pedigree of this family in detail. It mentions four branches: Sykes of Basildon, Sykes of Cheadle, Sykes of Kingsnowes, and Sykes of Sledmore.
The first, of Basildon, begins with a mention of Reverend Sir Frederick John Sykes, the 8th Baronet of Basildon in Berkshire who was the Rector of Butterleigh, Cullompton and Vicar of Stoke Canon. He was born in 1876 and succeeded his brother in 1934. Burke traces the lineage back to William Sykes of Kirkheaton in county York, who had a son named Francis who lived in Thornhill. In 1707, Francis married Martha Fearnley and had four sons with her. The youngest was Sir Francis Sykes, the 1st Baronet, who was of Ackworth Park and was a Member of Parliament for Shaftesbury in 1771 and later for Wallingford. He amassed a sizeable fortune in Inida were he was the Governor of Cossimbrizar, Benegal. When he returned to England, he purchased the Manor of Basildon from the Countess of Sandwich and the Countess de Salis. He was baptized in 1732 and created a Baronet in June of 1781. He married Catherine, daughter of John Ridlet, in 1766 and had issue with her: Francis William, John, and Elizabeth (who married Richard Benyon). He died in 1804 and was succeeded by the eldest son, Sir Francis William Sykes, the 2nd Baronet who was a Colonel of the Berkshire Militia. He was born in 1767 and married Mary Anne, daughter of Major Henniker. The family resides at Poltimore Rectory. They bore the following family crest: "Argent an eagle rising, between three sykes (fountains) proper; on a canotn gules, a caduces or, wings of the first. Crest: a demi-lady of Bengal in the complete dress of that country, holding in her dexter hand a rose gules.
The second branch, Sykes of Cheadle, begins with a mention of Sir Alan John Sykes, 1st Baronet, of Cheadle in county Chester. He was a Justice of the Peace educated at Rugby and Oriel College Oxford. He was also a Member of Parliament for Chester, as well as a Lieutenant Colonel in the army. He was also mayor of Stockport in 1910. He was born in 1868 and created a Baronet in July of 1917. Burke traces the lineage back to Edmund Sykes of Wakefield in county York who married Ann North in 1668. They had a son named Edmund born in 1672 who married Isabella Buttery and had a son with her also named Edmund born in 1726. This Edmund in turn had a William Sykes who settled at Edgeley. He was born in 1755 and in 1782 he married Martha Townsend. He had a son named Richard born in 1793. Richard married Jane, daughter of Thomas Hardcastle in 1825. They had children: Edmund Howard of Brookfield, Reverend William (Chaplain to Queen Victoria), Thomas Hardcastle, and Richard of Santa Barba, California born in 1839. Thomas Hardcastle Sykes was born in 1833 and was of Cringle House. He was D.L., Justice of the Peace, and High Sheriff in 1899. He was also Captain of the 20th Cheshire R.V. He married Maru, daughter of John Platt, and had issue with her: Harold Platt, Alan John (created Baronet in 1917), Alice Isabel Hardcastle, Maud Mary, and Marjorie Gertrude Hardcastle. This family resided at South View, Cheadle and had a coat of arms (or "family crest") blazoned as follows: Creation—Baronet (U.K.), 17 July, 1917. Arms—Argent, on a chevron sable, guttee d'eau, between three tufts of grass vert, as many fountains proper. Crest—Upon the trunk of a tree eradicated fessewise and sprouting to the dexter, proper a swan with wings addorsed argent, beaked and legged sable, charged on the breast with a fountain, also proper.
The third branch is Sykes of Kingsknowes. It begins with a discussion of Sir Charles Sykes, 1st Baronet of Kingsknowes in county Selkirk who was Justice of the Peace for Huddersfield and a Member of Parliament as well. He was born in 1867 and married Mary, daughter of Benjamin Newsome, in 1892 and had issue with her: Benjamin Hugh (born 1893 and married Audrey Winifred), Stanley Edgar (Captain of the 5th Bn. Duke of Wellington's W.R. Regiment), Charles Newsome (born 1899), and Mary Margaret (married Captain Guy Clifford in 1920). Burke traces the lineage to John Sykes of Almondbury. He married Mary Bray and had issue with her, including a son, John of Honley. In 1760, John married Hannah Womersley of Holmfirth and had a son with her named Joseph.  Joseph was of Kirkburton and was born in 1760. In 1793, he married Sarah Ibberson. He had a son named Benjamin of Burton Dean who was born in 1799. In 1821, he married Harriet Wood and had issue with her, including Benjamin Sykes born in 1830. In 1852, he married Rachel, daughter of George Carter, and had issue with her. One such issue with Sir Charles Syke. The family resided at Ashdale, Cleardown, Working, and Surrey and had the following blazon: Per chevron gules and sable, in chief two sykes proper, and in base a fleece or.
The fourth branch discusses is the family of Sledmere. It begins with a mention of Sir Mark Tatton Richard Sykes, 7th Baronet, of Sledmere in county York. He was a Justice of the Peace in 1945 and High Sheriff in 1948. He served in World War II and was born in 1905. He succeeded his father in 1919 and in 1942 he married, Virginia, daughter of John Francis Grey and Lillian Chetwynd. They had three children together: Tatton Christopher Mark (born 1943), Jeremy John (born 1946), and Christopher Simon Andrew (1948). Burke states old documents demonstrate that the family was located in Flockton, a parish in Thornhill around 1200 AD when lands were acquired by Agnes del Sicke, adding to those already owned by Willaim del Sicke. In 1343, John del Syk confirmed ancestrqal lands upon his son Michael. Richard Sykes, who lived during the time of King Henry VI had a son named William, who lived in 1576 and established himself in Leeds as a merchant and became a wealthy. William had five children: James, Edmund, Richard, William (of Kirkgate, a clothier), and George of Drightlington. His third son Richard married Sybil Kerne in 1561 and had a son also named Richard. Richard was an alderman in Leeds and one of the early mayors of the town. He was Lord of the Manor of Leeds, which he procured from the Crown in 1625 AD. In 1593, he married Elizabeth Mawson and had issue with her including four sons: John of Leeds, Henry of Hunslett Hall, Reverend Richard who married Grace Stooks, and William. Later down the family line came Reverend Sir Mark Sykes, the 1st Baronet, who was Rector of Roos in county York. He was baptized in 1711 and created a Baronet in 1783. In 1735, he married Decima, daughter of Twyford Woodham of Ely, and had a son with her named Christopher, who became the 2nd Baronet.
Early American and New World Settlers
Some early settlers in colonial America involving this surname include John Sykes (Virginia 1642), John Sykes (Maryland 1673), and Bernard Sykes (Virginia 1682). One of the earliest bearers in Canada was Victory Sykes who arrived in 1831. A one Thomas Sykes went to Barbados (a Caribbean Island in the Lesser Antilles) in 1672.
Mark Sikes was born in 1564 in England and had a son named Richard. Richard was born in 1598 in Glenmore, England. He married Phoebe Green in Roxbury, Massachusetts and had the following issue with her: Rebecca, Experience, Increase, Nathaniel, Victory, and James. His son Victory was born in 1648 in Springfield, MA. He married Elizabeth Burt and later Elizabeth Granger and left behind two children: Samuel and Victory. His son Victory Sikes (or Sykes) was born in 1689 in Hartford, Connecticut and married Mary King in 1711. He had two children: Mary and Titus. His son Titus was born in 1726 and had two daughters: Ashbell and Abigail. Ashbell married Eunice Bingham and had a son with him named Eunice Sykes Harwood.
Mottoes
The Sykes/Sikes family motto (of Highbury and Leeds, and Sikes of Berwick) is Quod facio, valde facio, meaning "What I do I do with energy". Sykes of Leeds has the following motto: Ferox inimicus, meaning "Fierce to his enemies". Other mottos include Sapiens qui assiduus, meaning "He is wise who is industrious" as well as Stand on.
Grantees
We have 7 coats of arms for the Sykes/Sikes surname depicted here. These 7 blazons are from Bernard Burke's book The General Armory of England, Ireland, and Scotland, which was published in 1848. The bottom of this page contains the blazons, and in many instances contains some historical, geographical, and genealogical about where coat of arms was found and who bore it.
Some family members granted coats of arms were: 1) Mark Sykes (Alderman) of Hull and Leeds in county York [1746], 2) Francis Sykes, son of Sir Francis, Baronet of Ackworth Park, and Thornhill and Kirkheaton of county York 1 March 1763, 3) Sykes to Masterman, Sir Mark, 3rnd Baronet, 4) Sykes of Wyersdale in county Lancashire and Leatherhead county Surrey [1815], 5) Sykes after Masterman, of Colhurst Hall in county York, Bushel Eaves, and Accrington county Lancashire, 6) Edward H. Sykes of Edgeley Fold, Cheadle, and county Chester, 1881, 7) F. W., of Green Lea, Lindley, co. York, 1895,8) Dr. John, of Doncaster, co. York, 1881, 9) J. X., of Field House, Lindley, co. York, 1896, 10) Adriana (Lady Boynton), daughter of John, and sister Joanna, 21 Mar. 1723, and 11) Sikes, late Baines [14 Dec. 1857]. Francis, of co. Nottingham. [Arms granted] 7 January 1858.
Notables
Famous people with this last name include: 1) Edmund Sykes (died 1587) who was an English Catholic priest who was martyred, 2) Paul Sykes (1946-2007) who was an English heavyweight boxer and weightlifter from Wakefield, 3) Eugene Octave Sykes Jr. (1876-1945) who was a member of the Mississippi Supreme Court and the first Chairman of the Federal Communications Commission in the United States, 4) Wanda Sykes (1964) who is an American comedian and actress, and 5) Christopher Hugh Sykes (1907-1986) who was an English author.
Blazons & Genealogy Notes
1) (Ackworth, co. York; Annie Tilburn, wife of James William Michell, Esq., of Audley, co. Devon, Rothesay Herald, and Mary Emily Styes, her sister, daus. and co­heirs of Thomas Styes, of Ackworth). Ar. on a chev. nebuly gu. betw. three fountains as many eagles rising ppr.
2) (West Ella, co. York; descended from Richard Sykes, Esq., of Sledmere, eighth in descent from Richard Sykes, Esq., of Sykes Dike, and elder brother of Sir Mark Sykes, first bart. of Sledmere). Ar. a chev. sa. betw. three fountains. Crest—A demi triton issuant from flags or reeds blowing a shell and wreathed about the temples with like flags all ppr.
3) (Basildon, co. Berks, bart.). Ar. an eagle rising betw. three sykes (syke is Anglo-Saxon for rivulet) or fountains, on a canton gu. a caduceus of the first. Crest—A demi lady of Bengal, in the complete dress of that country, holding in her dexter liand a rose gu. and in her sinister a rosary ppr. Motto—Sapiens qui assiduus.
4) (Sledmere, co. York, bart.). Ar. a chev. sa. betw. three sykes or fountains. Crest—A demi triton issuant from flags or reeds blowing a shell and wreathed about the the temples with like flags or reeds all ppr.
5) (Drighlington, co. York). (London; a branch of Sykes, of Drighlington, descended from George Sykes, third son of James Sykes, Esq., of Drighlington, who d. In 1661). Ar. a chev. sa. betw. three fountains. Crest—An ox pass. charged on the shoulder with a fountain.
6) (Sikes Dyke), Ar. a chev. sa. betw. three fountains ppr.
7) (exemplified, 1853, to Francis Baines, Esq., upon his assuming, by royal licence, the surname of Sikes). Erm. a chev. paly of six or and sa. betw. three fountains ppr Crest—A bull ppr. resting the dexter foot upon a fountain of the arms, and charged upon the body with three billets Ea. Motto—Quod facio, valde facio.