Sylvester Family Crest, Coat of Arms and Name History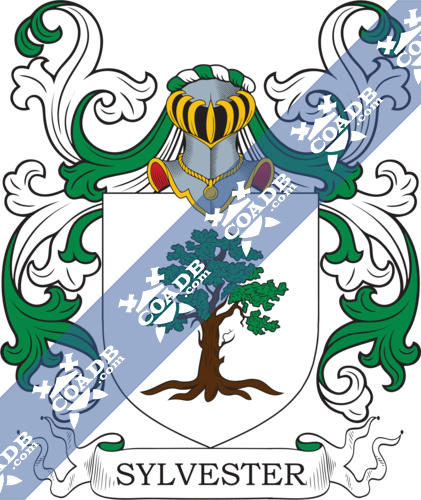 Sylvester Coat of Arms Gallery
Don't know which Coat of Arms is yours?
We can do a genealogical research. Find out the exact history of your family!
Learn More
Surname Name Meaning, Origin, and Etymology
This is an English and German patronymic or baptismal surname meaning "the son of Silvester", a personal (first) name that derives from the Latin adjective silvestris, meaning "wooded" or "wild", which in turn derives from the word silva, meaning "woodland", a name born by three popes, including St. Sylvester (died 335 AD), an Italian, known for perhaps baptizing Emperor Constantine (the first Christian Emperor of Rome). This masculine or male given name was common in the Middle Ages, but waned in popularity after the Protestant Reformation. Given the etymology, it is also a habitational/topographic surname denoting a person who lived in the woods. In some cases, it is also an Americanized version of the Greek surname Silvestriadis. In the Domesday Book, a survey of England and Wales ordered by William the Conqueror in 1086 AD, there is a Hugo Silvestris, an epithet synonymous with the more modern Dubois and Attwood. Around the year 1200 AD, Sylvestro Gozzolini, of Osimo, founded an order of monks, who are likely the cause that Sylvester became known in Ireland as a Christian name.
Spelling Variations
Common spelling variants or names with similar etymologies include Silvester, Silvestre,Selvester, Siviter, Severter, Silvestor (Italian), Vester (Danish), and others. After the Classical period the letter y came to be pronounced as the letter i. Spellings with Sylv- instead of of Silv- date from after the Classical period.
Popularity & Geographic Distribution
The last name Sylvester ranks 1,785th in popularity in terms in the United Status as of the 2000 Census. The name ranks particularly high in the following seven states: Massachusetts, Louisiana, Connecticut, Maine, New Hampshire, Delaware, and Vermont. In the same Census, the spelling variant ranks 22,455th.
The surname Sylvester frequency/commonness ranks as follows in the British Isles: England (2,073rd), Scotland (4,818th), Wales (1,854th), Ireland (5,450th) and Northern Ireland (4,384th).
In England, it ranks highest in counties Lincolnshire and Nottinghamshire. In Scotland, the surname Sylvester ranks highest in county Dunbartonshire. In Wales, it ranks highest in Denbighshire. In Ireland, it ranks highest in King's County. In Northern Ireland, it ranks highest in Fermanagh.
The name is also present throughout the remainder English speaking world:  Canada (2,600th), New Zealand (6,297th), Australia (3,712nd), and South Africa (1,354th).
Early Bearers of the Surname
The earliest known bearer of this surname was Thomas Silvestr who was documented in the Book of Fees for Hampshire in 1212 AD. The Hundred Rolls of 1273 AD, a census of Wales and England, known in Latin as Rotuli Hundredorum lists three bearers of this surname: Robert filius Silvestre (Cambridgeshire), Thomas Silvestre (Oxfordshire), and Thomas filius Silvestre (Norfolk). Ganfrid filius Silvester was recorded in the Calendarium Rotylorum Patentium in Turri Londinensi. The Poll Tax of Yorkshire in 1379 AD lists two bearers of this last name: Willelmus Silvestre and Robertus Silvester. An early baptism involving this name was Walter Silvester at St. James Clerkenwell in London in 1642,
History, Genealogy, and Ancestry
The famous genealogist Bernard Burke's book "The Landed Gentry" and "Peerage and Baronetage" does not discuss this surname or family.
The progenitor of the Sylvester family tree appears to be Alan Sylvester who was born in Storeton, Cheshire, England in 1120 AD. He had a son named Ranulph (or Ralph) FitzAlan de Sylvester who was born in Storeton in 1145 AD. He had a daughter named Amabilis or Annabella who was born in Staffordshire in 1170 AD and married Alexander de Stourton.
Robert Sylvester was born in England around 1530. He married a woman named Plumbe and had a son named Joshua. Joshua was born in Medway, LKent and he married a woman named Mary with whom he had a son named Giles. Giles Sylvester was born in England in 1584. He in turn had a son named Nathaniel. Nathaniel was born in Rotterdam, Zuid-Holland, Netherlands and he married Grissel Brinley. He went to colonial America. He had the following issue: Grissel (Lloyd), Giles, Constant, Nathaniel II, Peter, Patience, Mary (Cary), Elizabeth, Benjamin, Joshua, and Mercy (Viall).
Nehemiah Sylvester was born in England in 1580. He married Alice Richards and had a son with her named Richard. Richard was born in Northover, Somerset in 1608 and he married Naomi Torrey who was the father of: Lydia (Wright), Elizabeth (Lowell), John, Joseph, Dinah, and Israel. He went to colonial America and died in Scituate, MA.  His son John Silvester was born in Weymouth, Massachusetts in 1634 and he married a woman named Sarah, with whom he had the following issue: Sarah, John, Joseph, Samuel, Lidia, and Hannah. His son Samuel Silvester was born in Marshield, Plymouth in 1675 and he married Lucretia Joyce and had the following issue with her: Rachel (Newell), John, Samuel, Joshua, Elizabeth, Mercy (Hayward), and Thomas. His son Joshua was born in the same town in 1708. He married Mary Springer Trask and had a daughter with her named Lydia prior to his death in 1768 in Wiscasset, Maine.
Early American and New World Settlers
Stephens Sylvester came to New York aboard the Nicholas & Rebecca in May 1679.
Abraham Silvester, age 40, came to Virginia aboard the Bonaventure in January 1634, as did Abram Silvester, age 14, assumedly his son. Early settlers in colonial America bearing this name include Richard Sylvester (Massachusetts 1630), John Sylvester (Maryland circa 1655), Phillip Silvester (Virginia 1642), John Silvester (Virginia 1662), Henry Silvester (Virginia 1664), Lydia Silvester (Virginia 1714), Thomas Silvester (Virginia 1714), and Honora Silvester (Boston 1716). In New Zealand, several bearers of this came to the city of Wellington in 1875 aboard the Hindostan: William, Fanny, Marcia, and Florence Silvester. In Australia, one of the first settlers bearing this surname was George Silvester, a convict from Warwick, England, who came aboard the Asia in 1823 and settled in Van Diemen's Land (modern day Tasmania).
Early Americans Bearing the Sylvester/Silvester Family Crest
Charles Bolton's American Armory (1927) contains three entries for this surname:
1) Argent a sea lion crowned azure. Crest: a lion couchant gules. Motto: Nec Degener. Bookplate John Silvester, Esq. Also Peter Silvester, N.Y. Child, sculp.
2) Argent an oak tree vert and in chief 2 crescents. Crest: a lion's head erased. Motto: Aide toi et le ciel t'aidera. Bookplate Henry H. Sylvester.
3) Per pale indented gules and or. (Holland family?) Crest: two sinister wings erect. Sylvester, Shelter Island, Long Island, N. Y. Used on notepaper of Miss Cornelia Horsford, Cambridge, Mass. Arms on the monument to Nathaniel.
Matthew's American Armoury (1907) and Bluebook contains one entry for this name:
1) Nathaniel Sylvester, who married Grissell, daughter of Thomas Brinley, Auditor to Charles I, settled at Shelter Island, N.Y., 1652.Per fesse dancettee gules and argent. Crest: Two eagle's wings addorsed.
Crozier's General Armory (1904) does not contain an entry for this surname.
Mottoes
I have identified two Silvester family mottos or Sylvester family mottos:
1) Nec Degener (Not degenerate)
2) Aide toi et le ciel t'aidera (Help yourself and heaven will help you)
Grantees
We have four coats of arms for the Sylvester surname depicted here. These four blazons are from Bernard Burke's book The General Armory of England, Ireland, and Scotland, which was published in 1848. The bottom of this page contains the blazons, and in many instances contains some historical, geographical, and genealogical about where coat of arms was found and who bore it. People with this last name that bore a Sylvester Coat of Arms include:
1) Sir John Silvester, Baronet, of Yardley, county Essex, Recorder of London, 1815
2) Silvester after Carteret, Sir Philip, Baronet, 1822, C.B., of county Essex, 1822
Notables
There are hundreds of notable people with the Sylvester surname. This page will mention a handful. Famous people with this last name include: 1) Hannah Sylvester (1903-1973) who was an African-American blues singer during the 1920s who was born in Philadelphia, Pennsylvania, 2) Charles Sylvester (1774-1828) who was a chemist and inventor born in Sheffield, UK known for his work on galvanization, 3) Dean M. Sylvester (1972) who was an American professional hockey player from Weymouth, Massachusetts who played for the Buffalo Sabres, Atlanta Thrashers, and Kansas City Blades, 4) James Joseph Sylvester (1814-1897) who was an English mathematician from London who contributed the fields of matrix, invariant, and number theory, 5) Joshua Sylvester (1563-1618 who was an English poet, 6) Robin Sylvester (1950) is a musician born in Hampstead, England who is based in San Francisco, California known for his band RatDog, 7) William Henry Thomas Sylvester (1831-1920) who was an English recipient of the Victorian Cross who was a surgeon who served in the Crimean War and Indian Mutiny, and 8) Sherry Sylvester who is a political worker and journalist who was communication director for Doug Forrester's campaign for Governor of New Jersey.
Blazons & Genealogy Notes
1) or Silvester – Ar. a tree vert. Crest—A crow, wings expanded, struck through with an arrow ppr.
2) (quartered by Stanley, Earl of Derby). Ar. a haw tree eradicated ppr.
3) (Yardley, co. Essex, bart., extinct 1828; John Silvester, son of Sir John Silvester, Knt., and great-grandson of Daniel Silvester, an advocate in the Parliament of Bordeaux, in France, was created a bart. 1815, and again, by a new patent, 1822, with remainder to his nephew, Philip Carteret, son of his sister, Mary Rachel, wife of Rear-Admiral Philip Carteret; Sir John d. 1822, and his nephew, Sir Philip, who assumed the name of Silvester, d. 1828). Ar. a sea lion ducally crowned az.
4) Ar. an oak tree eradicated vert, in chief two crescents gu. Crest—A lion's head erased vert