Tagliaferri Family Crest, Coat of Arms and Name History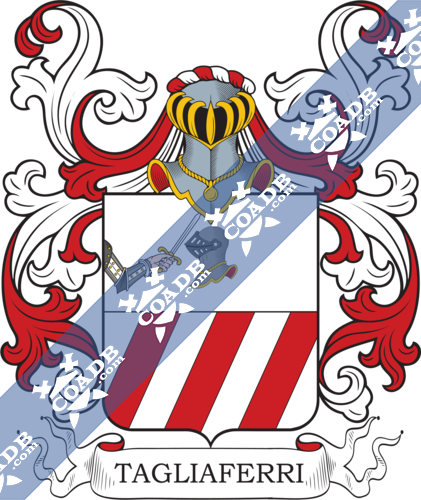 Tagliaferri Coat of Arms Gallery
Don't know which Coat of Arms is yours?
We can do a genealogical research. Find out the exact history of your family!
Learn More
Tagliaferri Surname Name Meaning, History & Etymology
Tagliaferri Name Meaning. Italian: patronymic or plural form of Tagliaferro. This surname is widespread in Italy, being most common in Lombardy, Tuscany, and Campania.
English: variant of Telfer. Americanized form of the Italian family name Taliaferro (cognate with 1), from tagliare 'to cut' + ferro 'iron', probably applied as a nickname for a metal worker or a fierce fighter. (Source: Dictionary of American Family Names ©2013, Oxford University Press) The Taliaferros (originally Tagliaferro, which means "ironcutter" in Italian) are one of the early families who settled in Virginia in the 17th century. They migrated from London, where an ancestor had served as a musician in the court of Queen Elizabeth I. The surname in that line is believed to trace back to Bartholomew Taliaferro, a native of Venice who settled in London and was made a denizen in 1562. (https://en.wikipedia.org/wiki/Taliaferro)
Spelling Variations
Telfer, Talfer, Telford, Telpher, Talifero, Tallyefer, Telfair, Talliaferro, Tagliaferro, Tellifero, Taliferro, Tolliver or Toliver and many more.
Early Bearers of the Surname
Some of the first settlers of this name or some of its variants were: John Telfer who settled in Philadelphia in 1856; John Telford who settled in Virginia in 1774; Edmund and Matthew Telfair who settled in New York in 1820; and Mary Telford who settled in Charles Town S.
Tagliaferri Surname General History
There is a legend of this surname according to the "Johnson and Fisher Family" (https://johnsonfamily.talldude.net/bartholomew-taliaferro-228/genstory/68/bartolomeo-taliaferro-possible-origins) the legend goes like this:
"This legend tells us that in the Cavalry of William the Conqueror, during the time of the invasion of England in 1066, was a Norman Knight that had great fighting ability. He would ride into battle singing songs of Roland and Charlemagne, all the while he would be tossing his large sword high in the air and then catch it as it came back down, while riding at full speed.
It is said that this Norman Knight had such great strength that he could, with one blow cut through the iron Armour of his adversary and that his sword would then cut through the man. He became the hero of Hastings and for his service to William the Conqueror he was given large land grants in the County Kent (England) which descended to his posterity.
As a result of his fighting ability with the sword, this Norman Knight became known as "TALIFER" – "TAILFER" – "TALIAFERRO." (Found spelled several ways). Taken from the two Latin words: "TALIA" meaning to cut, and "FERO" (or FERRUM) meaning iron. Thus, the name Taliaferro, as it later came to be spelled in England means "Cutter of Iron" or "Iron Cutter."
We do not know at what point in history the name came to be spelled "Taliaferro". We do know that the family, the descendants of the Norman Knight called "Talifer", became deep seated in England, and that as time went by the name was anglicized, and that the pronunciation was changed from "Talia-Ferro" to that of "Toliver", with the spelling of "Taliaferro" being retained. Thus even before the name reached America it was spelled as Taliaferro but pronounced Toliver.
ROYAL CONNECTIONS: From the first Taliaferro (the Norman Knight) in England as early as 1066 there followed many descendants. One of these was Ayer de Taliaferro, Lord of Angouleme, who married Lady Alice de Courtney, and their daughter, Isabel de Taliaferro, became the wife of King John of England, about 1200. By other marriages the Taliaferro family became united with Royal families of Scotland, Italy, Peter the 2nd of Constantinople, and others. "
Most, if not all, Tollivers in North America are descended from Robert Taliaferro who immigrated to Virginia from England in 1647. ( http://the-red-thread.net/genealogy/ ) Robert Taliaferro the son of Francis Taliaferro (1589-1647) and Bennett Grymes (1587-1642) was Born: November 11, 1626 Bethnal Green, Stephney, Middlesex, Eng,Christened: November 19, 1626, St. Dunstan, Stepney Parish, Middlesex, England. Robert immigrated to VA by 1647, and lived twenty years in Gloucester County, his lands lying along Poropotank Creek and evidently at the head of Ware River, until, in 1666/7, when he moved to the place that came to be called "Taliaferro's Mount" on the Rappahannock River in Old Rappahannock/Essex/Caroline County, near the site of the present town of Port Royal. With his wife Katherine Debnam whom he married in 1654, he became the founder of a significant Virginia family. Robert Taliaferro and Katherine (Debman) Taliaferro were the parents of: Robert Taliaferro, II.; Francis Taliaferro, I.; Lt. Col. John "The Ranger" Taliaferro Sr.; Mary (Taliaferro) Johnson; Richard Taliaferro Sr.(The Pirate); Katherine (Taliaferro) Battaile and Charles Taliaferro Sr. (Bio from: https://www.findagrave.com/memorial/12889015)
Notables
Taliaferro
Adam Taliaferro, college football player severely injured during a game
Al Taliaferro, comic-strip artist
Benjamin Taliaferro, early 19th-century U.S. Representative from Georgia
Charles Taliaferro, philosopher
Chris Taliaferro, Chicago alderman
Edith Taliaferro, actress
George Taliaferro, NFL player
Hardin E. Taliaferro, humorist and Baptist preacher
James Taliaferro, early 20th-century U.S. Senator from Florida
John Taliaferro, antebellum U.S. Representative from Virginia
Lawrence Taliaferro, United States frontier agent
Lorenzo Taliaferro, former running back for the Baltimore Ravens
Mabel Taliaferro, actress
Ray Taliaferro, radio host
Richard Taliaferro, colonial architect in Williamsburg, Virginia
R. Catesby Taliaferro, philosopher and mathematician
Walter R. Taliaferro, pioneer U.S. Army aviator
William B. Taliaferro, Confederate States of America general
Kay Toliver, teacher
Charles H. Toliver, airship builder
Anthony Tolliver, basketball player
Billy Joe Tolliver, football player
Charles Tolliver, musician and composer
Lisa Tolliver, American academic-practitioner and media personality
Melba Tolliver, journalist
Mose Tolliver, primitive artist
Randle Tolliver,Naval Officer
Blazons & Genealogy Notes
1) Padova – Veneto – Braccio destro armato uscente da sinistra impugnante con la mano di carnagione una spada posta in banda nell'atto di colpire un elmo al centro posto di profilo al naturale sull'argento del troncato di argento e – sbarrato di argento e di rosso. Source: Marinato
2) Regno di Due Sicilie – Di verde alla fascia, accompagnata da tre stelle di otto raggi; due nel capo in fascia, ed una in punta. Source: Carlo Padiglione, Trenta centurie di armi gentilizie (1914).
3) Piemonte – Di rosso a tre fasce di verde; alla banda sul tutto d'oro. Source: Scorza's Volume 24.
4) Sicilia – D'azzurro alla banda ondata accompagnata da tre stelle d'oro. Source: Scorza's Volume 24.
5) Toliver – Scottish – Ermine a red chevron. Crest: A tree emerging from a crown. Source: Unverified.