Thacker Family Crest, Coat of Arms and Name History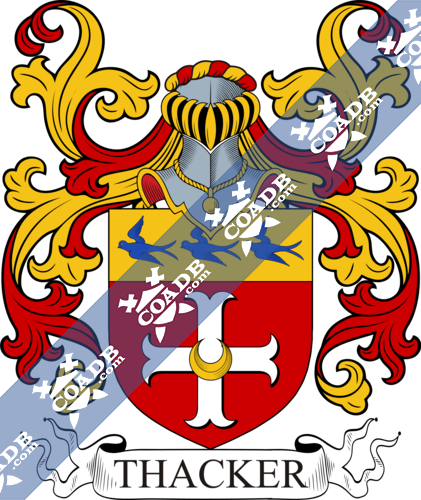 Thacker Coat of Arms Gallery
Don't know which Coat of Arms is yours?
We can do a genealogical research. Find out the exact history of your family!
Learn More
Surname Name Meaning, Origin, and Etymology
The last name Thacker is an occupational surname meaning "a thatcher", given to people who were involved with such work, deriving from the Middle English word thack, Old Norse þak, and Norse-Viking thak, meaning thatch, and hence the name has a similar etymology to the surname Thatcher. This was a popular occupation during medieval times or Middle Ages that involved building a roof from dry vegetation such as straw, reeds, heathers, and rushes in order to steer water away from the inner roof, equivalent to the modern day roofer. The name was mostly found in West Midlands, England. Another source asserts the family was first located in Staffordshire, England were they held seat (land and titles).
Spelling Variations
Common spelling variants or names with similar etymologies include Thatcher, Theker, Thacher, Thecker, Thakeray, Thicker, Theaker, Thaker, Thick, Thicke, Thicks, and Thike. Similar foreign names include Dacker (Flemish) and Dekeker (Dutch).
Popularity & Geographic Distribution
The last name Thacker ranks 1,607th in popularity in terms in the United Status as of the 2000 Census. The name ranks particularly high in the following seven states: Kentucky, West Virginia, Utah, Indiana, Tennessee, Ohio, and Virginia.
The surname Thacker frequency/commonness ranks as follows in the British Isles: England (1,984th), Scotland (2,826th), Wales (5,257th), Ireland (14,048th) and Northern Ireland (5,630th). In England, it ranks highest in Lincolnshire and Huntingdonshire.
The name is also present throughout the remainder English speaking world:  Canada (4,823rd), New Zealand (4,479th), Australia (5,321st), and South Africa (15,361st).
Early Bearers of the Surname
The Hundred Rolls of 1273 AD, a census of Wales and England, known in Latin as Rotuli Hundredorum lists one bearer of this surname: William le Thekere in county Norfolk. William Thecker was documented in 1301 AD in the Writs of Parliament. The Poll Tax of Yorkshire in 1379 AD lists three bearers of this last name: Johannes Theker, Ricardus Theker, and Stephanus Theker. Other early bearers of this surname were William Thacker (London 1301), Richard the Thacker (Yorkshire 1316), and Roger le Thakkere (Cambridgeshire 1339). George Fraser Black's, The Surnames of Scotland, published in 1946, states the following in regard to the surname Thacker:  "Thomas Thekar is mentioned in a list of Aberdeen criminals in 1411, Cudbert Thekar was a witness in Edinburgh in 1426, and John Thekar is recorded in St. Andrews in 1525". Early marriages involving this surname include 1) Robert Thacker to Agnes Blage at St. James Clerkenwell in 1565 AD and 2) Edward Thacker to Elizabeth Peartree at St. George's Chapel in Mayfair in 1748 AD. An early baptism involving this surname includes John Thacker at St. Matthew's Church Walsall in 1570 AD.
History, Genealogy, and Ancestry
A Thacker whose first name is not known was born in Lincolnshire, England in 1528. She was the mother of Thomas. This Thomas Thacker was born in the same location in 1544. He married Beatrice Westwood and had a son with her named Thomas. This Thomas was born in Holbeach, England in 1575 and he married Elizabeth Thirkill with whom he had a son named John. John was born in Arundel Castle, Sussex in 1613. He went to American and prior to his death in Virginia, had a son named William. This William Thacker was born in Virginia in 1690. He married a Cherokee Indian and had a son with her named Nathaniel. Nathanile Thacker was born in Goodland, VA in 1742 and he married Kesiah Cassandra Evans. He had two issue: Joel and Levina (Mallicoat).
Reverend Peter Thatcher was born in Queen Camel, England in 1545 and he married twice (once to Elizabeth Pool). He had the following issue: Anthony Thacker, Peter Thacker, Peter Thatcher, John Thacker, Giles Thacker, Anthony Thacher, Thomas Thacker, Clement Thacker, and Ann Thacker.
Early American and New World Settlers
Early settlers in colonial America bearing this name Henry Thacker (Virginia 1642), John Thacker (Virginia 1650), Silvester Thacker (Virginia 1650), Henry Thacker (Virginia 1651), Edmond Thacker (Virginia 1653), and William Thacker (Virginia 1714).
In Canada, one of the earliest bearers was A. Thacker, who settled in Victoria, British Columbia in 1862. In Australia, one of the earliest bearers of this surname was William Thacker, a convict from Essex, England, who arrived in New South Wales (a penal colony at the time) aboard the Asia in October of 1824. Two of the earliest bearers in New Zealand were Emily and Clara Thacker, age 14 and 12, respectively who came to the city of Wellington aboard the Jessie Readman in 1872.
Early Americans Bearing the Thacker Family Crest
I researched the following three resources and did not find any coats of arms for Thacker: Bolton's American Armory, Matthew's American Armoury and Bluebook, and Crozier's General Armory.
Mottoes
I have been unable to identify the Thacker family motto.
Grantees
We have three coats of arms for the Thacker surname depicted here. These three blazons are from Bernard Burke's book The General Armory of England, Ireland, and Scotland, which was published in 1848. The bottom of this page contains the blazons, and in many instances contains some historical, geographical, and genealogical about where coat of arms was found and who bore it.
Notables
There are hundreds of notable people with the Thacker surname. This page will mention a handful. Famous people with this last name include: 1) Charles M. Thacker (1868-1918) who was the Justice of the Oklahoma Supreme Court in 1915 and was born in Brunswick County, Virginia, 2) Charles P. Thacker (1943) who is an American from Pasadena, California who pioneered computer design and worked on the Xerox Alto, the first computer that used a mouse-driven GUI (Graphic User Interface), 3) Blaine Allen Thacker (1941) who was a member of the Canadian Parliament from Lethbridge form 1979-1993, 4) Eugene Thacker who is a philosopher and professor at the The New School in New York city associated with pessimism and nihilism, 5) Henry Thomas Joynt Thacker (1870-1939) who is a doctor who became Mayor of Christchurch, New Zealand and was a member of Parliament for that country, 6) Stephanie Dawn Thacker (1965) who is a United States Circuit Judge appointed by Barack Obama, and 7) Moriss Benton Thacker (1934-1997) who was an American professional baseball player in the MLB who was born in Louisville, Kentucky and player for the Chicago Cubs and the St. Louis Cardinals in the 1950s and 1960s.
To receive a complete surname meaning report by PDF you can order our SURNAME MEANING PACKAGE for $129.   This report is great to share with family and friends.  It includes everything you see above plus any other information we can find on the specified surname.  It does take approximately 10 to 15 days for us to complete this custom report.
To receive a direct lineage & coat of arms search for your specific line(s) you can order one of our GENEALOGY PACKAGES ranging in price from $249 to $999.   All research is completed by a professional genealogist with over 30 years' experience.  All reports and coat of arms files are sent by email in PDF and JPG format.
Blazons & Genealogy Notes
1) (Fun. Ent. Ulster's Office, 1653). Gu. a cross moline ar. a crescent for diff. of a chief or, three martlets volant az.
2) (Ireland; granted by Roberts, Ulster, 1644, to Thomas Thacker, Esq., Captain of a foot company, and Sovereign of Belfast). Per fess gu. and ar. a cross patoncéc counterchanged, in chief three doves volant of the second. Crest—A pelican's head erased vert.
3) (Rev. Martin Thackery, D.D., Provost of King's College, Cambridge, brother of Dr. Frederick Thackeray). Vert a dart point downwards betw. two garbs in fess or, on a chief az. a cherub's head ppr. betw. two estoiles ar. Crest—An eagle, wings endorsed ppr. in the beak an arrow sa. barbed and feat hered ar. charged on the breast with a cherub's head also ppr.